---
ANIMATED FILMS


Part 6

Animated Films


Part 1 | Part 2 | Part 3 | Part 4 | Part 5 | Part 6 | Examples
The Emergence of Pixar:
A division of Lucasfilm (and Industrial Light and Magic (ILM)), created in 1979 and known as the Graphics Group, was purchased by Apple Computer's Steve Jobs for $5 million, renamed Pixar Animation Studios, and made an independent company in 1986. [Note: ILM had created the startling, first completely CGI-animated character - the 'stained-glass knight' in Young Sherlock Holmes (1985), bringing the film a Best Visual Effects nomination.]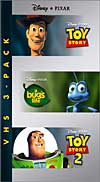 Pixar Studios (and director John Lasseter) and Disney, in a 1991 deal worth $26 million, created the first completely computer-generated animated feature film - the landmark Toy Story (1995) - Pixar's feature debut film, and everything evolved from there. The visuals were entirely generated from computers, creating a wonderfully-realistic 3-D world with lighting, shading, and textures, that included real toys in supporting roles (Etch-A-Sketch, Slinky Dog, the plastic toy soldiers, Mr. Potato Head, etc.). The story itself dealt with the anxiety experienced by a toy (cowboy Woody) upon the arrival of a rival plaything (spacetoy Buzz Lightyear)-- mirroring the tension felt by a child when a younger sibling is born. The tale also referenced the historical change in genre emphasis in the 50s when westerns were supplanted by science-fiction films. It scored three Oscar nominations: Best Original Score, Best Original Screenplay, and Best Original Song ("You've Got a Friend"), and at the box-office totaled $192 million (domestic) and $362 million (worldwide).
DreamWorks and Pacific Data Images (PDI) released the second computer-animated feature film in history - the adult-oriented Antz (1998), with Woody Allen's voice for a misfit, individualist worker ant named Z. At about the same time, A Bug's Life (1998), a children's-oriented, computer animated tale based upon Aesop's fable The Ant and the Grasshopper, was released by Pixar and Disney (their second teaming).
Disney also released in 1995 the hand-drawn animation Pocahontas (1995), the studio's 33rd feature-length animated movie and the first to be based on actual events and people. The surprise hit of 1995, however, was Best Picture-nominated Babe (1995), the charming and highly entertaining story of the title character - a talking barnyard pig with a talent for sheep herding. Disney released two hand-drawn animations in the next two years, the dark and ambitious Hunchback of Notre Dame (1996) based upon the Victor Hugo novel, and Hercules (1997) about the mythological strong man, and Fox released the disappointing Anastasia (1997).

The year 1998 also showcased other animated films, including the low-budget Rugrats Movie (1998) (based upon the characters on Nickelodeon's TV series), Disney's hand-drawn animated Chinese folk tale Mulan (1998) (Disney's 36th feature-length animated film), and DreamWorks SKG's' epic - the animated musical feature The Prince of Egypt (1998) about the Hebrew Exodus from Egypt - and the most expensive classically-animated feature at the time, budgeted at $60 million.
Pixar's sequel to its successful 1995 computer-animated hit was released in 1999 with Disney (their third collaboration) - Toy Story 2 (1999), again with Woody the Cowboy and Buzz Lightyear. So were Disney's Tarzan (1999), the first full-length, hand-drawn animated feature about Edgar Rice Burrough's King of the Jungle, and two hand-drawn animations from Warner Bros: the critically-acclaimed animated adventure Iron Giant (1999) by director Brad Bird (his feature debut), about a fifty-foot robot befriended by a nine year-old boy, and the animated musical The King and I (1999). Sony Pictures brought to life E.B. White's classic children's story Stuart Little (1999) featuring a clothes-wearing and talking white mouse (voice of Michael J. Fox) - it was a hugely successful film, with a combination of computer animated characters and live action.
Animations at the Start of the New Century:
Walt Disney Pictures was very busy in the year 2000, releasing the computer-animated Dinosaur (2000) about prehistoric life, and the hand-drawn animated comedy-adventure The Emperor's New Groove (2000). DreamWorks also released its second feature-length animated film The Road to El Dorado (2000) (loosely based on The Man Who Would Be King (1975)), and Fox produced the visually-striking science fiction epic Titan A.E. (2000) combining classic animation and CGI (before closing down its traditional animation division).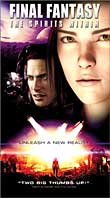 The second collaboration of DreamWorks and PDI was for the immensely successful (the box-office champ of 2001 and the first Best Animated Feature Film Oscar winner) and colorful fairy-tale farce Shrek (2001), a computer-animated film that added elements to CGI such as fire, liquids, digital humans, and clothing, and featured a green, swamp-living, misfit ogre (with voice of Mike Myers). The most talked-about (but commercially unsuccessful) computer-animated film of the early 21st century, however, was Sony's Final Fantasy: The Spirits Within (2001), a photo-realistic (hyperReal), science-fiction tale by director Hironobu Sakaguchi (creator of the interactive, role-playing, futuristic video game) that advertised itself as "Fantasy Becomes Reality." It simulated human actors with CG and was the first computer-generated feature film based entirely on original designs - no real locations, people, vehicles, or props were used.
Kaena: The Prophecy (2004), the first full-length 3D-generated animated film from France, with voices of Kirsten Dunst, Richard Harris, and Anjelica Huston, told a sci-fi fantasy tale about a free-spirited teenaged girl who must solve the mystery of a dying 100-mile tall tree. Writer/director Kerry Conran's feature film debut, the retro-futuristic sci-fi adventure film set in the late-1930s Sky Captain and the World of Tomorrow (2004) was the first live-action studio release in which every scene was at least partly computer-generated - supplemented with human actors (including Jude Law and Gwyneth Paltrow). The entire special-effects laden movie was shot against blue/green screens with human actors in front.
Similar in sheer creative inventiveness was the ground-breaking Waking Life (2001), an impressionistic and stylized R-rated film from director Richard Linklater - it was first digitally shot as a live-action film before 30 artists graphically 'painted' the characters via computer (with a process called "interpolated rotoscoping") to create the illusion of a cartoon in motion. [Similarly, Sin City (2005) and Linklater's own A Scanner Darkly (2005) digitally rotoscoped live action.] Also, Paramount's Nickelodeon films introduced a totally-original computer-animated feature starring a whiz kid who saves his alien-kidnapped parents, titled Jimmy Neutron: Boy Genius (2001). And Warner Bros.' poorly-received summer release, Osmosis Jones (2001), with part live-action and part-animation, was about a white blood cell cop (voice of Chris Rock) who hunted down lethal germs in a zoo-worker's (Bill Murray) body.
Disney's Atlantis: The Lost Empire (2001), its first cartoon produced in 70 mm since The Black Cauldron (1985), blended CGI with traditional hand-drawn animation, and was based on the Jules Verne action epic, but it faced stiff competition from other animated features. Disney's hand-drawn, big-budget, sci-fi animation Treasure Planet (2002), an outer-space version of Robert Louis Stevenson's Treasure Island, flopped. Another Disney hand-drawn effort, Lilo & Stitch (2002), about a lonely Hawaiian girl and her blue extra-terrestrial friend, was the studio's sole box-office hit in recent memory.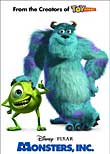 The widely-anticipated Monsters, Inc. (2001), Disney's fourth computer-animated comedy with Pixar, featured a one-eyed, lime-colored ball named Mike Wazowski (with voice of Billy Crystal), and his scare-factory buddy James P. "Sulley" Sullivan (voice of John Goodman). As of 2013, it was the seventh-highest grossing animation of all-time.
20th Century Fox's animation-adventure Ice Age (2002) starred creatures that are trying to reunite a human baby with its parents. The computer-generated characters include Manny - a woolly mammoth (voice of Ray Romano), Sid - a talkative sloth (voice of John Leguizamo), Diego - a saber-toothed tiger (voice of Denis Leary), along with Scrat - a prehistoric squirrel that desperately tries to stash an acorn. [It was followed by a sequel Ice Age 2: The Meltdown (2006).] The second film from the same team was Robots (2005), a slapstick, science-fiction animated film about clunky, nuts-and-bolts androids featuring Robin Williams (his first voice in an animated feature since 1992) as the voice of Fender.
Due to pressures brought to bear on the Academy of Motion Picture Arts and Sciences, the reknowned organization finally acknowledged that full-length cartoons (animations!) deserve their own Oscar awards category, Best Animated Feature Film, beginning with films eligible in the year 2001. According to the Academy's rules, an 'animated film' must be at least 70 minutes in length, have a significant amount of major animated characters, and be at least 75% animated. The first animated feature film to win the Oscar in the new category was DreamWorks SKG' revisionistic Shrek (2001). It counteracted the traditional Disney animation formula for a fairy tale with its main character - an ugly, greenish ogre (voice of Mike Myers) who saved pouty, fiercely independent Princess Fiona (voice of Cameron Diaz) from a female, purple fire-breathing dragon, with a pop music soundtrack (featuring songs by Joan Jett, Smash Mouth, and others).
The wildly-successful Finding Nemo (2003) - Pixar's and Disney's fifth collaboration, won the Oscar for Best Animated Feature Film! The undisputed box-office champ of its year, it was the tale of Marlin - a widowed clown fish's (voice by Albert Brooks) search in the Pacific Ocean, with a dopey and forgetful blue tang fish named Dory (voice by Ellen DeGeneres), for missing son Nemo with a withered fin. [It faced stiff competition from the wildly inventive and surreal French animated film The Triplets of Belleville (2003).] DreamWorks' version of Finding Nemo with an underwater gangster theme, the studio's first CGI-animated film, was the successful Shark Tale (2004), with voices provided by Will Smith, Renee Zellweger, Jack Black, Robert DeNiro and Angelina Jolie.
Director/screenwriter Brad Bird's ingenious Oscar-winning Best Animated Feature, the action-adventure The Incredibles (2004), Disney's and Pixar's sixth collaboration, was Pixar's first PG-rated film and the longest CG animated film to date (at 115 minutes). It told the tale of paunchy Bob "Mr. Incredible" Parr (voice of Craig T. Nelson), an ex-do-good Superhero suffering a mid-life crisis and living under-cover in suburbia, with his restless wife Helen (voice of Holly Hunter) - former rubber-limbed masked vigilante Elastigirl. Their children included long-haired daughter Violet (voice of Sarah Vowell) - capable of being invisible, son Dash (voice of Spencer Fox) - who could travel at supersonic speed, and baby Jack-Jack. The entire family was lured back into super-herodom against the evil Syndrome (voice of Jason Lee). With its four Oscar nominations (including Best Animated Feature Film), it was the most-nominated animated film since Aladdin (1992) (with five nominations).
Another Pixar CGI marvel, the adventure comedy Cars (2006), directed by John Lasseter, told an anthropomorphic story about a stock-car (Lightning McQueen, voice of Owen Wilson) on a journey to the races - including nostalgia for Route 66 in a forgotten town called Radiator Springs.
In early 2006, the Walt Disney Co. bought longtime partner Pixar Animation Studios Inc. for $7.4 billion in stock, after a twelve year relationship in which Disney co-financed and distributed Pixar's animated films and split the profits (their previous deal expired in June 2006 after Pixar's delivery of Cars (2006)).
Summary: Disney's Animated Collaborations with Pixar
In summary, Disney's run of successful animations with Pixar are provided below. Their first five feature films grossed more than $2.5 billion (worldwide), giving Pixar the highest per film average gross of any production company at the time.
See detailed chart here: The Pixar-Disney Animations
The Pixar-Disney Animated Films
(chronological)

Disney-Pixar Collaborations

Millions of Dollars of Box-Office Gross (domestic)

Millions of Dollars of Box-Office Gross (worldwide)

Academy Awards

Domestic Notables
(as of early 2016)

1. Toy Story (1995)

$192

$362

Nominated for three Academy Awards without a win

37th highest-grossing animated film of all time

2. A Bug's Life (1998)

$163

$363

Nominated for one Academy Award without a win

51st highest-grossing animated film of all time

3. Toy Story 2 (1999)

$246

$485

Nominated for one Academy Award without a win

18th highest-grossing animated film of all time

The Animated Feature Film Oscar category was first awarded in 2002 (for films released in 2001)

4. Monsters, Inc. (2001)

$256

$529

Nominated for four Academy Awards with one win: Best Original Song

11th highest-grossing animated film of all time

5. Finding Nemo (2003)

$340

$880.6

Nominated for four Academy Awards with one win: Best Animated Feature Film

5th highest-grossing animated film of all time

6. The Incredibles (2004)

$261.4

$631

Nominated for four Academy Awards with two wins: Best Animated Feature Film and Best Sound Editing

14th highest-grossing animated film of all time

7. Cars (2006)

$244

$462

Nominated for two Academy Awards (Best Animated Feature Film and Best Original Song) with no wins

19th highest-grossing animated film of all time

8. Ratatouille (2007)

$206

$623

Nominated for five Academy Awards with one win: Best Animated Feature Film

30th highest-grossing animated film of all time

9. WALL•E (2008)

$224

$521

Nominated for six Academy Awards with one win: Best Animated Feature Film

22nd highest-grossing animated film of all time

10. Up (2009)

$293

$731

Nominated for five Academy Awards with two wins: Best Animated Feature Film, Best Original Score


10th highest-grossing animated film of all time

11. Toy Story 3 (2010)

$415

$1.063 billion

Nominated for five Academy Awards with two wins, Best Animated Feature Film and Best Original Song

3rd highest-grossing animated film of all time

12. Cars 2 (2011)

$191.4

$560

Not nominated in the Best Animated Feature Film category, breaking Pixar's streak

38th highest-grossing animated film of all time

13. Brave (2012)

$237.3

$539

Nominated for one Academy Award with one win: Best Animated Feature Film

21st highest-grossing animated film of all time

14. Monsters University (2013) (aka M.U.)

$268.5

$743.6

Not nominated in the Best Animated Feature Film category

12th highest-grossing animated film of all time

15. Inside Out (2015)

$356.5

$856.8

Nominated for two Academy Awards with one win, Best Animated Feature Film, and Best Original Screenplay

7th highest-grossing animated film of all time

16. The Good Dinosaur (2015)

$123

$325.4

Not nominated in the Best Animated Feature Film category

73rd highest-grossing animated film of all time

17. Finding Dory (2016)

$382+

$555.6+
Pixar has released 14 films from 2001 on that have been eligible for the Animated Feature Film Oscar award. Of them, only three have failed to garner a nomination - both a sequel and a prequel: Cars 2 (2011) and Monsters University (2013), and then The Good Dinosaur (2015). Pixar/Disney's The Good Dinosaur (2015) marked the first time that Pixar released two feature films in the same year. Its earlier 2015 film was the massive Oscar-winning hit Inside Out (2015). Next in the pipeline was Finding Dory (2016) that broke records on its opening weekend - it was the most successful and highest-grossing animated feature film debut (in its opening weekend) of all-time at $135.1 million, unseating Shrek the Third (2007), at $121.6 million (domestic). [Note: Until now, Toy Story 3 (2010) was Pixar's biggest opening ever, with $110.3 million.]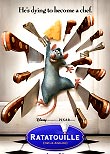 The first 16 feature films, through The Good Dinosaur (2015), have garnered 43 Academy Awards® nominations, 12 competitive Oscars® (does not include John Lasseter's Special Achievement Award for Toy Story (1995)), and numerous other accolades. The first 17 animated films have also raked in approx. $4.4 billion (domestic) and over $10 + billion (worldwide) in revenue.
Eight of Pixar-Disney's films have won the Academy Award for Best Animated Feature Film (since the category was established in 2001): the 5th, 6th, 8th, 9th, 10th, 11th, 13th, and 15th Pixar films. And two of the films were nominated for the Academy Award for Best Picture (Up and Toy Story 3):
Ratatouille (2007) by writer/co-director Brad Bird, was a fable about a rat named Rémy (voice of Patton Oswalt) who lived in a Paris bistro-restaurant and had aspirations to be a chef.
WALL•E (2008) was about a waste-removal robot named WALL•E (meaning Waste Allocation Load Lifter Earth-Class) who in the year 2700 discovered the key to planet Earth's future after it was vacated and he was the last robot on Earth doing cleanup. When WALL•E met up with a cold-hearted female search robot named EVE from a space probe and fell in love with her, he chased her across outer space. Best Animated Feature Film-winning WALL-E's six nominations tied it with Beauty and the Beast (1991) as the most-nominated animated film.
Up (2009), a CGI-animated film, was a coming-of-old-age tale. It told about a 70s year-old hero, cantankerous, bitter widower Carl Fredricksen (voice of Edward Asner) who launched his house into the air using hundreds of helium balloons to travel to South America, while slowly befriending an accidental stowaway Boy Scout named Russell -- it was the first animated film to get a Best Picture nomination since animated films received their own category in 2001.
Toy Story 3 (2010)
Additional projects for Pixar included the sequel: Cars 2 (2011) and Brave (2012). The prequel Monsters University (2013) marked the 14th straight No. 1 debuting film in Pixar's 18-year history. Monsters University had the second-highest opening ever for the Northern California-based company at $82 million, behind the $110.3 million launch of Toy Story 3 (2010).
The Marvel-Disney film Big Hero 6 (2014), inspired by a Marvel comic, was the Walt Disney Animation Studio's seventh Oscar for Best Animated Film in the last eight years. It marked Marvel's first major win at the Academy Awards, and Walt Disney Animation Studio's second victory (in a row) in the animation category since its previous year's win for Frozen (2013).
A significant development may have been signaled when Walt Disney Studios, after releasing the great-looking, feature-length theatrical film animation Brother Bear (2003) in November (also a nominee for Best Animated Feature Film), announced that this would be their last 2-D animated film for the foreseeable future, since it was switching to the 3-D, full-CGI style originally popularized by Pixar. [However, Disney's last release in the traditional 2-D animation style was Home on the Range (2004).] Would traditionally-animated, old school cel-animated films (like this one) be destined to become non-existent and outdated relics of the last century? This question was answered with the release of Disney's animated The Princess and the Frog (2009) (with three Oscar nominations), a modern day retelling of the classic story The Frog Prince. It was the studio's first traditional 2-D animated film in 5 years. It also featured the studio's first-ever black female protagonist, an African-American princess named Tiana (voice of Anika Noni Rose). Its box-office was $103 million (domestic) and $188 million (worldwide).
The Present State of Animated Films:
Robert Zemekis directed The Polar Express (2004), a film that further developed motion capture technology. It was marked by the first innovative use of the process of 'Performance Capture' -- an advanced motion capture system by which an actor's live performances were digitally captured by computerized cameras, and became a human blueprint for creating virtual, all-digital characters. This allowed actor Tom Hanks to play many very different characters (the boy, the father, the conductor, the hobo, and Santa Claus) in the same film. Zemeckis went even further with this technique in his later films (either produced or directed) including the haunted house film Monster House (2006), and the modern adaptation of the epic poem Beowulf (2007). As advances were made in the technique, it was clear that it would become more widespread and sophisticated as a special effects technique in the 2000s and into the future.
Disney released its first in-house computer-animated film, Chicken Little (2005), with a partial 3-D release, about a beleaguered young Chicken Little (voice by Zach Braff) who was humiliated by his claim that the sky was falling, and subjected to scorn by most of the town. The young cluck was estranged from his embarrassed single father Buck Cluck (voice of Gary Marshall) but vindicated when the "sky" actually falls, in a parody of a War of the Worlds-style invasion.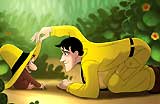 One of the few big-budget cel-animated films being released in the crowd of CGI films was the adaptation of Margret and H.A. Rey's classic children's book series titled Curious George (2006), starring the inquisitive monkey named George and Will Ferrell as the kind Man in the Yellow Hat who transported the orphaned George from Africa to America for a series of misadventures. George Miller (known for Babe (1995)) directed Happy Feet (2006) - the best Animated Feature Oscar-winning CGI-animated song-and-dance musical. It told about a group of Antarctic Emperor Penguins (created by CGI) who prided themselves on each having a "heartsong" to attract a mate. One young and unique penguin, named Mumble (voice of Elijah Wood) - the son of Elvis-like Memphis (voice of Hugh Jackman) and breathy Norma Jean (voice of Nicole Kidman), was considered an outsider because he couldn't sing but his real talent was tap-dancing.
Sequels were inevitable for the most successful animations, so DreamWorks' Shrek 2 (2004) appeared, with its original character-voices including Mike Myers (as green ogre Shrek), Cameron Diaz (as Fiona), and Eddie Murphy (as wise-cracking Donkey). The fairy tale couple returned from their honeymoon to find the bride's family in the land of Far, Far Away - Shrek's in-laws King Harold (John Cleese) and Queen (Julie Andrews), who are unhappy with her decision to marry an ogre. Additional characters included talk-show host Larry King as the voice of Fiona's Ugly Stepsister, Rupert Everett as foppish Prince Charming, Antonio Banderas as Zorro-style assassin Puss-in-Boots, and Jennifer Saunders as a plotting fairy godmother. [The third installment was Shrek the Third (2007), which brought back the entire cast from the second film, as well as adding additional stars, while the fourth installment Shrek Forever After (2010) took Shrek, suffering from a mid-life crisis and family life, to an alternate universe after signing a magical contract with Rumpelstiltskin. where the trickster reigns with witches. Shrek had only one day to receive "true love's kiss" from Fiona, a hefty Brunhilde-like leader of the Ogre Resistance.]
DreamWorks' Shrek Films
(chronological)

Films

Millions of Dollars of Box-Office Gross
(domestic)

Millions of Dollars of Box-Office Gross
(worldwide)

Domestic Notables
(as of 2013)

1. Shrek (2001)

$267.6

$484.4

8th highest-grossing animation of all-time; PG-rated

2. Shrek 2 (2004)

$441

$919.8

Highest-grossing animation of all-time; PG-rated

3. Shrek the Third (2007)

$322.7

$799

5th highest-grossing animation of all-time; PG-rated

4. Shrek Forever After (2010)

$238.7

$752.6

13th highest-grossing animation of all-time; PG-rated
Dreamworks/PDI would revisit the insect world, with Bee Movie (2007), about a bee named Barry B. Benson (voice of comedian Jerry Seinfeld) who had a forbidden friendship with a New York City florist named Vanessa (voice of Renée Zellweger), with an all-star cast including Alan Arkin, Kathy Bates, Matthew Broderick, John Goodman, Larry King, William H. Macy, and Oprah Winfrey, among others. The Oscar-nominated, dark, autobiographical black and white 2-D animated film Persepolis (2007, Iran/Fr./Us) based on her best-selling graphic novels, illustrated how political repression during the 1979 Islamic Revolution in Iran extended deeply into the life of the coming-of-age main female character, Marjane (or Marji) Satrapi (voice of Chiara Mastroianni), through various anecdotes.
With original storylines drying up, syndicated comic strip characters, such as the lazy, wise-cracking orange feline named Garfield (voice of Bill Murray), became an animated star in the live action/CGI hybrid film Garfield: The Movie (2004). The wacky and fast-paced, primitively-animated film The SpongeBob SquarePants Movie (2004), with its main character -- a yellow man-made sea sponge with legs and a red tie -- was a spin-off from the long-running Nickelodeon TV cartoon show. Another effort from the DreamWorks animation team (and released by Paramount), PG-rated Over the Hedge (2006), was a loose adaptation of a popular newspaper comic strip of the same name. It told the story of a group of wildlife forest animals, led by a turtle named Verne (Garry Shandling) and mischievous raccoon RJ (voiced by Bruce Willis), who felt the effects of encroaching human beings. It became the tenth highest grossing film of 2006, with the possibility of a sequel, but was overlooked for the Best Animated Feature Oscar.
Waltz with Bashir (2008) was the first animated film to be nominated in the Best Foreign Film Oscar category. Functioning partially as an oral-history documentary, the introspective, dream-like anti-war polemic was a confessional account of director Ari Folman's devastating and traumatic experience as a young Israeli soldier during his country's 1982 invasion of Lebanon, and its massacre of Palestinian refugees. It took two years to animate, and was done by a team of artists who combined hand-drawing with the latest technology - resulting in thick-lined, near-monochromatic animated images frequently seen in strange yellowish light. The animators based their drawings on staged and videotaped interviews, although the end result looked similar in some ways to the rotoscope technique used in Linklater's film Waking Life (2001).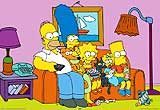 The longest-running, prime-time television cartoon series was The Simpsons - it premiered in December 1989 on the FOX channel. The iconic, culturally-significant animated show was created by Life in Hell cartoonist Matt Groening. An offshoot was their first feature length film, The Simpsons Movie (2007), starring the yellow-skinned, irreverent and misfit family featuring oafish father and nuclear plant manager Homer (voice of Dan Castellaneta), worrywart gravel-voiced, blue-haired mother Marge (voice of Julie Kavner), 10-year-old mischievous, troublemaker son Bart (voice of Nancy Cartwright), 8-year-old ecologically-minded, overachieving vegetarian Buddhist sister Lisa (voice of Yeardley Smith), and pacifier-sucking toddler Maggie.
Groening was also responsible for the science-fiction spoof Futurama that first aired in 1999 - a highly popular but less successful series set in the next millennium, starring "Generation-X" slacker Phillip J. Fry (voice of Billy West) - a 20th century NY pizza delivery boy who was cryogenically frozen by accident for 1,000 years, and woke up in a retro-futuristic world. It too was adapted into a feature-length film, Futurama: Bender's Big Score (2007), the first of a planned four films.
The Ultimate 3-D:
The decade of the 2000s saw advancements in 3D and an explosion of releases of both 3-D films and IMAX films. There were many varieties of 3-D, including Disney Digital 3D, Real D 3D, InTru3D, D-BOX, and IMAX 3D. And with many more theatres converted to the 3D format, that meant increased demand and bookings (and ticket prices) for 3D films. Would 3D be the future of filmmaking, a logical extension of CGI?
Disney's and Robert Zemeckis' Beowulf (2007) was released simultaneously in standard 2-D and non-Imax 3D versions and had the biggest 3-D rollout of any film in history (to date). Disney's and Zemeckis' 3-D A Christmas Carol (2009) was an adaptation of Dickens' 1843 classic story in which Jim Carrey played multiple roles, including old miser Scrooge (at different stages of his life) and the three Christmas ghosts. It was released in both Disney Digital 3-D and IMAX 3-D (it was the first Disney animated film released in this format), and to date, it was the most expensive 3D animation film ever made, budgeted at a production cost of $200 million.
The DreamWorks sci-fi spoof of 50s monster movies Monsters vs. Aliens (2009) was the first computer-animated feature film to be shot directly in stereoscopic 3-D -- dubbed the Ultimate 3-D. Previously, 3-D CGI films were made in a non 3-D version and then dimensionalized. The film was about the growth of Californian Susan Murphy (voice of Reese Witherspoon) who was hit by a meteor on her wedding day and grew to monstrous size (49 feet and 11 inches) and was named Ginormica.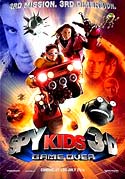 More 3D animated releases in the 2000s included: The Polar Express (2004), Chicken Little (2005), Monster House (2006), Meet the Robinsons (2007), Bolt (2008), Coraline (2009), Cloudy with a Chance of Meatballs (2009), Up (2009), Ice Age: Dawn of the Dinosaurs (2009), The Fantastic Mr. Fox (2009), G-Force (2009), Astro Boy (2009), Disney's motion-capture A Christmas Carol (2009), James Cameron's and 20th Century Fox's science-fiction tale Avatar (2009), and Pixar's Toy Story 3 (2010) - to name just a few. Toy Story 3 (2010) quickly became the highest-grossing G-rated movie ever, and became the first 2010 release to cross $400 million in domestic gross box-office. A total of 10 3D animated features were wide-released in 2009 - a record. And four of 2010's 10 highest-grossing movies were animated - and released in 3-D: Pixar's Toy Story 3 (2010), Despicable Me (2010), Shrek Forever After (2010), and How To Train Your Dragon (2010). The Oscar winner for Best Animated Feature film was not a Pixar film (no Pixar films were included among the nominees), but Rango (2011), director Gore Verbinski's Western comedy-adventure.
Older films were re-released in 3-D: The Nightmare Before Christmas 3D (2006, original 1993), Toy Story in 3D (2009, original 1995), and Toy Story 2 in 3D (2009, original 1999), and there were indications that the next phase of the 3-D Renaissance would be more 3D re-releases of classic blockbusters, such as Star Wars (1977), The Lord of the Rings (2001-2003), The Matrix (1999), Top Gun (1986), and Titanic (1997).
Wallace & Gromit Claymation and other Aardman Productions:
The British clay-animation studio Aardman Animations was most famous for the Wallace and Gromit series of 30-minute shorts with clay-animated characters, the first of which was A Grand Day Out (1989). Wallace was a befuddled, cheese-addicted Englishman inventor, with a silent, wily companion dog named Gromit. Before becoming recognized, Aardman produced by a series of popular television ads featuring singing California Raisins (named A.C., Red, Stretch and Bebop), along with claymation expert Will Vinton.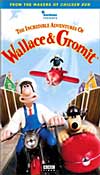 Aardman's writer-director Nick Park was responsible for these hits: its first Oscar-winning Creature Comforts (1989) which examined how anthropomorphized zoo animals felt about being placed in confined locations. The thirty-minute mystery Wallace and Gromit - The Wrong Trousers (1993), its second Wallace and Gromit short, with a frantic toy-train finale - was the Academy Award winner for Best Animated Short Film. Likewise, Aardman's third half-hour short with Wallace and Gromit titled A Close Shave (1995) also won the Oscar for Best Animated Short Film.
And then along with DreamWorks, Aardman produced their first feature film - the remarkable prison-break parody Chicken Run (2000) about an imprisoned group of egg-laying chickens plotting an escape. Mel Gibson starred as a cocky Yankee rooster. Its denial of a Best Picture nomination led to the creation of the Best Animated Feature category - first available for eligible films in the year 2001. The horror spoof Wallace & Gromit: The Curse of the Were-Rabbit (2005) was the first feature-length film starring the pair, and the first stop-motion/'claymation' film to win the Best Animated Feature Academy Award.
The animated comedy Flushed Away (2006), was co-produced by Aardman Feature Films and DreamWorks Animation - it was Aardman Films' first completely CGI film about an aristocratic rat named Roddy (voice of Hugh Jackman) whose life was ruined by a low-brow ruffian rat named Sid (voice of Shane Richie). The film was originally to be stop-motion claymation, but due to the abundance of water effects, the entire film was transformed into CGI -- however, the characters still resembled Aardman's trademark plasticene characters.
---



---