Featured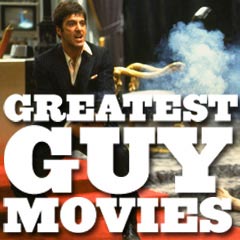 The Greatest Guy Movies of All-Time:
Filmsite presents this lengthy feature article with a core list of The Greatest Guy Movies of All-Time. The themes and content of these 'macho' or 'guys' films from the historical past often appealed mostly to male audiences, due to the emphasis on male buddy camaraderie, action, and violence. In this day and age, there now exists a widespread cultural identity crisis, creating confusion about genders, lack of singular clarity on what comprises the masculine ideal, fewer bona fide A-list male stars, and murky definitions of malehood and masculinity.
In these 'guy-movie' films, the male characters were usually strongly depicted. They comprised a diverse bunch of characters - detectives, secret agents, mobsters and crime lords, military officers, western outlaws, sheriffs, patriots and veterans, valiant underdogs, boxers, criminals, tough guys, buddies and partners, adventurers, sports team-members, POWs, cops, bikers and street racers, loners, and many more.
Guy movies often featured contests (conflicts or games), hot cars and women, road trips, sexual initiations, male bonding and buddies, profanities and obscenities, and excessive action fight-explosion sequences. They usually include lavish doses of brutality, ultra- or cartoonish violence, various vulgarities, competitiveness, races, blunt humor, trite dialogue, and often scenes with naked males and females. The heroes (or anti-heroes) of these films, predominantly with male casts and protagonists, were often loners or mavericks, destined to be unapologetic about their behavior.
The most common plot points and elements included in male-oriented flicks included: raunchy or coarse dialogue, various bloody, kick-ass, violent fight sequences, male coming-of-age and female conquest, instances of bravery, codes of honor, male bonding, loyalty, and memorable and quotable lines of dialogue.
>> See Also: The Greatest Guy Movies of All-Time