Featured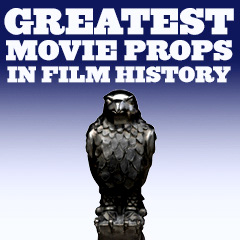 Filmsite has compiled an extensive collection of movie props with an incredible variety, including maps, masks, traps, machines, visual gag items, costuming parts, tools, weapons, furniture or artwork, unique animals/creatures, valuables, character references, MacGuffins, symbols, mementos, the subject of the film, and even a character in itself. The greatest movie props evoke a sense of nostalgia and cultural relevance, and a well-selected, recognizable and iconic prop can serve as a symbol for the entire plot of a film. The four most common film props include: vehicles (of all kinds), weapons (mostly firearms), mechanical gadgets, and costume components (and accessories). Movie props and movie memorabilia have become some of the most sought-after and valuable commodities on the market. There are prop shops today that sell almost every imaginable item from a film's production, but of course, the most valuable ones are one-of-a-kind and are worth millions.

>> See related article: Greatest Movie Props in Film History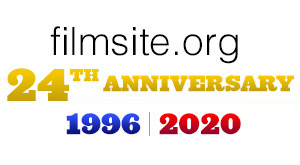 Test your knowledge of movie trivia in a fun, entertaining and compelling quiz format. Over 1,000 multiple choice questions ask about interesting film facts, quotes, the Oscars, milestones, and information about actors and directors, and will determine how much you really know about film trivia.
About Filmsite.org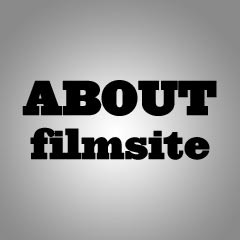 Filmsite.org is an award-winning website for classic film buffs, students, moviegoers and anyone else interested in the great movies of the last century. Detailed plot synopses, review commentary and film reference material are just some of the features available on the site. The site also contains film analysis, original content, information on the top films and most memorable movie scenes, "Best of..." articles, and the most popular film quotes in all genres of film. Its many resources include a comprehensive overview of film history, a complete survey of the Academy Awards (Oscars), milestones and turning points in the industry, and background and descriptions for hundreds of classic Hollywood/American and other English-language movies from the last one hundred years. In the mid-1990s when it was first launched, filmsite.org was one of the first websites to initiate the trend to select 100 Greatest Films in the history of cinema.
About Film Historian Tim Dirks

Tim Dirks created the popular filmsite.org website, aka Greatest Films, in mid-1996, and it celebrated its landmark 20th anniversary in 2016. He has been writing about and reviewing films ever since. As of September 2008, the site was acquired by American Movie Classics (AMC) LLC, and then as of July 2011, it became part of a new company called AMC Networks, Inc. Tim continues to be the sole contributor, manager, and editor of Filmsite - he adds significant content to the site spanning all the years of cinematic history, and often writes blogs and other film-related articles, including Sundance TV's completed series 1001 Movies You Must See Before You Die. The site averages between 30-50 million page views per year (see visitor and traffic statistics).
Roger Ebert Endorsement

Film critic and columnist Roger Ebert, author of The Great Movies (2002), The Great Movies II (2005), and The Great Movies III (2010) has made many detailed references to filmsite.org in his Chicago Sun-Times "Answer Man" column and in his many writings about the Great Movies over the years. He has written that the site is "an invaluable repository of movie descriptions and dialogue" and that it is an "awesome website [that] contains detailed descriptions of 300 great American films, along with many other riches."