Featured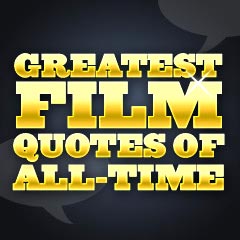 Greatest Film Quotes of All-Time:
Movie-goers have been blessed with many memorable movie quotes and lines of dialogue, from film speeches, one-liners, quips, punchlines, statements, insults, and even mis-quotes. The words are remembered through popular use, critical acclaim, shock value and quotability, and for many other reasons. Some lines become more visible or recognizable than was the original intention.
Scores of memorable lines have captured our attention by the way the line was delivered, by the tone in the actor's voice, the electricity on the screen, or many have become catch phrases.
Many memorable movie lines of dialogue are not from the greatest films, but they have remained as part of the film's legacy (and etched a place in movie history) anyway! Some of the quotes highlighted here have .wav files for listening.
This major section of "Movie Quotes" on Filmsite includes:
>> The Top 100 Greatest Film Quotes, Great Film Quotes (By Decade), 50 Great Movie Quotes, Most Popular Movie Quotes, Great Film Speeches & Monologues, Greatest Film Misquotes, Greatest Opening Film Lines and Greatest Closing Film Lines - and much more !