Featured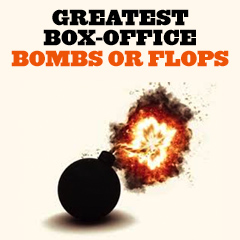 The Greatest Box-Office Bombs (or Money-Losing Flops) of All-Time:
In this revised, multi-page featured article by Filmsite, a summary chart provides estimates of the greatest film failures and flops (disasters, bombs, etc.) that potentially lost the highest amounts of revenue, based upon their estimated losses. Some films that appeared at first to do well (in foreign and/or domestic markets), were doomed to fail and not make a profit because their marketing and production budget costs were so substantial and exorbitant. Films that have lost over $85 million in revenue (adjusted for inflation) are usually considered to be among the all-time losers.
There are many reasons for a film to "bomb" at the box-office - the major causes are lack of studio promotion, heavy competition from other movies released at the same time, exorbitant production costs difficult to recoup and other production problems, negative word of mouth (especially in the era of the Internet and social media) or critical reviews, and other external factors such as bad timing, a health pandemic, or economic problems in society at large.
This selection of box-office financial bombs is often significantly different from another category of films, known as "turkeys" -- or in other words, films which have been rated as the worst ever made. These clunkers have often received official Golden Raspberry Awards (or "Razzies") which were first awarded in 1981 (for films made in 1980), although some "turkeys" are included in this list (such as Showgirls (1995) and Basic Instinct 2 (2006)).

>> See: The Greatest Box-Office Bombs (or Money-Losing Flops) of All-Time