Featured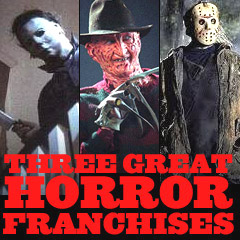 Three Major Horror Film Franchises:
Some of the most successful horror films were Halloween (1978), Friday the 13th (1980), and A Nightmare on Elm Street (1984). Each of the films spawned huge, financially-profitable franchises. Halloween films covered a period of over 40 years, while Friday the 13th films lasted for 29 years, and Nightmare films endured for 26 years.
However, most of these original films in the late 70s and early 80s resulted in inferior, low-budget sequels or imitators. There were many sickening slasher, 'schlock' or 'splatter' films in the 80s (and 90s and beyond). They were mostly exploitative and featured shock, gory violence, graphic horror, 'teens in peril,' computer-generated special effects and makeup, and usually a homicidal male psycho who committed a progressive string of gruesome murders on female victims (where brutal killing/slashing/hacking metaphorically substituted for a rape). Many of these films told tales of a vengeful murderer motivated by some past misdeed or sexual perversity.

>> See: Three Great Horror Film Franchises
>> See also: Greatest Scary Movie Moments and Scenes -- Here's another solid collection of hundreds of the most classic, 'scariest' scenes in movie history, including film scenes that were once considered 'scary' upon their initial screenings (or scary for young viewers), but have lost some of their shock appeal.