Children (Kids) and Family-Oriented Films are non-offensive, wholesome, and entertaining films (usually rated G for 'suitable for general audiences') that do not include topics or scenes with violence, foul language and other profanity, religious issues, gratuitous sexuality and so on, and are specifically designed for children 12 and under (or for family viewing). Children's and family-oriented films may actually be suitable for all age groups, and cover a wide range of genre categories (comedy, adventure, fantasy, musicals, etc.). They often include a child actor/actress (such as Shirley Temple), and/or focus on children's-related themes that teach a lesson or moral, or show that good can triumph over evil.

See The New York Times' Essential Library: Children's Movies - a selection of 100 recommended films for kids aged 8-12, and also the BFI's (British Film Institute) 2005 list of its Top 10 Children's Films of All-Time - a survey of the top 10 "films that all children should see by the age of 14", and alternative top 10 lists by NY Daily News film critics, and their complete Top 50 'Must See' Children's Films of All-Time.

The best-crafted children's and family films usually are those that are thoroughly enjoyable without being overly sentimental, trite and simplistic, smarmy, politically-correct, and with too much child-level humor. Classic films from Hollywood's 'Golden Era' may be very appropriate for this type of film audience. Although animated films are often the genre of choice for children and families, this section will focus on non-animated films.

Children's films are very often fantasy films, with wild and imaginative themes and plots that involve a journey, helpful and friendly creatures or supernatural beings, and settings in fantastic, far-away worlds. Family adventure films, such as Disney's Swiss Family Robinson (1960) are also included in this non-genre category.

Family-Oriented Features:

The films of child-star Shirley Temple in the 1930s and early 1940s included a few gems, Little Miss Marker (1934) and the tear-jerking The Little Princess (1939). Another timeless fantasy enjoyed perenially was the tale of a journey to Oz in The Wizard of Oz (1939).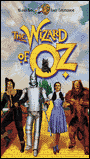 Besides animated features, there are many films that attracted family audiences. Three exceptional tales of the 1940s of children attached to a beloved pet or animal include: the collie-tale Lassie Come Home (1943), the exciting coming-of-age family drama and sports horse-race competition in National Velvet (1944), the classic tale of a boys' love for a fawn in The Yearling (1946), or Old Yeller (1957).
The visually-stunning family classic by director Carroll Ballard (a directorial debut) - Black Stallion (1979) was adapted from Walter Farley's well-known children's story about the empathic friendship between a wild black horse and a young boy. [Two films followed: The Black Stallion Returns (1983) and the IMAX prequel The Young Black Stallion (2003).] The cinematographic Australian film The Man from Snowy River (1982) was a traditional, coming-of-age wild horse/boy story set in the remote outback of 1880's Australia. French director Jean-Jacques Annaud's The Bear (1988), a live-action, nearly-silent adventure film epic, told about an orphaned bear cub who was befriended by a lone, giant wounded grizzly. Annaud's Two Brothers (2004) was another animal, family-film - about twin brother tiger cubs in the exotic jungles of 1920s French Indo-China who became separated and were taken into captivity, but later were reunited.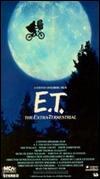 One of Disney's numerous family fluff pictures was the comedy The Parent Trap (1961), with Hayley Mills playing the dual role of match-making twins. Steven Spielberg's entertaining fantasy/science-fiction film E.T.: The Extra-Terrestrial (1982) told the enchanting tale of the relationship between a stranded outerspace alien and a fatherless boy - re-released with enhanced digital graphics in 2002. The first Home Alone (1990) was a wildly-popular and successful film about a young eight year-old boy left behind in his family's rush to the airport.
Christmas-Themed Family Films: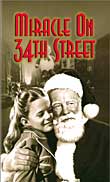 Year-end Christmas films have often been considered primary family-viewing fare. [See Filmsite's feature article on: Great Christmas Films.] The timeless Bing Crosby song "White Christmas" and other Irving Berlin music were featured in director Mark Sandrich's wartime musical Holiday Inn (1942) starring Crosby and Fred Astaire as rival song-and-dance performers. (It was colorfully remade in 1954 by director Michael Curtiz as White Christmas (1954), but not reprised by Fred Astaire - who was replaced by Danny Kaye.)
Another Christmas comedy favorite, director Peter Godfrey's Christmas in Connecticut (1945) starred Barbara Stanwyck as Elizabeth Lane - a sophisticated magazine columnist who must fabricate a home-making Connecticut family for herself to match her publicity as "America's Best Cook" (a 40's Martha Stewart). And director George Seaton's holiday classic Miracle on 34th Street (1947) starred a precocious 2nd grader Susan Walker (9 year-old Natalie Wood) skeptical of Santa Claus/Kris Kringle (Edmund Gwenn) in a New York City Macy's Department Store.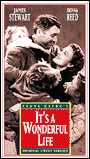 Frank Capra's beloved, feel-good American classic about the redemptive power of friendship, It's A Wonderful Life (1946) starred James Stewart as a man who was saved from suicide after a leap into a river by an angel named Clarence, and shown the true impact of his life. The magical comedy/fantasy film The Bishop's Wife (1947) told about an angel named Dudley (Cary Grant) sent to earth at Christmastime to help an Episcopalian bishop (David Niven) raise money for a new church - although he also flirts with the 'bishop's wife' (Loretta Young). [It was remade by director Penny Marshall as The Preacher's Wife (1996), with Denzel Washington as the angel who falls in love with co-star Whitney Houston.]
Charles Dickens' story of Ebenezer Scrooge, A Christmas Carol, is the most remade film of all time, with over 60 versions. The best and most definitive of all versions was director Brian Desmond Hurst's and screenwriter Noel Langley's 1951 British version A Christmas Carol (1951) with Alastair Sim as the mean London miser. An animated Christmas favorite continues to be A Charlie Brown Christmas (1965), the first half-hour Peanuts TV special telecast in December of 1965, with the title character searching for the true meaning of Christmas, with a Christmas pageant speech about over-commercialization. Charles Dickens' tale was updated in Brian Henson's The Muppet Christmas Carol (1992) with human actor Michael Caine (as Scrooge) among the puppets. Physical comic Jim Carrey played the green and mean title role in director Ron Howard's popular Dr. Seuss' How the Grinch Stole Christmas (2000). [The original version of Seuss' tale by legendary animator Chuck Jones, was a 1966 TV show narrated by Boris Karloff as the voice of the Grinch - a creature who attempted to destroy the holiday for the Whos in Whoville.]
The heart-warming modern-day classic, director Bob Clark's A Christmas Story (1983), was based on the 1940s childhood recollections of American humorist Jean Shepherd, to obtain a Red Ryder BB-gun for Christmas, with Peter Billingsley as the round, 9 year-old boy Ralphie. The slapstick National Lampoon's Christmas Vacation (1989) starred Chevy Chase as the daffy, disaster-prone head of the tasteless Griswold family, the third entry in the exhaustive yet hilarious series. Producer/production designer Tim Burton's off-beat and imaginative stop-action animated feature A Nightmare Before Christmas (1993) told the story of how the dark residents of HalloweenTown schemed to take over Christmas as their own personal holiday. Jack Skellington, the Pumpkin King, obsessed with Christmas, kidnaps Santa in ChristmasTown with plans to make Christmas scarier. TV situation-comedy actor Tim Allen in his screen debut, portrayed divorced father Scott Calvin (with initials the same as Santa Claus) and Father Christmas in the 1994 family box-office hit The Santa Clause (1994) - remade later as the sequel The Santa Clause 2 (2002).