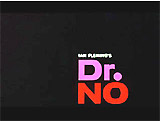 1962 to 1985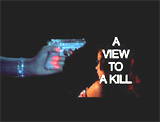 Miss Moneypenny (Lois Maxwell)

First 14 Bond Films (1962-1985) (from Dr. No (1962) to A View to a Kill (1985))
Films included: Dr. No (1962), From Russia with Love (1963), Goldfinger (1964), Thunderball (1965), You Only Live Twice (1967), On Her Majesty's Secret Service (1969), Diamonds Are Forever (1971), Live and Let Die (1973), The Man with the Golden Gun (1974), The Spy Who Loved Me (1977), Moonraker (1979), For Your Eyes Only (1981), Octopussy (1983) and A View to a Kill (1985).
Miss Moneypenny (Canadian actress Lois Maxwell) appeared opposite two Bonds (Sean Connery and Roger Moore), in 14 films over 23 years. She was the original Moneypenny character, portraying the loyal, hard-working secretary to the British Secret Service's "M" (Bernard Lee and Robert Brown), Bond's superior at MI6.
She always hijacked Bond in the outer office and playfully and flirtatiously attempted to get attention, or a date for dinner. She was often jealous of his other female friends. She almost always received restrained cheek-to-cheek embraces, because Bond was always busy and evasive or had conflicting appointments. Their banter was often listened to by "M" through their intercom system.
In You Only Live Twice (1967), Moneypenny was able to get Bond (Connery) to say "I Love You" to her, but it was only a code-word ("something that you wouldn't forget"). She insisted that he repeat the three words to her "to make sure you get it." Bond reassured her: "Don't worry. I get it."
However, in On Her Majesty's Secret Service (1969), after intervening when an angered Bond (Lazenby) threatened to resign, she changed his dictated message to "M" to a request for two weeks leave. Afterwards, Bond thanked her with a kiss on the lips, and she was pleasantly surprised.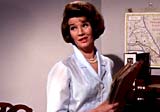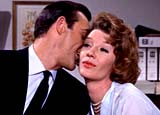 From Russia With Love (1964)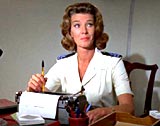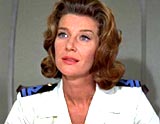 You Only Live Twice (1967)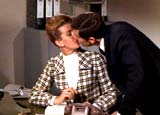 On Her Majesty's Secret Service (1969)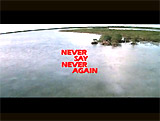 Miss Moneypenny (Pamela Salem)

Unofficial Bond film: Never Say Never Again (1983)
In this unofficial Bond film, actor Sean Connery reprised his role as Bond in a one-time return engagement. Pamela Salem was alongside him as the straight character role of Miss Moneypenny.
Bond left the office of M (Edward Fox) after being scolded for losing his skills and abilities: "Is your edge sharp enough? That's the difference between a double-0 and a corpse." M had little use for the double-0's, and thought that Bond maybe had "too many free radicals...toxins that destroy the body and the brain" by eating too much red meat and white bread and drinking "too many dry martinis." Bond was ordered to shape up with a "strict regimen of diet and exercise" to purge the toxins -- at a health clinic outside London called Shrublands.
As Bond left the office, he told M's secretary Miss Moneypenny (Pamela Salem) his new assignment: "to eliminate all free radicals." She looked concerned and urged: "Do be careful."
When called back into action and being briefed late one night on terror suspect SPECTRE No. 1 Maximilian Largo (Klaus Maria Brandauer) in the offices of MI6, Bond was interrupted by Moneypenny. He stated that it was late and she should be "in bed." She replied: "James, we both should be." She escorted him to M, mentioning that Bond was back in business: "Welcome home."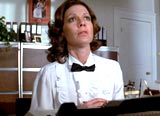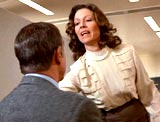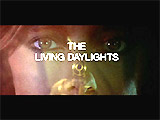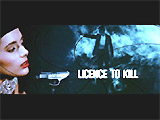 Miss Moneypenny (Caroline Bliss)

15th-16th Bond films (1987-1989) (from The Living Daylights (1987) to Licence to Kill (1989))
Caroline Bliss appeared only twice in a fairly minor role as love-starved, bespectacled Miss Moneypenny, in the 15th-16th Bond films (over a two-year period) - two Timothy Dalton films. At 26, she was the youngest actress to play the role.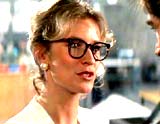 The Living Daylights (1987)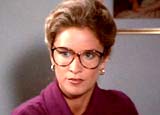 Licence to Kill (1989)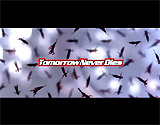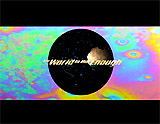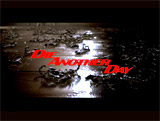 Miss Moneypenny (Samantha Bond)

17th-20th Bond films (1995-2002) (from GoldenEye (1995) to Die Another Day (2002))
Samantha Bond appeared as secretary Miss Moneypenny in the 17th-20th Bond films over a seven year period, four films - all the Pierce Brosnan films.
In the first film GoldenEye (1995), she played hard-to-get and joked with Bond that their conversation could qualify as sexual harrassment. Bond asked if there was a penalty. Moneypenny asserted: "Someday you have to make good on your innuendos."
In Tomorrow Never Dies (1997), she interrupted Bond by phone, while he was making love to gorgeous blonde Danish professor, Inga Bergstrom (Cecilie Thomsen). She said he would have to "kiss off" his Danish lesson due to an international emergency - the British fleet was being deployed to China. She ended the call with a clever double entendre: "You always were a cunning linguist, James." In another scene, she joked after M (Judi Dench) encouraged Bond to womanize in order to get information: "You'll just have to decide how much pumping is needed, James." Displeased with the idea, Bond responded: "If only that were true of you and I, Moneypenny."
In the third film, The World is Not Enough (1999), at MI6 Headquarters in London, England, Bond presented Moneypenny with a cigar case - she joked: "How romantic. I know exactly where to put that" and promptly tossed it into her trash-basket. He responded: "The story of our relationship: Close, but no cigar."
She was finally able to consummate her passionate love for Bond in the fourth film Die Another Day (2002). However, it was within a Virtual Reality setting. In fact, she had no actual contact with Bond in real-life (a Bond film first) - their two encounters in the film were both in Virtual Reality simulations.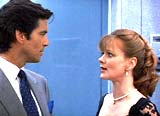 GoldenEye (1995)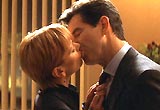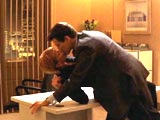 Die Another Day (2002)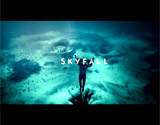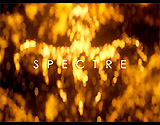 Miss Eve Moneypenny (Naomie Harris)
23rd-24th Bond films (2012-2015)
Naomie Harris' character marked the first instance in which Miss Moneypenny received the first name of Eve, and also engaged in the film's action in the field.
See Skyfall (2012) and Spectre (2015)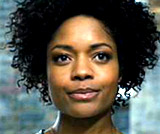 Skyfall (2012)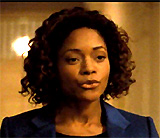 Spectre (2015)