Featured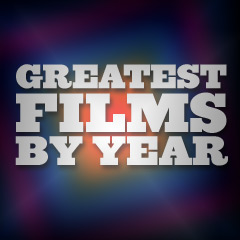 Year-by-Year - The 'Greatest' Films: 1902 - 2021
One way to look at films is to concentrate on each individual year's releases. It's a good method to recognize the flow and the trends of films, to see those that performed best, and to look at those that came to the forefront or were critically important.
These are the greatest or best films of each year, sometimes called the 'essential' films, the 'must-see' films 'before you die', the all-time best films, the 'A-list' films, or the top films, including a strong mix of foreign-language films - although not all award-winning or notable films could be listed or described. There is also a sampling of some independent and cult films.
Many of the entries have short or brief capsule summaries, and some provide links to much longer essays. Select an individual year within a decade for a listing of the greatest films for that particular year. Each of the films is labeled with Film Genre icons, designating whether it was a drama, comedy, adventure film, horror film, or a hybrid combination.
>> Year by Year: The 'Greatest' Films - 1902 - 2021

>> See also Other Extensive Film Write-Ups: Films: A - H | Films: I - R | Films: S - Z
Extra!! See Filmsite's illustrated review of Top Gun (1986)