Musicals / Dance Films are cinematic forms that emphasize and showcase full-scale song and dance routines in a significant way (usually with a musical or dance performance as part of the film narrative, or as an unrealistic "eruption" within the film). Or they are films that are centered on combinations of music, dance, song or choreography. In traditional musicals, cast members are ones who sing. Musicals highlight various musical artists or dancing stars, with lyrics that support the story line, often with an alternative, escapist vision of reality - a search for love, success, wealth, and popularity. This genre has been considered the most escapist of all major film genres. Tremendous film choreography and orchestration often enhances musical numbers. See this site's extensive compilation of the Greatest Musical Song/Dance Movie Moments and Scenes (illustrated)
Introduction:
With the coming of talking motion pictures, the musical film genre emerged from its roots: stage musicals and operettas, revues, cabaret, musical comedy, music halls and vaudeville. They were the last of the major film genres, because they were dependent on sound captured on film. (How could a movie be "all-singing, all-dancing" without sound?) Musicals are often described as Broadway on film, although many other forms of musicals have been made (e.g., rock 'n' roll movies and disco/dance films). Recently, animated films (with musical soundtracks, such as Beauty and the Beast (1991), Aladdin (1992), The Lion King (1994), and Tarzan (1999)) have emerged as one of the major musical forms, and many of them have won Best Original Song Oscars.
The Earliest Examples of Sound/Dance Films:
One of the earliest films with a famous dance sequence was The Four Horsemen of the Apocalypse (1921), noted for Latin lover Rudolph Valentino's sensuous tango performed in a smoky cantina while dressed in an Argentine gaucho costume. In 1926, Warner Bros. had produced Don Juan (1926), the first full-length silent film released with a complete musical score synchronized on a 78 rpm Vitaphone soundtrack (with sound effects and an original score). The groundbreaking film cleverly synchronized canned sound effects and dubbed music to the action.
Warner Brothers' Experiments with Sound:
Warner Bros. had launched sound and talking pictures, with Bell Telephone Laboratory researchers, by developing a revolutionary synchronized sound system called Vitaphone. It was a short-lived system sound-on-disk process developed in 1925 that became obsolete by 1931. This sound-on-disk process allowed sound to be recorded on a 16" phonograph record (a fragile disk made of wax) that was electronically linked and synchronized with the film projector. Each disc corresponded to one reel of film, or about ten minutes. The process was first used for short one- and two-reel films, mostly comedies and vaudeville acts.
The Jazz Singer (1927): A Landmark Film

With the coming of the talkies, the film musical genre naturally emerged with the first full-length, revolutionary 'talkie' (with speech and song) that premiered in New York City at the Warner Theatre on October 6, 1927. It was a "musical" of sorts - Warner Bros.' The Jazz Singer (1927). Contrary to popular belief, it was not the first sound feature film, since it was mostly silent, and it was not the first Hollywood musical (The Broadway Melody (1929) holds that honor). It was also not the first instance of sound-on-film.
In reality, the landmark part-talkie singing film was an old-fashioned melodrama about Jewish-bred 'jazz singer' Jakie Rabinowitz/Jake Robin (charismatic Broadway mega-star Al Jolson). It featured seven songs (including "Blue Skies," "Toot-Toot-Tootsie," and "Mammy" - famous for the image of Jolson on one knee holding out his arms to embrace the audience), and a few lines of screen dialogue (including one long emotional homecoming speech to Jolson's mother, played by Eugenie Besserer). After Jolson had sung his first song, "Dirty Hands, Dirty Face", he delivered a portentous, spellbinding line that was ad-libbed and left in the film, before singing his next song. His naturally-spoken words were the first ever heard in a full-length movie:
Wait a minute! Wait a minute! You ain't heard nothin' yet. Wait a minute, I tell ya, you ain't heard nothin'! Do you wanna hear 'Toot, Toot, Tootsie!'? All right, hold on, hold on. (To the band leader) Lou, Listen. Play 'Toot, Toot, Tootsie!' Three choruses, you understand. In the third chorus I whistle. Now give it to 'em hard and heavy. Go right ahead!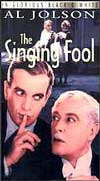 In the next year - 1928, the hot star Al Jolson teamed up once more with Warner Bros. for his only other big hit - director Lloyd Bacon's part-talkie, part-silent high-grossing tearjerker The Singing Fool (1928). This follow-up film for Jolson was an even bigger success and soon became the biggest-grossing film of all time - until Gone With the Wind (1939). In fact, this film was the one that really introduced the public to the sound film. It was a sophisticated variation of the earlier hit in which Jolson crooned seven songs, including: "Sonny Boy," "I'm Sittin' on the Top of the World," "There's a Rainbow 'Round My Shoulder," and "It All Depends on You." The first film-related hit record was Al Jolson's Sonny Boy, sung three times in Jolson's second feature film.
Three more ground-breaking films featured Jolson at the end of the decade, although none of them approached his earlier success. They were: Lloyd Bacon's Say It With Songs (1929), director Michael Curtiz' Mammy (1930) - a melodrama with a few Irving Berlin songs and Technicolor sequences, and Big Boy (1930).
Upheaval in the Industry:
The other major film studios (Paramount, Loew's, First National and UA) realized the expensive and challenging ramifications of the sound revolution that was dawning, and that talkie films would be the wave of the future. Most of the studios started to convert from silent to sound film production - a tremendous capital investment. Thousands of existing theaters had to be rewired for sound. In 1927, only 400 US theatres were wired for sound, but by the end of the decade, over 40% of the country's movie theatres had sound systems installed. Many Hollywood actors/actresses lacked good voices and stage experience, and their marketability decreased. By 1930, the silent movie had practically disappeared, and by the mid-1930s, film industry studios had become sound-film factories. The industry standard was becoming sound-on-film - a more practical alternative than sound-on-disk.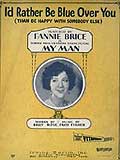 Most early musicals were crudely made, due to technical limitations, and often just adaptations or photographed versions of recent stage hits. Broadway stars were called in to become musical film stars. Broadway legend and popular Ziegfeld Follies star Fannie (or Fanny) Brice (in her sound film debut) performed some of her inimitable sketches and songs ("I'd Rather Be Blue Over You" and the title song) in director Archie Mayo's and Warners' musical My Man (1928) - one-third of which was silent. The studio thought she would be the female equivalent of Al Jolson, but the film was not financially successful, and Brice (with her Yiddish persona and atypical star look) was not an overnight success on film, until her "Baby Snooks" character in the top-rated radio comedy series became popular.
On stage, the Jerome Kern/Oscar Hammerstein II Show Boat debuted in 1927 - it was the first Broadway musical play, differing from previous musical revues (a series of musical numbers strung together). In two years, Universal released the part-talkie film version Show Boat (1929) - the first of many versions (James Whale's 1936 version with Paul Robeson - usually considered the best, and George Sidney's 1951 version with Howard Keel) of the popular adaptation from Edna Ferber's book.
The First Genuine Musical: The Broadway Melody (1929)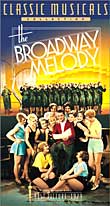 The first genuine musical, fully integrating singing and dancing into a 'backstage musical' plot was also MGM's first full-length musical, The Broadway Melody (1929). It premiered in Hollywood in early February of 1929 at Grauman's Chinese Theatre, and was the first widely-distributed sound feature. It was proudly advertised as "All Talking - All Singing - All Dancing", and the popular film brought in a profit of over $1.6 million. It was the first musical film - and the first sound film as well - to win an Academy Award for Best Picture. The film inspired three more Broadway Melody films in the following decade - in 1935 (the best of the series), 1937, and 1940. In 1929, it also inspired an abundance of copycat imitators with similar 'backstage' or show-business-related plots.
The landmark musical, with songs composed by Arthur Freed and Nacio Herb Brown, starred Anita Page (as Queenie) and Oscar-nominated Bessie Love (as older sibling Hank) as two sisters seeking fame in the New York theatre - known as the Great White Way - while both were attracted to song-and-dance man Charles King (as Eddie). The musical is outdated today and exhibits its clumsy vaudevillian, stage-bound roots (with Jack Benny as master of ceremonies). However, it featured the innovative use of two-colors in "The Wedding of the Painted Doll" sequence, a mobile camera, and slangy dialogue. The film was also revolutionary for two sound engineering firsts:
it used a pre-recorded soundtrack (for "The Wedding of the Painted Doll" sequence)
it had post-production sound effects and editing
The pioneering sound film was produced by young production head Irving Thalberg, and its original score was written by the team of Nacio Herb Brown and Arthur Freed - the film's hit song was "You Were Meant For Me." [Freed remained with MGM and eventually was responsible for some of the studio's most successful and sophisticated musicals, beginning in the 1940s and continuing into the 1950s. Brown's and Freed's songs were later recycled into Singin' in the Rain (1952).] Other songs included "Give My Regards to Broadway" (George M. Cohan), "The Wedding Day of the Painted Doll", "Love Boat," "Broadway Melody," "Boy Friend," and "Truthful Deacon Brown" (Willard Robison).
The Boom in Musicals:
The 1930s were considered the beginning of the "Golden Age of the Musical" with a greater variety of musical vehicles and stars. Musical arrangers, song-writers, conductors, and dance instructors hurried to the West Coast to be part of the onslaught of 'talking' musicals. In particular, backstage musicals became the rage during the Great Depression, encouraging the production of other imitators with similar characters: a struggling stage producer, wise-cracking chorus girls practicing and on the lookout for rich husband prospects, and the opening night opportunity for stardom for an inexperienced chorus girl filling in for the leading lady. Paramount's Astoria, Long Island studios were the earliest to master the musical genre. Some of the leading songwriters and lyricists, such as Jerome Kern, Irving Berlin, Cole Porter, and George Gershwin, began to write original screen musicals or provide words and music. The studio associated with all-star extravaganzas and revue-type productions was MGM.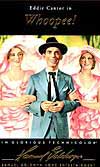 MGM's follow-up film to its successful Best Picture entry in 1929 was Chasing Rainbows (originally titled The Road Show) (1929), again bringing together stars Bessie Love (as Carlie) and Charles King (as song-and-dance man Terry), with the memorable tune "Happy Days Are Here Again" - the future Presidential campaign song for Franklin D. Roosevelt in 1932.
Musicals experienced a significant boom during the late 1920s and early 1930s, many of them with Broadway stars lured westward to Hollywood. Eddie Cantor was attracted to Hollywood from Broadway, where he made his first sound film Whoopee! (1930), based on Flo Ziegfeld's 1928-1929 Broadway production (with the same cast) and filmed almost intact.
Silent film stars Corinne Griffith, Colleen Moore, and others found themselves in sound films with dialogue. Pretty red-headed Paramount star Nancy Carroll appeared in the part-talkie comedy Abie's Irish Rose (1928) - making her the first Hollywood actress to sing and dance on a sound stage, and also in the early sound musicals Sweetie (1929) and Honey (1930), among others. Portraying the 'girl-next-door', Carroll was notable as the first musical star to emerge within Hollywood.
Janet Gaynor's first all-talking film was Fox's popular early musical Sunny Side Up (1929), one of the first musicals created directly for the screen (with a score by DeSylva-Brown-Henderson) - and featuring the film debut of young 7 year-old Jackie Cooper. In the familiar Cinderella tale, Gaynor took the role of working-girl heroine Molly and sang "I'm a Dreamer (Aren't We All?)", "If I Had a Talking Picture of You", and the title song. Also, Gaynor was again teamed with her silent film romantic partner Charles Farrell (they were known as "America's Favorite Lovebirds") for the first time in a talkie. The finale's bizarre, erotic and uninhibited production number "Turn on the Heat," partly tinted in Multi-color, has been considered the 'first purely cinematic' number of its kind - 36 chorines led by flapper Jane Worth (Sharon Lynne), who were dressed as Eskimos, flung off their fur parkas when their ice-bound set became a 'hot', palm-tree-dotted tropical island - and when it became too hot and the island went up in flames, they jumped into the water in their skimpy summer suits.
Early Operettas:
Many of the first musical sound films were generally heavy-handed, stage-bound adaptations of operettas that looked much like photographed stage plays. The first all-talking, all-singing full-screen operetta was Warners' and Roy Del Ruth's The Desert Song (1929) with some Technicolor sequences, which was based on the 1927 operetta of the same name with music by Sigmund Romberg and Oscar Hammerstein II. It starred John Boles as the Pimpernel-like Red Shadow - the handsome masked bandit leader of the French Moroccan Riffs, and Carlotta King as heroine Margot. Myrna Loy also starred in an early role as the exotic native girl Azuri. It was produced two more times by Warner Bros, in 1944 and 1953.
RKO's first major production was the stage adaptation Rio Rita (1929), one of the first musical spectaculars (filmed in black and white with one rare Technicolor sequence). Starring Bebe Daniels as the Hispanic title character and John Boles as a Texas Ranger, it was a costly adaptation of Florenz Ziegfeld's 1927 successful Broadway stage musical hit shown virtually whole. Two of its stars from the original show, comics Bert Wheeler and Robert Woolsey, went on to later fame in the early 30s for the studio.
MGM's Best Picture-nominated musical comedy The Rogue Song (1930) was another Technicolor musical adapted from the 1912 operetta Gypsy Love, starring ex-Met baritone Lawrence Tibbett in his first screen role (Oscar-nominated as Best Actor) as Yegor - the dashing leader of an outlaw band called The Robbing Larks. New Moon (1930) (remade in 1940 with Jeanette MacDonald and Nelson Eddy), featured Metropolitan Opera soprano diva Grace Moore and ex-Met baritone Lawrence Tibbett. [Moore's debut film was in MGM's musical A Lady's Morals (1930) as the 'Swedish Nightingale' Jenny Lind.]
All-Star Revue Musicals: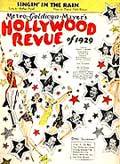 Every studio in the late 20s produced lavish, star-studded musicals of the "all-talking, all singing, and all dancing" variety that contained smorgasbord lineups of specialty or vaudeville acts, comedy sketches, musical numbers, short dramas, and other production numbers (some of which had color sequences). In many cases, actors with no musical talent whatsoever were recruited into these musical revue films that were essentially all-star spectacles.
One of the first "variety" shows was MGM's elaborate, Best Picture-nominated The Hollywood Revue of 1929 (1929) noted for two highlight songs: "While Strolling Through the Park One Day" and "Singin' in the Rain". Its star-studded cast included Joan Crawford (singing and Charleston-dancing to "Gotta Feelin' For You"), Marion Davies (performing "Tommy Atkins on Parade" and also tap dancing), Bessie Love (performing "I Never Knew I Could Do a Thing Like That"), comedy sketches from Laurel and Hardy, Buster Keaton (performing "Dance of the Sea" dressed as Neptune's daughter) and Marie Dressler (singing "For I'm the Queen"), and other star performers. It was hosted by Jack Benny and Conrad Nagel and was most notable for an early version of "Singin' in the Rain", performed by Cliff Edwards (known as "Ukelele Ike") during a rainstorm in the two-color finale.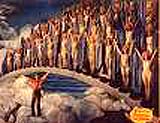 Another was Warners' color film The Show of Shows (1929), that featured comedienne Winnie Lightner singing the first renditions of "You Were Meant For Me" (with Bull Montana) and "Singing in the Bathtub" - to mock the song in MGM's film. It also starred Myrna Loy, John Barrymore, comedian Ben Turpin, 'Eight Sister Acts' and more, and was hosted by Master of Ceremonies Frank Fay. The film ended with a showstopper of ten different dance troupes. Universal's King of Jazz (1930) featured a spectacular array of stage-screen and radio stars. It was an unscripted vaudeville revue of production numbers as a tribute and "scrapbook" honoring and showcasing "King of Jazz" band leader Paul Whiteman (Himself). It opened with a Walter Lantz cartoon (the first Technicolor sound cartoon ever made), then included the extravagant "My Bridal Veil" production number, 500 cowboys with John Boles in the climax of "Song of the Dawn", an early appearance of Bing Crosby as a Rhythm Boys band member singing "Mississippi Mud," and the highlight - a 2-strip Technicolor version of George Gershwin's "Rhapsody in Blue" performed by the Paul Whiteman Band (emerging from inside a large baby-blue-colored grand piano). The film ended with "The Melting Pot Medley" featuring dozens of costumed chorines.
Other "variety" or "revue musicals" included: Fox's Movietone Follies of 1929 (1929), and the best of the entire lot -- Paramount's and female director Dorothy Arzner's Paramount on Parade (1930) - a patchwork from eleven different directors of twenty numbers (and eleven songs). It featured Nancy Carroll (with "Dancing to Save Your Sole" performed inside and on top of a shoe with rubber-legged dancer Al Norman), Maurice Chevalier in three sequences (including singing "All I Want is Just One Girl" while patrolling a Parisian park as a gendarme, and "Origin of the Apache" danced in a bedroom slapstick-style), Clara Bow (dressed as a sailor singing "I'm True to the Navy Now"), George Bancroft, Kay Francis, William Powell, Warner Oland, Ruth Chatterton (performing "My Marine") and many more; the film's Technicolor finale was titled "Rainbow Revels" with the chorus and Chevalier appearing as chimney sweeps and singing "Sweeping the Clouds Away". The only major Paramount star not included in the film was Jeanette MacDonald.
Early Musical Directors: Ernst Lubitsch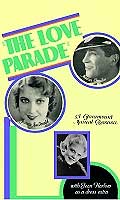 A few of the more notable early musicals were from German emigre director Ernst Lubitsch, who had already established a reputation as a director of sophisticated, risque romantic/sex comedies in the silent era. He was adept at effectively integrating songs into his narratives involving sexual indiscretions and liaisons. One of his major innovations was to shoot his pictures without sound (it would be dubbed in later), thereby giving him more freedom of camera movement. He also introduced the world to the wonderful pairing of French cabaret star Maurice Chevalier and soprano Jeanette MacDonald.
His first sound and musical film was at Paramount, The Love Parade (1929/30). Lubitsch skillfully used sound and smoothly avoided making it stage-bound and over-acted like many of the early talkies. It was one of the first movie musicals that integrated songs into the narrative story. The film featured the delightful pairing of red-haired singer Jeanette MacDonald (in her first film, debuting as the frustrated Queen Louise of Sylvania) and French entertainer and the film's sole star Maurice Chevalier in his second sound picture (as womanizing military attache Count Alfred Renard and MacDonald's consort/prince). The film included such delightful songs as "Dream Lover," a duet of the title song, and the entertaining "Anything to Please the Queen." It received six Academy Award nominations for Outstanding Production, Best Actor (Maurice Chevalier), Best Director, Best Cinematography, Best Interior Decoration and Best Sound Recording.
Over the next three years, Lubitsch went on to direct three more musical comedies, collaborating again with Jeanette MacDonald and Maurice Chevalier:
Monte Carlo (1930), set in the Riviera, starred Jeanette MacDonald (opposite Jack Buchanan) and contained the famous sequence of her singing "Beyond the Blue Horizon"
The Smiling Lieutenant (1931/32), an amusing and enchanting romantic comedy starred Maurice Chevalier (as Lt. Nikolaus 'Niki' von Preynan, an Austrian lieutenant in the Viennese military) in addition to Claudette Colbert (as Franzi, the violin-strumming leader of an all-girls' band) and Miriam Hopkins (as uptight Princess Anna) - it was a charming Viennese-flavored operetta (based upon the 1907 3-act operetta A Waltz Dream by Oscar Straus) - and a box-office hit (and Best Picture nominee). One of its more memorable songs was the honky-tonk piano-accompanied "Jazz Up Your Lingerie," while Hopkins burned her underwear in the fireplace.
One Hour With You (1931/32) (with uncredited co-director George Cukor) was a re-named remake of Lubitsch's earlier silent film comedy The Marriage Circle (1924); it was now a impudently witty romantic comedy-sound musical; the sex romp with some infidelity again paired Jeanette MacDonald with Maurice Chevalier as husband and wife (threatened by vamp Genevieve Tobin), with their duet: "What a Little Thing Like a Wedding Ring Can Do." (It was nominated for Best Picture, but lost to Grand Hotel (1932))
For his last musical, Lubitsch brought MacDonald and Chevalier together again, at MGM, for one of the greatest, most lavish operettas ever filmed, The Merry Widow (1934). It was loosely based on Franz Lehar's 1905 operetta, with a Rodgers and Hart score, and won the Academy Award for Best Art Direction (Cedric Gibbons and Frederic Hope).
Early Musical Directors: King Vidor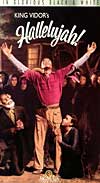 One of the early landmark musical films was King Vidor's and MGM's melodramatic musical Hallelujah! (1929). It was King Vidor's first talkie and only musical. And it was the first all-black feature film in the sound era with a soundtrack composed of various spirituals and traditional songs, such as "Swing Low, Swing Chariot" and "Swanee River." It was a risky film to make, given its questionable box-office potential, and the fact that it was shot mostly on location in Memphis. [Vidor was already known for his great silent films, including The Big Parade (1925) and The Crowd (1928).]
It was also the first film with a dubbed, asynchronous soundtrack added later in the studio in Hollywood - a technological, post-production advancement. Although the film contained some racial stereotypes, over-done acting, and primitive techniques, it remained a powerful tale of murder and redemption in the Deep South, regarding black man Zeke (Daniel Haynes) who was led to commit manslaughter and murder within a love triangle involving seductive temptress Chick (Nina Mae McKinney) and her lover from the past Hot Shot (William E. Fountaine).
Early Musical Directors: Rouben Mamoulian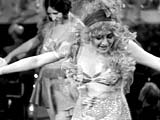 In the early 1930s, director Rouben Mamoulian was most adept at stylizing musicals, using various devices in his pictures, such as slow motion (to create dreamy interludes and imaginary settings), a moving camera, swift transitions between scenes, a double-channel soundtrack with overlapping dialogue, and reversed films. Mamoulian's directorial debut (and his first sound film) was titled Applause (1929). It was an inventive, refreshingly-realistic, seamy, sordid and grim melodrama of backstage life, with rough dialogue, unattractive characters, and an uncompromising tragic ending regarding a mother-daughter relationship. It was one of the earliest talkies to feature Broadway's legendary 1920s musical star Helen Morgan (in her screen debut) as fading, self-destructive burlesque (singer-stripper) queen Kitty Darling, unswervingly devoted to her convent-educated daughter April (Joan Peers).
Mamoulian's Lubitsch-inspired romantic musical Love Me Tonight (1932) from Paramount (with a Rodgers and Hart score) is considered among the greatest, most innovative musicals of the 1930s. It set the pattern for future seamlessly integrated musicals. The stars wove witty dialogue and songs together that advanced the plot. This charming and sparkling film featured the ever-popular, effervescent stars Jeanette MacDonald as melancholy, frustrated and bored countess Princess Jeanette, Maurice Chevalier as tailor Maurice Courtelin mistaken for a baron Maurice Courtelin, and Myrna Loy as man-hungry Countess Valentine, in a tale set in Paris.
The film opened with a 'symphony of noises' sequence, capturing the rhythms and sounds of Paris awakening -- (i.e., pavement-sweeping, rug-beating, boot-making, cobblestone-tapping, smokestack-churning, and bell-ringing), while Chevalier sang "That's the Song of Paree"; he also was linked to MacDonald for their classic rendition of "Isn't it Romantic?" - the catchy tune was passed through time and space (from Chevalier's 'Tailleur' shop to people in the street, and into the countryside on a train, and then into MacDonald's country chateau where she was singing on her open balcony) and linked together by different characters (a shop customer, a taxi driver and his composer customer, soldiers on the train that emerged marching, and a gypsy violinist).
Of the nine staged musical numbers, other songs included the title song "Love Me Tonight" with the song ending with the duo in split-screen - appearing as if they were in the same bed, the lilting Rodgers and Hart tune "Lover" (sung by MacDonald in her carriage to her horse), and Chevalier's trademark impertinent serenade song to MacDonald titled "Mimi" ("You know I'd like to have a little son of a Mimi by and by!").