Background
---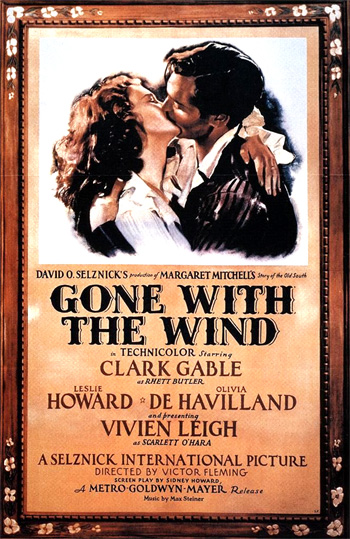 Gone With The Wind (1939) is often considered the most beloved, enduring and popular film of all time. Sidney Howard's script was derived from Margaret Mitchell's first and only published, best-selling Civil War and Reconstruction Period novel of 1,037 pages that first appeared in 1936, but was mostly written in the late 1920s. Producer David O. Selznick had acquired the film rights to Mitchell's novel in July, 1936 for $50,000 - a record amount at the time to an unknown author for her first novel, causing some to label the film "Selznick's Folly." At the time of the film's release, the fictional book had surpassed 1.5 million copies sold. (Now, more than 30 million copies of the 1936 Pulitzer Prize-winning novel have been sold.) More records were set when the film was first aired on television in two parts in late 1976, and controversy arose when it was restored and released theatrically in 1998. In total, it has been re-released eight times, has been shown many times on television since the 1970s, and remains a best-seller on home video (all versions).
The famous film, shot in three-strip Technicolor, is cinema's greatest, star-studded, historical epic film of the Old South during wartime that boasts an immortal cast in a timeless, classic tale of a love-hate romance. The indomitable heroine, Scarlett O'Hara, struggles to find love during the chaotic Civil War years and afterwards, and ultimately must seek refuge for herself and her family back at the beloved plantation Tara. There, she takes charge, defends it against Union soldiers, carpetbaggers, and starvation itself. She finally marries her worldly admirer Rhett Butler, but her apathy toward him in their marriage dooms their battling relationship, and she again returns to Tara to find consolation - indomitable.
Authenticity is enhanced by the costuming, sets, and variations on Stephen Foster songs and other excerpts from Civil War martial airs. Its opening, only a few months after WWII began in Europe, helped American audiences to identify with the war story and its theme of survival.
With three years advance publicity and Hollywood myth-making, three and one-half hours running time (with one intermission), a gala premiere in Atlanta on December 15, 1939, highest-grossing film status (eventually reaching an unadjusted intake of almost $200 million domestic, and just over $402 million worldwide), and Max Steiner's sweeping musical score, the exquisitely-photographed, Technicolor film was a blockbuster in its own time. A budgeted investment of over $4 million in production costs was required - an enormous, record-breaking sum. It was the longest and most expensive Hollywood sound film of the time. The film (originally rough-cut at 6 hours in length) was challenging in its making, due to its controversial subject matter (including rape, drunkenness, moral dissipation, adultery, and more recently, its simplistic depiction of slavery and nostalgic view of the ante-bellum pre-Civil War South). With epic qualities, it had more than 50 speaking roles and 2,400 extras. The film currently remains the box-office (domestic) champ with a gross revenue of $1.89 billion (adjusted for inflation).
Various elements in the original novel had to be eliminated, and some characters, scenes, and events were either truncated, dropped, or modified:
Scarlett's first two children (Wade Hampton and Ella Lorena) were eliminated
In the novel, Charles Hamilton was in love with Honey Wilkes prior to falling in love with Scarlett; in the film, he was in love with India Wilkes
Rhett's scenes (and confessions) about being a blockade runner were minimized or cut out
the novel's love scenes (in particular, the "Paddock Scene") were more low-key
the character of the Atlanta prostitute Belle Watling was sanitized (and Rhett's finding of solace with Belle - after Scarlett vowed not to have any more children following Bonnie's birth), was also down-played
any episodes or mention of the Ku Klux Klan were dropped
Rhett's contempt for Ashley was softened
Rhett's last words in the novel: "My dear, I don't give a damn." In the film: "Frankly my dear, I don't give a damn." [Contrary to popular belief, it was not the film with the first use of the word 'damn' (the expletive had been said a year earlier in Pygmalion (1938) and variations, such as 'damned', were heard in other earlier films]
Will Benteen (Tara's "man of the house"), Rhett's sister Rosemary Butler, and Scarlett's uncle and lawyer Henry Hamilton were eliminated
On the night of the Shantytown raid, Melanie read from Charles Dickens' David Copperfield rather than from Victor Hugo's Les Miserables
A nationwide casting search for an actress to play the Southern belle Scarlett resulted in the hiring of young British actress Vivien Leigh, although over 30 other well-known actresses had been tested or considered including: Katharine Hepburn, Miriam Hopkins, Susan Hayward, Loretta Young, Carole Lombard, Paulette Goddard, Margaret Sullavan, Barbara Stanwyck, Joan Crawford, Norma Shearer, Lana Turner, Joan Bennett, Mae West, Tallulah Bankhead, Jean Arthur, and Lucille Ball. In all, 1,400 actresses were interviewed for the part of Scarlett O'Hara, and 400 performed audition-readings. Although MGM star Clark Gable was expected to play the role of the dashing Charlestonian war profiteer Rhett Butler, Errol Flynn, Ronald Colman, and Gary Cooper were also considered for the part. Author Margaret Mitchell told a reporter she favored Basil Rathbone for the male lead.
The four principal stars were billed in this order: Clark Gable, followed by Leslie Howard (as Scarlett's obsessive love, the glum Ashley Wilkes) and Olivia de Havilland (as sweet Melanie Wilkes, Ashley's cousin), and then Vivien Leigh last with "...and presenting" -- that is, until she won the Oscar and it was changed to "starring."
The landmark film received tremendous accolades, more than any previous films to date: thirteen nominations and eight (competitive) Academy Awards, including Best Picture, Best Director (Victor Fleming - the only credited director), Best Actress (Vivien Leigh), a posthumous Best Screenplay (Sidney Howard, along with collaborative assistance from Edwin Justin Mayer, John Van Druten, Ben Hecht, F. Scott Fitzgerald, and Jo Swerling) - the first post-humous winner of its kind, Best Color Cinematography, Best Interior Decoration, Best Film Editing, and Best Supporting Actress (Hattie McDaniel - the first time an African-American had been nominated and honored) and two honorary plaques, one for production designer William Cameron Menzies for the "use of color for the enhancement of dramatic mood," and the other a technical production award for Don Musgrave for "pioneering in the use of coordinated equipment."
Many of the five nominations that lost were unexpected: Best Actor (Clark Gable who lost to Robert Donat for Goodbye, Mr. Chips), Best Supporting Actress (Olivia de Havilland who was competing against co-star Hattie McDaniel), Best Sound Recording, Best Original Score (Max Steiner), and Best Special Effects. Its record of a total of ten Academy Awards wins held firm until 1959, when Ben-Hur (1959) won eleven Oscars. It was phenomenal that Gone With the Wind did so well, given that 1939 boasted some of the greatest American films ever made, including Ninotchka, The Wizard of Oz, Wuthering Heights, Mr. Smith Goes to Washington, Goodbye, Mr. Chips, and Stagecoach.
Although almost half of the film was directed by Victor Fleming (45%) - who received screen credit, four other directors contributed various parts of the film: Sam Wood (15%), William Cameron Menzies (15%), 'woman's director' George Cukor (5%) - the first director, B. Reeves ("Breezy") Eason (2%), and the remaining from various second unit directors (18%). Menzies was placated with the credit: "Production designed by..." In the 30s, Selznick had already produced such prestige pictures and literary works for the screen, such as David Copperfield (1935), A Tale Of Two Cities (1935), Anna Karenina (1935), The Prisoner Of Zenda (1937), and The Adventures Of Tom Sawyer (1938), and at the time of Gone With the Wind's production, he was also preparing Rebecca (1940).
The ever-popular film has also had its share of detractors, for its benign antebellum Southern racial stereotypes (of happy slaves living on the plantation) - and its overall sympathetic portrayal of slavery and race. Many forget that Hattie McDaniel and other black cast members were not allowed to attend the premiere of the film in racially-segregated Atlanta in mid-December 1939. There were protests and boycotts by African-Americans when the film opened in major cities.
There was, naturally, a six-hour, soap-opera-like TV mini-series sequel titled Scarlett (1994), that was based on the follow-up novel by Alexandra Ripley, set partially in Ireland. It starred Joanne Whalley-Kilmer (as Scarlett), Timothy Dalton (as Rhett), Stephen Collins (as Ashley), and Barbara Barrie (as Pauline Robillard). Earlier, the fictional, epic-length soap opera North and South (1985), with stars Patrick Swayze, Robert Mitchum, Kirstie Alley, Johnny Cash, Gene Kelly, Hal Holbrook - and others, and based on John Jake's best-selling novels, was the astonishing attempt of a TV mini-series (at over 1200 minutes) to recapture the scope of the ante-bellum period, in its story of two families during the Civil War era -- the Hazard family of Pennsylvania and the Main family of South Carolina.
Plot Synopsis
---
In the opening credits, producer David Selznick's name appears: "Selznick International In Association with Metro-Goldwyn Mayer has the Honor to Present its Technicolor production of Margaret Mitchell's Story of the Old South." The title of the film "GONE WITH THE WIND" is displayed in gigantic, majestic words, each one individually sweeping across the screen from right to left above a red-hued sunset. As the titles and credits play, carefully-selected images of the Old South are portrayed as backgrounds - a green pasture with horses grazing, a river at night, magnolias, a mill constructed from bricks, slaves working in the fields, peaceful Southern plantations, the city of Atlanta, and a sunset.
The fanciful, introductory foreword to the film explains:
There was a land of Cavaliers and Cotton Fields called the Old South. Here in this pretty world, Gallantry took its last bow. Here was the last ever to be seen of Knights and their Ladies Fair, of Master and of Slave. Look for it only in books, for it is no more than a dream remembered, a Civilization gone with the wind...
Part One:
The film extends over a time period of twelve years in the life of narcissistic plantation belle Scarlett O'Hara, from the start of the Civil War through the Reconstruction Period, and covers her various romantic pursuits against the backdrop of historical events. The beautiful, but spoiled, pouting, high-tempered and strong-willed 16 year-old Southern belle Scarlett O'Hara (Vivien Leigh), the eldest of three O'Hara daughters, lives an idyllic life at a North Georgian cotton plantation called Tara. [The fake front piece of the plantation house is all that really exists of the O'Hara home - also note that the door is off-center.] On the mansion's porch, in a beautiful white crinoline gown with ruffles, the headstrong young woman complains, in her first line, to suitor twins Brent and Stuart Tarleton (Fred Crane and George Reeves). Stuart notes: "Do you know those poor Yankees actually want a war?" She is sick of 'war talk' and all the disruptions caused by the turmoil of war:
Fiddle-dee-dee. War, war, war. This war talk's spoiling all the fun at every party this spring. I get so bored I could scream. Besides, there isn't going to be any war...If either of you boys says 'war' just once again, I'll go in the house and slam the door.
She states a variation on her trademark line for the first time when asked if she is attending the neighboring Wilkes-Twelve Oakes plantation's barbecue the next day: "Why I hadn't thought about that yet. I'll, I'll think about that tomorrow." She teases the slavish beaux-admirers about whether they can waltz with her. Scarlett is stunned and dismayed to hear a secret rumor that the man she loves and obsesses about, the eldest Wilkes son Ashley, is planning to marry his demure, delicately aristocratic, sweet-natured cousin, Melanie Hamilton from Atlanta - a "goody-goody" according to Scarlett. Infatuated with him and unaccustomed to losing, she tries to convince herself: "It can't be true. Ashley loves me."
Her white-haired Irish immigrant father, prosperous plantation owner Gerald O'Hara (Thomas Mitchell) gallops wildly on horseback across the fields and jumps over fences to meet Scarlett who walks down to meet him in the late afternoon light at "quittin' time." [The white horse ridden by O'Hara was also used as the Lone Ranger's horse Silver in the 1938 and 1939 Republic serials of the legendary hero.] As they walk together, she again is told that Ashley's marriage to Melanie (a "pale-faced, mealy-mouthed ninny" in Scarlett's eyes) will be announced at the barbecue's evening ball. Her father wishes that his petulant daughter won't make a "spectacle" of herself, "running about over a man who's not in love with you." Scarlett's father believes she wouldn't be happy with Ashley anyway, and qualifies the characteristics important in a prospective mate: "Well, what difference does it make who you marry - so long as he's a Southerner and thinks like you?"
She complains to him about Tara as a place that doesn't mean anything to her. He reinforces for his short-sighted, headstrong daughter the value of "the land" and the priceless inheritance that Tara represents [a lesson that Scarlett never forgets during the ravages and blows of war].
Gerald: Do you mean to tell me, Katie Scarlett O'Hara, that Tara - that land doesn't mean anything to you? Why, land's the only thing in the world worth working for, worth fighting for, worth dying for, because it's the only thing that lasts.
Scarlett: Oh, Pa. You talk like an Irishman.
Gerald: It's proud I am that I'm Irish, and don't you be forgetting, Missy, that you're half-Irish, too. And, to anyone with a drop of Irish blood in them - why, the land they live on is like their mother. Oh, but there, there. Now, you're just a child. It'll come to you, this love of the land. There's no getting away from it if you're Irish.
Father and daughter are silhouetted as they stand beside a tree with a twisted, gnarled set of branches. A pulled-back camera view shows Tara and a colorful, flaming sunset sky. Max Steiner's musical score "Tara's Theme" swells magnificently.
Ellen Robillard O'Hara (Barbara O'Neil) comes home after acting as a mid-wife, returning from the bedside of her overseer's "poor white trash" mistress Emmy Slattery (Isabel Jewell), who has just given birth to a baby that "mercifully" died. The overseer Jonas Wilkerson (Victor Jory) asks her as she steps from her carriage: "We finished plowing the creek bottom today. What do you want me to start on tomorrow?" Ellen recommends to her husband that the overseer be dismissed promptly (and he is fired the next morning).
The O'Hara family, in a hushed, church-like scene lit by flickering candlelit, offers evening prayers. Still upset, Scarlett can only think about how to snare Ashley: "Ashley doesn't know I love him. I'll tell him that I love him, and then he can't marry..."
Preparing for the neighboring Twelve Oaks plantation's barbecue the next day, her shrewd, protective, tenacious and sassy slave Mammy (Hattie McDaniel) laces up a vain Scarlett as she holds onto one of the bedposts of her white ruffled tester bed. Mammy, never fooled by Scarlett's airs and tears, insists that Scarlett eat the food that she and simple-minded household servant Prissy (Butterfly McQueen) have prepared for her: "You's gwine eat every mouthful of this." Mammy chides her for choosing a green-sprigged muslin dress to wear that reveals too much skin:
You can't show your bosom 'fore three o'clock.
To no avail, Mammy vigorously lectures Scarlett: "If you don't care what folks says about this family, I does. I has told you and told you that you can always tell a lady by the way that she eats in front of folks like a bird, and I ain't aimin' for you to go to Mr. John Wilkes's and eat like a fieldhand and gobble like a hog." Hard-headed Scarlett's response is: "Fiddle-dee-dee." Scarlett believes Ashley will approve of her healthy appetite, but Mammy thinks she might as well give up on winning Ashley away from Melanie: "What a gentleman says and what they thinks is two different things. And I ain't noticed Mist' Ashley askin' for to marry ya." After Mammy has proved her wrong, Scarlett sits on the stairs of her bedroom stuffing her mouth with the "vittles."
Carriages draw up with guests in front of the pillared, Twelve Oaks plantation for the lavish Wilkes barbecue - a beautifully photographed scene. Exquisitely-costumed guests stroll on the lawn and inside the vast mansion, with a massive hallway and wide, graceful, double-curved staircase. The camera follows Scarlett through the door and into the hallway where she greets the gentlemanly, idealistic, scholarly and sensitive Ashley Wilkes, the aesthetic eldest son of Twelve Oaks patriarch John Wilkes (Howard Hickman). Ashley and Scarlett also greet his sweetheart, the shy Melanie Hamilton (Olivia de Havilland), Ashley's radiantly-pretty cousin. The quietly charming, sweet-natured Melanie is nothing but loving toward Scarlett: "I've always admired you so. I wish I could be more like you."
Scarlett greets two other gentlemen (in fact, her future first and second husbands), shamelessly flirting with Melanie's weakly brother Charles Hamilton (Rand Brooks), intended beau of cousin India Wilkes (Alicia Rhett), one of Ashley's sisters; and then with whisker-faced Frank Kennedy (Carroll Nye), beau of Scarlett's own sister Suellen (Evelyn Keyes).
[IMPORTANT - PLEASE NOTE: in Margaret Mitchell's novel, Charles Hamilton has an unspoken understanding of marriage with cousin Honey Wilkes, not with India Wilkes (who is engaged to marry Stuart Tarleton), prior to falling in love with Scarlett. After Scarlett flirts with Charles, he falls madly in love with her. At the BBQ, she accepts Charles' marriage proposal and agrees to marry the smitten man after Ashley rejects her for Melanie, and after being made fun of by Honey.]
As she ascends the staircase, Scarlett asks one of her girlfriends, Cathleen Calvert (Marcella Martin) to identify the "nasty dark one" [dark-haired and devilish-looking] that is standing alone at the foot of the staircase. Scarlett is told: "My dear, don't you know? That's Rhett Butler! He's from Charleston. He has the most terrible reputation." The dashing and charming Rhett Butler (Clark Gable), in his dramatic film entrance, is dressed in an elegant black suit - the roguish character exchanges a cool, challenging stare with Scarlett, attracted by her stunning beauty. She responds to his sexually attractive gaze as he undresses her with his eyes: "He looks as if - as if he knows what I look like without my shimmy."
In silhouette, Ashley and Melanie move toward French windows. When they are opened, the lawn is revealed outside filled with festive surroundings and guests. Lovingly, the pale, white-skinned Ashley speaks to her: "You seem to belong here. As if it had all been imagined for you." Melanie describes the aristocratic Southern style that she is marrying into: "It's more than a house. It's a whole new world that wants only to be graceful and beautiful." Even war won't damage their love for each other - she promises: "Whatever comes, I'll love you just as I do now until I die."
On the lawn at Twelve Oaks, Scarlett is surrounded by interested beaux, but not Ashley. During their naptime, Scarlett's sister Suellen teases her about her romantic interest: "How is Ashley today, Scarlett? He didn't seem to be paying much attention to you." In an upstairs bedroom, a black child fans the young, aristocratic ladies stretched out for afternoon naps. Scarlett sneaks down and hides on the stairs, trying to find an opportune time to speak to Ashley.
There is a heated debate going on among the gentlemen about the war, mentioning that George has already seceded and Ft. Sumter has been fired upon:
We've borne enough insults from the meddling Yankees. It's time we made them understand we'll keep our slaves with or without their approval. 'Twas the sovereign right of the state of Georgia to secede from the Union! [January 19, 1861] ...The South must assert herself by force of arms. After we've fired on the Yankee rascals at Ft. Sumter [April 12, 1861], we've got to fight! There's no other way.
Excited and patriotic southerners boastfully predict a quick victory, led by Gerald O'Hara: "The Yankees can't fight and we can!" Ashley attempts to cool off the room full of Southern hotheads, hoping that the North will let the South leave the Union without war: "Most of the miseries of the world were caused by wars. And, when the wars were over, no one ever knew what they were about."
The black sheep of a good family from Charleston, and turned out of West Point, Rhett expresses his lone dissent from the optimistic voices. He disagrees with the fervent patriotism of the Confederates: "I think it's hard winning a war with words, gentlemen...I'm saying very plainly that the Yankees are better equipped than we...All we've got is cotton and slaves, and arrogance." He realistically believes that the South's cause is doomed to failure because of its gradually declining resources and lack of industry - he spoils everyone's enthusiasm for war:
I seem to be spoiling everybody's brandy and cigars and dreams of victory.
In the famous library scene, Scarlett energetically corners a disinterested Ashley and declares her deep love for him. He expresses a brotherly love for her:
Ashley: Isn't it enough that you've gathered every other man's heart today? You've always had mine. You cut your teeth on it.
Scarlett: Don't tease me now. Have I your heart my darling? I love you. I love you.
Ashley: You mustn't say such things. You'll hate me for hearing them.
Scarlett: I could never hate you. And I know you must care about me. Oh, you do care, don't you?
Ashley: Yes, I do care. Oh, can't we go away and forget we ever said these things?
Ashley wishes that she had never professed her love for him. She is rudely startled and hurt when he announces his marriage to his cousin Melanie. But he doesn't want to hurt her: "Oh my dear, why must you make me say things that will hurt you? How can I make you understand? You're so young and unthinking. You don't know what marriage means." Ashley reaffirms his love and affinity to Melanie, a woman with a delicate, graceful nature like his own: "She's like me, Scarlett. She's part of my blood and we understand each other." With great ardor and vitality, Scarlett doesn't want to hear the truth: "But you love me!"
Ashley thinks he loves Scarlett, but he is extremely wimpish and inadequate in contrast to her harsher, more ruthless qualities. He vicariously envies her zest for life and simultaneously cools her off, expressing his fear of marrying her:
How could I help loving you - you who have all the passion for life that I lack? But that kind of love isn't enough to make a successful marriage for two people who are as different as we are.
She unfairly blames him for leading her on and then slaps him: "I'll hate you till I die. I can't think of anything bad enough to call you." Without any more discussion, Ashley stiffly walks from the room. In frustration, she throws a vase against the fireplace mantle.
Scarlett is surprised, embarrassed, and angered to see Rhett Butler rise from his hiding place behind the sofa - he is amused after overhearing the entire Ashley-Scarlett exchange and her importunate pleas, sarcastically commenting: "Has the war started?" Their first, fiery conversation and meeting is typical of their entire relationship in the film - a well-matched, sexually-electric, equally conscience-less bonding, but always tumultuously paired together. Rhett doesn't want to interrupt their "beautiful love scene," but promises to "keep her secret safe." Scarlett lashes back:
Scarlett: Sir, you are no gentleman.
Rhett: And you, miss, are no lady...Don't think that I hold that against you. Ladies have never held any charm for me.
To the tunes of "Dixie," a horseman arrives at Twelve Oaks with the news of the advent of the War Between the States, and Lincoln's call for volunteer soldiers to fight against the Confederacy [April 15, 1861]. The southerners mount their horses to go off to enlist and prepare for the conflict. Manipulatively and spitefully (while watching Melanie kiss Ashley farewell), Scarlett accepts an impulsive, impetuous proposal of marriage from Charles Hamilton, Melanie's colorless and shy brother, and steals him away from his beau Honey Wilkes. [See Important Note above.]
She marries out of spite and to stop the growing gossip about her obvious interest in Ashley. Charles and Scarlett, wearing an ivory silk gown, are married in the parlor at Tara, one day after Melanie's and Ashley's wedding. Charles (and Ashley) are due to leave in a few days for the war. As they part for the war, Charles misinterprets Scarlett's tears: "Don't cry, darling. The war'll be over in a few weeks, and then I'll be coming back to you."
Scarlett is quickly made a reluctant widow - Charles dies of pneumonia, following an attack of measles in a war training camp before reaching any battlefront. Inappropriately, Scarlett objects to wearing black mourning clothes in memory of her recently-deceased husband, and tries on a colorful bonnet. She reacts to the sad news, not seeing much future for a young, attractive widow and not feeling any grief. She tells Mammy:
I'm too young to be a widow.
She weeps to her mother, not about the loss of her husband, but about her boring future and the prospect of wearing black: "My life is over. Nothing will ever happen to me anymore." Her mother comforts her: "It's only natural to want to look young and be young when you are young."
Impatient with the lack of life at Tara, Scarlett has the option of visiting in Savannah or in Atlanta. A willful Scarlett decides to go to Atlanta to live with a frail Melanie and help Melanie's Aunt "Pittypat" Hamilton (Laura Hope Crews) take care of her as she awaits the birth of her first baby. Mammy shrewdly and accurately interprets Scarlett's real motives - to be closer to Ashley when he returns on leave from the war: "Savannah would be better for you. You'll just get in trouble in Atlanta...You know what trouble I's talking about. I's talking about Mr. Ashley Wilkes. He'll be coming to Atlanta when he gets his leave - and you sittin' there waitin' for him jes' like a spider. He belong to Miss Melanie..."