Epics-Historical Films often take an historical or imagined event, mythic, legendary, or heroic figure, and add an extravagant setting and lavish costumes, accompanied by grandeur and spectacle and a sweeping musical score. Epics, costume dramas, historical dramas, war film epics, medieval romps, or 'period pictures' are tales that often cover a large expanse of time set against a vast, panoramic backdrop. In an episodic manner, they follow the continuing adventures of the hero(s), who are presented in the context of great historical events of the past. See also AFI's 10 Top 10 - The Top 10 Epic Films
Epics are historical films that recreate past events. They are expensive and lavish to produce, because they require elaborate and panoramic settings, on-location filming, authentic period costumes, inflated action on a massive scale and large casts of characters. Biopic (biographical) films are often less lavish versions of the epic film.
Epics often rewrite history, suffering from inauthenticity, fictitious recreations, excessive religiosity, hard-to-follow details and characters, romantic dreamworlds, ostentatious vulgarity, political correctness, and leaden scripts. Accuracy is sometimes sacrificed: the chronology is telescoped or modified, and the political/historical forces take a back seat to the personalization and ideological slant of the story (i.e., the 'poetic license' of Oliver Stone's controversial JFK (1991) immediately comes to mind).
Epics often share elements of the more elaborate adventure films genre and swashbuckler subgenre (e.g., the Robin Hood tale of The Adventures of Robin Hood (1938)). They may be combined with other genre types too, including:
Epics have existed since the earliest days of American cinema, from D. W. Griffith's ground-breaking The Birth of a Nation (1915), to Cecil B. DeMille's Joan the Woman (1916), The Ten Commandments (1923) and The King of Kings (1927), to the giant Civil War epic and Best Picture winner Gone With The Wind (1939), to the fairly-recent Schindler's List (1993), Titanic (1997), and Ridley Scott's revamped 'sword and sandal' epic Gladiator (2000). Irreverent spoofs of Biblical films have also emerged, such as The Life of Brian (1979), with the Monty Python cast.
Epics are often called costume dramas, since they emphasize the trappings of a period setting: historical pageantry, costuming and wardrobes, locale, spectacle, decor and a sweeping visual style. They often transport viewers to other worlds or eras: ancient times, biblical times, the Middle Ages, the Victorian era, or turn-of-the-century America. Unlike true historical epics, period films choose a specific historical period, and then superimpose fictional characters or events into the setting.
Two of the Earliest Epics from Italy: Quo Vadis? and Cabiria
Along with Enrico Guazzoni's epic Quo Vadis? (1912, It.) - often considered the first successful feature-length motion picture and one of the first films with over two hours running time, the influential three-hour Italian silent film from Giovanni Pastrone, Cabiria (1914, It.), was an early example of spectacular and monumental epic film-making. It laid the pattern and groundwork for future big-budget feature-length films (by the likes of D.W. Griffith - for his Judith of Bethulia (1914), The Birth of a Nation (1915), and later his Babylonian sequences in Intolerance (1916) - and Cecil B. DeMille). Its story of 3rd century BC Ancient Rome included sequences of the eruption of Mt. Etna and Hannibal's crossing of the Alps with elephants (with an early example of tracking shots). The landmark film was shot on location in North Africa, Sicily and the Italian Alps. It was also the first film to be screened at the White House.
Silent Epics of D. W. Griffith: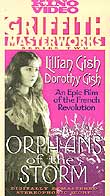 The first great category of cinematic epics are the silent epics. The first American epic was early cinematic pioneer D. W. Griffith's Biblical spectacle Judith of Bethulia (1914), a little known four-reel feature film weaving together two Apocryphal stories about the 40-day Assyrian siege of the walled Judean city of Bethulia. Griffith's most influential and complex film, noted for its technical virtuosity and dynamic editing (although controversial for its southern point of view) was the first blockbuster film The Birth of a Nation (1915). It reproduced the Civil War and Reconstruction Periods (including various battles, Lincoln's assassination, and the aftermath) and told of the war's effects upon two families (the Northern Stonemans and the Southern Camerons) with a specific ideological slant that distorted its historical veracity. This almost three-hour film's screenplay was based upon Thomas Dixon's novel and play The Clansman.
The next Griffith film was another silent epic: Intolerance (1916), that studied the effects of injustice and intolerance in four separate yet inter-connected and parallel stories in different time periods (its Babylonian sequence with massive sets is still remarkable). Its theme of "Love's struggle throughout the ages" and its passionate plea for tolerance was a response to his Birth of a Nation critics. Griffith's Orphans of the Storm (1921) was set against the backdrop of pre-Revolutionary France, and followed the paths of two sisters (the Gish sisters) who were separated and raised in different environments - one by aristocratic nobles, the other by thieving peasants.
Silent Epics of Cecil B. De Mille: The Biblical Epic Subgenre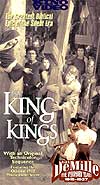 Griffith's directorial counterpart, who specialized in extravagant epics throughout his entire career spanning both the silent and sound eras, was film showman Cecil B. De Mille. In reaction to Griffith's epic Intolerance (1916), Cecil B. DeMille (still at Famous Players-Lasky Corp., soon to be Paramount) went on to make his first large scale spectacle/epic film titled Joan the Woman (1916), one of the first epic biopics. It was DeMille's version of the Joan of Arc story starring opera star Geraldine Farrar and Wallace Reid. Its release coincided with the US entry into The Great War (and echoed the raging conflict), and the film served as propaganda for the Allies, with its framing story set in the English trenches of World War I. The film received critical acclaim and was greeted with modest box-office success.
De Mille continued during his early film career with a series of silent Biblical or religious epics - a specific subgenre. These 'swords-and-sandals' films, with a strong religious viewpoint, were set during Roman times in the ancient world, and were noted for casts of thousands in crowd scenes. His two-part silent version of The Ten Commandments (1923) included spectacular special effects for the parting of the Red Sea. This film foreshadowed the advent of future De Mille spectacles. He followed The Ten Commandments with King of Kings (1927), a beautifully-lavish yet reverential story of the life of Christ with a climactic resurrection scene (in color) and ascension. [King of Kings was re-released in 1931 with a synchronized musical score.]
Other Silent Era Epics: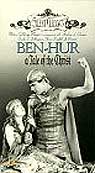 Director Fred Niblo spent millions and two years to create the most expensive film of its time - MGM's silent-era Ben-Hur: A Tale of the Christ (1926), that starred Ramon Novarro and Francis Bushman as rivals Ben-Hur and Messala, respectively. The film included two colossal sequences: the sea galley battle with pirates and the famous chariot-race. Rex Ingram's anti-war film The Four Horsemen of the Apocalypse (1921), a star-making vehicle for Rudolph Valentino, was about two Argentinian brothers who ended up fighting on different sides in WWI. A non-Biblical epic of the silent era was Erich Von Stroheim's monumental masterpiece titled Greed (1924), a severely-edited tale about the corruptive influences of avarice on a San Francisco dentist, his wife and an associate.
Raoul Walsh's imaginative Arabian Nights fantasy The Thief of Bagdad (1924) starred Douglas Fairbanks, Sr. with magical special effects and lavish production values including a flying carpet. King Vidor's epic war film The Big Parade (1925) told the heart-wrenching tale of the love between a French peasant girl and an American doughboy fighting WWI in Europe. Russian director Sergei Eisenstein's silent masterpiece The Battleship Potemkin (1925) portrayed the 1905 revolution through a microcosmic view of a mutinous uprising aboard a Russian battleship. Its pioneering montage/editing sequences in the bloody Odessa Steps sequence changed filmmaking forever.
MGM - Epic Maker:
In the mid-1930s, MGM won the Best Picture with its adapted version of Charles Nordhoff's and James Norman Hall's historical non-fiction novel, the sea-adventure epic Mutiny on the Bounty (1935). It featured on-location shooting in Tahiti, and Charles Laughton as the definitive Captain Bligh and Clark Gable as Fletcher Christian (both nominated for Best Actor, along with co-star Franchot Tone). It was MGM's most expensive film production since their Ben-Hur: A Tale of the Christ (1926), at $2 million. [An inferior remake, Mutiny on the Bounty (1962), starred Marlon Brando as Fletcher Christian.] Soon after, MGM produced the epic The Good Earth (1937), the last film of legendary producer Irving Thalberg - it was also an adaptation - of the Pearl S. Buck novel about Chinese peasants who faced, among other things, a devastating locust plague.
During the 40s, epics didn't fare very well, due to the scarcity of the war years. One exception was the British Shakespearean film from Laurence Olivier, Henry V (1944), with an American release in 1946. Best Picture and Best Actor-nominated Olivier won a special Academy Award for "his outstanding achievement as actor, producer and director in bringing Henry V to the screen."
Cecil B. De Mille's Biblical and Roman Empire Epics of the Sound Era: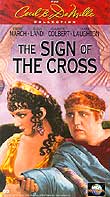 Beginning around the mid-1930s, De Mille's The Sign of the Cross (1932) featured Charles Laughton as a depraved Emperor Nero, Christians being consumed by lions in the arena, Roman orgies, and Claudette Colbert as the Emperor's wife in a bathing scene. In the following year, his version of Cleopatra (1934) featured Claudette Colbert again as the temptress Queen of Egypt. After a long hiatus, the famous director returned to his Biblical epic format with the first major post-war epic derived from the Book of Judges in the Old Testament - Paramount's extravagant spectacle Samson and Delilah (1949). It starred ravishing Hedy Lamarr as the vixenish, vindictive Philistine woman who seduced long-haired Danite strongman Victor Mature. In the most spectacular scenes, Samson fought with a lion, destroyed an army with the jawbone of an ass, and brought down the Temple of Gaza. [Two others with dual-character titles also appeared during the era: Henry King's David and Bathsheba (1951) with a miscast Gregory Peck and Susan Hayward, and King Vidor's expensive Solomon and Sheba (1959) with Yul Brynner (replacing the deceased Tyrone Power who passed away during filming) and Gina Lollobrigida.]
Showman De Mille reshot his own silent era 1923 film in the mid-1950s in the wide-screen Technicolor format on a grander scale. His 70th (and final film), The Ten Commandments (1956) starred actor Charlton Heston as the Hebrew leader Moses, performing special effects plagues before Yul Brynner as the Pharoah Rameses, and parting the Red Sea for the Israelites. The film's sole Oscar win was for its special effects. [In the same year, producer Michael Todd's epic travelogue presentation of Jules Verne's 1872 novel Around the World in 80 Days (1956) won Best Picture.]
Other 50s and 60s Grand-Scale Biblical and 'Sword and Sandal' Epics:
In the 50s, the sound era brought more Biblical, historical, or Grecian/Roman times epics, alongside the development of colorful wide-screen CinemaScope to lure viewers away from their home televisions with free programming. Mervyn LeRoy's and MGM's full-scale, big-budget Quo Vadis (1951) with Robert Taylor and Deborah Kerr, told the tale of Emperor Nero's (Peter Ustinov) times and Christian persecution, and included great spectacle, costumes, romance, and action. Using sets left-over from Quo Vadis (1951), MGM followed with Joseph L. Mankiewicz's hit Julius Caesar (1953), a star-studded, faithful Shakespearean adaptation with James Mason, John Gielgud, Louis Calhern (as Julius Caesar) and Marlon Brando (as Marc Antony). In the same year, Columbia produced the opulent, non-widescreen historical/religious epic Salome (1953) with Rita Hayworth as the title character Princess and Charles Laughton as King Herod.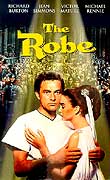 Director Henry Koster's and 20th Century Fox's The Robe (1953) was the first widescreen CinemaScope feature film. The landmark film starred Richard Burton as young Roman tribune Marcellus Gallio whose life was affected by Jesus' robe, Victor Mature as his converted slave Demetrius, and Jean Simmons as Diana. Its success spurred the development of a sequel of sorts, Delmer Daves' Demetrius and the Gladiators (1954), again with Victor Mature and also Susan Hayward. Mature, one of the mainstays of the ancient epic, also starred in Fox's intelligent film about 14th century BC Egypt in the same year - The Egyptian (1954), with supporting roles from Gene Tierney, Jean Simmons, and Peter Ustinov. It also included a score from Alfred Newman and Bernard Herrmann. Douglas Sirk's first Cinemascope film was the uncharacteristic 'sword and sandal' historical costume adventure The Sign of the Pagan (1954). It starred Jeff Chandler as a Roman centurion battling the forces of long-haired Attila the Hun (Jack Palance!) with a Fu Manchu mustache.
Former bodybuilder Steve Reeves starred as the mighty-muscle-bound Hercules, the Greek mythological hero, in two films, Hercules (1958) - a big hit when released internationally in 1959, and its rushed-into-production sequel Hercules Unchained (1959). [The series continued without Reeves and director Pietro Francisci at the helm, in a number of Italian-made B-film sequels and other muscle-man epics - the real 'sword and sandal' films of the era.]
By the mid-50s and for the decade afterwards, many of these kinds of epics were typecasting various players, such as Victor Mature, Charlton Heston, Yul Brynner, Richard Burton, Jean Simmons, Peter Ustinov, and Stephen Boyd. Richard Burton starred as the title character in writer-director-producer Robert Rossen's Cinemascopic epic Alexander the Great (1956). [Other epic films about Alexander the Great, directed by Oliver Stone and Baz Luhrmann, are to be released in 2004 and 2005 respectively.]
William Wyler's and MGM's beautifully framed, eleven Oscar-winning blockbuster film Ben-Hur (1959), derived from Major General Lew Wallace's A Tale of the Christ, was a remake of the earlier classic silent film of the same title with Ramon Novarro and Francis X. Bushman. This newer version, a $15 million three and a half-hour remake, starred Charlton Heston as the title character, and Stephen Boyd as his childhood friend/Roman enemy Messala, and included the same exciting slave galley battle scene and memorable chariot race.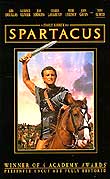 The 1960s opened with Stanley Kubrick's intelligent gladiator-revolt epic Spartacus (1960) - the saga was based on Howard Fast's novel (with a script by Fast and Dalton Trumbo, both blacklisted during the McCarthy 'witch hunts') about an aborted Roman slave uprising in 73 B.C. Its original director Anthony Mann was fired two weeks into production - the opening shots of the film remain from his work. Spartacus was the first film to list a black-listed writer's name on the screen.
Epic star Charlton Heston portrayed legendary 11th-century medieval Spanish hero/warrior Rodrigo Diaz de Bivar (El Cid) who united the Moors and Christians under one King, with Sophia Loren in Anthony Mann's spectacular and handsome-looking El Cid (1961), an adaptation from French playwright Pierre Corneille's work. Nicholas Ray reprised the intelligently-told King of Kings (1961), another tale of the life of Christ starring Jeffrey Hunter and narrated by Orson Welles. Dino De Laurentis produced Barabbas (1962) which starred Anthony Quinn as the murderous thief who was haunted for life after being freed by Pilate and exchanged for Jesus. Another Biblical epic, director Robert Aldrich's Italian-made Sodom and Gomorrah (1962) depicted the destruction of the two sinful cities with expensive production values.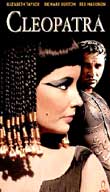 Joseph L. Mankiewicz directed the all-star costly, opulent, four-hour version of 20th Century Fox's flop Cleopatra (1963) starring Elizabeth Taylor as the provocatively-costumed Egyptian Queen, Richard Burton (in his best epic appearance) as Marc Antony, and Rex Harrison as Julius Caesar. Taking five years to prepare and 10 months to shoot on a budget that grew to $44 million, the film nearly bankrupted Fox Studios. Taylor became the first star to be paid $1 million for this role.
Anthony Mann's big-budget historical epic The Fall of the Roman Empire (1964) with Stephen Boyd chronicled events in ancient Rome. And George Stevens' The Greatest Story Ever Told (1965) featured many Hollywood and international stars in unexpected roles - including Charlton Heston as John the Baptist and Max Von Sydow as Jesus. Director John Huston's epic three-hour The Bible (1966) was a misnomer when all the other directors in producer Dino De Laurentiis' extensive project bowed out. [A subtitle was added to the film's title, making it The Bible: In the Beginning, referring to the fact that only the first 22 chapters of Genesis were included, with the story of Creation, Adam and Eve in the Garden of Eden, Cain and Abel, Noah's Ark and the flood (with Huston as Noah himself), and the patriarchal story of Abraham and Sarah.]
Biographical (Biopics):
Another subgenre of epics are 'biopics' or biographical works, that dramatize the life of an actual historical figure (usually a 'Great Man', politician or President, entertainer, inventor/scientist, military leader, artist, sports hero or celebrity). Genre hybrids are common in this sub-genre. In many cases, these films put an emphasis on the larger events (wartime, political or social conditions) surrounding the person's entire life as they rise to fame and glory.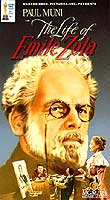 A few examples in early film history include: two award-winning, Warner Bros. historical/biographical films, both starring Paul Muni - William Dieterle's The Story of Louis Pasteur (1936) about the famous French scientist, and the fictionalized Best Picture-winning The Life of Emile Zola (1937) about the famous French writer and court defender. Other examples include Norman Taurog's children's dramatic film Young Tom Edison (1940) about the famed inventor (Mickey Rooney), the historical drama Marie Antoinette (1938), about the famous Austrian princess who married future King Louis XVI, John Ford's quasi-biography Young Mr. Lincoln (1939) with Henry Fonda in the title role, and Raymond Massey in an adaptation of Robert Sherwood's Pulitzer Prize winning play, Abe Lincoln in Illinois (1940). Although the film traces the career of a fictional newspaper tycoon (patterned after William Randolph Hearst), Citizen Kane (1941) can be considered a life-story 'biopic.' Henry King's historical/political drama Wilson (1944) immortalized the life story of WWI's US President Woodrow Wilson, much like the film biography of Franklin Delano Roosevelt's life in Sunrise at Campobello (1960).
Artists and literary authors have also inspired biographical film epics, such as two films from Vincente Minnelli. His film Madame Bovary (1949) starred James Mason as Gustave Flaubert on whose classic novel the film was based, and another film, Lust for Life (1956) featured Kirk Douglas as tormented Dutch painter Vincent Van Gogh. Also, Billy Wilder's The Spirit of St. Louis (1957) dramatized the historical figure of 27 year old Charles Lindbergh (James Stewart), the "Lone Eagle." (Also see the dramas genre for sports biopics).
More recent examples of biographical epics include the following films:
George C. Scott's unforgettable portrayal of the cantankerous WWII general in the highly-regarded Patton (1970)
Sir Richard Attenborough's $22 million production of Gandhi (1982) featured Oscar-winning Ben Kingsley as the saintly 20th century Indian Mahatma - pacifist and spiritual leader
the multiple award-winning film adaptation of the musical Broadway hit Amadeus (1984), from director Milos Forman, viewed the antics of young musical prodigy Mozart (Tom Hulce) [In its year of winning the Oscar competition, it was running against two other big pictures: David Lean's A Passage to India (1984) and The Killing Fields (1984)]
Bernardo Bertolucci's honored epic of the Chinese Ching Dynasty and the life of Pu Yi, China's last emperor in the Best Picture-winning The Last Emperor (1987)
Oliver Stone's Nixon (1995) with Anthony Hopkins as the scandalous 37th President of the US and Joan Allen as his supportive, long-suffering wife Pat
writer/director Spike Lee's epic film Malcolm X (1992) told the life story of the slain civil rights leader with a great performance from Denzel Washington
Attenborough's reverential Chaplin (1992) chronicled the life story of silent comedian and film-maker Charlie Chaplin (Robert Downey, Jr.)
Tim Burton's Ed Wood (1995) was about the maverick, low-budget, Hollywood director (Johnny Depp) of cult films
Alan Parker's musical biography Evita (1996) showcased Madonna playing the role of beloved Argentinian Eva Peron