Epics of Royalty Figures:
One of the most common themes or topics of epics are royalty, kings, or leading personalities or figures from the times. (See adventure films for epics related to the King Arthur tale.) Royals have been the subject of epics such as the following:
French director Abel Gance's phenomenal four hour long Napoleon (1927) about the legendary military hero
Oscar-winning actor Charles Laughton as the infamous king in Alexander Korda's The Private Life of Henry VIII (1933) with doomed wife Jane Seymour (Elsa Lanchester) and Anne Boleyn (Merle Oberon)
two versions of the life of 18th century Russia's Catherine the Great in the same year: Josef von Sternberg's mostly fictional account The Scarlet Empress (1934) - with Marlene Dietrich, and Paul Czinner's Catherine the Great (1934) with Elisabeth Bergner
Rouben Mamoulian's Queen Christina (1933) with Greta Garbo in the lead role as the 17th century Swedish queen
Michael Curtiz' The Private Lives of Elizabeth and Essex (1939) with Bette Davis as the Queen and Errol Flynn as Robert Devereaux, the Earl of Essex
Laurence Olivier's Henry V (1944), a Shakespearean adaptation about the King of England who battled the French over Normandy; also director/star Kenneth Branagh's version in the late 80s, Henry V (1989)
Sergei Eisenstein's Ivan the Terrible, Part I (1945, Soviet Union) about the heroic 16th century Russian Czar Ivan IV
MGM's Techni-colored adventure swashbuckler epic Ivanhoe (1952) with Robert Taylor in the title role
Anatole Litvak's Anastasia (1956) about the early 20th century story of Princess Anastasia (Ingrid Bergman), the daughter of the late Czar Nicholas - this film also marked actress Bergman's return to Hollywood after a period of exile with a Best Actress Oscar
Peter Glenville's costly UK historical costume drama Becket (1964) with Richard Burton and Peter O'Toole in the lead roles as Thomas Becket (the Archbishop of Canterbury) and King Henry II
Best Picture-winning director Fred Zinnemann's A Man for All Seasons (1966) about the gripping conflict between idealistic Catholic Sir Thomas More (Paul Scofield) and King Henry VIII (Robert Shaw) over the king's decision to break from the Roman Catholic Church to form his own Church of England (Anglican/Episcopalian), so he could divorce his first wife and marry Anne Boleyn, since his first wife failed to produce a male heir to the throne
Anthony Harvey's UK film The Lion in Winter (1968), a superb character study of Britain's 12th century King Henry II (Peter O'Toole) and his estranged-exiled wife and Queen Eleanor of Aquitaine (Katharine Hepburn in an Oscar-winning role)
Charles Jarrott's UK film Anne of the Thousand Days (1969), an adaptation of Maxwell Anderson's 1948 stage play, in which Richard Burton as England's King Henry VIII casts off Catharine of Aragon to marry Anne Boleyn (Genevieve Bujold) against the church's wishes, but then executes his love under the pressures of court politics when she proves to be barren and cannot produce a male heir
Franklin Schaffner's beautiful-to-behold Nicholas and Alexandra (1971) chronicles the last 14 years of the rule of the last of the Russian Romanovs - Russian Czar Nicholas II (Michael Jayston) and his wife Czarina Alexandra (Janet Suzman) - up to the Bolshevik Revolution in 1917 and their execution a year later [Norman Jewison's epic musical of the same year, Fiddler on the Roof (1971), was also set at the turn-of-the-20th century, pre-revolutionary Russia, in the Ukranian ghetto village of Anatevka]
Indian director Shekhar Kapur's Elizabeth (1998) with break-out star Cate Blanchett as the pale-faced 16th century Virgin Queen
The Great Epic Director - David Lean: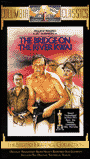 British director David Lean has produced some of the best historical epics of all-time - films that focused on a major romance, character, or swashbuckling adventure in the foreground, with the historical events serving as a colorful backdrop. His films had a major effect upon the British film industry for years to come. Lean's epic masterpieces included:
the anti-war epic drama of the struggle of wills between British POW Col. Nicholson (Alec Guinness) and Japanese Colonel Saito in The Bridge on the River Kwai (1957) during the construction of a rail bridge to link Bangkok and Rangoon
Best Picture-winning Lawrence of Arabia (1962) with Peter O'Toole as the legendary Arab and desert-loving British officer T. E. Lawrence during World War I
an adaptation of Russian writer Boris Pasternak's novel, Doctor Zhivago (1965), about a war-time romance during the snow-swept Russian Revolution
and finally Lean's swan song, the brilliant Passage to India (1984), based on E. M. Forster's 1924 novel of the romantic adventures of a young Englishwoman in the East
The Merchant-Ivory Period Films:
The exquisite, beautifully-composed, best-known period films of the triumvirate (producer Ismail Merchant, director/screenwriter James Ivory, and novelist Prawer Jhabvala) have often used historical settings as backdrops for their well-crafted dramas, often taken from the writings of E.M Forster with recreations of Edwardian England with superior production values. Some of their greatest films include:
The Europeans (1970), a literary adaptation of Henry James' work
Heat and Dust (1982), an adaptation from Jhabvala's 1975 Booker Prize-winning novel
The Bostonians (1984), another Henry James' adaptation, with an Oscar-nominated performance from Vanessa Redgrave
A Room with a View (1985), a delightful comedy of errors tale and social satire of repressed Victorian romance and British conceit - an adaptation from E.M. Forster's 1908 novel that was nominated for eight Academy Awards (and won for Best Adapted Screenplay)
Maurice (1987), the team's second E.M. Forster adaptation
Mr. and Mrs. Bridge (1990)
the Best Director-nominated Howard's End (1992), the third Forster adaptation with another Best Adapted Screenplay Oscar, with award-winning Emma Thompson, Anthony Hopkins, and Vanessa Redgrave
the critically-acclaimed The Remains of the Day (1993), adapted from Kazuo Ishiguro's novel, with Anthony Hopkins as an emotionally-crippled butler
Jefferson in Paris (1995), about the public and private life of the US President (Nick Nolte)
Surviving Picasso (1996), another semi-biographical epic of the famous painter
Other Great Epics: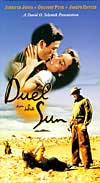 The greatest Civil War film and the most definitive of all epics was also a Southern costume drama - David O. Selznick's sweeping production of
Gone With The Wind (1939). In his later years, cinematic pioneer King Vidor directed the lusty Western epic Duel in the Sun (1946) with Lionel Barrymore as the sprawling land baron. The all-star, panoramic Cinerama film, How the West Was Won (1962), was another example of a western epic. Costner's Best Picture-winning revisionist epic western Dances with Wolves (1990) was the first Western to win the top honor since Cimarron (1930).
Other notable war-time epics have been produced, including the re-creation of D-Day in Darryl F. Zanuck's The Longest Day (1962), the WWII hero adventure PT 109 (1963) about John F. Kennedy's (Cliff Robertson) courageous rescue of fellow Marines, the big-screen epic biography Patton (1970), Joseph Sargent's MacArthur (1977) about the rebellious, showy WWII general portrayed by Gregory Peck, and the recent recreation of the Nazi Holocaust in Best Director and Best Picture-winning Steven Spielberg's
Schindler's List (1993). Also Mel Gibson's Best Director and Best Picture-winning Braveheart (1995) brought the 13th century story of medieval Scottish patriot William Wallace's rebellion against the British to the big screen. Spielberg's epic war film, Saving Private Ryan (1998) opened with a bloody account of the Normandy D-Day landing.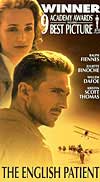 The Best Picture winner of the mid-1980s, Sydney Pollack's Out of Africa (1985), was about author Isak Dinesen (Meryl Streep) and her love affair with handsome aviator Denys Finch-Hatton (Robert Redford). And into the 1990s, there were these two Best Picture epic victors:
Anthony Minghella's adventure/war epic The English Patient (1996) about Count Laszlo Almasy (Ralph Fiennes) - a burned WWII pilot and his tragic love affair with a married Englishwoman (Kristin Scott Thomas)
James Cameron's $285 million big-budget romantic/historical epic Titanic (1997), a blockbuster recreation of the fateful first/last voyage of the R.M.S. Titanic in 1912 told alongside an ill-advised romance between a steerage passenger (Leonard DiCaprio) and a society debutante (Kate Winslet) - its 11 Oscars tied the all-time record with Ben-Hur (1959)
Historical Epic Dramas from Literary Works: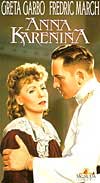 Literary adaptations of novels and plays have provided the plots and storylines of hundreds of historical dramas. There have been numerous screen versions of Russian writer Leo Tolstoy's work, Anna Karenina. The first was the classic 1935 film starring Greta Garbo and Fredric March, and then it was filmed in 1948 with Vivien Leigh in the title role. Similarly, Tolstoy's epic melodramatic novel War and Peace (1956) (with a final running time of 208 minutes), with impressive battle scenes (especially the Battle of Borodino) and panoramas, was brought to the screen by director King Vidor in the mid-50s. It starred Audrey Hepburn as Natasha, Herbert Lom as Napoleon, Oscar Homolka as General Kutzov, and Henry Fonda as Pierre. A Soviet version of War and Peace (1963-1968) by director Sergei Bondarchuk was more faithful to the book at 373 minutes in length, and took five years to complete.
Some other prominent examples include Louisa May Alcott's Little Women (1933, 1994), Charles Dickens' David Copperfield (1935), Anthony Hope's Prisoner of Zenda (1937), Emily Bronte's
Wuthering Heights (1939), Jane Austen's Pride and Prejudice (1940), Daphne Du Maurier's Rebecca (1940), Charlotte Bronte's Jane Eyre (1934) and Jane Eyre (1943), Charles Dickens' Great Expectations (1946), director King Vidor's film adaptation of the Ayn Rand novel The Fountainhead (1949), Thomas Hardy's Tess (1979), Charles Dickens' Little Dorrit (1987), Edith Wharton's novel for Martin Scorsese's The Age of Innocence (1993) about 19th century New York society, and Henry James' early 20th century novel for Ian Softley's UK film The Wings of the Dove (1994) with Helena Bonham Carter.
Major Epics in the New Decade:
New Zealander Peter Jackson's trilogy of author J.R.R. Tolkien's best-selling fantasy, The Lord of the Rings (2001-2003) was told on a mammoth, epic scale. Ridley Scott's R-rated Best Picture winner Gladiator (2000) (with state-of-the-art CGI visual effects) grossed $458 million worldwide, won five Oscars, and inspired a new wave of other shield-clanging 'sword and sandal' epics in the next decade. It unleashed Russell Crowe as Maximus, a general who was turned into a slave and fought in the Roman Coliseum to preserve his honor ("Are you not entertained?") and attempt to overthrow the Emperor (Joaquin Phoenix).
A muscle-bound Brad Pitt starred as Greek hero/warrior Achilles in Wolfgang Petersen's Troy (2004), loosely based on Homer's 2,800 year-old epic poem The Iliad about the 10 year war between Troy (headed by King Priam (Peter O'Toole)) and Greece, and a blonde Colin Farrell and Angelina Jolie (as Alexander the Great's mother Olympias) starred in Oliver Stone's much-criticized box-office epic disaster Alexander (2004).
Ridley Scott's extravagant, beautifully filmed and fictionalized Kingdom of Heaven (2005) told about the 12th century Crusades, while Warners'/director Zack Snyder's bloody, CG-enhanced 300 (2006) was based on Frank Miller's vividly graphic novel that retold the story about the famous last stand in the Battle of Thermopylae in 480 B.C. (an underdog Spartan army of 300 led by King Leonidas (Gerard Butler) fought in phalanx formation against King Xerxes' Persian army of 250,000). [The notorious Alamo-style battle was also the subject of The 300 Spartans (1962).]
Director Louis Leterrier's 3-D remake action film Clash of the Titans (2010) featured Gorgons, gods, and giant scorpions, and starred Sam Worthington (in his followup film to Avatar (2009)) as Perseus - the mortal son of the god Zeus (Liam Neeson), with the promised sequel Wrath of the Titans (2012). The videogame adaptation Prince of Persia: The Sands of Time (2010) by director Mike Newell, with Jake Gyllenhaal as young fugitive prince Dastan, was a major PG-rated flop for Disney Studios. Also, Tarsem Singh's $75 million action 3-D epic Immortals (2011) appeared to do well, with its story of secretly-chosen Theseus (Henry Cavill), with the help of visionary priestess Phaedra (Freida Pinto), battling ruthless King Hyperion (Mickey Rourke).
In 2003, Peter Weir's Master and Commander: The Far Side of the World (2003) was a swashbuckling epic tale about a chase between a French vessel and a British frigate (commanded by Capt. Jack Aubrey (Russell Crowe)) during the Napoleonic Wars.