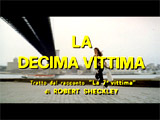 The 10th Victim (1965, It.) (aka La Decima Vittima)
In this futuristic satire and science fiction cult film from director Elio Petri, Marcello Mastroianni and Ursula Andress (famous for her appearance as the first "Bond girl" in Dr. No (1962)) were paired up. The 60's pop-art film's main claim to fame was for initiating the reality TV 'elimination or survival to the death' game-show theme, found earlier in The Most Dangerous Game (1932), and obviously repeated in films such as The Running Man (1987), Death Race 2000 (1975), or in The Hunger Games franchise:
the film's tagline was: "She'd love to kill him - and kill...to love him! - It's murderously funny!"
the satirical sci-fi plot, set in the 21st century, told about a government-sanctioned and organized murder hunt-game called "The Big Hunt." The worldwide event that "legalized violence" was televised and attracted contestants from around the world to participate as "hunters" and "victims" (assignments were chosen at random by a computer in Geneva) - in order to obtain prize money and additional fame. The benefits of the hunt were described later in the film:

"An elementary study of history confirms the validity of the Big Hunt theory. It is mankind's safety valve. If the Big Hunt had existed in 1940, Hitler would have certainly become a member, and there would have been no World War Two. Indeed, the Big Hunt has done away with war by giving man's violent instincts a competitive outlet. Never again will the innocent be molested by the tyrannical. For at last, man's lust for violence has been successfully challenged."

(announcement) "If you would do away with the terrible wars of the masses, become a member of the Big Hunt. Make your murders legal. Only the Big Hunt can give the world a feeling of true security. An enemy a day keeps the doctor away. Why have birth control when you can have death control. Live dangerously, but within the law. If you are suicidal, the Big Hunt has a special place for you."
the game consisted of each contestant being required to participate in a series of 10 rounds or hunts (alternating with 5 as hunted, and 5 as the hunter). The winner of each round was the one who killed his/her opponent. The survivor after ten rounds or hunts, a perfect score, was the winner of the grand prize of $1 million.
The tagline referred to the two most prominent and successful players:
Caroline Meredith (Ursula Andress), a buxom American huntress who sported a high caliber Bosch shotgun
Marcello Poletti (Marcello Mastroianni), a short-haired, blonde Italian playboy


in the film's opening set in New York City, a Chinese Hunter (George Wang) chased after his black-wigged female prey with a gun, but then found himself inside the Masoch Club where she had fled. There, a striptease was being conducted by a blonde Caroline ("the top attraction of the evening") with the help of the patrons - she slapped a couple of the masochism-loving male customers after they provided assistance or ogled her as she performed.
the striptease artist came up to the Chinese Hunter, now seated in the audience, and asked him to take off her mask from behind. He was unaware that her double-barrelled brassiere concealed twin guns - which she then fired at him. She killed him with two shots, first with the gun over her right breast, and then after swiveling, hit him a second time with the weapon hidden over her left breast. It was officially declared that she had now killed her ninth victim.
Climax of Masoch Club Strip-Tease - Brassiere-Mounted Mini-Guns to Kill the Chinese Hunter
[Note: The bra-weapon was an inspiration for Mike Myers' Fembots in Austin Powers: International Man of Mystery (1997).]
she only needed one more kill. Her 10th victim would be heralded as a big media showcase. She accepted the proposal of the hunt's sponsor, the Ming Tea Company (of San Francisco) - to agree to film her 10th kill w near Rome's Colosseum at the Temple of Venus for a TV program in which their product placement would serve their commercial purposes ("You could kill your 10th victim right on camera").
the computer in Geneva selected Caroline's next target or victim - Marcello. He had already accomplished six kills after six rounds. As per the game's rules, he only knew that he had been designated as someone's prey, and was not informed that Caroline would be his Hunter.
Marcello's mistress Olga (Elsa Martinelli) and his divorced ex-wife Lidia (Luce Bonifassy) were liberally spending his winnings so far and bankrupting him. Lidia had illegally picked up his winnings after his sixth kill without his permission. He didn't have enough funds to organize a defense to help him from getting killed. And he ultimately decided to not get married to Olga - he realized that he didn't love her.
Both hunter Caroline and hunted Marcello (not knowing that she was out to hunt him) maneuvered during a 'cat-and-mouse' game to trap, evade, tempt, entice, fool, escape or kill each other. Caroline posed as a television reporter in Rome, Italy, while he assumed the part-time role of the leader of a cult of sunset worshippers. She wanted to have him participate in the filmed TV interview at the Temple, while claiming that her main goal was to inform her reading public (sexually-unsatisfied women in the US) about the sexual behavior of Italian men.
Posing as American TV Reporter, Caroline Met Her Final Victim: Marcello in Rome
in the film's conclusion, the duo's romantic infatuation and sexual attraction interfered in the game. She seemed to truly fall in love with him and told him: "I want to have a baby, maybe two or three!" and he agreed although he wouldn't assent to marriage. They kissed and presumably made love on the beach.
the next morning, he suggested: "Why don't we go away, just the two of us? Go to a little island somewhere...I have no wish to kill you. I love you, I want to live with you." And then she admitted to him his already-presumed suspicion that she was his Hunter. As she pointed his stolen gun at him, the choreographed TV ad for Ming Tea began filming.
Caroline Shot Marcello with His Own Gun and Then Walked Away


Caroline Apologized For Shooting Marcello


Caroline Shot Point-Blank by Marcello


Caroline Resurrected With Her Shotgun
Marcello was shot by Caroline, but then his body disappeared - he survived because he had loaded his gun with blanks. He pursued her a short distance away where she apologized: ("I love you very very much"), but he said that it was too late for sympathy: ("No, no dear, no. It's too bad darling. You're the only woman that I might have loved, and you ruined it, Caroline. I'm very very sorry"). He shot her while embracing her - point-blank, and she crumpled at his feet as the Ming Tea ad was again filmed with his endorsement.
but then Caroline also survived - she approached Marcello as she fired her shotgun at him, but deliberately missed him. She explained that she had been saved due to her bulletproof, skin-colored armor plate, a personal invention. They wrestled each other to the ground, but then faced gunfire from Marcello's spiteful ex-wife and mistress. Caroline took the shotgun and helped to defend the two of them. They both drove in a jeep toward the airport, to leave the Big Hunt together on a Pan Am jetliner that was being prepared for immediate departure.
on the plane (filled with couples being wed by a priest - "a matrimonial airplane"), the two were compelled to be married: (The Priest: "What better way to come to the end of your story with this lovely signorina?") - it was the most dangerous game of all. Although Marcello realized that he had been set up, he felt he had no choice but to agree to tie the knot. In the film's final line of dialogue, Marcello turned to Caroline and asked: "Caroline, why you wanted to go and ruin such a marvelous love story, I will never know."
as they kissed to seal their marriage, Marcello and Caroline looked up at the large barrel of a gun pointed at them - the film ended with the gun firing flowers at them
| | |
| --- | --- |
| | |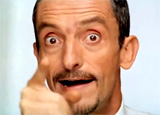 Pre-Titles Prologue: The Hunt's Rules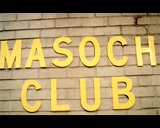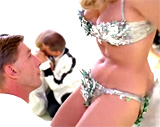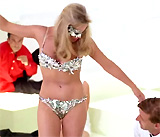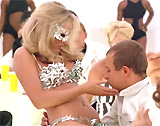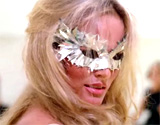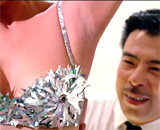 Caroline (Ursula Andress) at NYC's Masoch Club - Strip-Teasing and Confronting Her 9th Victim (a Chinese Hunter)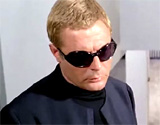 Marcello Poletti (Marcello Mastroianni)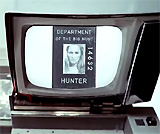 Hunter Caroline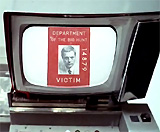 Caroline's Designated 10th Victim - Marcello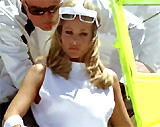 Caroline's Arrival in Rome For Her Final Kill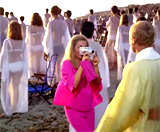 Filming Him at the Beach With Cult of Sun Worshippers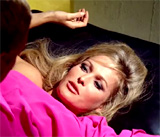 Sexual Attraction Between Them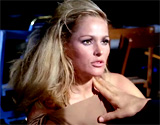 Caroline: "I want to have a baby..."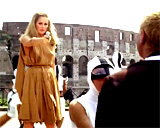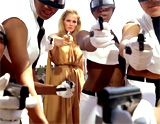 The Filming of the Choreographed Ming Tea Ad as Caroline Pointed a Gun at Marcello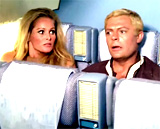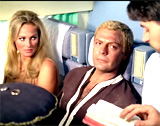 End Scene: Departing Together on a Pan Am Jetliner - and Getting Married