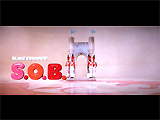 S.O.B. (1981)
In director Blake Edwards' comic skewering of Hollywood, featuring Julie Andrews in an about-face scene from her squeaky-clean, wholesome public image:
the scene of Sally Miles' (Julie Andrews, the director's real-life wife) breast-baring toplessness as she pulled down the top of her red dress (Sally, to Dr. Irving Finegarten (Robert Preston)): ("I am going to show my boobies. Are you here to see my boobies?")
his receptive reply: "In my humble opinion, you've got a terrific pair of knockers"