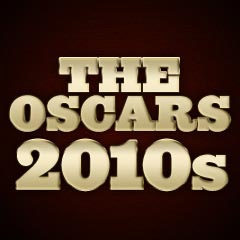 2018 Academy Awards®
Nominations
Note: Oscar® and Academy Awards® and Oscar® design mark are the trademarks and service marks and the Oscar© statuette the copyrighted property, of the Academy of Motion Picture Arts and Sciences. This site is neither endorsed by nor affiliated with the Academy of Motion Picture Arts and Sciences.
Academy Awards History (By Decade):
Introduction, 1927/8-39, 1940s, 1950s, 1960s, 1970s, 1980s, 1990s, 2000s, 2010s
Academy Awards Summaries
Winners Charts:
"Best Picture" Oscar®, "Best Director" Oscar®, "Best Actor" Oscar®, "Best Supporting Actor" Oscar®,
"Best Actress" Oscar®, "Best Supporting Actress" Oscar®, "Best Screenplay/Writer" Oscar®

---
2018
The winner will be listed first, in CAPITAL letters.
Best Picture

Black Panther

BlacKkKlansman

Bohemian Rhapsody

The Favourite

Green Book

Roma

A Star Is Born

Vice
Best Animated Feature Film

Incredibles 2

Isle of Dogs

Mirai

Ralph Breaks the Internet

Spider-Man: Into the Spider-Verse
Actor:
Christian Bale in "Vice," Bradley Cooper in "A Star Is Born," Willem Dafoe in "At Eternity's Gate," Rami Malek in "Bohemian Rhapsody," Viggo Mortensen in "Green Book"
Actress:
Yalitza Aparicio in "Roma," Glenn Close in "The Wife," Olivia Colman in "The Favourite," Lady Gaga in "A Star Is Born," Melissa McCarthy in "Can You Ever Forgive Me?"
Supporting Actor:
Mahershala Ali in "Green Book," Adam Driver in "BlacKkKlansman," Sam Elliott in "A Star Is Born," Richard E. Grant in "Can You Ever Forgive Me?," Sam Rockwell in "Vice"
Supporting Actress:
Amy Adams in "Vice," Marina de Tavira in "Roma," Regina King in "If Beale Street Could Talk," Emma Stone in "The Favourite," Rachel Weisz in "The Favourite"
Director:
Alfonso Cuarón for "Roma," Yorgos Lanthimos for "The Favourite," Spike Lee for "BlacKkKlansman," Adam McKay for "Vice," Pawel Pawlikowski for "Cold War"
---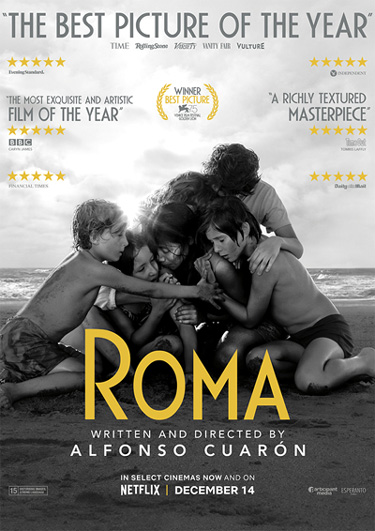 The Academy faced a few pre-Oscar problems before the announcement of its nominations for the 2018 season on January 22, 2019. There had been a growing backlash to a number of films nominated for Best Picture (the rules now allowed up to ten films to be nominated in the category), especially when there was usually no clear-cut favorite in recent years. The Academy also postponed its announced proposal to add an "achievement in popular film" Oscar category - obviously an effort to increase audience share (and boost sagging ratings and declining viewership) and to be more inclusive -- parallel to the Academy's move to vastly expand the diversity of its membership. It was a strange idea that blockbuster box-office results could become the new criteria for a 90-year-old award reportedly given on merit. In fact, the new category might confuse the Best Picture race for both a worthy big-studio, crowd-pleasing blockbuster and Best Picture contender (such as Black Panther or A Star is Born).
In addition, there was a controversy over the hosting position after years-old homophobic comments by the Academy's pick for host, comedian Kevin Hart, caused him to step down after he was allegedly asked to apologize. Although it had been considered a major career boost for the selected host, the high-profile position had become increasingly unpopular, due to criticism that most of the past hosts were white males from late night talk shows, or that the thankless position had become highly irrelevant, unnecessary or outdated in today's varied entertainment programming.
The eight nominated BP films for 2018 had some of the best overall box office totals in many years. At the time of the nominations, 2018 Best Picture nominees had a total of $1.26 billion (domestic) revenue, due to the top three box-office hits: Black Panther (at $700.5 million), A Star is Born ($204.8 million), and Bohemian Rhapsody (at $202.5 million), the 2nd highest total in recent Oscar history. Only Best Picture nominees in 2009 (ten movies) at the time of the nominations had a higher total, $1.51 billion (domestic), due mostly to Avatar (2009), Up (2009), and The Blind Side (2009). The efforts of the Academy to promote diversity also led to a few of the eight Best Picture nominees prominently featuring LGBTQ characters (Bohemian Rhapsody, The Favourite, and Green Book), and there was also a strong international showing (especially among the Best Director nominees).
The picks for Best Picture (in descending order based on number of total nominations) included a number of films, many of which possessed two crucial qualities - they were mostly pleasing box-office hits that also had terrific critical reviews. Three of the eight nominated films were about the subject of race:
Netflix's and Alfonso Cuarón's moving 1970s, grim Spanish-language period-piece Roma (Mex/US) (with 10 nominations, including two acting nominations), a foreign language entry filmed in black and white from Mexico; it was more likely to be the winner of Best Foreign Language Film than Best Picture (but if it won, it would be the first foreign language film Best Picture winner); it told about the daily life of a working-class family in the year 1971 through the eyes of its domestic maid
[Note: The film's 10 nominations tied it with Crouching Tiger, Hidden Dragon (2000, China/US/HK/Taiwan) for the most nominations ever received for a Foreign Language film. Cuaron's film was the first Netflix project to be nominated in the Best Picture category. Roma was only the 11th non-English-language film ever nominated for Best Picture, and would be the first to win. The nominations of two Latina actresses in the same year marked a milestone. Roma could make Oscar history by being the first film to win the Oscar for Best Picture AND for Best Foreign Language film]
director Yorgos Lanthimos' and Fox Searchlight Pictures' UK/US period-piece melodrama The Favourite (with 10 nominations), a dark and ascerbic chronicling of intrigue (and sex) in the court of the ailing Queen Anne (Best Actress nominated Olivia Colman), the last Stuart monarch during her early 18th century reign in England, involving two rival cousins vying to be court 'favourites': confidante, secret lover and close friend Lady Sarah Churchill (nominated Rachel Weisz) and newly-arrived charming, ambitious yet fallen servant Abigail Hill (nominated Emma Stone) who also vied for power and prestige

actor/director Bradley Cooper's (his directorial debut film) and Warner Bros.' retelling of the romantic backstage musical A Star is Born (with 8 nominations), a major blockbuster and tragic love story about successful musician and country singer Jackson 'Jack' Maine (Best Actor nominated Bradley Cooper) and unknown, struggling singer Ally (Best Actress nominated Lady Gaga) who would soon overtake him in the spotlight; it was the fourth version of the oft-filmed story
writer/director Adam McKay's and Annapurna Pictures' highly-critical biopic Vice (with 8 nominations), about the machinations of the powerful VP Dick Cheney (Best Actor nominated Christian Bale) to President George Bush (Sam Rockwell), and his interactions with his wife Lynne Cheney (Best Actress nominated Amy Adams)

Disney's/Marvel's and director Ryan Coogler's superhero film Black Panther (with 7 nominations, mostly in technical categories), with wide critical acclaim and box-office popularity (unlike the previous year when Patty Jenkins' DC comic-book movie Wonder Woman (2018) was shut out of the race); it was the highest-grossing (domestic) film of 2018, and it was Marvel's first black superhero standalone film; it told about the conflict that developed between King T'Challa (Chadwick Boseman) of the reclusive, technologically-advanced (and fictional) African nation of Wakanda, who as the Black Panther, fought off challenges to his rule by teaming up with CIA agent Everett K. Ross (Martin Freeman) and members of the all-female special forces of the Dora Milaje, to combat the misguided, villainous, anti-isolationist challenger Erik 'Killmonger' Stevens (Michael B. Jordan)
[Note: Black Panther became the first superhero movie to be nominated for Best Picture. The domestic box-office total for the superhero film, $700.5 million, was virtually the same as the domestic total made by all nine of the Best Picture nominees in the years 2016 and 2017! However, the entire cast of the film failed to receive any acting nominations as did its director]
director Spike Lee's and Universal's (Focus Features) white-supremacist critique and period drama BlacKkKlansman (with 6 nominations), a Grand Prix-winning Cannes entry and summer hit, based upon the true story of African-American police officer Ron Stallworth (John David Washington) in Colorado Springs who successfully infiltrated (via phone) a local chapter of the Ku Klux Klan, led by David Duke (Topher Grace), while his secretly-Jewish associate Detective Philip 'Flip' Zimmerman (nominated Adam Driver) posed as him to attend KKK meetings and join the Klan
20th Century Fox's musical biopic Bohemian Rhapsody (with 5 nominations), about flamboyant rock star Freddie Mercury (Rami Malek) of the legendary rock band Queen, climaxing with the group's appearance at the Live Aid (1985) concert - a flawed director-less film (Bryan Singer was dismissed) with mixed reviews
director Peter Farrelly's, writer Nick Vallelonga's and Universal's polarizing 60's race-relations biopic Green Book (with 5 nominations), (with story parallels to Best Picture winner Driving Miss Daisy (1989)) about a road-trip tour through the Jim-Crow American South, taken by African-American classical pianist Dr. Don Shirley (Mahershala Ali) and his racist, working class, New York City-born chauffeur-driver Tony 'Lip' Vallelonga (Viggo Mortensen); the two eventually developed a long-lasting friendship
The nominees for Best Director included three non US-born directors, no female nominees, and one major surprise nominee:
[Note: It was rare that two directors of Foreign Language films were nominated together in this category, something that had happened only once before in Oscar history, in 1976.]
57 year-old Mexican-born Alfonso Cuarón (with his second Best Director nomination and 10th overall, with one previous win), for Roma (Mex./US)
[Note: Cuaron previously won Best Director for Gravity (2013). For Roma, Cuaron received a total of four individual nominations: Best Original Screenplay, Best Director, Best Cinematography, and Best Picture - thereby tying the record of most decorated Oscar nominee ever for the same film in the same year, with previous nominees Orson Welles (for Citizen Kane (1941)) and Warren Beatty (twice for Reds (1981) and Heaven Can Wait (1978).]
44 year-old Greek director Yorgos Lanthimos (with his first Best Director nomination and 3rd overall), for The Favourite
61 year-old Spike Lee (with his first Best Director nomination and 5th overall), for BlacKkKlansman
[Note: Lee became the sixth African-American nominated as Best Director]
50 year-old Adam McKay (with his second Best Director nomination and fifth overall), for Vice
[Note: McKay was previously nominated as Best Director for The Big Short (2015), and won Best Adapted Screenplay for the film]
61 year-old Polish-born Pawel Pawlikowski (with his first Best Director nomination) for the sad and joyless drama Cold War (Pol.) (aka Zimna Wojna), a black and white non-English language film set in both Poland and France - about pretty, blonde singer Zula (Joanna Kulig) who fell into a destructive relationship with handsome, charismatic pianist and conductor Wiktor (Tomasz Kot) in the aftermath of WWII (during the late 1940s through the 1960s)
[Note: Pawlikowski previously won Best Foreign Language Film for Ida (2013, Pol.), awarded in 2014 (it was the sole Polish winner in the category). Cold War was the first Polish-speaking film nominated in one of the top eight categories, and it was the eleventh Best Foreign Language Film nominated for Poland.]
Among the 20 nominees in the acting categories, there were two African-Americans (in supporting categories), and two Latina actresses.
The nominees for Best Actor included:
44 year-old UK-born Christian Bale (with his fourth career nomination, including one Oscar win), for his transformed role as Dick Cheney, the ruthless, controversial and powerful VP to President George Bush (Sam Rockwell), in writer/director Adam McKay's and Annapurna Pictures' biopic Vice
[Note: Bale's first Best Actor nomination was for American Hustle (2013), and he had two Best Supporting Actor nominations: The Fighter (2010) (win) and The Big Short (2015)]
44 year-old Bradley Cooper (with his fifth nomination) for his role as aging, hard-drinking country star Jackson 'Jack' Maine, who helped rising ingenue singer Ally (co-star Lady Gaga) to a skyrocketing career and eventually married her, while his own life fell apart (and ultimately led to suicide) due to substance abuse, in A Star is Born
[Note: Cooper's previous acting nominations included two other Best Actor nominations: Silver Linings Playbook (2012) and American Sniper (2014), and one for Best Supporting Actor for American Hustle (2013)]
63 year-old Willem Dafoe (with his fourth nomination, and no wins), a surprise underdog nomination for his role as struggling, 19th century mentally-ill painter Vincent Van Gogh, in director Julian Schnabel's At Eternity's Gate
[Note: Dafoe's three other nominations were for Best Supporting Actor: Platoon (1986), Shadow of the Vampire (2000), and The Florida Project (2018)]
37 year-old Rami Malek (with his first nomination) for his role as AIDS-suffering lead singer Freddie Mercury (lip-synching) of the legendary and iconic rock band Queen, in Bohemian Rhapsody
60 year-old Viggo Mortensen (with his third Best Actor nomination, and no wins) for his role as Tony 'Lip' Vallelonga, a crude-talking Italian-American New Yorker, bodyguard and chauffeur employed to drive African-American classical pianist Dr. Don Shirley (Mahershala Ali) around the Deep South in the 1960s for a concert tour, in Green Book
[Note: Mortensen's other two Best Actor nominations were for Eastern Promises (2007) and Captain Fantastic (2016)]
The nominees for Best Actress included three first-time nominees, and the favorite - the most nominated living actor to have never won an Oscar (now with seven nominations, including 4 Best Actress nominations):
25 year-old Mexican actress Yalitza Aparicio (with her first nomination for her debut film role), in her role as domestic house-keeper/worker Cleo in the upper-middle class Mexico City home of a couple in a strained marriage (Antonio and Sra. Sofia (nominated Marina de Tavira)), in Alfonso Cuarón's Roma
[Note: With Aparicio's nomination, she became the second Mexican actress to be nominated for lead actress, following Salma Hayek's role in Frida (2002). She was only the fourth Latina Best Actress nominee in Oscar history.]
71 year-old Glenn Close (with her seventh career nomination, and 4th Best Actress nomination, with no wins), for her role as devoted, accommodating and repressed wife Joan Castleman, in director Björn Runge's and Sony Pictures Classics' independent film drama The Wife, a literary adaptation based upon Meg Wolitzer's book; the film told about a talented woman's sublimated role (over 40 years) to her mate, culminating with her trip with her unfaithful, passive-aggressive, self-promoting husband Joe Castleman (Jonathan Pryce) to receive an undeserved Nobel Prize for Literature in Stockholm that brought her to a breaking point, revealing that she was the author of the books and had been unjustly treated for decades
[Note: Close's numerous other nominations included three Best Actress nominations: Fatal Attraction (1987), Dangerous Liaisons (1988), and Albert Nobbs (2011), and three Best Supporting Actress nominations: The World According to Garp (1982), The Big Chill (1983), and The Natural (1984)]
44 year-old English actress Olivia Colman (with her first nomination), for her role as frail Queen Anne, the last Stuart monarch in Great Britain, who informally gave up her ruling duties to two competitive cousins in her court, Lady Sarah Churchill (Rachel Weisz) and Abigail Masham/Hill (Emma Stone), in The Favourite
32 year-old Lady Gaga (with her first nomination), for her role as waitress and aspiring singing-songwriter ingenue Ally, aided in her career by her future drug-abusing husband, singer Jack Maine (co-star Bradley Cooper), in A Star is Born
[Note: Notoriously, Judy Garland lost her bid for Best Actress for the earlier A Star is Born (1954)]
48 year-old Melissa McCarthy (with her second nomination), for her role as literary forgery scam artist Lee Israel, in Can You Ever Forgive Me?
[Note: Comedienne McCarthy was previously nominated as Best Supporting Actress for Bridesmaids (2011). McCarthy became the second performer to be nominated for two competing lead actress awards in the same year: Best Actress Oscar for Can You Ever Forgive Me? (2018), and Worst Actress Razzie Award for The Happytime Murders (2018) and Life of the Party (2018).]
The nominees for Best Supporting Actor included three first-time nominees
44 year-old Muslim-practicing Mahershala Ali (with his second nomination, and one previous win), for his role as African-American jazz/classical pianist Dr. Don Shirley, sophisticated and educated in contrast to his NYC-born, crude-talking bodyguard-chauffeur Frank 'Tony Lip' Vallelonga (Viggo Mortensen) escorting him around the segregated Deep South in the 1960s for an 8-week concert tour, in the comedy-drama Green Book
[Note: Ali was a previous Best Supporting Actor Oscar winner for Moonlight (2016)]
35 year-old Adam Driver (with his first nomination), for his role as Detective Philip 'Flip' Zimmerman, the Jewish co-worker of black Colorado Springs police officer Ron Stallworth (John David Washington), who was recruited to attend KKK meetings and become a member of the Klan

74 year-old Sam Elliott (with his first nomination), for his role as Bobby Maine, the older half-brother and manager of heavy-drinking country singer Jackson 'Jack' Maine (co-star Bradley Cooper), in A Star is Born
61 year-old English actor Richard E. Grant (with his first nomination), for his scene-stealing role as queer, drunken drifter Jack Hock, the loyal accomplice to discredited con artist friend Lee Israel (Melissa McCarthy), in Can You Ever Forgive Me?
50 year-old Sam Rockwell (with his second nomination, and a previous Oscar win), for his role as President George Bush, in the political biopic Vice
[Note: Rockwell previously won Best Supporting Actor for Three Billboards outside Ebbing, Missouri (2017). It was the first instance of an actor nominated for portraying a living US President, Bush 43.]
The nominees for Best Supporting Actress included a mixture of Oscar winners, oft-nominated actresses, and first-timers:
44 year-old Amy Adams (with her sixth nomination and fifth Best Supporting Actress nomination, with no wins), for her role as VP Dick Cheney's wife Lynne Cheney, in Vice
[Note: Adams was previous nominated four times for Best Supporting Actress: Junebug (2005), Doubt (2008), The Fighter (2010), and The Master (2012); also with one nomination for Best Actress: American Hustle (2013)]
44 year-old Mexican actress Marina de Tavira (with her first nomination), for her role as Sra. Sofia, an upper-middle class Mexico City wife in a strained marriage with her husband Antonio, in Roma
[Note: De Tavira was only the second Best Supporting Actress nominated for a Foreign Language performance, following Italian actress Valentina Cortese's nomination for Truffaut's Day For Night (1973, Fr./It.), the winner of Best Foreign Language film]
47 year-old Regina King (with her first nomination), for her role as Harlem-dwelling Sharon Rivers, the mother of pregnant 19 year-old daughter Tish Rivers (KiKi Layne), who was engaged to marry wrongly-incarcerated fiancee Alonzo 'Fonny' Hunt (Stephan James) - falsely-accused of rape, and Sharon's ultimately failing efforts to clear Fonny's name, in If Beale Street Could Talk
30 year-old Emma Stone (with her third nomination, and one previous win for Best Actress), for her role as charming but impoverished Abigail Masham/Hill - initially a maid but soon held in high regard by Queen Anne (Olivia Colman), in The Favourite
[Note: Stone was nominated as Best Supporting Actress for Birdman (2014), and won the Best Actress Oscar for La La Land (2016)]
48 year-old British-born actress Rachel Weisz (with one previous Oscar win) as one of two courtiers (both cousins) serving frail Queen Anne (Olivia Colman); she portrayed the Duchess of Marlborough, Lady Sarah Churchill (the Queen's confidante, lover, and adviser), in The Favourite
[Note: Weisz won the Best Supporting Actress Oscar for The Constant Gardener (2005)]
Most Obvious Omissions and Snubs:
Best Picture:
There was five glaring omissions from this category:
director Rob Marshall's and Disney's remake - the musical fantasy sequel to the 1964 classic, Mary Poppins Returns (with 4 nominations), about the title character - an English nanny for the family of now-grown-up Jane and Michael Banks (and Michael's three children)
director Damien Chazelle's and Universal's intimate epic First Man (with 4 nominations in technical categories), about emotionally-repressed, heroic Apollo 11 astronaut Neil Armstrong (Ryan Gosling) (and his strong and loyal wife Janet (Claire Foy)) and the high-stakes 1960s space race that culminated in Armstrong's dangerous mission to walk on the moon in July 1969
director Marielle Heller's Can You Ever Forgive Me? (with 3 nominations), based on the memoirs of real-life Lee Israel - regarding the story of a sad-sack writer Lee Israel (nominated Melissa McCarthy) who became a literary scam artist by pawning fake (or forged) letters of dead celebrity icons
writer/director Barry Jenkins' tragic and heartbreaking tearjerker drama from Annapurna Pictures, If Beale Street Could Talk (with 3 nominations) adapted from James Baldwin's 1974 novel about a separated young black Harlem couple when the male Alonzo 'Fonny' Hunt (Stephan James) was falsely accused of rape (of a Puerto Rican female named Victoria) and wrongfully imprisoned by racist cop Officer Bell (Ed Skrein), and his 19 year-old pregnant fiancee Tish Rivers' (KiKi Layne) efforts to prove his innocence
director Jon M. Chu's big-budget romantic comedy Crazy Rich Asians (with 0 nominations), Warners' big summer hit, based upon Peter Chiarelli's and Adele Lim's screenplay adapted from the global best-selling book by Kevin Kwan; it told about a native New Yorker and NYU Economics Professor - Asian-American Rachel Chu (Constance Wu) and her contact with boyfriend Nick Young's (Henry Golding) wealthy family in Singapore, including Nick's stoic mother Eleanor (Michelle Yeoh)
Best Director:
Four of the eight nominated films for Best Picture were missing nominations for Best Director: Black Panther, Bohemian Rhapsody, Green Book and A Star Is Born. There were five major neglected nominees, some of whom were displaced by the surprise nomination for Pawil Pawlikowski - and there were no female nominees for Best Director this year:
Damien Chazelle (with one Best Director Oscar win) for First Man [Note: Chazelle had won Best Director for La La Land (2016)]
Ryan Coogler for Black Panther
Barry Jenkins (previously nominated for Best Picture winner Moonlight (2016)) for If Beale Street Could Talk
Peter Farrelly for Green Book
Bradley Cooper (his directorial debut) for the remake A Star is Born
also, Bo Burnham (his directorial debut) for the coming-of-age tale Eighth Grade (with 0 nominations) starring Elsie Fisher
Best Actor:
34 year-old John David Washington (Denzel's son) was denied a nomination for his role as Colorado Springs police officer Ron Stallworth, who infiltrated the local KKK chapter along with Jewish colleague Detective 'Flip' Zimmerman (Adam Driver) posing as a white supremacist, in Spike Lee's BlacKkKlansman
48 year-old Ethan Hawke was neglected for his role as New York State Protestant (First Reformed) minister Ernst Toller, in writer/director Paul Schrader's drama First Reformed (with only 1 nomination, Schrader for Best Original Screenplay - his first Oscar nomination) [Note: Hawke had two previous Best Supporting Actor nominations for Training Day (2001) and Boyhood (2014)]
Best Actress:
35 year-old English-born Emily Blunt was not recognized for her role as enigmatic English nanny Mary Poppins in Depression-Era London, in director Rob Marshall's and Disney's remake Mary Poppins Returns [Note: Mary Poppins (1964) was the last Disney live-action film to receive a Best Picture nomination and it won a total of five awards]; Blunt was also not nominated for her role in the sci-fi thriller A Quiet Place
Best Supporting Actor:
23 year-old Timothée Chalamet was passed over, for his role as crystal meth drug-addicted teen Nicholas 'Nic' Sheff, in director Felix Van Groeningen's English-language feature film debut and Amazon Studios' Beautiful Boy (with 0 nominations), based upon a pair of memoirs by father and son David and Nic Sheff; Chalamet's previous nomination was a Best Actor nomination for Call Me By Your Name (2017)
Best Supporting Actress:
34 year-old English actress Claire Foy was not nominated for her role as Neil Armstrong's long-suffering, strong-willed, loyal first wife Janet Shearon, who fiercely confronted the NASA brass, in the space-race drama First Man
51 year-old Nicole Kidman was also not nominated for her role as conflicted mother Nancy Eamons of son Jared (Lucas Hedges) (and wife of Baptist preacher Marshall (Russell Crowe)), in Joel Edgerton's tearjerking gay-conversion-therapy drama Boy Erased (with 0 nominations), based on Garrard Conley's memoir
---



---