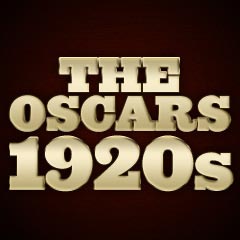 1927-28 Academy Awards®
Winners and History
Note: Oscar® and Academy Awards® and Oscar® design mark are the trademarks and service marks and the Oscar© statuette the copyrighted property, of the Academy of Motion Picture Arts and Sciences. This site is neither endorsed by nor affiliated with the Academy of Motion Picture Arts and Sciences.
Academy Awards History (By Decade):
Introduction, 1927/8-39, 1940s, 1950s, 1960s, 1970s, 1980s, 1990s, 2000s, 2010s, 2020s
Academy Awards Summaries
Winners Charts:
"Best Picture" Oscar®, "Best Director" Oscar®, "Best Actor" Oscar®, "Best Supporting Actor" Oscar®,
"Best Actress" Oscar®, "Best Supporting Actress" Oscar®, "Best Screenplay/Writer" Oscar®

---
1927-28
The winner is listed first, in CAPITAL letters.
Production (Picture):


WINGS (1927)



The Racket (1928)


7th Heaven (1927) (aka Seventh Heaven)

["The Way of All Flesh" and "The Last Command" were omitted
from the latest official Academy list.]
Unique and Artistic Picture (also known as Artistic Quality of Production):


SUNRISE



Chang (1927) (aka A Drama of the Wilderness)



The Crowd (1928)

Actor:
EMIL JANNINGS in "The Way of All Flesh" and "The Last Command", Richard Barthelmess in "The Noose" and "The Patent Leather Kid" [Charles Chaplin, originally announced for "The Circus," was removed from the category and given a special Honorary Award instead]
Actress:
JANET GAYNOR in "Seventh Heaven", "Street Angel", and "Sunrise", Louise Dresser in "A Ship Comes In", Gloria Swanson in "Sadie Thompson"
Director:
FRANK BORZAGE for "Seventh Heaven", Herbert Brenon for "Sorrell and Son", King Vidor for "The Crowd"
Comedy Direction:
LEWIS MILESTONE for "Two Arabian Knights", Ted Wilde for "Speedy" [Charles Chaplin, originally announced for "The Circus," was removed from the category and given a special Honorary Award instead]
---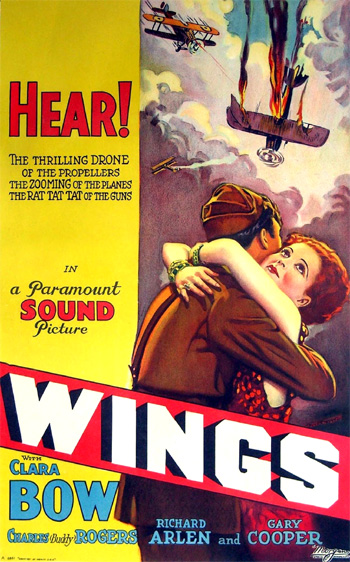 The original AMPAS (International Academy of Motion Picture Arts and Sciences - 'International' was soon dropped from the title) had only 36 members when the Academy was founded, at a dinner at Los Angeles' Ambassador Hotel on January 11, 1927. On May 11, 1927, a week after the state granted the Academy a charter as a non-profit organization, an official organizational banquet was held at the Biltmore Hotel. Of the 300 guests, 230 joined the Academy, each paying a $100 fee to join.
The first awards ceremony/banquet, a black-tie dinner, was held in Hollywood (at the Roosevelt Hotel) on May 16, 1929 with guest tickets costing $5, to honor films made from the beginning of August 1927 to the end of July, 1928. There was no suspense to the announcement of winners in the five-minute ceremony - they had been named three months earlier. This first awards ceremony was the only time in Academy history that the event wasn't broadcast in some way.
There were only twelve categories for the Academy's first merit awards:
Picture (Production)
Unique and Artistic Picture (Best Quality Film)
Actor
Actress
Direction (Drama Picture)
Direction (Comedy Picture)
Writing: Based on Material From Another Medium (Adapted Writing)
Writing: Directly for the Screen (Original Screenplay)
Writing: Titles (interstitial captions in silents)
Cinematography
Art Direction
Engineering Effects
One winner, and two runners-up were named in each category. In the first year of the awards, the term "Honorable Mention" was used in place of the term "Nominee." (However, the term nominee will be used in this summary.) Fifteen statuettes were awarded, all to men except for Janet Gaynor who won for Best Actress. For this year only, the Academy gave awards for multiple, rather than single achievements.
The Academy Awards were born the same year that sound was born, and Warner Bros.' The Jazz Singer was honored with a Special Award (and only one nomination for Best Writing - Adaptation for Alfred Cohn) as the "pioneering outstanding talking picture, which has revolutionized the industry." The Academy ruled that The Jazz Singer was ineligible for competition for the Best Picture award, because it was thought that it would be unfair to let sound films compete with silents.
Originally, the Academy planned to grant two 'Best Picture' (or Best Production) awards - and it did so in its first year.
In the history of the awards, Wings and Sunrise are the only non-speaking 'Best Pictures' winners in Academy history:
one for the "most outstanding motion picture production"
one for the "most unique, artistic, worthy and original production"
Four of the five nominated films for Best Picture (all except The Racket) were from Paramount Pictures studios.
The silent classic war film filmed in widescreen Magnascope, director William Wellman's and Paramount's Wings, was the official first winner of the Best Picture award as the "most outstanding motion picture production." The most expensive film of its time (at $2 million), it featured spectacular aerial footage (air battles, bombing raids and crashes) and state of the art visual effects in its story of two flying buddies who accidentally shot each other down. To provide continuity, the Academy now lists Wings as the "official" Best Picture of the first awards. That makes Wings the only silent picture to have won the Best Picture award.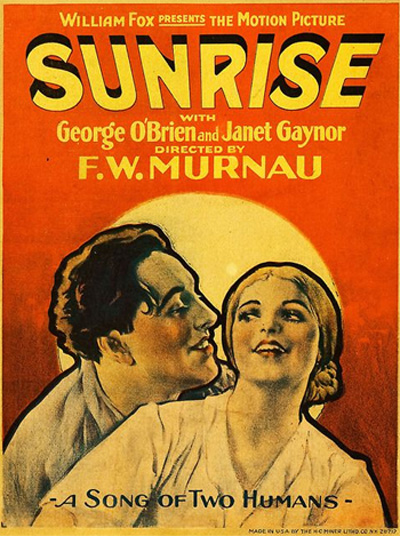 F. W. Murnau's exquisite Sunrise was awarded a comparable honor for being the 'Best Picture' in the category of "Artistic Quality of Production" (or "Unique and Artistic Picture"). [The category of "Unique and Artistic Picture" was abandoned by the Academy after the first year of the awards.]
Frank Borzage won his first of two Best Director awards for his Seventh Heaven. King Vidor lost as Best Director for The Crowd, one of the greatest silent films ever made - about the day-to-day problems of a working-class family during the Jazz Age in the big city. The directors of the two 'Best Pictures,' Murnau and Wellman, were both denied a Best Director nomination. [There are only two other 'Best Picture' winners whose directors were not nominated for Best Director: Grand Hotel (1931/32) and Driving Miss Daisy (1989).] The category of Best Comedy Direction was discontinued after the first year's ceremony. Its winner was Lewis Milestone for Two Arabian Nights. The only other nominee in the category was Ted Wilde for Speedy.
German actor Emil Jannings won his first and only award as Best Actor for his first two American film performances, as:
bank cashier August Schiller who becomes a ruined homeless derelict, in director Victor Fleming's The Way of All Flesh
General Dolgorucki (Grand Duke Sergius Alexander) - an arrogant ex-Czarist commanding general who ended up as a Hollywood extra (in a film directed by a prisoner (William Powell) that he had once whipped), in director Josef von Sternberg's The Last Command
His competing nominee was Richard Barthelmess (with his sole career nomination) for two performances, as:
alleged murderer Nickie Elkins, in The Noose
a prizefighter, in The Patent Leather Kid
Twenty-two year old Janet Gaynor (with the first of two career nominations and her sole win), the first Best Actress winner, was honored for the combination of three film roles. She had three of the five Best Actress nominations and was recognized for all of them - an anomaly in awards history:
Montmartre street waif Diane who found love with good-hearted, blinded sewer cleaner/war veteran Chico (co-star and screen team partner Charles Farrell), in director Frank Borzage's film romance Seventh Heaven
Naples girl Maria who escaped from imprisonment (on a prostitution charge after making a desperate try for money to help her ill mother) and eventually joined an Italian circus and fell in love with a young tramp artist in another Borzage film, the soap opera-ish Street Angel (Gaynor's last silent film)
faithful, sweet farmer's "Wife" - threatened with being killed by her husband, in German director F. W. Murnau's Sunrise
[Janet Gaynor was the youngest recipient of the award until 1986 when 21 year-old Marlee Matlin won the Oscar for Children of a Lesser God. Gaynor is the only Best Actress winner to receive the award for more than one performance in a single year.]
The other Best Actress nominees were:
Louise Dresser (with her sole career nomination) as Polish immigrant Mamma Pleznick in A Ship Comes In
Gloria Swanson (with the first of three unsuccessful career nominations) as South Seas prostitute Sadie in Sadie Thompson
Up until the 1950 Academy Awards ceremony, the Academy's Honorary Awards were called Special Awards.
Charles Chaplin was the first honorary awardee - for a non-competitive, Special Award for his writing, directing, acting, and producing of The Circus. Although he was originally a Best Actor, Best Writer, and Best Comedy Director nominee, Chaplin was removed (or nullified) from those competitive categories so that he could receive the Honorary Award. Some speculate that it was because of his unpopularity in Hollywood. [This was the last Oscar that Chaplin would receive, until another Honorary Award in 1971!]
Oscar Snubs and Omissions:
Mary Pickford was not nominated in the Best Actress category (but could have been if she had been interested) for her role in My Best Girl.
Director/star Buster Keaton's (known as "The Great Stone Face") classic silent film The General was not nominated - a major snub - in which Keaton portrayed Civil War-era, Southern Confederate train engineer Johnnie Gray (who was passionately in love with his train The General). Nor was King Vidor's The Crowd nominated for Best Picture (but it was nominated in a short-lived, one year long category known as Unique and Artistic Picture).
Director William Wellman, who was responsible for the excitement of the flying sequences of 'Best Picture'-winner Wings, was overlooked in the nominees. Janet Gaynor's co-star in Seventh Heaven was unjustly ignored. Al Jolson was not nominated for his role as Jakie Rabinowitz in The Jazz Singer.
---



---