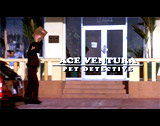 Ace Ventura: Pet Detective (1994)
In director Tom Shadyac's successful action slapstick-comedy film (his directorial debut) - rubber-faced comic Jim Carrey starred as the manic and goofy title character, a Miami-based PI ("pet dick") who specialized in retrieving lost or stolen animals; his trademark quote: "All-righty then!" was from this film. Carrey's transition from TV's "In Living Color" to the big screen was boosted with his first feature comedy, and a sequel followed with Carrey reprising his role in - Ace Ventura: When Nature Calls (1995):
in the film's main opening sequence, two weeks before the playing of Super Bowl XXVII (between the Dolphins and the Philadelphia Eagles), kidnappers at Miami Stadium kidnapped the aquatic mascot of the Miami Dolphins, a 500-pound rare, trained bottlenose dolphin named Snowflake; the Miami Dolphin's Head of Operations Roger Podacter (Troy Evans), his Chief Publicist Melissa Robinson (Courtney Cox), and Dolphin's owner Mr. Riddle (Noble Willingham) needed to find the missing dolphin and the kidnapping culprit before the upcoming Super Bowl
in the silly plot, the famous 'pet detective' Ace Ventura (Jim Carrey), who lived with dozens of animals in his apartment, was hired to investigate the disappearance of Snowflake
'Pet Detective' Ace Ventura (Jim Carrey)
Ace screamed out "It's Alive!" as he started his dilapidated 1970s Chevrolet Monte Carlo; in the film's infamous butt talking scene, Ace began his questioning of suspects with: "Excuse me, I'd like to 'ass' you a few questions"

"It's Alive!"

The Infamous Butt-Talking Sequence
while investigating the case and posing as an animal trainer to avoid suspicion, Ace found one key clue in the dolphin's tank filter system at the stadium - a rare triangular-cut orange amber stone; it was missing from one of the 1984 AFC Championship rings (each won by the Miami Dolphin players), the year of Super Bowl XVII ten years earlier; he surmised: "I find the ring with the missing stone, I find Snowflake"
at the local police headquarters, Ace learned local animal rights groups may have been the abductors; he was thrown out of the office by mean-spirited Miami Police Lt. Lois Einhorn (Sean Young)
Ace became suspicious of a billionaire rare fish collector named Ron Camp (Udo Kier), who had donated land to the Miami team for a new stadium; he snuck into Camp's residence disguised as a party guest, and located a large holding tank that he thought held the missing dolphin Snowflake, but was attacked by a shark
in a montage, Ventura checked out the rings from all the members of the team of Miami players from 1984 and found no missing stones
then, Roger Podacter died mysteriously due to a twenty-story fall from his North Beach luxury condo's balcony; Ace learned that Lt. Einhorn was assigned to investigate, and contrary to her beliefs, Ace Ventura thought it was murder, not a suicide
Ace discovered that there was one 1984 Miami player whose ring wasn't checked - ex-Dolphin mid-season replacement kicker Ray Finkle; he had lost the 1984 Super Bowl game for the Dolphins by one point, when he missed a game-winning field goal kick attempt at only 26 yards away - it ruined his career forever; Finkle's contract was not renewed and the kick was dubbed "The Kick Heard 'Round the World." Ventura surmised: "Poor guy with a motive, baby"
Ventura drove to visit Finkle's hometown in Collier County; after knocking on a door of Ray's crazed parents, a sliding window opened; he asked: "Hi, I'm looking for Ray Finkle" (the ex-Miami Dolphin's disgraced field goal kicker), when a shotgun was pointed at his head by Finkle's hostile parents - he nervously added: "...and a clean pair of shorts"
he learned from Finkle's parents that their son Ray had been incarcerated in Tampa's Shady Acres Mental Hospital, but had escaped eight years earlier and was now missing and seeking revenge; the insanely-obsessed Finkle had blamed the team's loss on the Dolphin's quarterback Dan Marino (Himself), claiming Marino had mishandled the ball during the place-kicking; he had held the ball "laces in" instead of out as he was supposed to
Ace was rightly worried about Dolphin quarterback Dan Marino's safety; as the famed player was filming a TV commercial (for Isotoner gloves) at the Bogart Sound Stage, he was carried off by two uniformed Miami ball-players; the crew believed it was part of the ad until everyone realized that the abductors were working for Snowflake's kidnapper; Finkle had a definite reason to be vengeful toward Snowflake because the dolphin had been given Finkle's old jersey number and had been taught to 'kick' a field goal as part of the halftime show - and "Finkle took it personally"
in Lt. Einhorn's office, Ace described his theory to her about Finkle's revenge that was timed to occur at the time of the Super Bowl; he also speculated that Podacter was murdered because he recognized Finkle from his previous tenure with the Dolphins; to Ace's surprise, Lt. Einhorn congratulated him for his investigative work with a big sloppy kiss
| | |
| --- | --- |
| Ace Ventura - Pretending to be An Ex-Football Player as a Disguise | Ace in Disguise as Patient at Mental Hospital Where Finkle Was Committed |
to find out more about Finkle's incarceration at the Shady Acres Mental Hospital, Ace decided that he must pretend to be a traumatized, deranged ex-footballer patient who was living out his last game (complete with slow-mos and instant replays), in order to get into the facility; he dressed disguised as a ballet dancer in a pink tutu; he entered the storage room of ex-patients' belongings where in Finkle's box, he found Isotoners, two knitted "Die Dan" hot pads, and a diary with the words: "Laces Out" scrawled within - further evidence of Finkle's deep hatred of Marino; he also found a key piece of evidence - an old Tampa newspaper article titled: "Search Called Off For Missing Hiker"; he read about a massive search that had ended for a missing 28 year-old hiker named Lois Einhorn
then inside Lt. Einhorn's desk in police HQs, a thank-you love note sent from Podacter to Einhorn was also found; Podacter thanked her for a lovely evening, just before his death; Ace realized ("Holy S--tballs!") that something was very fishy; Ace asked himself, confusedly: "What the hell does Lois Einhorn have to do with Ray Finkle?"
suddenly, Ace had a revelation (about the film's main plot twist) when his shaggy, red-haired dog laid down on a picture of football player Finkle - and the dog's long hairs made Finkle look like a female; he exclaimed: "That's it! Einhorn is Finkle, Finkle is Einhorn! Einhorn is a man. Oh, my God! Einhorn is a man!"; potential suspect Ray Finkle was actually transgendered female Miami Police Lieutenant Lois Einhorn!; Finkle had taken the name (and identity) of the missing hiker Einhorn after escaping from the mental hospital and undergoing plastic surgery; Ace felt disgusted for having kissed Lt. Einhorn!; he washed out his mouth and took a cleansing shower
on Super Bowl Sunday, Ace followed Einhorn to a remote warehouse on an abandoned dock at the Yacht Basin Storage Facility, where he discovered that she was holding the two abductees: Dan Marino and Snowflake; while Ace was struggling with Lt. Einhorn, the police arrived, believing Einhorn's accusation that Ventura was the one who had kidnapped Snowflake, killed Roger Podacter, and was about to kill Marino
Ace counter-exclaimed that Einhorn's claims were false: "Fiction can be fun." He explained his findings about Finkle, concluding with how: "Finkle had lost his mind, was committed to a mental hospital, only to escape and join the police force under the assumed identity of a missing hiker, manipulating his way to the top in a diabolical scheme to get even with Dan Marino - whom he blamed the entire thing....She's not Lois Einhorn. She's Ray Finkle. She's a man."
to prove his theory, Ace forced Lt. Einhorn to disrobe, but was unconvincing when he couldn't tear off her hair or prove she didn't have breasts. When he tore off her dress, Einhorn/Finkle was discovered to be hiding his genitals between his legs, while wearing a bra and panties. Ace knew it was a trick: "If the Lieutenant is indeed a woman, as she claims to be... then, my friend, she is suffering from the worst case of hemorrhoids I have ever seen! (Einhorn/Finkle was turned around to reveal her/his hidden scrotum and penis bulging behind him/her) That's why Roger Podacter is dead! He found Captain Winkie!" - it was finally revealed that 'she' was actually a male; Lt. Einhorn had killed love-interest Podacter, because he had learned that she was actually male
Lt. Einhorn never received the penectomy and vaginoplasty necessary to perfect the disguise - the reason earlier in the film that she had killed her date Roger Podacter by pushing him off a balcony after he learned of her confused sexual identity; additional proof that she was the killer/kidnapper was that she was wearing the AFC Championship Ring missing a stone; Ventura declared her a "Loser"
Marino and Snowflake were returned to the stadium just in time for the 1994 Super Bowl's halftime show; it was announced to the crowd that Ace was a hero for saving the dolphin: ("The National Football League would now like to offer a special thank-you to the man who rescued Dan Marino and our beloved Snowflake. A great humanitarian, and a lover of all animals: Mr. Ace Ventura!") - although at the time, he was wrestling the opposing team's mascot - a green feathered Eagle named Swoop: (Actually, the Eagle mascot uttered the last few words: "Excuse me! Get off me!")
[Note: Before the credits, Carrey's voice-over was heard: "Tone, put that big-ass size 13 on and kick it for the homies."]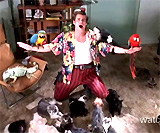 Ace's Pet-Filled Apartment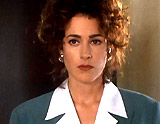 Miami Police Lt. Lois Einhorn (Sean Young)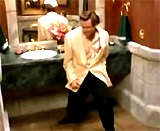 Bathroom Sequence - Ace Sneaking Into Party Disguised as a Party Guest at the Camp Residence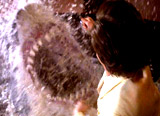 Ace Confronted by Shark in Camp's Holding Tank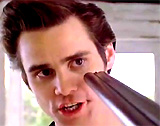 Shotgun Pointed At Ace's Head at Finkle's Home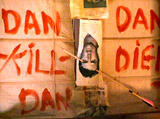 Ray Finkle's Insane Obsession with Blaming QB Dan Marino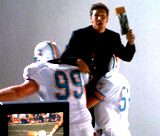 Marino Kidnapped During a TV Commercial by Two Imposter "Dolphin" Players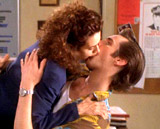 Ace Received a Congratulatory Sloppy Kiss From Lt. Einhorn for His Investigative Work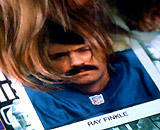 Picture of Football Player Ray Finkle - Ace Suddenly Realized that Finkle Had Become Transgendered and Taken On a Missing Hiker's Identity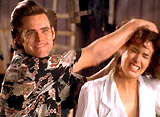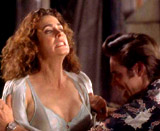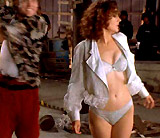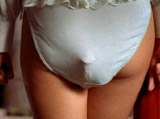 At the Warehouse, Ace Revealed Lt. Einhorn's Transgendered Disguise: "She's Ray Finkle. She's a Man!"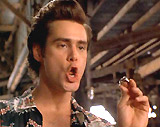 Ace Holding the AFC Championship Ring Worn by Einhorn/Finkle, Missing a Stone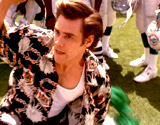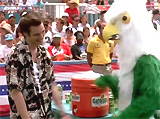 1994 Super Bowl Finale - Ace Wrestling the Opposing Team's Mascot - Swoop