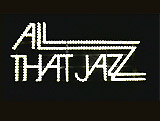 All That Jazz (1979)
In director/co-writer Bob Fosse's kinetic, semi-autobiographical musical :
the cleverly-edited opening sequence of New York choreographer-director Joe Gideon's (Roy Scheider) waking in the morning (with dosages of dexedrine, alka-seltzer, eyedrops, etc.) and the repetition of his rousing stock phrase in front of the mirror: "It's showtime, folks!"
the full-stage 'cattle-call' audition dance number set to George Benson's "On Broadway"
the erotic, sweaty and sensual Air-Rotica rehearsal scene with the bizarre number "Take Off With Us" featuring sexy and half-naked Sandahl Bergman ("Going all the way, Won't you climb aboard?")
the impromptu top hat song-and-dance act "Everything Old Is New Again" performed in Joe's apartment by his girlfriend/lover Kate Jagger (Ann Reinking, Fosse's real-life lover essentially playing herself) and pre-teen daughter Michelle Gideon (Erzsebet Foldi)
the heart attack scene (with an angel of Death appearance by flirtatious Angelique (Jessica Lange) while NY choreographer Gideon was overworking himself) - he had tempted fate with mental and physical abuse: overwork, cigarettes, womanizing, lack of sleep and amphetamines, while he was preparing by day for a 1975 Broadway theatre production of Chicago (the centerpiece was the hypersexualized "Air Erotica" number). At night, he was editing a film (possibly Lenny (1974))
Angel of Death - and Gideon's Fatal Heart Attack

Operating Table

Death Angelique
(Jessica Lange)

Gideon in Body Bag
after workaholic Gideon's heart-attack in a hospital, he was set to undergo open-heart cardiac surgery; Angelique tempted him to leave the world of the living, although he would first look back at his life
musical sequences in the film illustrated the five stages of grief, as he approached death; Gideon feverishly fantasized a dreamy nightmare as he laid on a hospital bed
the spectacular and extravagant 9-minute long finale included wild, imaginatively-surreal hallucinations that were experienced by drug-addicted Gideon as he was on life support and underwent open-heart cardiac surgery with gyrating chorus girls in tights with feather fans (some costumed as diagrams of the human circulatory system) danced around his surgical bed, while he (in a glittering black sequined outfit) and television host O'Connor Flood (Ben Vereen) took center stage to sing "Bye Bye Life" (originally Bye Bye Love) to a heavenly live-studio audience in a dance-musical number; in fact, Gideon choreographed and attended his own hallucinated funeral
this dark finale ended with Gideon in a body bag being zipped up, as Ethel Merman belted out, in caustic bitter contrast: "There's No Business Like Show Business"; the film then faded to black for the credits.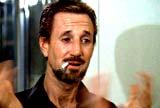 Drug-Addicted Workaholic Joe Gideon: "It's Showtime, Folks!"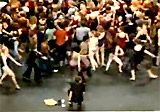 Audition Dance Number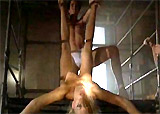 Air-Rotica


Song-and-Dance Act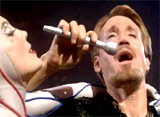 "Bye Bye Life"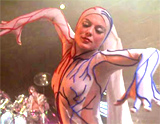 Dancers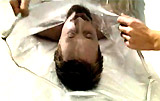 Zipped-Up Body Bag