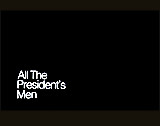 All the President's Men (1976)
In Alan Pakula's Best Picture-nominated political film:
the opening police call ("Car 727. Car 727. Open door at the Watergate office building. Possible burglary")
the statement by Deep Throat - delivered in the shadows: "Just follow the money"
the night scene at editor Ben Bradlee's (Oscar-winning Jason Robards, Jr.) house when Washington Post reporters Bob Woodward (Robert Redford) and Carl Bernstein (Dustin Hoffman) divulged the news from Deep Throat (Hal Holbrook) that "everyone is involved"
Bradlee's final words of advice to his reporters: "Nothing's riding on this except the, uh, First Amendment, freedom of the press, and maybe the future of the country. Not that any of that matters, but if you guys f--k up again, I'm going to get mad. Goodnight" - and his go-ahead for his reporters to print their story
| | |
| --- | --- |
| | |
the opening and then compelling final scene in which they typed (a closeup of typewriter keys banging on paper) in their news office while in the foreground - a TV broadcast Nixon's 1972 second inauguration, 21-gun salute and oath of office - and then another teletype report of August 9, 1974 - "NIXON RESIGNS..."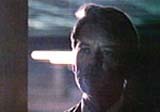 Deep Throat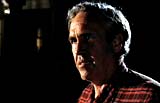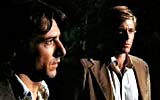 Ben Bradlee's Advice to Reporters