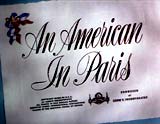 In Vincente Minnelli's Best Picture-winning musical:
the opening voice-over, introducing the film's character and why he had settled in Paris as a painter: "This is Paris. And I'm an American who lives here. My name, Jerry Mulligan, and I'm an ex-GI. In 1945, when the Army told me to find my own job, I stayed on. And I'll tell you why. I'm a painter. All my life that's all I've ever wanted to do. And for a painter, the Mecca of the world for study, for inspiration, and for living is here on this star called Paris. Just look at it. No wonder so many artists have come here and called it home. Brother, if you can't paint in Paris, you'd better give up and marry the boss' daughter..."
American expatriate and ex-GI Jerry Mulligan's (Gene Kelly) song/dance to neighborhood street children to "I Got Rhythm"
Jerry's romantic song/dance with waifish pretty perfume-shop clerk Lise Bouvier (Leslie Caron) on the quay next to the bank of the Seine River to "Our Love is Here to Stay"
vaudeville star Henri Baurel's (French music hall star Georges Guetary) elaborate and lush Folies Bergere-like rendition of "I'll Build a Stairway to Paradise" with lavish-costumed chorus girls
the performance of Lise's "Embraceable You" - with five colorful facets of her personality appearing in this order through dance montages: (1: "an exciting girl" 2: "she's sweet and shy" 3: "she's adventurous and modern" 4: "she reads incessantly" 5: "she's the gayest girl in the world")
Jerry's performance of a song/dance with Henri in the Latin Quarter titled "S'Wonderful"
Adam Cook's (Oscar Levant) dream sequence in which he conducted and performed Gershwin's "Piano Concerto in F" with members of the orchestra
the sequence of Jerry's final goodbye scene with 19 year old girlfriend Lise Bouvier before she departed to marry successful music-hall star entertainer Henri Baurel, because of the protection he had offered her for five years during the Resistance; Jerry told Lise: "Now what have I got left? Paris. Maybe that's enough for some, but it isn't for me anymore. Because the more beautiful everything is, the more it'll hurt without you"
Final Goodbye Scene
the most extravagant number - the closing audacious 13-minute symphonic "American in Paris" ballet with lavish, colorful and impressionistic backdrops, fountains and artistic settings based on the works of famous and celebrated French painters (Dufy, Utrillo, Renoir, Van Gogh, Rousseau, and Toulouse-Lautrec); Jerry pursued Lise through the continually-changing backdrop of Paris; it began with Jerry in front of a black and white backdrop picking up a red rose dropped by Lise; the next sequence was in a Madeleine flower market where Jerry danced with GIs and gendarmes, and also with straw-hatted hoofers; then came a passionate emotional, mating dance (during a smoky night) between Jerry and Lise around a fountain in the Place de la Concorde followed by a Moulin Rouge-styled dance in a cafe
the number ended with everything suddenly vanishing and the crowd disappearing; Jerry found himself alone with his red rose in front of the black and white sketch backdrop in a deserted Paris - with a zoom closeup of the red rose in his hand; the rose dissolved into his lovelorn, romantically desolate face
The Extravagant "American in Paris" Finale Ballet
in the concluding happy reconciliation - Jerry saw Lise giving Henri a grateful farewell kiss after which he released her from her engagement and stepped aside; Lise ran up a long flight of stairs into Jerry's arms, ecstatically reunited in a loving embrace; the camera panned upwards to a twinkling Paris skyline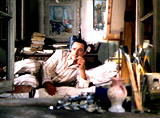 Introducing Jerry Mulligan (Gene Kelly)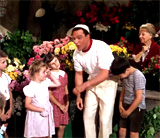 "I Got Rhythm"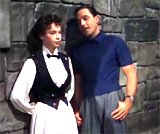 "Our Love Is Here to Stay"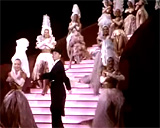 "I'll Build a Stairway to Paradise"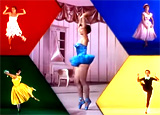 "Embraceable You"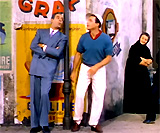 "S'Wonderful"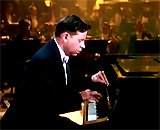 "Piano Concerto in F"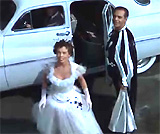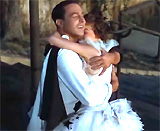 Concluding Reconciliation Between Jerry and Lise