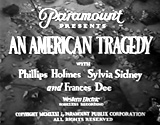 An American Tragedy (1931)
In director Josef von Sternberg's romantic drama, adapted from Theodore Dreiser's 1925 novel of the same name (based on the real-life murder of 20-year-old Grace Brown by Chester Gillette in upstate New York in 1906) - with tragic consequences (later remade as A Place in the Sun (1951)):
the son of street evangelists, socially-ambitious yet poor Clyde Griffiths (Phillips Holmes) moved to upper state New York to accept a lowly shirt factory worker job arranged through his wealthy uncle Samuel Griffiths (Frederick Burton); he became smitten with the family's beautiful debutante-socialite Sondra Finchley (Frances Dee), while also illegally dating his plain-looking, hard-working co-worker Roberta "Bert" Alden (Sylvia Sidney)
the dilemma: "Bert's" pregnancy, somewhat solved when during a vacation trip to the Adirondacks with her as they took a rowboat ride, he acted strangely but then vowed to her that he had decided to marry her for honor's sake: "It's nothing now. I'm alright. Just leave me alone. I brought you up here to drown you, but I'm not going to do it now. Just stay where you are. Nothing'll happen to you. I'll marry you. I'll go through with it. Just leave me alone....Stay where you are. Don't come near me!"; confused by his statements, she got up in the boat to comfort him, lost her balance, the boat overturned, and she accidentally drowned when he didn't swim back to rescue her
Fateful Boat Accident - Drowning of "Bert"
the scene of the idyllic lake party (attended by Clyde and Sondra) where many other debutante couples were drifting and gliding along in a number of slow-moving boats, while police authorities were closing in on their suspect Clyde; as the loving couple sat in a boat on the lake, they were startled by the ominous sounds of gunshots (first a single shot, then two more) coming from the woods where officers had assembled - it was one of the earliest and most effective uses of off-screen sound
the grueling courtroom sequences with much expository histrionics, including Clyde's cross-examination by District Attorney Orville Mason (Irving Pichel) and ultimately, his guilty verdict of first-degree murder with execution in the electric chair
Clyde's execution was prefaced by a jailhouse scene (through the cell bars) with his mother Mrs. Asa Griffiths (Lucille LaVerne), when Clyde admitted that he wasn't really "innocent" - he could have saved "Bert" but didn't because he wanted her dead: "Mother, come here, close. I'm gonna tell you something I couldn't tell the court. I didn't kill Roberta, but when she fell in the water, I could have saved her. Even when she went down for the last time, I could have saved her. But I didn't. I swam away, because in my heart, I wanted her to die...I wanted to tell the jury, Mother, but I couldn't. I-I was too ashamed. But that's just the same as killing her, isn't it? But I'm not a murderer, Mother"; his mother took the blame: "It's not your fault, Clyde. We never gave you the right start. We brought you up among ugly, evil surroundings, and while we were trying to save the souls of others, we were letting you go astray. We never taught you to be brave and fight sin like a man'; she urged him to face his just punishment bravely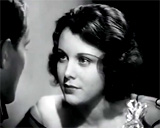 Clyde with Sondra (Frances Dee)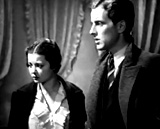 Clyde Also Dating Roberta or "Bert" (Sylvia Sidney)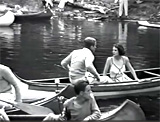 In Love With Sondra at Lake Party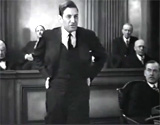 Clyde's Courtroom Trial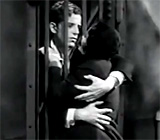 Final Jailhouse Scene - Clyde with His Mother