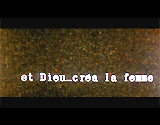 ...And God Created Woman (1956, Fr.) (aka Et Dieu Créa la Femme)
Director Roger Vadim's erotic drama was a ground-breaking 'art-house' international film.
although heavily-edited (with no explicit sex and almost no nudity), it was still denounced by the National League of Decency. Due to its notoriety, it became the biggest foreign box-office success of the 50s - its titillating content and positive reception inspired other producers to incorporate nudity into their films to attract audiences, and helped initiate the trend for art house theaters to become adult-film venues as well.
it was a star-making vehicle for international sex symbol and 'sex kitten' Brigitte Bardot, who portrayed 18 year-old, free-spirited, sexually-tempting, nymphomaniacal, often barefooted orphan Juliette Hardy, living in the small fishing village of St. Tropez. Throughout the film, there were references to her as a tart, a little slut, heartless, shameless, a disgrace, a wild child, a bitch, and much more.

[Note: Bardot was the director's wife at the time of filming. Vadim also directed the similarly titled 'And God Created Woman' in 1988 with an entirely different story, with Rebecca DeMornay as the lead character Robin Shea.]

in the story, the hedonistic, mischievous, freedom-loving and carefree female was the object of attention from many males, including two brothers:

Eric Carradine (Curd Jürgens), an older wealthy entrepreneur/tycoon
Antoine Tardieu (Christian Marquand), the older Tardieu brother, a cad; his poor family was involved in the shipyard business
Michel Tardieu (Jean-Louis Trintignant), Antoine's younger, nerdy, inexperienced, sweet and naive brother
Juliette's Flirtations with Eric, Antoine and Michel


Flirting with Eric at Clothesline


Flirting With Antoine on the Bus


Dancing and Kissing With Antoine in a Local Bar


Eric Kissing Juliette's Hand


Juliette Kissing Antoine


Michel Proposing to Juliette
the romantic drama opened in St. Tropez with a view of the naked rear-end of the tanned starlet lying down sunbathing in her backyard and silhouetted against a laundry clothesline with a hanging white bedsheet. She flirted with rich businessman Eric on the other side of the laundry, who claimed he had a present "forbidden fruit" for her - he tricked her by presenting her with a toy red Simca convertible. He flattered her: "With that mouth, you can have anything you want," but she kept him at bay. Singing, she playfully called herself a "gold-digger." Eric was frustrated by being blocked from developing a hotel-casino resort along the St. Tropez coast, due to the Tardieu family's ownership of a small shipyard - and Antoine refused to sell, even for an offer of 4 million.
with her sole means of transportation, a bicycle, Juliette had a flat tire and was forced to take a bus to town. As the bus pulled up carrying Antoine to St. Tropez to visit his family at the shipyard, a passenger alerted Antoine to Juliette's shapely rear-end - he peered at her through the bus' front window as she hailed the bus to stop: "Antoine, check out that girl. Her ass is a song."
Juliette - who worked part-time in a local St. Tropez bookstore, had her eyes set on Antoine on whom she had a crush, but he only wanted short-term affection. After kissing and dancing with her in town, she overheard him in an adjoining uni-sex bathroom speaking bluntly about her: "I'm going to have her tonight...Girls like Juliette are good for one night, then you forget them." She walked away from him and briefly and spitefully visited instead with Eric on his luxurious yacht, where she warned him about her sex appeal: "It's dangerous. You won't ever forget me" as he kissed her hand. Shortly later, Antoine was promising to take her back to his hometown of Toulon the next day, but it turned out to be a false promise.
to keep Juliette from being returned to the St. Mary's orphanage until she was 21 and more responsible by her stern and moralistic guardians/step-parents, the Morins, Eric suggested to Antoine that he marry Juliette, but he rejected the idea. She even thought she wasn't ready to settle down when asked by Michel: "I like to have fun too much." The priest also cautioned Michel: "That girl is like a wild animal. She needs to be tamed. You're not a man yet." However, she ultimately accepted a marriage proposal from Michel, although the impetuous and reckless temptress was more interested in Antoine. When asked by the priest to say "I do," she glanced over at Antoine for a long paused look before assenting.
on the way back from the wedding to the Tardieu home, Michel was taunted by a waterfront ruffian named Rene (André Toscano) ("You better get used to sharing"), and was forced to fight for Juliette's honor - an ominous start. At his home in his bedroom, she treated his injuries as a reward for his bravery, and then after noting his handsome chest, she stripped off her wedding dress and voraciously kissed Michel. The newlyweds kept the family waiting at the dinner table while they made love, and afterwards, she rudely prepared a tray of food for the two of them to eat privately in the bedroom - she curtly explained: "I'm taking care of him. Good night."
After the Wedding to Michel - Passionate Love-Making
although Eric continued to try and bed the married Juliette, he was always thwarted. She said she was very pleased with Michel (and especially his smile): "Everything I love, I've got here - the sea, the sun, the hot sand, music...and eating." With an offhand comment, she gave Eric the idea to offer the Tardieu family a 30% stake in the port's shipyard, rather than an outright purchase of their shipyard. The deal and contract was solidified, with Antoine appointed as the manager of Eric's shipyard to protect the family's investment. It would necessitate Antoine living in St. Tropez to run the shipyard - potential trouble for the newlyweds with his presence. Juliette's first reaction was to run to Eric and demand: "Antoine can't come back...I beg you, don't let him come back."
after Michel and Juliette were married for awhile, she told him she was scared - undoubtedly because of her desires for Antoine, and that their marriage was crumbling: "You have to love me very much...Tell me you love me, that I'm yours, that you need me....It's difficult being happy."
when Michel was in Marseilles for the day, Juliette took out one of the Tardieu sail-boats (with a faulty engine) and it caught fire out on the water. Antoine swam out to the boat to rescue her, and helped her swim to a nearby island. He was rewarded for saving her by her seductive enticement with an unbuttoned, soaking wet, braless one-piece shirt/dress, as she stood and laid in front of him. She followed him up the beach where Antoine took advantage of the opportunity to engage in a love-making tryst and sexual fling with the unfaithful Juliette behind a bent palm tree (conveyed by a before/after shot). Afterwards, she confessed her love for Antoine to the youngest boy Christian Tardieu (Georges Poujouly), and said that she was "feverish" and "miserable" and that everything was "ruined."
in the conclusion, jealous and angry Michel returned and was informed of his wife's infidelity by his mother (Marie Glory) - she urged him to order Juliette to leave the household immediately for the family's sake. Angered, Michel also spoke to Antoine who called Juliette a promiscuous "bitch whore." With a gun in his possession, Michel found a desperate, drunken and bizarrely-acting Juliette erotically and madly dancing the mambo barefooted in the Bar des Amis, accompanied by the "Whiskey Club" calypso-styled band rehearsing in the basement of the bar. Writhing about, she often flashed her black panties under her open dark green skirt, and claimed she was just having fun to try and escape.
The Mambo Scene With Juliette's Wild Animalistic Dancing
Michel could not stop the disobedient and frenzied Juliette from being provocative in public. When Eric stepped into the middle of the conflict after Michel pulled out his gun, he was superficially wounded by Michel's gunshot. Although Michel angrily slapped Juliette four times, she just smiled back at him.
Eric needed to be driven by Antoine to be treated by a surgeon-doctor in Nice, to avoid scandal in town. As they drove along, Eric told Antoine about the dangers of remaining in St. Tropez with Juliette: "That girl is made to destroy men," and as Antoine's boss, he ordered Antoine to leave St. Tropez to save himself. Eric's last words to the reckless-driving Antoine before they continued on to the doctor were: "Let's get out of here. I don't want to die in this wreck."
| | |
| --- | --- |
| Eric to Antoine: "That girl is made to destroy men" | Michel and Juliette Hand-in-Hand |
the last view in the film was of Juliette and Michel joining hands as they entered their home, although he had a few moments earlier viciously slapped her face four times in the bar.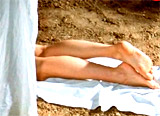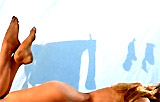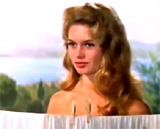 First Glimpses of Juliette
(Brigitte Bardot)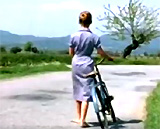 Rear-End View of Juliette With Her Bike Seen From Bus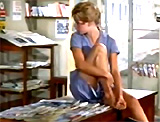 Juliette In Bookstore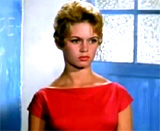 Juliette Overhearing Antoine Speak About Her as a One-Night Stand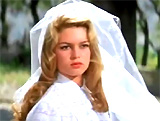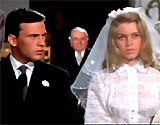 Marriage with Michel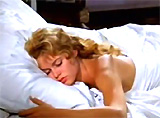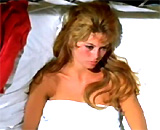 Sexpot Juliette Usually Seen In Various States of Undress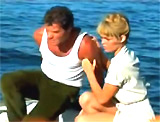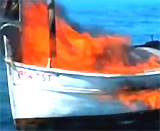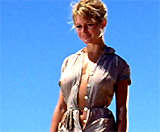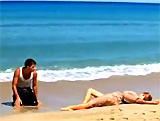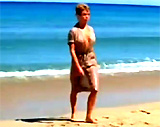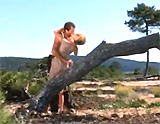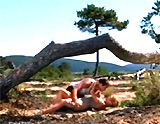 Juliette's Love-Making With Antoine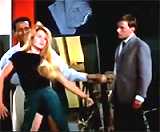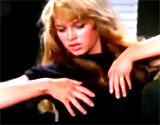 Michel Confronting Juliette Doing the Mambo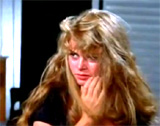 After Being Viciously Slapped Four Times by Michel