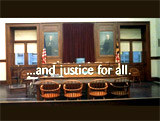 ...And Justice for All (1979)
In director Norman Jewison's powerful courtroom drama:
the final memorable, tumultuous sequence in the court room as Baltimore criminal defense attorney Arthur Kirkland (Al Pacino) lost control while defending a guilty client on a rape charge, crying: "You're out of order! He's out of order! This whole trial is out of order!" as he was dragged from the courtroom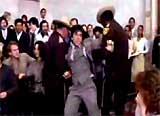 Defense Attorney Out of Control: "You're Out of Order!"