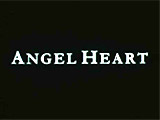 Angel Heart (1987)
In Alan Parker's supernatural film noir set in New Orleans, Louisiana with the tagline - "It will scare you to your very soul":
the opening sequence in which a dog found a bloody corpse in an alley
in the year 1955, seedy Brooklyn private detective Harry Angel's (Mickey Rourke) met in Harlem with mysterious satanic client Louis Cyphre (Robert De Niro in a masterfully-acted devilish role), with long fingernails and a pentagram ring; Cyphre hired Angel to investigate a missing persons case; shortly later during a NYC diner scene, Cyphre remarked: "Some religions believe the egg is a symbol for the soul" -- before meaningfully biting into a hard-boiled egg, and offering Angel $5,000 for his efforts
Egg-Eating Louis Cyphre - Satanic Figure
there were many brutal murders that Harry discovered after he was hired by Louis Cyphre to find the whereabouts of a missing person (who owed Cyphre a debt) - disgraced singer/bandleader and WWII draftee Johnny Favourite (nee John Liebling), known as the "guy with the golden tonsils"; he had been neurologically wounded during military action, and was admitted to a Poughkeepsie Nursing Home, but subsequently was secretly transferred out in late 1943 with fake documents
the dead included Dr. Albert Fowler (Michael Higgins) from the Poughkeepsie facility - who was shot through the eye (with brain splatter), Johnny's one-time fiancee Margaret Krusemark (aka Madame Zora) (Charlotte Rampling) who had her heart cut out, and Margaret's wealthy husband Ethan Krusemark (Stocker Fontelieu) who was drowned in a large vat of boiling gumbo; it was revealed later that Harry had killed all of them in an attempt to keep his own identity as Johnny Favourite a secret - both a secret from others and a secret from himself
the scene of illegitimate, half-Creole, teenaged voodoo practitioner Epiphany Proudfoot (Lisa Bonet in her film debut, who child-starred as Denise Huxtable in the family TV show The Cosby Show), the 17 year-old mixed-race daughter of Evangeline (a now-deceased black voodoo queen), who was fathered by Johnny Favourite; Angel witnessed her participation in a voodoo ritual in which she was scantily-clad as she slit a chicken's throat and let the blood drip down her face, neck and breasts
Incestuous Rape-Murder of Epiphany
the notorious, originally NC-17 rated incestuous sex scene (trimmed for an R-rating) between Harry and Epiphany as rain leaked through the hotel roof and was transformed into dripping chicken blood during a rainstorm, while they listened to the radio playing the sultry tune "Soul on Fire" by Laverne Baker; and then Harry 'woke up' and found himself strangling her
the well-known plot twist - in which Johnny's identity was revealed; Johnny had sold his soul to the devil (Lu-cifer) for fame and stardom, but then reneged on the contracted bargain, hid out, and took the alias of Harry Angel. Through a satanic black magic ritual, Johnny evaded Satan by stealing the soul of a soldier in Times Square on New Years' Eve in 1943 - the soul of Harry Angel
Harry was the murderer of all the people he discovered dead - all magic and voodoo practitioners who were involved in Johnny Favourite's cover-up
the film shockingly concluded with Epiphany bloodied and dead on the bed (with a gunshot to the groin), with Harry's military 'dog-tags' (HAROLD ANGEL) around her neck. Harry had killed his own daughter
Harry had been 'guided' by Cyphre to commit the numerous murders: ("All killed by your own hand. Guided by me naturally. Frankly, you were doomed from the moment you slit that young boy in half. Johnny - for 12 years, you've been living on borrowed time and another man's memories...The flesh is weak, Johnny. Only the soul is immortal, and yours belongs to ME!")
at the crime scene, one of the detectives carried Epiphany's toddler son, Harry's grandson, into the bedroom - the boy had glowing eyes - strongly hinting that the boy was fathered by 'Lucifer' (during a voodoo ceremony) - and he pointed at Harry
Harry - who descended down a very lengthy elevator shaft as the film ended (during the entire credits sequence) - was convicted of the murder of Epiphany, and doomed to the electric chair - and afterwards fated to burn in Hell; at the end of his ride, with the final black screen, one could hear a very faint exchange (in voice-over): "Harry?" "Johnny?"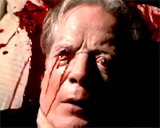 Dr. Fowler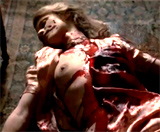 Margaret Krusemark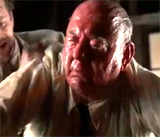 Ethan Krusemark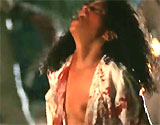 Voodoo Ritual with Chicken blood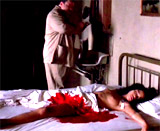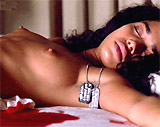 Epiphany Dead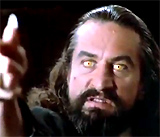 Murders Were Guided by Cyphre: "Only the Soul is Immortal, and Yours Belongs to Me!"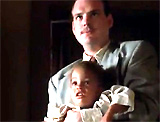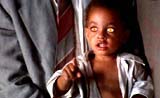 Epiphany's Toddler Son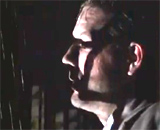 Harry Convicted and Doomed