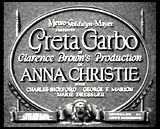 In director Clarence Brown's early talkie:
the scene in a waterfront bar with silent film star Greta Garbo, as title role character Anna Christie, speaking in a film for the first time -- her talking picture debut - with the immortal line: "Gimme a whiskey, ginger ale on the side. And don't be stingy, baby!"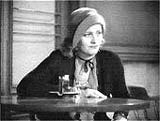 Garbo's First Words: "Gimme a whiskey"