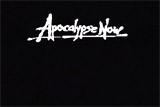 In director Francis Ford Coppola's sweeping, surreal, still-controversial Vietnam war epic that has been considered by many to be the best war movie of all time, with incredible performances. A revised version, Apocalypse Now Redux (2001) followed. It was a masterful, thought-provoking, pretentious film, with beautifully-chaotic visuals, about the nightmarish, moral madness of the Vietnam War, inspired by the novella Heart of Darkness by Joseph Conrad.:
the opening credits sequence was accompanied by the thumping sound of the choppers - and billowing napalm flames coinciding with the music of The Doors, while drunken and debauched US Army vet Captain Benjamin Willard (Martin Sheen) was in his Saigon hotel room with a spinning ceiling fan (and his opening line: "Saigon. Shit. I'm still only in Saigon"); in the story beginning in Saigon in 1969, he was awaiting orders for a top-secret mission
Willard learned that he would be sent up the Nung River into the off-limits Cambodian jungle aboard a Navy patrol boat carrying a young, spaced-out crew
his military objective was to assassinate ("terminate...with extreme prejudice") a Buddha-like, renegade Colonel Walter E. Kurtz (Marlon Brando), once a decorated Special Forces officer, who had become an insane demi-god and now ran his own jungle fiefdom, and lorded himself over the native peoples and Montagnard troops
Willard experienced the horrors of war during the journey, with his patrol boat companions: African-American boat commander "Chief" Phillips (Albert Hall), New Orleans cook "Chef" (Frederic Forrest), 17 year-old Bronx ghetto youth "Mr. Clean" (Larry Fishburne), and California surfer-water skiier Lance (Sam Bottoms)
during the river journey, the crew met up with hawkish, reckless and gung-ho Lieutenant Colonel Bill Kilgore (Robert Duvall) wearing a black Stetson hat; the surf-loving, flamboyant and fearless Lieutenant Kilgore gave a famous speech amidst blowing yellow smoke while others surfed in celebration: "I love the smell of napalm in the morning... smelled like...victory," (and "Charlie don't surf")
a devastating dawn naval attack by his 9th Air Cavalry unit was choreographed (supplemented with visual/audio components) using napalm on a Vietnamese village (with suspected Viet Cong) by swooping and swarming Huey helicopters, to the tune of Wagner's "The Ride of the Valkyries" blaring over loudspeakers
Air Cavalry - Dawn Attack

Colonel Kilgore: "I love the smell of napalm in the morning..."
afterwards, the group arrived at an isolated US base supply depot at Hau Phat in a surreal nighttime scene brilliantly lit by floodlights; Playboy Bunnies performed in a USO-styled show for sex-starved soldiers
the panicky crew senselessly massacred all the innocent Vietnamese peasants in a sampan with machine-gun fire
they also came upon a bizarre night battle for the besieged, psychedically-lit, temporary Do Lung bridge
at mad renegade Colonel Kurtz's strange jungle compound and outpost inside Cambodia (with severed heads and hanging mutilated bodies in view), Willard first encountered maniacal, fast-talking US freelance photographer (Dennis Hopper)
Willard was ushered into Kurtz' presence inside a dark temple. In the shadowy confrontation between Willard and an incoherently-mumbling and deranged, overweight and bald Kurtz (weighing hundreds of pounds with head shaven), the Colonel spoke about the 'horrors' he had experienced: "I've seen the horrors, horrors that you've seen. But you have no right to call me a murderer. You have a right to kill me - you have a right to do that - but you have no right to judge me." Although Kurtz encouraged Willard to disobey and challenge his officers, he also urged his own death
ultimately, Willard emerged from the jungle water and carried out his mission of murder with a machete - interspliced with the natives' ritualistic slaughter of a water buffalo (outraging animal activists). Willard and the catatonic and crazed Lance (the only surviving patrol boat member) departed from the site, hearing Kurtz' last words about wartime atrocities: "The horror, the horror." In some versions of the film (during the end credits), a fiery, large-scale aerial attack was staged to destroy Kurtz' jungle fortress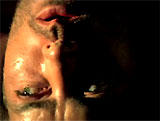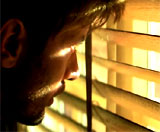 Captain Willard Still in Saigon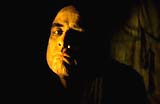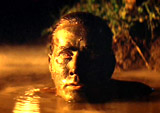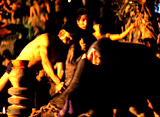 Pre-Execution of Col. Kurtz



Death of Colonel Kurtz