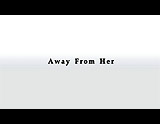 Away From Her (2006, Canada/UK/US)
In 28 year-old actor/writer Sarah Polley's marital drama - her remarkable debut feature film:
the film's opening scene of the closeness in the long-term relationship of 44 years - exemplified by cross-country skiing in secluded, rural northern Ontario, Canada at their remote log cabin by a lake - between devoted retired college professor Grant Andersson (Gordon Pinsent) and his beloved, increasingly-disoriented, silver-haired wife Fiona (Best Actress-nominated 65 year-old Julie Christie) who was on the verge of dementia due to Alzheimer's disease
Grant's frequent recollections of a younger 18 year-old Fiona (Stacey LaBerge) and how she proposed to him: (voice-over: "I never wanted to be away from her. She had the spark of life")
the scenes of an introductory tour of the Meadowlake retirement center by its chirpy, smooth-talking director Madeleine Montpellier (Wendy Crewson) and the steadfast visits (after an initial 30 days of absence) of Grant to see Fiona
Fiona became increasingly attached and doting to mute, wheelchair-bound patient Aubrey Bark (Michael Murphy) and told persistent, slightly jealous and bewildered visitor Grant: "He doesn't confuse me at all" - Grant wondered if she was possibly instilling in him guilt and 'punishment' for his extra-marital indiscretions with students during the early years of their marriage
Meadowlake Retirement Center:
Fiona Suffering From Alzheimer's Disease

Grant's Tour with
Center's Director

Fiona's Closeness to
Another Patient - Aubrey

Grant with
Nurse Kristy

Grant With
Punk Teenager Monica
during many painful and frequent visits, Grant often spoke to sympathetic, friendly and plain-spoken nurse Kristy (Kristen Thomson) who offered her pager number, and with an understanding punk teenager named Monica (Nina Dobrev) who was visiting her grandfather, complimenting Grant during a visit about his devotion: "I should be so lucky"
the scene of Grant reading to Fiona from the book "Letters From Iceland"
over time, Grant had begun an affair with Aubrey's abrasive, pragmatic and outspoken wife Marian (Olympia Dukakis), who had removed Aubrey from the home due to financial difficulties
in the film's final scene of unconditional love, Fiona briefly remembered her husband and his self-less care for her: ("I'm a very lucky woman"). - as the camera spun around the embracing couple to the tune of K.D. Lang singing Neil Young's "Helpless."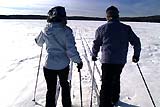 Cross-Country Skiing: Grant with Wife Fiona in Canada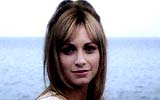 The Younger Fiona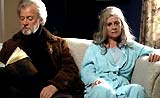 Grant Reading to Fiona in Retirement Center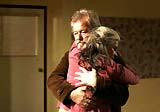 One Meaningful Unconditionally-Loving Hug