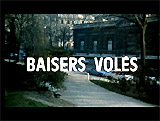 Baisers Volés (1968, Fr.) (aka Stolen Kisses)
In Francois Truffaut's sweet romantic screwball comedy - the third in the Antoine Doinel series of five films (that began with The 400 Blows (1959, Fr.) and ended with Love On The Run (1979, Fr.)) about Truffaut's own alter-ego:
early in the film, in the year 1968, enlisted army soldier Antoine Doinel (Jean-Pierre Léaud) was in a military prison, brought before a judge (François Darbon), and made odd facial expressions as he was chastised and ruled unfit for service due to multiple AWOL incidents ("You're like a dog that goes anywhere but where it's called"), and dishonorably discharged
the boyish Antoine's courtship in Paris, who was in an on-again/off-again relationship with his prim and proper sweetheart Christine Darbon (Claude Jade), a violin student
Antoine's string of jobs (often leading to failure due to his incompetency): as a night clerk at a hotel, as an investigative private-eye detective for the Blady Detective Agency (going undercover and posing as a shoe store stock boy at the establishment of dense-minded, neurotic proprietor Georges Tabard (Michel Lonsdale), and as a TV repairman
the sequence of Antoine falling in love at first sight with Tabard's significantly-older, cultured and cool wife, Fabienne (Delphine Seyrig) whom he regarded as magical; when he was asked to describe her on the phone for his detective job, he gave a "declaration of love" rather than a factual accounting - "She's an extraordinary woman. A bit mysterious and very sweet! Her nose is slightly turned up, but straight and full of character...Her skin is radiant as if illuminated from within - She is not a woman, she's an apparition"
The Awkward Coffee-Spilling Scene with Fabienne
the "Oui, monsieur" (Yes, sir) scene when Antoine was invited to the Tabards to have coffee; left alone with Fabienne, the flustered and anxious Antoine (who had an intense crush on Fabienne) foolishly answered "Yes, sir" when asked "Do you like music, Antoine?"; totally embarrassed and shamed by his answer, he spilled his coffee and hurriedly fled out the door and down the stairs
the happy ending: the next morning, Fabienne barged into Antoine's bedroom and assured him she wasn't a 'magical' apparition: "Besides, I'm not an apparition. I'm a woman, which is the opposite. For example, this morning before I came, I put some makeup on, I powdered my nose, I made up my eyes. And as I came across Paris, I noticed that all the women had done the same thing. For their pleasure, or that of others. You say that I'm exceptional. It's true. I am exceptional. Every woman is exceptional in turn. You over there, you're exceptional, too. Your fingerprints are unique. You are unique. We're both unique and irreplaceable...You don't need to talk, but I wish you'd look at me. You wrote me yesterday, and the answer is - me"; she sat on the side of his bed, leaned forward and seductively propositioned him: "I propose a contract which is fair to both of us. Since we both like what is exceptional, I'll come close to you now. We'll spend a few hours together, and then, whatever happens, we'll never meet again. Do you agree?" (as in the similar American film The Graduate (1967) in the same year); he nodded encouragingly and smiled, as she locked the door before they had sex together (off-screen)
"Morning After" Breakfast With Christine
A Marriage Proposal Through Written Notes
the enchanting 'morning after' breakfast table sequence of Antoine's marriage proposal to Christine after sleeping with her the previous night; after she tutored him on how to butter toast, he wrote on a pad of paper, passed it to her, and she read it, then responded in kind on a second piece of paper; they continued to communicate wordlessly; afterwards, he put a heart-shaped bottle opener on Christine's finger
the ending scene of newly-engaged Antoine and Christine strolling in the park and sitting on a bench, when Christine noticed a strange, trench-coated male stalker (Serge Rousseau) watching them; he came over and spoke to Christine - ultimately, he declared his "definitive" rather than "temporary" love for her: "I know I'm no stranger to you. I've been watching you. I've been watching you in secret for some time, but these last few days, I've made no effort to hide. And I know now that the moment has come. Before I saw you, I never loved anyone. I hate temporary things. I know life well, that everyone betrays everyone else. But it will be different with you and me. We'll never be apart, not even for a single hour. I don't work and I have no obligations in life. You will be my sole preoccupation. I understand this is all too sudden for you to say yes right away and that you need time to sever the temporary ties that bind you to temporary people. I am definitive. I am very happy"; after he strolled away, Christine asserted: "That man is crazy!"; as they slowly stood and watched the crazed man walk away, Antoine took her arm and agreed with Christine's assessment that the obsessed man must be mad: "Yes, I'm sure he is" - as the film ended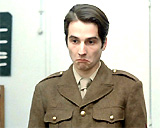 Antoine Before Military Judge - Dishonorable Discharge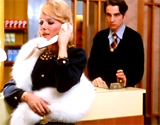 Antoine Falling in Love with Shoe Store Proprietor's Wife Fabienne Tabard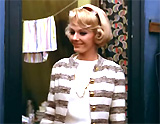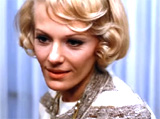 With The Seductive Fabienne Before Having Sex With Her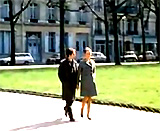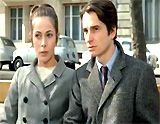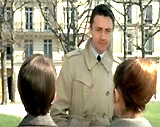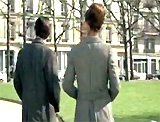 A Mad Stalker in the Park Professing His "Definitive" Love for Antoine's Fiancee Christine