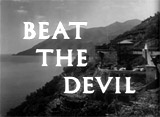 Beat the Devil (1953)
In director John Huston's off-beat, campy adventure comedy and crime film was a major box-office failure - and misunderstood by film audiences at the time, mostly for its witty and sardonic script by co-scripter Truman Capote; its star Humphrey Bogart (collaborating in his last film with director Huston) was upset that financing he provided for the film was ill-spent:
the film opened in the small Italian port town of Porto Verto (filmed on location possibly at Ravello on the Amalfi coast) where "four brilliant criminals" were introduced (they were later dubbed as "The Committee"): the fraudulent leader Peterson (Robert Morley), German-accented Julius O'Hara (Peter Lorre), "Major" Jack Ross (Ivor Barnard) and Ravello (Marco Tulli); the foursome was arrested, handcuffed and hauled off to jail by the police

Peterson (Robert Morley)


Julius O'Hara (Peter Lorre)


"Major" Jack Ross (Ivor Barnard)


Ravello (Marco Tulli)

The Four Members of "The Committee"
the story of what had led to their incarceration was narrated by a formerly wealthy, middle-aged "roustabout" American named Billy Dannreuther (Humphrey Bogart), the 5th member of the disreputable group who had been hired to assist them
in a flashback to six months earlier in the town, the group of partnered "associates" was about to board a tramp steamer (the SS Nyanga) bound for British East Africa "in a quest for uranium" - part of a complex scheme to acquire uranium-rich land in Africa via a land auction ("to obtain illegal rights to certain mineral supplies")
two other couples joined the foursome group of "desperadoes": Billy with his voluptuous Italian wife Maria (Gina Lollobrigida), and an upper-crust British married couple - prim and proper Harry Chelm (Edward Underdown) with his flighty, inquisitive and narcissistic wife Gwendolen Chelm (Jennifer Jones in a blonde-wig) who was prone to exaggeration
the adventurers were frustrated when they were unexpectedly stranded and delayed and had to remain in the "fifth-rate port" when the steamer required extensive engine and oil pump repairs; Billy met with his associates, and hinted with his suspicion that Major Ross (who had just arrived late from London) had murdered Paul Vanmeer, a British Colonial officer who needed to be silenced before exposing their plan
Billy's skeptical associates were worried that someone else would take advantage of their delay, and that Billy's contact in Africa would negotiate with someone else, but he assured them that wouldn't happen
during the long wait for ship repairs, Gwendolen joined Billy for a sightseeing day trip (while her husband remained in the hotel with a cold) to a villa he had once owned, and appeared to be making a pass at him (it was the beginnings of an affair with him)
as they snuggled together, Billy learned from Gwendolen that her husband was traveling to Africa to take over a coffee plantation as part of an inheritance - and that the land was rich in uranium deposits; she suggested that Billy work with her husband: ("Coffee is the least of Harry's interests. In point of fact, the land he's acquiring is extremely rich in certain minerals. Minerals which are indispensable to the production of atomic energy. Harry's land simply teams with uranium...It might very well be worth your while to go in with him")
During a Day Trip, Gwendolen Exhibited a Romantic Interest in Billy, and Also Suggested a Business Partnership with Her Husband
at the same time, back in the hotel, Billy's wife Maria was making a pass at Harry while serving him tea in bed; later, she confessed to Billy: "If I ever leave you, it will be for someone of the type of Harry Chelm"
O'Hara had eavesdropped on Gwendolen's conversation with Billy, and told his compatriots about Chelm's inherited African coffee plantation (with uranium deposits); the group began to suspect that Billy was secretly holding out on them, and was trying to double-cross them and work with the Chelms separately; the greedy Peterson was encouraged by Gwendolen's claims of the Chelm's vast monied heritage and land-ownership (she asserted that the Chelm's were "one of the great financial families" of England)
nervous and eager to protect the foursome's interests, Peterson ordered Billy to join him on a flight to Africa; Billy pointed out an obvious problem - that they would be arriving a couple of weeks before the land auction; en route to the airport in a dilapidated taxi on a windy cliffside road, it broke down and then accidentally went over a cliff when it was pushed to get up a hill; it was falsely rumored that they both died in the accident; while grieving Billy's death, Gwendolen admitted her love for Billy to her husband: "I was in love with him...He's dead, and I'm left with a fool like you"
Ravello was in the midst of informing Harry about the plotters' scheme to acquire uranium in Africa, when Billy and Peterson reappeared - to everyone's surprise; news of the ship's repair brought everyone to the port for departure at midnight; before leaving, Gwendolen told Billy that she had revealed her true love for him - and as a result, Harry was suspicious of him; Gwendolen proposed that they run away together ("Let's not go...I'm asking you to run away with me"), but Billy refused - and wanted to proceed with his money-making scheme ("I've got to have money")
| | |
| --- | --- |
| Gwendolen Proposing that She and Billy Run Away Together - He Refused | Maria's Confession That She Was Deeply in Love with Harry, But Also Knowing That Their Affair Was Jeopardized |
on board during the voyage, three crucial revelations were made: (1) Peterson received confirmation via radiogram from London that the Chelms were not rich landed gentry as Gwendolen had falsely vowed but Harry was actually a "down-at-heel Gloucestershire squire" - the news also proved that all of Gwendolen's claims about uranium on Harry's Africa land were untrue, and (2) Harry spoke to the ship's captain (Saro Urzi) to report Peterson's theft of his dispatch box, and his knowledge of the "gang of crooks'" scheme to swindle and take over land rich in uranium deposits in Africa; he intended to "have them put in irons," and (3) Maria was worried that her romantic future with Harry was now jeopardized; he refused her suggestion to write a "love letter" to her, explaining how he wouldn't denounce Peterson because it would hurt her
an alert was sounded that the ship's engines were malfunctioning and they were adrift; Harry's attempt to repair the problem in the engine room caused an explosion; as everyone contemplated what to do, and as Gwendolen continued to openly express her love for Billy, Major Ross (who had been ordered by Peterson to silence Harry) knocked Harry out; Billy intervened and prevented Harry from being stabbed to death, but then Gwendolen manipulatively denounced her husband as "paranoid" and "homicidal"; due to a combination of Harry's semi-crazed state and a case of possible sabotage, the drunken "gin-soaked" captain locked Harry up inside his cabin
with another explosion, the boat began to sink; it was discovered through a hand-written note that Harry had jumped overboard to swim to shore; the other passengers prepared to abandon ship by entering a lifeboat, and soon came ashore on an African beach, where they were immediately arrested by Arab soldiers; the group was interrogated by a suspicious Arab official named Ahmed (Manuel Serrano) who thought they might be stealthy revolutionaries; it didn't help that Peterson lied about how he was a businessman selling vacuum cleaners and sewing machines in Central Africa
Ahmed was eventually befriended and persuaded by Billy - through a coerced monetary bribe from Peterson (to avoid a firing squad) and a false promise to be introduced to actress Rita Hayworth, that the group would be sent back to Italy on a sailing boat
The Passengers Arrested in Africa and Detained by Arabs
after arriving back in the Italian port town, the entire party was questioned by Jack Clayton (Bernard Lee), a detective from Scotland Yard regarding the murder of colonial officer Paul Vanmeer in London; Gwendolen openly revealed everyone's guilt (except Billy's), including Peterson's entire crooked scheme with his compatriots to exploit uranium deposits in Africa, and professional killer Major Ross' deadly intentions with a dagger toward her husband
the flashback abruptly ended - the foursome of crooks was arrested, handcuffed, and led away
the film concluded with the arrival of a wired telegram for Gwendolen, with news from Harry that he was alive in British East Africa and had indeed acquired the land rich with uranium, and had become a wealthy land-owner ("Uranium King"); he was even willing to "overlook" Gwendolen's infidelity; Maria fainted while Billy heartily laughed at the outcome: "Oh, this is the end, the end!"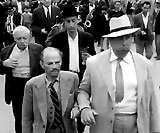 "Four Brilliant Criminals" Led Off to Jail Before Flashback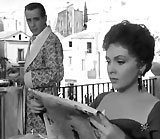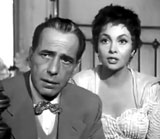 American Billy Dannreuther (Humphrey Bogart) with Italian wife Maria (Gina Lollobrigida)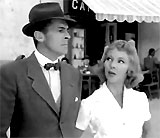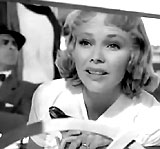 Britisher Harry Chelm with His Wife Gwendolen (Jennifer Jones)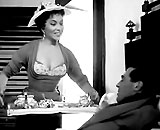 Maria Flirting with Gwendolen's Husband Harry During Her Absence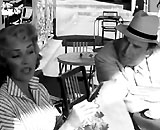 Peterson Scheming with Gwendolen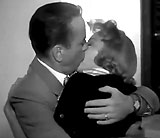 Billy's On-Going Romantic Affair with Gwendolen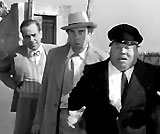 Peterson and Billy Watching Their Taxi Go Over a Cliff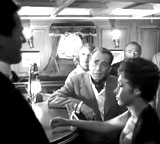 Harry Announcing to the Ship's Passengers That He Had Fixed the Engine - Before it Exploded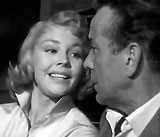 Gwendolen's Continued Open Expression of Love for Billy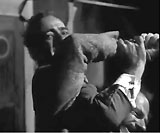 Billy Thwarting Major Ross' Attempt to Stab and Kill Harry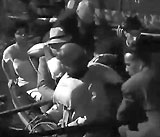 The Passengers Forced to Abandon Ship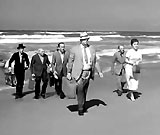 Coming Ashore on an African Beach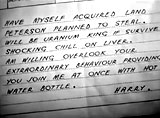 Harry's Telegram from British East Africa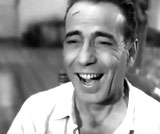 Billy's Reaction