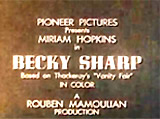 Becky Sharp (1935)
In director Rouben Mamoulian's period drama during the years surrounding Napoleon's defeat at Waterloo - an adaptation of William Makepeace Thackeray's classic novel Vanity Fair, with its milestone first display in a feature film of the landmark three-color Technicolor - a new and expensive technology process:
the stunning and clever contrast shot, set up by Mamoulian to emphasize the difference between black and white and color compositions; two red-jacketed soldiers were speaking in the foreground to Becky Sharp (Miriam Hopkins) and wealthy friend Amelia Sedley (Frances Dee) - seen only in b/w silhouette behind a curtain in the background
the sight of brilliant and rich colors was taken advantage of in the film's opening sequence - a grand ball scene set in Brussels on the eve of and within sight of the Battle of Waterloo in 1815; waltzing couples in colorful ball gowns were interrupted by cannon fire (thought at first to be thunder) that exploded open the tall, curtained full-length French windows and extinguished the lights, resulting in complete pandemonium; English soldiers in scarlet uniforms (with capes) and gold helmets reacted and responded by rushing out to fight against Napoleon
the resourceful, social-climbing, ruthless, self-centered and manipulative English lady Becky Sharp, the title character, pledged her love with attractive military officer and wealthy playboy Rawdon Crawley (Alan Mowbray) (her dashing husband) who was leaving her with his gambling debts; he assured her before being ordered away to fight with Wellington: "Wellington's orders. I just dashed back for a few moments. Oh, darling, I have so many things to tell you before I go. I've been happy with you. I've gambled and I drank but always, always I've loved you....Here, take this money. I shan't need it. You sell my watch, my silver dressing case. Oh, darling, I leave you with so many debts...and sell my two horses"; she responded: "Don't think about money. I'll make out. I'll pray for you, Rawdon. I want you back. I love you, I love you and I'll never love anybody else"; he told her goodbye during an embrace and kiss: "I must go now, but remember. Never forget this. I worship you, Becky, from your little toes up"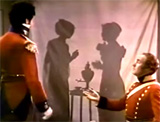 B/W and Color Contrast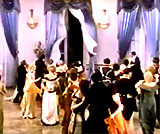 The Grand Ball Scene - Waltzing Couples


Pandemonium After Cannon Fire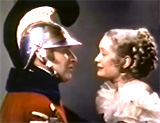 Goodbye Scene Between Rawdon Crawley and Becky Sharp