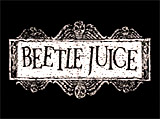 Beetlejuice (1988)
In Tim Burton's haunted comedy-fantasy about a ghost named Beetlejuice who haunted the home of a recently-deceased couple:
after a fatal car accident that killed the newly-wed Maitlands: Adam (Alec Baldwin) and Barbara (Geena Davis), the scene of their arrival at an other-worldly (or netherworld) waiting room full of other recently-dead and distressed clients, especially the explorer with a shrunken head and ping pong ball eyes, before meeting their caseworker Juno (Sylvia Sidney)
the yuppie Deetz family from NYC - who moved in and were living in the Maitland's Winter River, Connecticut home; the Deetz family included obnoxious sculptor wife Delia Deetz (Catherine O'Hara), real-estate developer Charles Deetz (Jeffrey Jones), and goth, black-clad teenaged Deetz daughter, photographer Lydia (Winona Ryder) from Charles' first marriage (who stated: "My whole life is a darkroom. One big dark room")
the first sight of demonic, crude, yellow-haired, morbid, and over-the-top title character Betelgeuse (the "afterlife's leading bioexorcist"), seen hawking his services on an ad on television: ("Havin' trouble with the livin'? Ya tired of havin' your home bein' violated? Ya wanna get rid of them pesky livin' critters once and for all? Well, come on down and see me folks, because I'm the afterlife's leading bio-exorcist. Yes, sirree! Come on down here. I want to tell ya, I'll do anything! I'll scare 'em real bad. The point is, I'll do anything to get your business. Hell! I'll possess myself if I gotta! Yo! I got demons runnin' all through me. All through me. Come on down here and see it. And hey - if ya act now, you get a free demon possession with every exorcism. Ah! You can't beat that, can ya? Bring the little partners down here. Hell, we've got plenty of snakes, lizards and worms for them to play with. There's no problem with that at all. So, say it once, say it twice, third time's a charm. And remember, (singing) I'll eat anything you want me to eat. I'll swallow anything you want me to swallow. So, come on down, I'll chew on a dog")
Lydia's discovery of the ghostly and dead Maitlands in the attic (whom she met when they were first wearing sheets) - she was the only living person who could see them - she asked: "Are you gross under there? Are you Night of the Living Dead under there? Like all bloody veins and pus?...You're not gross. Why are you wearing sheets?"; she explained her magic power: "I read through that Handbook for the Recently Deceased. It says: 'Live people ignore the strange and unusual.' I myself am strange and unusual"; Lydia learned the main objective of the Maitlands: "We wanted to frighten you so you would move out...You tell them that we are horrible desperate, ghoulish creatures who will stop at nothing to get our house back"
the Maitlands unwittingly hired Betelgeuse as a free-lance veteran scare-master to remove the Deetz family from their home; he claimed: "In order to do that, I'll have to get to know you. We've got to get closer. Move in with you for a while. Get to be real pals. You know what I'm saying?...Come on, we're simpatico, here....We're like peas in a pod, the three of us, let's face it. You want somebody out of the house. I want to get somebody out of your house" - and shortly later, asked: "Come on kids, what do I have to do to strike a deal with you two, huh?" - and then demonstrated how he could spin his head around ("Don't you hate it when that happens?")
the hosted dinner party (song and dance) scene in the Deetz home, where the recently-deceased Maitlands attempted (without Beetlejuice's help) to use a haunted 'parlor trick' to spook and dislodge the Deetz family from their home; during the dinner, to her shock, Delia belted out the calypso "Day-O (The Banana Boat Song)" - in Harry Belafonte's voice
the first attempt to remove the Deetz, when Beetlejuice took the form of a hideous snake
the decaying view of the Maitlands - who after what they thought was a seance was actually an exorcism (conducted by the Deetz' interior designer Otho Fenlock (Glenn Shadix)) - the couple were now transformed into exorcised, greenish decaying ghosts
the scene of Beetlejuice begging Lydia to marry him so that he could escape to the world of the living and also help save the decaying Maitlands: "Look, I'm what you might call an illegal alien. OK? I want out - for good. In order for me to do that, hey, I gotta get married. Hey! These aren't my rules. Come to think of it, I don't have any rules. Come on. Come on. Look, you think of it as a marriage of inconvenience. OK? We both get something. I get out. You get to say you're hitched to the most eligible bachelor since Valentino came over. We're even"; when she agreed to help him by saying his name three times, Beetlejuice - with outstretched arms - exhorted as lightning flashed: ("It's Showtime!"); he quickly got rid of real estate tycoon Maxie Dean (Robert Goulet), Deetz's boss and his wife, and also interior designer Otho; Beetlejuice grew inflated mallet-arms and propelled them through the ceiling (as if in a carnival's strong-man 'ring the bell' game)
The Expulsion of the Deans - With a 'Ring the Bell' Game
the sequence of Beetlejuice's wedding to Lydia before a ghastly-looking minister, although the marital ceremony was interrupted at the last moment by a Sandworm! that devoured Betelgeuse and sent him back into the netherworld
the final scene in the netherworld's waiting room where Betelgeuse was seen with a shrunken head (after a witch doctor seated next to him sprinkled powder on him for cutting in line) - and his hilarious, upbeat, but dead-panned statement about his messed-up hair: ("Whoa, hey! What are you doing? Hey, stop it! Hey, you're messing up my hair! C'mon! Whoa! Whoa! Stop it! Whoa! Hey, this might be a good look for me")
Lydia's pre-ending credits performance (suspended in mid-air) of "Jump in the Line (Shake Señora)", with singing by Harry Belafonte, after the Deetz's and the Maitlands found they could live in cooperative harmony in the house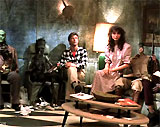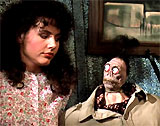 Waiting Room Scene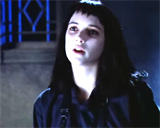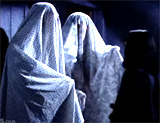 Lydia Deetz's (Winona Ryder) Attic Discovery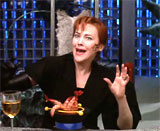 Dinner Party Song and Dance: 'Day-O'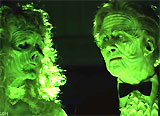 Decaying Maitlands After Exorcism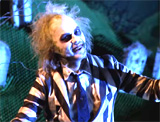 Beetlejuice: "It's Showtime!"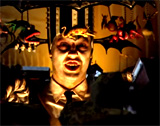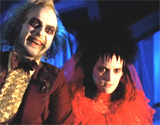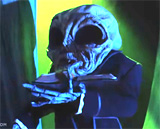 The Marital Ceremony with Lydia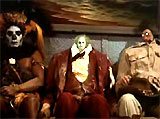 Beetlejuice With A Shrunken Head


Lydia: "Jump in the Line"