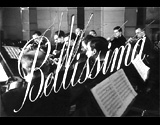 Bellissima (1951, It.)
In director Luchino Visconti's neo-realistic, satirical comic drama about the Italian film industry:
the star role of Anna Magnani as a working class, determined, desperate and nervous wanna-be stage mother Maddalena Cecconi, who was hoping that her only child - 7 year-old daughter Maria (Tina Apicella) would win the title of 'prettiest child in Rome' - a contest sponsored by Stella Films, at open-casting auditions at the Cinecittà studio
the scene of her attendance near the projectionist's booth at the disastrous screening of her child's film tests (a scene requiring Maria to blow out birthday candles, although she struggled, and the recitation of a poem, when she began crying half-way through); she overheard the cruel, sarcastic and candid comments from the stage crew and director, who felt the audition was a waste of time, film, and money: "Poor thing...She really can't do this...She's a dwarf, look...She's so funny with that fringe... She's not a kid, she's a dwarf - she went to school with me in 1925"; Maddalena shielded her child's eyes and asked: "What are they laughing at?...Why are they laughing so much? Why are they so amused?...Bastard! I can't take this. I can't take this!"
The Disastrous Screening of Maria's Film Tests/Audition
the confrontational scene when Maddalena burst into the group of film-makers to lambast the director Mr. Blasetti (Alessandro Blasetti as Himself) and others, asking: "Why does she make you laugh so much? She's like any other child...One of you even called her a dwarf. How rude! You have no respect for other people's feelings. You've no respect for other people's sacrifices. I made so many sacrifices to buy her this dress"
the classic, solitary park bench scene outside the studio that night -- where Maddalena (with Maria collapsed next to her in her arms) experienced a mental nervous breakdown and tumultuous sobbing after realizing she had failed; suddenly, she cried out: "Help!"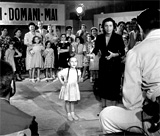 Young Maria with Stage-Mother Maddalena at Audition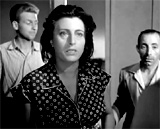 Maddalena Lambasting the Film Director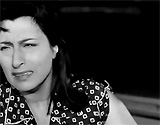 Maddalena's Break-down on Park Bench