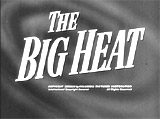 Fritz Lang's bleak, dark, very brutal and violent film noir crime classic and expressionistic melodrama-gangster film explored the seamy underworld of American organized crime. It was based upon William P. McGivern's serialized story in The Saturday Evening Post that was published in 1953.
the film opened with the apparent suicide of veteran 41 year-old Kenport Police Dept. cop Tom Duncan at his desk at 3:15 am in the morning. His evil, conniving and greedy widow Bertha (Jeanette Nolan) saw his handwritten case notes (with damning evidence) that were to be mailed in an envelope addressed to the local DA in the Hall of Justice, took them, and soon after secured them in her bank safe-deposit box.
Opening: Suicidal Death of Tom Duncan

Widowed Bertha Duncan
(Jeanette Nolan)

Tom Duncan's Incriminating Letter to DA
Bertha immediately phoned big-time, ruthless, meglomaniacal kingpin and local mob boss Mike Lagana (Alexander Scourby), to tip him off - presumably because she planned to use the notes to extort his criminal gang for lucrative payoffs and to seek protection via blackmail. He in turn called his brutal, sadistic, reflexive, cold-blooded henchman Vince Stone (Lee Marvin), who was in the company of his vainly narcissistic, brassy, free-spirited femme fatale girlfriend/moll Debby Marsh (Gloria Grahame) in tow in a sado-masochistic, abusive relationship.
Police Sergeant Dave Bannion (Glenn Ford), an iron-willed, driven, and unrestrained honest homicide cop, investigated his colleague's suicide. He spoke to newly-widowed Bertha who claimed Tom had been ill with a strange health problem. Bannion questioned Duncan's barfly mistress Lucy Chapman (Dorothy Green) at the Retreat Bar, who completely refuted Bertha's version of events about Tom. Lucy was expecting to marry the very healthy officer after Bertha had recently consented to a divorce. Lucy was contemptuous of Bertha, and called her a "leech" and a liar, and also made a comparison: "The only difference between me and Bertha Duncan is that I work at being a B-Girl. And she has a wedding ring and a marriage certificate."
shortly afterwards, Lucy was found thrown from a moving car on the parkway (off-screen) - she had been brutally beaten and tortured (with cigarette burns) and murdered (by strangulation). The county medical examiner dismissed it as a "sex crime." Bannion became suspicious when other compromised individuals in the police department wanted no more questions about Duncan's sudden suicide or Chapman's murder, including Department Head Lt. Ted Wilks (Willis Bouchey) and Police Commissioner Higgins (Howard Wendell).
Bannion felt compelled to question Lagana personally about Lucy Chapman's "old-fashioned" murder, but aggravated the kingpin when he visited his home during an night-time social party: (Lagana: "This is my home. And I don't like dirt tracked into it"). Bannion sarcastically lambasted the corrupt crime boss' dwelling: "No place for a stinking cop. It's only a place for a hoodlum who built this house out of twenty years of corruption and murder....You couldn't plant enough flowers around here to kill the smell." Bannion also didn't like intimidating phone calls that his wife had answered, and before leaving, slugged Lagana's bodyguard George Rose (Chris Alcaide) when he was manhandled.
the next day, Bannion was again warned by Lt. Wilks to stop pestering Lagana: "You're just begging to go back into uniform, pounding a beat in the sticks." Bannion spoke to his beloved young wife Katherine or 'Katie' (Jocelyn Brando) about his determined doggedness to get answers: "What am I supposed to do, hold onto my job by just stringing along? Afraid to look to the left or to the right because I might see something that they don't want me to see?" She encouraged him: "Just keep leading with your chin and don't you compromise."
the Syndicate decided to intimidate Bannion by retaliating against him. There was a shocking scene of a car bombing (with a blinding explosion outside Bannion's house) that accidentally killed his wife Katie as he tended to his young daughter Joyce (Linda Bennett) inside. Moments earlier, Katie had proposed to drive over and get their teenaged baby-sitter Maxine ("Be back in a minute"). After the explosion, Bannion rushed outside, pulled open the driver's-side door and pulled his wife to safety, but she was already dead.
Deadly Car-Bombing Sequence: Death of Bannion's Innocent Wife Katie
the frustrated Bannion was essentially suspended and then resigned from his position at the police department to pursue justice on his own. The crusading, vigilante rogue cop/hero went on a "hate binge" - he was forced to erode his idealistic, law-abiding principles when he took it upon himself to run a one-man embittered crusade against suspected corruption. He resorted to the unlawful tactics of the hoodlums after the tragic car-bomb murder orchestrated by sadistic, viperous gang members. He moved into a hotel room.
in the gangsters' penthouse, Vince met up with his moll girlfriend Debby Marsh, who was mixing drinks and had just returned from shopping: ("Six days a week she shops. On the seventh, she rests. All tired out"). The dizty female bragged about her new perfume: "Something new. It attracts mosquitos and repels men" - except for Vince. Lagana arrived to chastize Vince and his pretty-boy assistant Larry Gordon (Adam Williams) for bungling two jobs: the murder of Lucy and the car-bombing ("I can't afford people who make mistakes").
Stone's Moll Girlfriend Debby (Gloria Grahame) in Penthouse
later at the Retreat bar, Debby watched as Bannion resisted Stone's brutal attack on a blonde woman cheating at dice (by burning her hand with a cigarette). He confronted the thug: "You like working girls over, don't you?...Maybe you're the one that worked over Lucy Chapman." Debby was impressed by his courageous fortitude, and offered to buy Bannion a drink, but he declined: "With Vince Stone's money? I'd choke on it."
she pursued after him on the street, and then visited with him in his Marland Hotel room, where she commented on the stark room: "Say, I like this. Early nothing." She also told him about her relationship with Vince: "You gotta take the bad with the good" - and that the good meant an expensive lifestyle: "Clothes, travel, expensive excitement. What's wrong with that?...The main thing is to have the money. I've been rich and I've been poor. Believe me, rich is better."
he wasn't interested in romance with her and sent her away, causing her to remark: "Oh, well, you're about as romantic as a pair of handcuffs. Didn't you ever tell a girl pretty things? You know, she's got hair like the west wind, eyes like limpid pools, skin like velvet?" He denounced her: "I wouldn't touch anything of Vince Stone's with a ten-foot pole."
afterwards, the jealously-vindictive Stone was told by Larry that Debby had met up with Bannion. He suspected that Debby had divulged information to Bannion and cheated on him: ("I thought maybe you and Bannion played footsie while my back was turned"). He meanly grabbed her tightly and then tossed a pot of scalding hot coffee (off-screen) on the left side of her face and disfigured her. Her painful screams were heard from the adjoining room, as he yelled at her: "You lyin' pig!...I'll fix you and your pretty face."
Coffee Pot Face Scalding Scene
realizing that her days were numbered, Debby joined forces with the homicide detective for revenge. She told him what had happened and then thought of her future: "I guess a scar isn't so bad, not if it's only on one side. I can always go through life sideways." She identified Larry Gordon, one of Stone's associates, as the individual who arranged for the dynamiting of Bannion's car. During intense questioning in his Wilton Apartments room by Bannion, Gordon revealed that Tom Duncan was on Laguna's payroll for years, and also suggested that Bertha Duncan was blackmailing both Laguna and Stone with his papers in her safe deposit-box (for $500/week). Bannion left with a threat: "I'm gonna spread the word that you talked. You're out of business, thief." When word got out that Gordon might have provided damning information, he was shot twice fleeing at the airport and deep-sixed in the river.
Bannion also confronted Bertha Duncan at her home - she refused to confess or divulge any complicity. He was disgusted by her glee about her husband's suicide ("You were even happy when your husband blew his brains out"), and he was tempted to strangle her for her collusion with the Syndicate that had set up Lucy Chapman's death (to keep her quiet): ("A city is being strangled by a gang of thieves and you protect Lagana and Stone for the sake of a soft, plush life...With you dead, the big heat follows - the big heat for Lagana, for Stone and for all the rest of the lice")
after his visit, Debby also went to Bertha Duncan's place, where she noticed that they were wearing similarly expensive mink coats - uniting them as victims of a spreading disease: ("I've been thinking about you and me - How much alike we are. The mink-coated girls....We're sisters under the mink"). They were both symbolic badges of ugly corruption and signified the 'good-life' that they had both bought with dirty money. The scarred femme fatale cold-bloodedly murdered Bertha with three gun shots, as she was phoning Lagana
and then after returning to the penthouse, Debby also vengefully splashed Vince's face with hot coffee to scald it ("It'll burn for a long time, Vince") and taunted him with her own scarred face: "Look at it. It isn't pretty, is it?" She then admitted: "Bertha Duncan is dead. No more insurance for you and Lagana. The lid's off the garbage can, and I did it."
as she walked away, he fatally shot her twice in the back. Dave burst in, arrested Stone and took him into custody - for her attempted murder, and learned that Debby had admitted to killing Bertha. Bannion suggested that the police now had all the evidence they needed to jail the entire corrupt Syndicate, including Laguna, Wilks and Commissioner Higgins. Debby had avenged Bannion's wife's death and tried to change and adopt a decent life, but lost her own life (like Bannion's martyred wife) in bringing the gangsters to justice.
during her moving death scene, the sympathetic Sgt. Bannion cradled Debby's head with her mink coat. Although she was attended by a doctor, she realized that she was dying, as he knelt at her side; she pulled up her mink coat to hide the disfigured, hideous left side of her face in its pillow - he regarded her from her 'good side'. She longingly looked to Bannion for assurance and approval, and commiserated with him: ("Dave, I'm gonna die...I don't want to die").
The Tragic Death of Debby Marsh
in response to her curiosity about his wife ("What was she like?"), Bannion eulogized Katie with an embellished description, speaking of her quick temper and loving nature, their close marital relationship, and how they had led a loving life together - often sampling each other's drinks, or plates of food. As she died, Debby peacefully referred to Bannion's murdered wife: "I like her. I like her alot," although Bannion continued to lovingly describe his wife and didn't realize that Debby had expired. He smiled as he idealistically remembered more about his wife, his "princess" daughter, and their blissful family life: "Sometimes when I came home from work, she'd have the baby dressed up like a, oh, like a little princess. One of the most important parts of the day was when I came in and saw her looking like something that just stepped down off a birthday cake. I guess, I guess it's that way with most families."
the film ended with Bannion's return to his duties in his homicide department job after indictments were brought against Lagana and his corrupt Syndicate.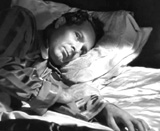 Crime Boss Mike Lagana (Alexander Scourby)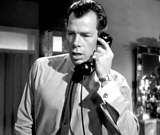 Lagana's Henchman Vince Stone (Lee Marvin)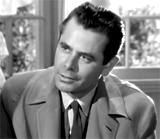 Sgt. Dave Bannion (Glenn Ford)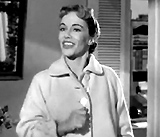 Bannion's Wife Katie (Jocelyn Brando): "Be back in a minute" Before Deadly Car-Bombing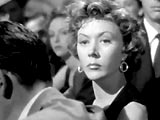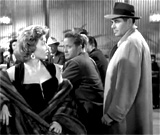 At the Retreat Bar, Debby Took Notice of Sgt. Bannion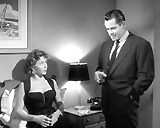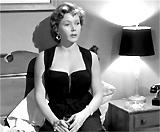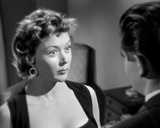 Debby Marsh Speaking with Sgt. Bannion in His Hotel Room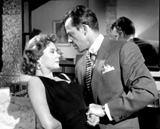 Vengeful Vince Angrily Manhandling Debby Before Disfiguring Her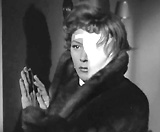 Debby With a Scarred Face Meeting with Bannion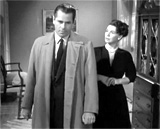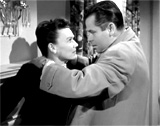 Bannion Questioning Mrs. Duncan Again - His Temptation to Strangle Her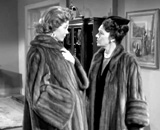 Debby and Mrs. Duncan - The "Mink-Coated Girls"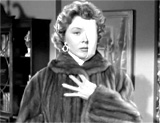 Debby's Cold-Blooded Murder of Mrs. Duncan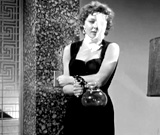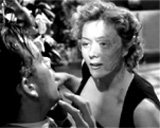 Debby's Retaliation Against Vince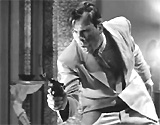 Vince Shooting Debby in the Back Twice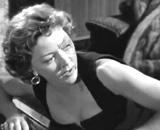 Debby to Bannion: "I killed Mrs. Duncan"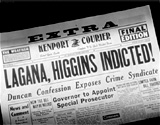 Indictments Announced