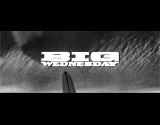 Big Wednesday (1978)
In writer/director John Milius' coming-of-age surfing-sports drama that bombed during its original release, but has since become a surfing film cult classic - following three SoCal surfer buddies: Jack, Matt, and Leroy:
the film's opening voice-over narration prologue (Robert Englund): "In the old days, I remember a wind that would blow down through the canyons. It was a hot wind called a Santa Ana [pronounced incorrectly as Santana], and it carried with it the smell of warm places. It blew the strongest before dawn, across the Point. My friends and I would sleep in our cars, and the smell of the offshore wind would often wake us. And each morning, we knew this would be a special day"
the friendship of three young Southern California (Malibu) surfing friends over a twelve-year period from 1962 to 1974: calm loner Jack Barlow (William Katt), reluctant, carefree drunken hero Matt Johnson (Jan-Michael Vincent), and recklessly-masochistic and "crazy" Leroy Smith (Gary Busey); their episodic friendship was chronicled by various time periods: the South Swell (the summer of 1962), the West Swell (in '65), the North Swell (the summer of '68), and the triumphal "Big Wednesday" Great Swell (the spring of '74)
in the opening scene, the three buddies climbed down cliff steps, after a night of boozing, as they helped still hung-over Matt, who didn't have either his board or his car, for another day of surfing at the beach
the scene at the draft board of the attempted ruses of the young men to avoid being drafted for Vietnam in 1965, such as feigned insanity, faked homosexuality, etc: (Leroy: "I like pain...any kind of pain....I like fights, I've dove through windows, I've eaten light bulbs, I like sharks, any kind of blood. If you gave me a gun, I'd shoot you in the face just to see what it looked like when the bullet hit"); after a series of blunt questions, Leroy accused the psychologist of picking on him: ("Why are you pickin' on me?...You're tryin' to pick on me"), before he crashed through a door and fought his way down stairs, after which he was put on a stretcher and driven away in an ambulance
the sequence of mourning for fellow surfer Jim 'Waxer' King (Darrell Fetty) who had attempted to evade the draft by claiming he was gay, but was drafted into the Marines, and lost his life
the "Have a Drink" pre-wedding scene, when straight-shooter Jack finally decided to accept a drink from the prospective newly-wed groom - patriarchal, surfer/surf-shop legend and elder statesmen Bear (Sam Melville); Bear strongly convinced him to accept his brown paper-wrapped bottle: "For God's sake, Jack, it's my wedding day! Have a drink!"; when Jack asked: "What are we drinking to?" Bear responded: "Only to your friends. To your friends, come hell or high water!"
the friends' reunion at the Great Swell in the spring of 1974 (the infamous "Big Wednesday") following the war, when they come together one more time to ride record-sized 20 foot waves, filmed with gorgeous cinematography (in Hawaii, not Malibu!)
the final nostalgic, sentimental scene when the three friends were outperformed by shortboarder Gerry Lopez (as Himself) and a new generation of surfers at "The Point"; Bear was asked if he surfed and only replied: "Oh no, not me. I'm-I'm just a garbage man. See ya around"; Matt reflected with his buddies atop the cliff (under a boarded-up archway with crumbling concrete steps): "Lopez. He's as good as they always said he was" - Leroy added solemnly, "So were we"; Matt added: "We drew the line, huh?"; after a few quick hugs and a promise to "keep in touch", Matt was left to take one last look toward the surf; the end credits played atop a view of the sun setting onto the ocean, to the tune of the "Three Friends Theme" sung by Keola and Kapono Beamer
Final Nostalgic Scene: Reflections Atop the Cliff

End Credits Atop Sunset

Opening Scene of Three Buddies in 1962: Early Morning Surfing After A Night of Drinking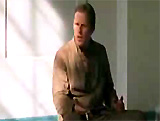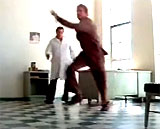 Leroy's Ruse to Dodge the Draft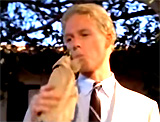 Jack at Bear's Wedding: "Have a Drink" Scene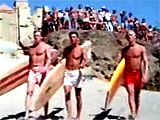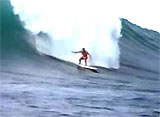 Reunion at the Great Swell in '74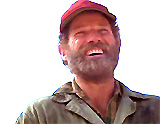 Bear: "I'm just a garbage man"