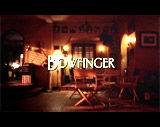 Bowfinger (1999)
in director Frank Oz's satirical, showbiz Hollywood film-making comedy spoof (about about making a bargain-basement movie by not letting the main male star know that he was being filmed for the movie):
desperate, 49 year-old washed-up, second-rate movie producer-director Robert "Bobby" K. Bowfinger (Steve Martin) was determined to make a sci-fi alien invasion movie based upon a screenplay by an accountant named Afrim titled "Chubby Rain" - with only $2,184 dollars of his own life's saved-up funds; the film's title was explained: "You see, the aliens come down to Earth in the raindrops"
Director Bobby Bowfinger (Steve Martin) Meeting With Studio Executive Jerry Renfro (Robert Downey, Jr.)
in the Dome, an upscale Beverly Hills restaurant, Bowfinger (after entering and conducting a fake mobile phone conversation with himself) orchestrated a meeting with Universal Pictures' studio executive Jerry Renfro (Robert Downey Jr.) at an adjacent table; he expressed enthusiasm and promised distribution for the movie if Bowfinger could acquire self-absorbed action-star Kit Ramsey (Eddie Murphy) for the lead role to make it a "go picture"
in his mansion, the paranoid and twitchy Kit was introduced complaining with his agent about Hollywood's unfair treatment, awful casting decisions, and poor scripts: ("...the white man takin' all the best catch phrases and then givin' them to Arnold or Stallone...And Jackie Chan and Van Damme, and they can't even speak English good"); he was unconvinced by Bowfinger to take the role in his sci-fi film, and then abandoned Bowfinger outside his gated home
| | |
| --- | --- |
| MindHead Institute | Kit's Spiritual Counselor Terry Stricter |
the insecure Kit immediately was driven off in a limo to attend his weekly session at a cult-like pseudo-Scientology institution for mesmerized Hollywood elites known as MindHead (with the slogan: "Truth Through Strength"); due to his fears that he was being stalked by aliens, he expressed his concerns to his New Age head psychiatrist-counselor Terry Stricter (Terence Stamp), the MindHead Honcho; the paranoid Kit was encouraged to have happy thoughts, and not buy into his belief in aliens and covert conspiracy theories; Stricter also insisted that Kit not continually talk about sexually exposing himself to the Lakers Team Cheerleaders: "You cannot show it to the Laker Girls. Keep Mr. Weenie in the pants. Always in the pants. I know you want to show it to the Laker Girls, but you must never show it to the Laker Girls"
the scheming Bowfinger cunningly announced that they would film Kit (covertly without his permission with hidden cameras), but not let him know that the footage shot of him would be for the movie ("He won't know he's in it"); Bowfinger also informed his crew and cast that Kit had agreed to make the movie, but wished to remain in character; later on in the film, Bowfinger rationalized his deceit: ("Did you know Tom Cruise had no idea he was in that vampire movie till two years later?"); the film's tagline was: "THE CON IS ON"; the film would take advantage of Kit's fear of aliens; and to keep costs down, illegal Mexican immigrants were cheaply hired for the crew after Bowfinger asserted: "I wanna get the best damn crew we can afford"
Kit was found lunching at an outdoor table at the Rodeo Grille with his agent where he was delivering a ranting complaint about racist discrimination in Hollywood evidenced by white-only Oscar nominations: "White boys get all the Oscars. It's, it's a fact...Did I get a nomination? No! And you know what? 'Cause I, I ain't played one of them slave roles, and get my ass whipped. That's when you get the nominations. A black dude play a slave role, gets his ass whipped, he gets the nomination. A white boy play an idiot, they get the Oscar. Maybe I should play - give me, find me a script as a retarded slave, then I get the Oscar...Yeah, go find that script, 'Buck the Wonder Slave!'"
when his agent left the table, Kit was flabbergasted by strangers coming up to him during surreptitious filming and speaking about aliens; later, he told Stricter how confused he was: "They talk about things I never heard of. They talk about people I don't know. Somebody named Cynthia, somebody named Keith. And aliens, sex and umbrellas"
desiring more screen time in Bowfinger's film, a naive Midwesterner from Ohio (who was bedhopping for favorable career advancement) - aspiring ingenue floozy starlet Daisy (Heather Graham) - a possible lead co-star for Kit, requested that Afrim write more flesh-baring sex scenes for her in the film; she told Bowfinger that she offered to bare herself for the sake of the film: ('If I have to. If it's for the movie, and you really really want me to. And if it's not just about nudity, but if it's artistic and says something about reality, and if it's in character and if it's for the scene, and if it's not just a body that...")
when the sanity of the strained Kit caused a nervous breakdown, he went into hiding in MindHead's special "celebrity relaxing quarters"; Bowfinger went on a search for a stand-in look-alike actor ("We'll round up look-alikes just for the long shots. We'll shoot 'em from behind and not show his face"); during the audition of naive, giddy, nerdy fast-food restaurant worker Jiffrinson (also Eddie Murphy), he boasted: "I'm an active, uh, renter at Blockbuster, and I, um, attend the filmed cinema, uh, as much as possible, weekly, bi-weekly, inter-week- intermediately"; when asked: "Would you be willing to cut your hair?" he responded: "Yes, but it's usually better if someone else does it"
during his first day on the set, Jiff made a frantic, death-defying run (twice) across a busy Los Angeles freeway (the cars were digitally-added later!) [Note: Jiff later revealed that he was actually Kit's blood-brother.]
during dinner with Bowfinger, Daisy spoke about their mutual likes and dislikes, including The Flintstones TV show, "walks in the park - in the rain", and Robert Preston in The Music Man; then, when she asked: "Do you LOVE Smashing Pumpkins?", he gave an inept reply: "Are you kidding? I LOVE to do that!"
their interactions turned into a seduction scene when Bowfinger was stretched out on top of the much younger Daisy and kissing her as they discussed her scripted nude scene: (Bowfinger: "But I worry about our age difference"; Daisy: "What is age? It's a state of mind....Who cares if when I hit my sexual peak, you'll be 70?"); she demonstrated her cluelessness when she didn't understand his film reference: "I know, it's Bogey and Bacall!" - and she asked him: "Who?"; she then admitted that she wanted to make love to him, but that she had concerns about shooting love scenes: "It's so hard to make love, to give yourself to a man. It's the woman who's entered, it's the woman who's violated....To know that the man inside you is part of you and that he would not prevent the added scenes of yours from being shot"; he promised to put her in the film: "I want you in this movie, and this movie is your movie" before she agreed to make love to him
during the shooting of Daisy's topless love scene with an awestruck Jiff, he responded with a wide grin after she removed her blouse; when she whispered to him: "I have feelings that make me need you. Need you now" - he told her: "Awesome! (ad-libbed) You're doin' great. You're gonna be a star!"
soon after, Bowfinger became accusatory and jealous after Jiff confessed to him about the "fringe benefits" of acting - he had just had sex with nymphomanic Daisy in the production van: "She gave me the works, man. She is the most inventive girl...She's so strong. She's pure power and speed. Real hot"; then after sending Jiff on some errands, he called Daisy into his office and reprimanded her: "We are finished! We are over!" but he was quick-to-subside his anger at Daisy when she replied: "So?", he acquiesed: "I never thought of it that way" - and they made future plans to see each other that night at 8 o'clock
eventually, Bowfinger Studios became worried that they might not be able to finish the film's final scene, set to be shot at Griffith Park Observatory; their attempts to conclude the film with Kit's popular signature catchphrase: "Gotcha suckas!" failed when Kit's therapist Terry Stricter - who feared that the "aliens" weren't just in Kit's head, disruptively arrived at the Observatory via helicopter and interrupted the production to save Kit
meanwhile, cinematographer Dave (Jamie Kennedy) was reviewing off-set footage he had shot while following Kit around; Bowfinger was astounded that some of the footage - of Kit in front of the Los Angeles Lakers basketball team cheerleaders - would allow them to keep filming: "I think we just got our permission"
| | |
| --- | --- |
| Bowfinger Viewing Offensive Footage of Kit: "I think we just got our permission!" | Footage of Kit Exposing Himself to the Lakers' Cheerleaders |
Stricter was shown the potential "blackmail" footage of Kit doing "it" - exposing and "flashing" himself (with a paper bag over his head with eye holes slits) by opening his coat and showing himself to the Los Angeles Lakers basketball team cheerleaders, who responded with hysterical laughter; he shouted at them: "It's not funny!"; Bowfinger threatened and then requested: "All I really need is a shot of Kit saying, 'Gotcha, suckas' and a couple of close-ups. Or we have to tag our film with a shot of Kit wagging his thing at the Laker Girls. Which is a great ending. I mean, who wouldn't wanna see that? Although technically, it's not such a good ending for Kit because it could sort of stop his money flow, and possibly make that family film he's about to do, just pff-ff!"; Stricter agreed to encourage Kit to finish the project, and to release the finished film
the film concluded with the highly successful premiere of "Chubby Rain"; afterwards, at a celebratory party at the home of director Bowfinger, he received a FedEx delivery of an envelope holding a contract for the studio's next film - a martial arts Kung Fu film ("Fake Purse Ninjas") starring Kit's brother Jiff (Bowfinger reacted: "We're going to Taiwan!")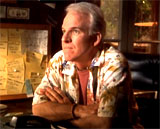 Aspiring but Broke Wanna-Be Director Bowfinger (Steve Martin)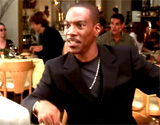 Kit Ramsey (Eddie Murphy)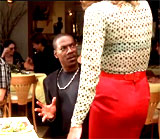 A Scene Filmed at the Rodeo Grille With the Unaware Kit Ramsey Not Knowing He Was In the Film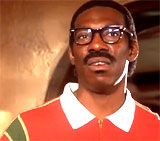 Jiff Auditioning for the Part of a Look-Alike Kit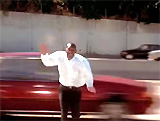 Jiff Running Across Freeway During His First Day of Shooting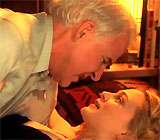 Bowfinger after Dinner with Aspiring Actress Daisy (Heather Graham): "It's Bogey and Bacall"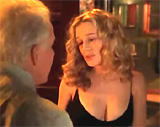 Bowfinger to Daisy: "I want you in this movie, and this movie is your movie"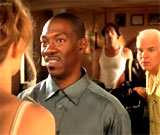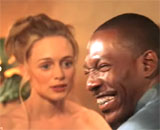 Daisy's Topless Scene With Awestruck Actor Jiff Ramsey (Eddie Murphy) - With Bowfinger Directing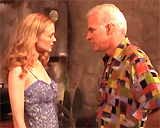 Bowfinger's Brief Jealousy at Daisy for Sleeping Around ("We are finished, we are over")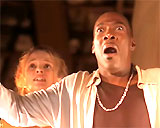 Kit's Aborted Line of Dialogue: "Gotcha Suckas" Atop Griffith Observatory During Filming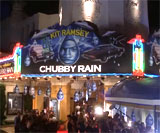 Marquee for "Chubby Rain"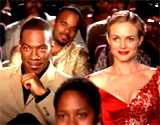 Kit and Daisy at the Premiere of "Chubby Rain"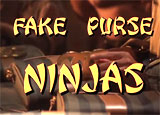 The Next Film: Fake Purse Ninjas