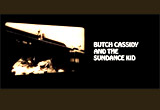 Butch Cassidy and the Sundance Kid (1969)
In George Roy Hill's comedy-western:
the amusing banter throughout the film between two western legendary, train-robbing anti-hero outlaws Butch (Paul Newman) and Sundance (Robert Redford)
Butch's swift crotch kick at brutish Bowie-knife-wielding gang member Harvey Logan (Ted Cassidy) (who had been distracted and exclaimed: "Rules - in a knife fight? No rules!")
the gang's many train and bank robberies together including one with too much dynamite detonated: ("...Think you used enough dynamite there, Butch?") and another with clever ventriloquism to trick railroad employee Woodcock (George Furth) into opening the train door
the sexy and surprising scene of Sundance's visit to schoolmarm Etta's (Katharine Ross) farmhouse bedroom when he ordered her to unbutton her blouse and undress in front of him at gunpoint
the lyrical musical interlude sequence of Butch riding a bicycle with Etta to the tune of "Raindrops Keep Fallin' On My Head"
the long, relentless pursuit sequence by a mysterious posse and Butch's repeated question: "Who are those guys?"
when cornered on a dead-end cliff, Sundance's admission: "I can't swim" (with Butch's guffawing retort: "Why, you crazy, the fall'll probably kill ya") and their big jump off a steep canyon ledge into a fast-moving river below while yelling a long and drawn out: "AWWWWW S-----T"
the final sequence in which the wounded and doomed heroes joked and daydreamed: ("For a moment there, I thought we were in trouble") and then were caught at the point of death as Yanqui banditos in a freeze-framed shootout in Bolivia (turning from color to sepia-toned)
Freeze-Framed Demise During Shootout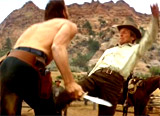 Knife Fight with Harvey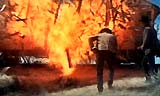 "...Think you used enough dynamite there, Butch?"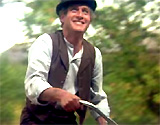 "Raindrops Keep Fallin' On My Head" - Bicycle Ride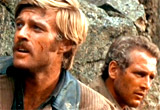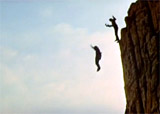 Stranded on a Cliff