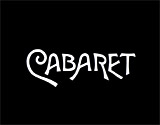 In Bob Fosse's dark, classic, award-winning musical:
the opening dance number "Willkommen" introduced by Berlin's seedy Kit Kat Club's androgynous, leering, white-faced emcee/Master of Ceremonies (Joel Grey)
the seductive and wildly reckless American dancer/singer Sally Bowles' (Liza Minnelli) performance of "Mein Herr" wearing a black derby hat, mascara, black stockings, and a deep V-necked black costume
the duet of the MC and Sally singing "The Money Song"
| | | |
| --- | --- | --- |
| | | |
| "Willkommen" | "Mein Herr" | "The Money Song" |
the boarding house seduction scene between Sally and reserved, naive academic Ph.D student - an English language teacher named Brian Roberts (Michael York), when she placed his hand on her breast and asked: ("Doesn't my body drive you wild with desire? Doesn't it?... It does have a certain kind of style. I mean, look, it's very flat here, not much hips, and here...Maybe you just don't sleep with girls. (pause with no reply) Oh, you don't. Well, listen, we're practically living together, so if you only like boys, I mean, I wouldn't dream of pestering you. Well, do you sleep with girls or don't you?"); Brian admitted: "I do not sleep with girls. Let me be absolutely accurate."
the infamous, threesome sexual moment, during a weekend drinking binge with the two of them and rich, married, bi-sexual German playboy-baron Maximilian von Heune (Helmut Griem) when they danced slowly together in the living room of Maximilian's palatial country estate, and the record stopped with a potent silence
the scene of Brian's surprise revelation to Sally that he was bisexual, when he angrily shouted out: "Oh, screw Maximilian!" and Sally replied: "I do!" After a pained laugh, pause and smile, Brian added: "So do I."
the scene at an outdoor rural cafe in which a young, fresh-faced German blonde, blue-eyed, tenor-voiced boy (Oliver Collignon) sang "Tomorrow Belongs to Me" (voice of Mark Lambert) and the camera quickly revealed that he was a Hitler Youth wearing a brown uniform and his arm was wrapped with a Nazi swastika armband - and the patrons of the German beer garden stood and joined in the triumphant Nazi anthem as he gave a Hitler salute
Sally's defiant, show-stopping, belt-it-out rendition of "Cabaret": ("Life is a cabaret, old chum / Only a cabaret, old chum / And I love a cabaret!")
her vow to continue her destructive, decadent lifestyle after an abortion, as Brian returned to England
the Emcee's last song: "Farewell" (the final reprise of Willkommen), with a grin while asking: "Where are your troubles now?" before singing: "Auf wiedersehen! A bientot..." and a quick bow before disappearing behind a curtain - and the chilling final shot inside the cabaret, as the camera panned to the right along the twisted, mirrored mylar wall and settled on two Nazi swastika armbands worn by audience members (as the cymbal crashed after a long snare drum roll, and the credits began to scroll upward)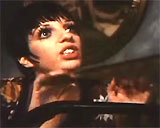 Seduction Scene: Well, do you sleep with girls or don't you?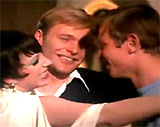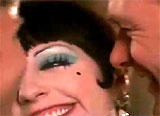 Threesome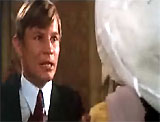 Revelation of Bi-Sexuality: "Screw Maximilian!"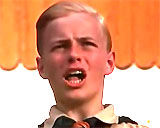 "Tomorrow Belongs to Me"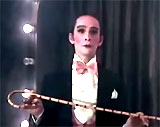 "Farewell"