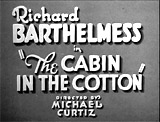 The Cabin in the Cotton (1932)
In director Michael Curtiz' pre-Code social melodrama about social injustice, adapted with a screenplay by Paul Green of Henry Harrison Kroll's 1931 novel Cabin in the Cotton - it provided a diatribe against the exploitation of sharecroppers by wealthy southern landowners:
many of the film's principal characters were introduced during the title credits, with pictures, star and cast name
| | | |
| --- | --- | --- |
| Sharecropper's Son Marvin Blake | Marvin's Childhood Sweetheart Betty Wright | Plantation Owner's Seductive Daughter Madge Norwood |
| | |
| --- | --- |
| Plantation Owner Norwood and Marvin's Widowed Mother | Betty's Father and Marvin's Step-Father |
the film's opening title credits included a studio disclaimer in an attempt to remain neutral and not take sides in its story of conflict between two societal classes - the rich land-owning planters and the poor, tenant cotton-picking farmers
in the opening scene set in the cotton fields, aristocratic cotton-plantation land-owning planter Lane Norwood (Berton Churchill) demanded that tenant-farmer Tom Blake's (David Landau) son Marvin (Richard Berthelmess) join the workers in the field immediately rather than pursue his education
during preparations for supper that evening in the Blake's ramshackle dwelling, the over-exhausted Tom passed away on his bed - family members reacted to the unexpected death
following a somber funeral service and burial ceremony for Blake (in a simple pine coffin), the guilty-feeling Norwood - partially due to his daughter Madge's (Bette Davis) intercession as Marvin's HS classmate - begrudgingly but supportively assisted Marvin by sponsoring the continuation of his education; Marvin was offered work as a night clerk until he graduated, and then was promoted to financial accountant in Norwood's company store
in the store after graduation, Marvin was questioned about his new allegiances to Norwood by his new step-father Sock Fisher (Erville Alderson) and his son Jake Fisher (William LeMaire), both poor white workers, but Marvin refused to extend credit or provide a handout: "Mr. Norwood can't keep feeding you unless you bring in enough cotton to pay him," but then he relented when his Ma begged; suddenly, Madge entered the store and seductively asked Marvin to provide a light for her cigarette, as his family members looked on; once they left, she temptingly invited Marvin to join her friends and go swimming, but the clean-cut and sober Marvin declined
| | |
| --- | --- |
| In the Company Store, Marvin's Initial Refusal to Extend Credit to His Step-Relatives, the Fishers | Marvin Lighting Seductive Madge's Cigarette |
Norwood summoned Marvin into his office and pressured him to spy on his fellow tenant family members, inform him about thefts of cotton, and report any efforts at union-organizing by the field workers - he especially singled out the indebted Sock Fisher and Uncle Joe Wright (Russell Simpson) (Betty's father) who he suspected were ungrateful workers who were stealing his cotton; he urged Marvin to attend his sweetheart Betty's tenant-farmer birthday dance party that evening, to spy on the workers and find "evidence" of wrong-doing
Marvin attended Betty's birthday party and became reacquainted with her (they kissed in a back-room), and while dancing the "Peckerwood Wiggle" with her, he noticed Madge peering in at the window at him with one of her boyfriends
called aside by Betty's father Uncle Joe Wright, Marvin was informed that the farmers were stealing cotton from Norwood, to retaliate for Norwood's corrupt business practices; Uncle Joe even asked Marvin to broker the stolen cotton for them in Memphis, and side with his kinfolk against the exploitative Norwood
Norwood introduced Marvin to the local District Attorney Russell Carter (John Marston) to discuss the problem of cotton theft, but Marvin denied knowing anything about it - complicit in the crime; he knew that the farmers didn't have enough credit to buy things in the company store, due to corrupt lending practices
Madge entered the company store to purchase cigarettes, and came face-to-face with Marvin's girlfriend Betty buying sugar; Madge (now envious of Betty) invited Marvin to her own extravagant jazz band party (with an all-black jazz band from Memphis); after accepting her invite, to thank him, she delivered the film's most memorable line while standing on the store's outdoor porch: "Ah'd like to kiss ya, but ah jest washed ma hair"
| | | |
| --- | --- | --- |
| Madge Face-to-Face with Betty | Madge to Marvin: "I want you to be my boyfriend" | "Ah'd like to kiss ya, but ah jest washed ma hair" |
during Madge's formal jazz dance party, Marvin began to fall in love with the vivacious, carefree and tempting rich girl Madge who was also becoming infatuated with him, after she announced that he was being invited by her father to live in the plantation
| | | |
| --- | --- | --- |
| An Invite to Live in the Plantation With Madge | Kisses in the Garden | Snuggling Up Together |
both Marvin and Norwood participated in a search for a murder-suspect - a tenant-farmer who had murdered a planter; Marvin was the first to locate the fugitive tenant named Bill in the swamp and briefly spoke to him, as he begged: "Help me, Marvin. Don't let them get me." Bill explained the reason for his murder of a planter: "I lost my head. He won't give me a cent for my cotton. Said I owed him money." Marvin encouraged Bill to run: ("Run, run, Bill. Run!"), but he revealed their location and the killer was quickly located and apprehended. Marvin looked on in horror but remained immobile as Bill was brutally lynched
upon returning to the plantation, Norwood's company store was burning down - the result of arson; as it turned out, Marvin risked his life by unnecessarily running into the flames to acquire the financial records; he discovered that the safe had been blown open and the books had been stolen before the fire; Norwood was aghast - how would he now be able to tally up the debts of his tenant-farmers?; Marvin then admitted, confusingly and to everyone's surprise, that he had a duplicate set of financial record books, to save Norwood's business; he was still very upset about the lynching: ("What happened out there in the woods tonight wasn't right. Nothing can make that right")
on a Sunday afternoon when alone with Marvin in the plantation house, Madge realized that Marvin was packing up and leaving; she tempted him to stay with food and wine ("to take the blues away"); she also toasted "to the future," and asked: "Doesn't this wine warm your tummy?"; she urged him to not leave; for privacy, she dismissed the black maid for the afternoon, and then with her irresistible charm, she led Marvin to her bedroom and stripped off her clothes (mostly off-screen): "Come up to my room for a minute. I want to talk to you about somethin'. Turn your back and look at those snapshots for a minute while I get into somethin' more restful. Turn your back" - the scene ended with a discreet fade to black after Marvin blurted out: "Madge!"
Madge's Sunday Afternoon Seduction of Marvin
shortly later, Betty again summoned Marvin to her father's home, where Uncle Eph Clinton (Henry B. Walthall) informed him that the Clinton brothers and Jake Fisher had been arrested and jailed for burning down the company store; Marvin resisted revealing the location of the second set of books
Marvin was given a heart-to-heart, guilt-inducing talk by Uncle Eph (lying on a bed) who tried to dissuade Marvin from sabotaging the tenants' interests or his father's legacy by rebelling against his farmer-roots; however, Marvin refused to comply with their demands, and asserted how he hadn't snitched on them or been unfair; the farmers suspected that Marvin's denial was due to his passionate relationship with Madge - with vulgar insinuations; Uncle Joe delivered a stern ultimatum for Marvin to deliver the second set of books - by the next day at sundown
Marvin rushed back and studied the books, and realized how his father Tom Blake who had worked for Norwood for 15 years, was kept perpetually in debt, due to excessively-high interest rates (30%-40% interest) plus carrying fees: "And the money that might have brought him a little happiness you took away. He's dead. And you've worked him to death"; Norwood debated with Marvin and reminded him how he had personally helped his advancement; only Madge's intercession (and profession of her love for him) persuaded Marvin to stay the night ("Please stay, for my sake!")
| | |
| --- | --- |
| Madge's Persuasiveness to Get Marvin to Stay | "Please stay, for my sake!" |
the next morning in Jonesville after a brief meeting between Marvin and Carter in his law office, it was proposed that Marvin would lead a "Co-operative Mass Meeting" in the town Court House between the tenants and farmers to resolve all of their issues - the meeting would be led by Marvin
the film concluded with Marvin serving as a peacemaker between the workers and management, to prevent further deadly confrontations; he proposed a one-year trial contract between the two sides to have them work cooperatively and in a spirit of compromise; Norwood was the only landowner to hold out and not sign the contract (as Madge supported him: "Don't you do it, Daddy. Don't let a Whicker bill white get the best of you")
| | | |
| --- | --- | --- |
| Norwood and Daughter Madge Defeated - Forced to Sign a Cooperative Contract with Tenants | Marvin's Last Look at Dejected Madge | Marvin's Choice of Betty As His Girlfriend |
when Norwood threatened to walk out of the meeting, Marvin counter-threatened by pressuring him, through blackmail, that he would expose the facts about the horrific lynching to the State Governor if he didn't sign; Norwood immediately agreed to sign
as the meeting broke up outside, Marvin was congratulated by Uncle Joe, and then indicated that he would be with the virtuous Betty in the future - he promised her: "I'll see you Sunday, Betty." Carter also thanked Marvin for his efforts to create "a new day in this neighborhood," and hinted at a possible partnership with Marvin; Norwood politely conceded that he had lost - with a handshake ("You win, Marvin!")
Marvin was positioned between Madge (in a convertible) and Betty (in an open buckboard wagon); Madge briefly smiled at Marvin but then looked dejected when he glanced and smiled in Betty's direction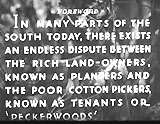 Film's Prologue and Disclaimer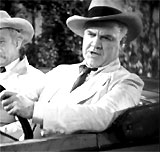 Land-Owning Planter Demanding that Marvin Work in the Fields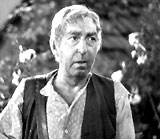 Marvin's Father Tom Blake (David Landau)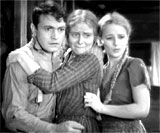 Reaction of Family Members to Tom's Death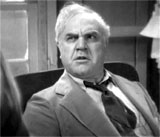 Norwood Pressuring Marvin to Report on Any Suspicious Activities Amongst the Tenant-Farmers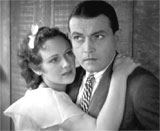 Marvin with Affectionate Betty at Her Birthday Party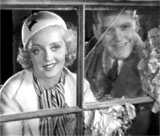 Madge Peering in at the Farmer's Country-Western Dance



Marvin Informed by Uncle Joe Wright About Cotton Thefts by Farmers, and Urged to Side With His Kinfolk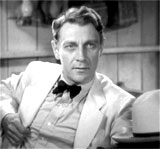 Local DA Russell Carter (John Marston) Discussing Cotton Thefts with Marvin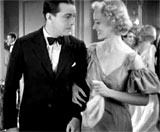 Madge with Marvin at Her Jazz Dance Party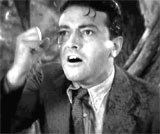 Marvin Dismayed at the Lynching of Fugitive Farmer Who Had Murdered a Plantation Owner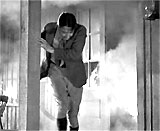 Marvin's Failed Attempt to Save the Financial Books in the Burning Company Store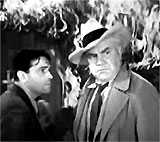 Norwood Threatening to Catch the Arsonists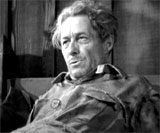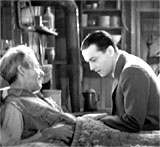 Uncle Eph Clinton's (Henry B. Walthall) Heart-to-Heart Talk with Marvin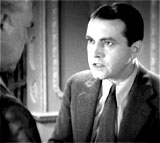 Marvin Angrily Confronting Norwood for 'Cooking the Books' To Keep His Father Perpetually in Debt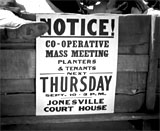 The Film's Concluding Town Meeting To Resolve Issues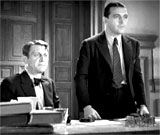 Marvin's Peacemaking Efforts at Meeting