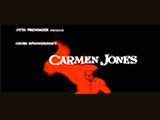 Carmen Jones (1954)
In daring, risk-taking director Otto Preminger's musical film (for Fox Studios) of seductive passion, obsession, and murder - it was remarkable for its all-black cast and its original and exciting premise; Oscar Hammerstein II's 1943 stage musical of the same name was updated (with new lyrics and storyline) and adapted for the screen; the basis of the film was Georges Bizet's 1875 opera Carmen, refitted for the big screen as a romantic musical, transposing the tale from 19th century Spain to the WWII era in the US, with the main cast composed of African-Americans who were stationed at a military base; the film was notable for Dorothy Dandridge's groundbreaking performance and Best Actress nomination - the first black woman nominated in the category (her singing voice was dubbed by opera singer Marilyn Horne):
in the film's opening, a passenger bus arrived at the workers' gate-entrances to the H.J. Gardner Manufacturing Corporation, a parachute-making plant; one of the passengers, Cindy Lou (Olga James), wearing a straw hat, was denied entry without an ID pass; she watched through a chain-link fence as her fiancee - handsome, honorable military Corporal Joe (Harry Belafonte, whose singing voice was dubbed by LeVern Hutcherson) in the nearby military base, was being reprimanded by his superior officer Sgt. Brown (Brock Peters)
within 24 hours, Joe was scheduled to leave for officers' flying school, to become a paratrooper trainee destined to be a fighter pilot ("fly boy") and fight in the war; Joe's long-time, virtuous, hometown sweetheart and girlfriend-fiancee Cindy Lou had come to say goodbye to Joe
meanwhile, the free-spirited, femme fatale title character Carmen Jones (Oscar-nominated Dorothy Dandridge in a career-defining role) was introduced as a carnal, red-hot, free-spirited, factory civilian employee first seen wearing a prominent, low cut black top and orange dress; she was introduced as a "hip-swinging floozie," as she entered the work area late to work; the radiantly-beautiful, vixenish spitfire Carmen was employed as a parachute-making factory worker in an all-black army camp of paratrooper trainees
in the army camp mess hall, Carmen was asked by Sgt. Brown for a date, but she spurned him: "Wastin' your time right now, Sergeant. The wind's blowing me in another direction," before singing Dat's Love ("I won't pick out a man And he won't pick out me It don't go dat way You can't ever know Where your crazy heart Wants to go...Love's a baby that grows up wild... Dat's love")



Factory Worker Carmen (Dorothy Dandridge)
after her song, Carmen enticingly asked Joe to join her that evening for a private farewell party to celebrate his leaving at a local roadhouse - Billy Pastor's Cafe: ("Give you a real send-off. Pick me up at eight. We'll have ourselves a ball"), but Joe declined the invite, and Cindy Lou called her a "hot bundle...she's on fire just for you"; he proposed to Cindy Lou and suggested that they get married (and have their honeymoon) during his 24-hour pass period before he departed
moments later, the lustful Carmen was arrested for fighting with a co-worker (and for calling her "a blabbermouth bitch") who had reported her arriving late for work to the foreman; to his surprise, Corporal Joe's spiteful superior Sgt. Brown ordered the off-duty soldier to transport Carmen as a military prisoner to a civilian judge in Masonville over 50 miles away, to sentence and punish her: ("You're responsible for this military prisoner until you dump her into the lap of the civilian authorities"); Joe's overnight assignment took precedence over his plans to marry Cindy Lou
while driving Carmen in an open jeep, she openly flirted and pushed herself on him ("Sugar, you ain't gonna take me to the cooler, are ya? I can't do you much good once I'm in jail. What do you say we drive to a little place I know on the edge of town? I'll show you more fun than you ever had"); she literally became a 'hot bundle' when she jumped onto a passing freight train for a short ride, and he had to wrestle against her and tie her up to prevent her from escaping again
Carmen On the Way to a Judge in Masonville, Transported by Corporal Joe
at a road-sign marker (with 54 miles remaining), Joe decided to take the 32 mile dirt-road shortcut to Masonville instead - although the sign warned: "No Motor Vehicles Permitted"; while crossing an old rickety-wooden bridge, the Jeep's weight collapsed the bridge, and it became stuck in a stream-river; Carmen suggested that they catch the 10 pm Masonville train later that evening as it passed through her home town of Senatobia; they were forced to spend the night in her grandmother's shack; there, Carmen sidetracked him by enticing him to kiss her (while eating a peach she had given him), and they made love (after a camera pan to the left and a dissolve)
At Her Grandmother's House - An Evening of Passion Was Followed by Carmen Running Away (After Leaving a Farewell Note for Joe)
the next morning, he found out, through her farewell note, that Carmen had run off as a fugitive: "Sorry, honey, Like I told you, I couldn't stand being cooped up in jail. I gotta be free to come and go or I'd just die. Don't hate me, Joey, 'cause I love you like I loved no man before."
for allowing his prisoner to escape, Joe was subsequently court-martialed, demoted to private, and placed in a stockade (to work on a chain gang during the day); while Cindy Lou visited Joe a few weeks later, she was dismayed when a package was delivered to him from Carmen - containing a love note and a cut rose-flower; disgusted, Cindy Lou decided to leave Joe for good
| | |
| --- | --- |
| In the Stockade with Cindy Lou, Joe Received a Package From Carmen | In the Package: A Cut Rose Flower and a Love Note from Carmen |
Carmen hitched a ride to Billy Pastor's jive night-club Cafe in the bayous of Louisiana while awaiting Joe's release; inside the Cafe, one of Carmen's best friends Frankie (Pearl Bailey) sang and danced to "Beat Out Dat Rhythm on a Drum" - and then asked Carmen: "You still got a blowtorch for that boy in the stockade?"
wealthy, Chicago heavyweight prize-fighter Husky Miller (Joe Adams) arrived in an open luxury vehicle outside the Cafe, accompanied by an entourage; immediately the well-dressed champ pursued Carmen, nicknamed her "Heat Wave," and he asked: "I noticed you right off, up on the balcony"; Husky was due shortly in an hour to board a train to return to Chicago and demanded that Carmen accompany him
since they were best friends with Carmen, Frankie and Myrt (Diahann Carroll) were showered with promises of going shopping in the city for expensive items (including a diamond ring and a mink coat - the good life), and staying in a suite on the top floor of a fancy hotel by Husky's protective manager Rum Daniels (Roy Glenn); their idea was to convince the females to encourage Carmen to join them and Husky in Chicago for an "all-expenses paid" trip; however, Carmen refused to agree to the boxer's enticing offer: ("Diamonds ain't what I want of a man. If I love him, he don't need no chequebook. If I don't, chequebook ain't gonna do him no good"); she claimed she wanted to wait for Joe's return - and responded in song: "There's a Man I'm Crazy For"
while contemplating what to do as her friends drove off with Husky, Joe (after his release due to a suspended sentence) suddenly arrived at the Cafe - and he joyfully hugged Carmen; she asked him to stay the night with her; he explained how he couldn't - he had to get back to the base to take a bus and report for attendance at flying school 400 miles away - in training for the war; angry about Joe's offer of "love on a pass," the fiercely-independent Carmen demanded that he demonstrate his love for her
to prove his love, Joe took out from his left-breast uniform pocket the dried up rose that she had sent to him in a package with her note, telling her: "That's been with me all the time. Right here, where you are." When she questioned his sincerity: "That don't ring so true," he took her in his arms and kissed her: "I swear it's true." Then she enticed him to travel with her to Chicago: "Joe, if you loved me truly, you know what you'd do...You'd come to Chicago...Joe, I want to go someplace where you're the last thing I see at night, the first thing I see in the morning"
angered by his reluctance to go AWOL, she rebuffed him: "Boy, if you ain't a lover red-hot for Carmen. You just burnin' up with passion. You sizzle like a fish on ice...You know what? You too chicken for me to waste my time on!"
to spite Joe, Carmen instead decided to accept an offer to accompany Joe's superior Sgt. Brown for the evening, inciting Joe's angry and jealous lust for her. After a fistfight with Brown who was knocked out and "hurt real bad," Carmen suggested that they hide the body in the bushes before they fled; Joe deserted his regiment and went AWOL to avoid detainment by the MPs (military police) and an inevitable 4-year jail term; he ran off with the sultry Carmen to take the train to Chicago (Joe didn't realize she had arranged a ticket with Husky's crowd)
once they were in Chicago, Joe was forced to seclude himself and hide out with Carmen from MP's in a shabby rented Chicago apartment (near the noisy train tracks), while she was free to come and go; in a sexy pose, she stretched out her long bare left leg toward Joe with recently-applied toenail polish, and suggested that he "blow on 'em, sugar, to make 'em dry faster." Then she extended both legs and instructed: "You can turn the heat off now" after a few moments
although remaining faithful to Joe during her first week in Chicago: ("What's mine's yours, Joey, and that goes right down the line"), Carmen decided to reestablish contact with Frankie at Husky's gym and fancy hotel suite, where she requested cash to support herself and Joe, but the money was drying up; Carmen was pressured by Frankie into socializing with Husky in order to get financed, but refused: "You know two-timing ain't my speed"; Frankie suggested: "Keep one man for the ride and one for the money....If you don't show up for Husky, Myrt and I are right out in the cold"
Carmen was forced to pawn the remainder of her jewelry in a pawn shop, in order to purchase the last bag of groceries for her and Joe; he became suspicious and asked her where her money was coming from - and they entered into a vicious argument; she argued back: "You think what you want! I don't account to no man...You've no right to own me" - and soon after, she decided to leave permanently: 'I can't stand bein' cooped up in this alley no more....I'm bustin' out for a while" - her intent was to visit her friend Frankie; when Joe learned that Frankie was with Husky's group, Joe became enraged: "You ain't goin' nowhere. You're stayin' where you belong, with me!"
Carmen insisted on not being tied down: "But Carmen's one gal nobody puts on a leash. No man's gonna tell me when can I come and go. I gotta be free, or I don't stay at all...Suppose I never come back?" - she proceeded with her friends to Husky's luxury hotel; it was the end of their ill-fated affair when Carmen quickly tired of Joe and deserted him
with fortune-telling Frankie, Carmen's future was foretold - she drew the nine-of-spades; it was a premonition that Carmen's romance with Joe was doomed (Carmen sang the "Card Song" - "Death got his hand on me"); she decided to give up loving a man who was cooped up and running away, and instead treat herself to a better life; she chose to become romantically-involved with Husky Miller, who offered her clothes and diamonds and material comforts; she moved on from Joe - and refused to return to him, considering him a loser
Joe realized that the MPs had tracked him to his rented 2nd floor apartment; he fled down the alley's fire-escape; meanwhile, love-lorn Cindy Lou - searching for Joe - had traced Carmen's whereabouts through newspaper accounts of Husky's "latest woman" to his Chicago boxing training facility; shortly later, Joe also appeared and realized Carmen had chosen to leave him because of "fancy clothes, swell company, the whole works"; Joe ordered Carmen to leave with him: "You're coming with me, where you belong" and called her "a double-crossin' tramp"; she refused and Joe pulled out a knife to threaten Husky, while urging Cindy Lou to return home
although Joe was hit in the jaw a few times by Husky, Carmen realized she must save him when she was two MPs approaching, and helped him get away through a back entrance; then she suggested to Cindy Lou: "Go on home. Forget him. Bait your hook for fish you can fry"; she sadly sang to herself "My Joe" as she walked off
the next scene was set at Husky's big 10-round Chicago fight against Kid Poncho (Rubin Wilson), the Brazilian South American heavyweight champion; after Husky was victorious in a two-round fight, Joe - in a jealous rage - grabbed Carmen from the arena's crowd and pushed her into a store room; he begged for her to return to him ("You're comin' with me, or you ain't goin' no place"), but she rebuffed him and claimed that what they had was over and there was no going back for them: ("Can't you get it through your head. We're done, now let me go"); they sang a duet during an interlude
| | | |
| --- | --- | --- |
| Joe: "You're comin' with me, or you ain't goin' no place" | Carmen: "We're done, now let me go" | Joe's Strangulation Death of Carmen |
Joe gave her the option of death or freedom: ("I'll have no man laugh at me while you're rollin' around in his arms. Stay with me, or I'll kill you"), and she decided: "OK, kill me now, or let me go"; he chose to strangle her to death ("You tramp. You're no good. You never were. Two-timin' me like it don't count for nothin'. Well, it does. You ain't never gonna do that to no man again"); after murdering her, the MPs arrived to arrest Joe as he sang: "String Me High on a Tree"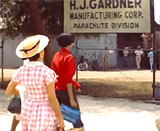 Cindy Lou's (Olga James) Arrival at Army Camp - and Parachute-Manufacturing Plant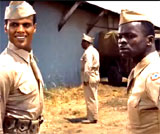 Corporal Joe (Harry Belafonte) with Commanding Officer Sgt. Brown (Brock Peters)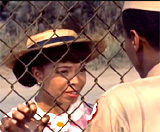 Cindy Lou (Olga James) - Corporal Joe's Fiancee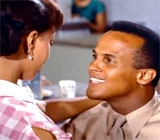 Joe's Proposal of Marriage to Cindy Lou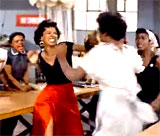 Carmen's Brawl with Co-Worker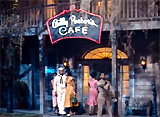 Billy Pastor's Cafe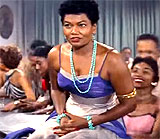 In the Cafe, Frankie's (Pearl Bailey) Song: Beat Out Dat Rhythm On a Drum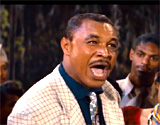 Prize-fighter Husky Miller's (Joe Adams) Arrival at the Cafe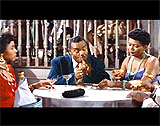 Myrt (Diahann Carroll) and Frankie with Rum Daniels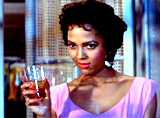 Carmen - Resistant to Going to Chicago with Her Friends Frankie and Myrt - to Live the High Life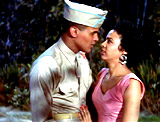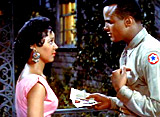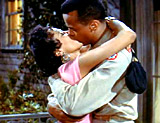 Rekindled Love at the Cafe - But Joe Refused Her Offer to Join Her in Chicago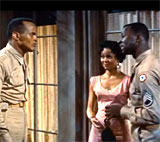 To Make Joe Jealous, Carmen Chose to Accompany Sgt. Brown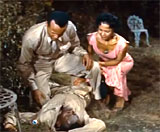 Joe's Fistfight Against His Own Superior Sgt. Brown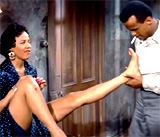 In a Sexy Pose in Chicago, Carmen Told AWOL Joe: "Blow on 'Em"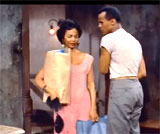 Returning to Joe With Her Last Bag of Groceries, Running Out of Money For Refusing to be With Husky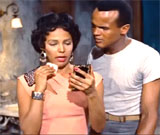 Carmen Prepared to Leave Joe For Good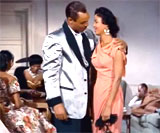 Carmen Greeted by Husky in His Luxury Hotel Suite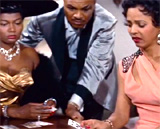 An Omen: Carmen Drew The Nine Of Spades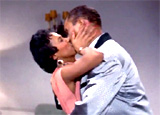 Unfaithful Carmen's Passionate Kiss for Husky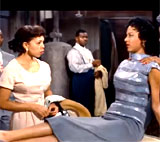 Cindy Lou Traced Carmen (and Joe) to Husky's Chicago Training Facility