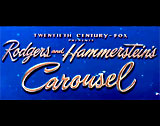 Carousel (1956)
In this downbeat, serious, semi-bleak and haunting yet ambitious Henry King-directed 20th Century Fox film in Cinemascope 55 - a dramatic, romantic-fantasy musical with a flawed, misogynistic central character in a doomed and troubled marriage. It included themes of unspoken love and feelings, and a meditation on death. The musical was based on the 1909 non-musical novel "Liliom" by Hungarian writer Ferenc Molnar, filmed previously four times (in 1919, 1921, 1930 and 1934). It was the filmic adaptation of a Rodgers/Hammerstein stage musical that opened on Broadway in 1945, during a large string of musical stage-hits by the pair, including Oklahoma (1943), South Pacific (1949), The King and I (1951), Flower Drum Song (1958), and The Sound of Music (1959).
Notably, it was the only Rodgers and Hammerstein II film to be completely devoid of Academy Awards nominations. The film's soundtrack was extremely popular (especially its tunes "If I Loved You" and the powerful anthem "You'll Never Walk Alone"), but the grim film's box-office take ($3.75 million) was not impressive, since its budget was $3.3 million. The film reunited the co-stars of Oklahoma! (1955) - Gordon MacRae and Shirley Jones.
the 'Heaven Can Wait' plot opened with a pre-credits sequence, set in the year 1888, when already-deceased Billy Bigelow (Gordon MacRae) was working in a heavenly-setting (outside the pearly gates to Heaven?) polishing glass stars for the Starkeeper (Gene Lockhart); he had already been dead for 15 years; Billy's Heavenly Friend (William LeMassena) told him about trouble back on Earth ("I heard things ain't going so good for your kinfolk down on Earth"), and Billy considered exercising his right to return for one day
ne'er-do-well Billy spoke to the Starkeeper, who reminded Billy that he had already previously waived his right to return for one day, although exceptions could be made in "special cases"; to receive permission to be allowed to return to Earth due to his circumstances, Billy began to describe his previous life in 1870s New England and the small town of Boothbay Harbor, Maine
the film consisted of Billy's flashback - a dramatized story of his life so that he could convince the Starkeeper to allow him one day back on Earth. He wanted to deal with the rumored problems occurring there and rectify or make amends for the mistakes he had made
the opening's instrumental "Carousel Waltz" centered around a rotating carousel (merry-go-round) in a musical, carnival environment
| | |
| --- | --- |
| Mullin's Carousel | Carousel Owner Mrs. Mullin (Audrey Christie) |
| (l to r): Carrie Pipperidge (Barbara Ruick) and Julie Jordan (Shirley Jones) | Carousel Barker Billy Bigelow (Gordon MacRae) |
the handsome, macho, fast-talking Billy described how he was hired by tough, shrewish, streetwise carousel owner Mrs. Mullin (Audrey Christie) to be a barker at her Mullin's Carousel, to attract customers with his good looks, as he called out: "Come ride on the carousel. One more glorious spin"; the charismatic, unreliable, swaggering Billy came to the attention of lovely, innocent-minded and decent Julie Jordan (Shirley Jones), and her best friend Carrie Pipperidge (Barbara Ruick); Billy helped Julie to mount one of the merry-go-round horses on the spinning carousel, and stood close to her for the entire ride
after the ride, the jealous Mrs. Mullin reprimanded Julie for allegedly acting inappropriately toward her barker: "I don't run my business for a lot of sluts"; Julie and Carrie retorted: "Who you calling a slut? Slut yourself"; Billy was ordered to never allow Julie to ride the carousel again: "She ain't never to be allowed on my carousel again. Next time she tries to get in, if she dares, I want you to throw her out, you understand?"; when the amorous bad-boy Billy refused to comply and obey Mrs. Mullin, he was promptly discharged from his job when she ultimately declared: "Through for good!"
while Billy went to gather his things, Julie's romantic counterpart Carrie joyfully shared how she was engaged to marry dull but steadfast, "upstanding," pompous and dependable herring-boat fisherman Mr. Enoch Snow (Robert Rounseville), described by her song: "(When I Marry) Mr. Snow" as "an almost perfect beau, as refined as a girl could wish"
an increasing romantic interest between Julie and Billy was displayed when they met down the road by the water later that evening; Carrie remarked how she knew that the two of them might lose their Bascombe Cotton Mill jobs for being out beyond curfew by their wealthy mill-owner boss Mr. Bascombe (John Dehner): ("We all have to live in the mill boarding house and if we're late, they lock us out and we can't go back to work there anymore"); however, Julie decided to stay behind as Carrie rushed away
a few moments later, Mr. Bascombe discovered Julie out beyond curfew; policeman Timmany (Richard Deacon) also joined them to warn Julie of Bigelow's bad-boy reputation: "He's a pretty fly gazabo [fellow]. Works on carousels. Makes a specialty out of pretty young ones like this. Gets 'em all moony-eyed, promises to marry 'em then takes their money"; the understanding Mr. Bascombe gave Julie a second-chance to return to the mill, but she vowed to stay with Billy, knowing the consequences; Julie lost her job - and now both of them were unemployed
they discussed their views on marriage and how they were actually incompatible and not right for each other - Julie said she had to be careful and might never marry: ("I have to be careful....My character. See, I'm never gonna marry"); Billy asked her - hypothetically - whether she would marry him: ("Suppose I was to say to you that I'd marry you....You wouldn't marry a fella like me anyway, would you?"), and Julie answered: "Yes, I would - if I loved you," but then admitted that she didn't love him
together, they sang a beautiful and melodious duet titled: "If I Loved You" about the possibilities of marrying each other; when the song ended, Billy declared: "I ain't the kind of a fella to marry anybody. Even if a girl was foolish enough to want me to, I wouldn't" - but then they kissed twice and walked off hand-in-hand
although she knew Billy's reputation as a scoundrel, Julie incredibly accepted his impulsive marriage proposal; in the next scene, the two returned married to town - where they would live with Julie's Cousin Nettie Fowler (Claramae Turner) at her seaside spa; Nettie reacted with surprise to the news: "It takes a little getting used to"; back in Heaven during his story-telling, Billy admitted: "I never got used to it. I just couldn't get the hang of being married"
Billy began to feel embarrassed and humiliated about being idle and unemployed and unable to provide for Julie - "I didn't mind living off her cousin Nettie... It was just having nothing to do that drove me crazy"
in town in the month of June, everybody was getting prepared for the season's first clambake and treasure hunt; the energetic, rousing and exuberant dance number "June Is Bustin' Out All Over" (shot on location at a dock harbor in Maine) was performed by all the townsfolk (the ladies in town and various fishermen) on the dock and even on the rooftop of Nettie's seaside Spa; the song's lyrics spoke of the awakening of romantic and lustful feelings with the coming of summer: ("June is bustin' out all over The moonlight is shinin' on the shore And the girls who were contrary With the boys in January, Aren't nearly so contrary anymore!")
"June Is Bustin' Out All Over"
since Billy was not trained for a trade, he had become a deckhand for jailbird sailor Jigger Craigin (Cameron Mitchell), owner of the Nancy B, who unfortunately tempted him down a criminal path toward bad behavior, laziness, drinking and card-game gambling; meanwhile, the whole town was preparing for a clambake to be held on a nearby island; Billy and Jigger conspired to return to town during the event and commit a deadly robbery [Note: In a foreshadowing, Mrs. Mullin knew of Jigger's bad reputation: "Everybody that gets mixed up with him finishes up in the jailhouse or the grave."]
the unhappy and bitter Billy was rumored to have hit Julie once (off-screen), but she defended him in regards to the abusive wife-beating charges: "He's unhappy 'cause he ain't working. That's why he hit me Monday"
Mrs. Mullin arrived to tempt Billy to leave his wife: ("If you're sick of her, why don't you leave her?...You're sick of bein' married...You wasn't cut out for a respectable, married man"), and to offer him his job back at the carousel; she also enticed him with the gift of a ruby ring; Billy insisted that he would accept her offer only if he could still live with Julie
then Julie interrupted and timidly and hesitantly announced to Billy that she was pregnant: ("I'm gonna have a baby"), and Mrs. Mullin quickly changed her mind about offering Billy a job; in a seven-minute meditative, operatic and moving scene by the ocean, tough-guy Billy sang "Soliloquy" about his impending hopes of fatherhood for a boy named Bill: ("The spittin' image of his Dad"), but then wondered what his reaction would be if his child was a daughter ("What would I do with her? What could I do for her?...You can have fun with a son But you got to be a father To a girl!")
during the first evening of the clambake on the nearby island with lobsters baking on driftwood fires ("This Was a Real Nice Clambake"), Billy and his no-good accomplice Jigger snuck back during the start of a treasure hunt to rob one of the rich ship-owners, Mr. Bascombe on the dock; during the theft of an expected take of $3,000 dollars, the gun-carrying ship-owner defended himself, and when two policemen arrived during the botched robbery, Billy fled but fell from a collapsing pile of crates onto his knife and was lethally wounded in the abdomen
Billy's Self-Inflicted Accidental Death, With Julie At His Side as He Passed Away
the townsfolk returning from the clambake came upon the crime-scene at the dock; with Billy's last words, he asked his soon-to-be widowed and pregnant wife Julie to tell their unborn child that he had planned to make money and take her to San Francisco; Julie admitted her love for Billy after he passed away: "Sleep peaceful, like a good boy. There's something I-I never told you. Scared you'd laugh at me. I'll tell you now. I love you"
Cousin Nettie consoled the heartbroken Julie with "You'll Never Walk Alone" ("When you walk through a storm Hold your head up high And don't be afraid of the dark. At the end of the storm Is a golden sky And the sweet silver song Of a lark Walk on through the wind Walk on through the rain Though your dreams Be tossed and blown Walk on, walk on With hope in your heart And you'll never Walk alone")
fifteen years later when the flashback ended, Billy was back in the heavenly, other-worldly setting where he was negotiating with the Starkeeper to allow him to return to Earth for one day; the Starkeeper asked: "I'm just trying to figure out what good you could do if I let you go back. You know, your daughter's down there. She's unhappy. She needs help"; the Starkeeper suggested that Billy could help his troubled 15 year-old teenaged daughter Louise Bigelow (Susan Luckey) who had been traumatized with the knowledge that her deceased father was a thief; Billy was allowed entrance to Earth (accompanied by his Heavenly Friend), and grabbed a star to take with him
an invisible Billy (and his Friend) observed from a distance as the spirited Louise (in a flowing purplish-colored dress) was cavorting and dancing barefooted on the beach - and rough-housing and horseplaying with town boys; it was the start of the film's best song/dance number titled "Louise's Ballet"; Louise was judged by a procession of disapproving, oppressive and uptight members of the entire Snow family led by Enoch, and was then rejected by the eldest Snow daughter (Dolores Starr); she was continually haunted by the community's negative view of her due to her father's reputation as a thief and bully
then toward the end of the number, Louise watched as a seductive 'Starlight Carnival' barker (famed ballet dance legend Jacques d'Amboise) performed with dancers who created a rotating carousel under a 'big-top,' before he danced in a pas de deux with her
afterwards, the nine sons and daughters of the Enoch family approached to scold and chastize Louise with pointing fingers: "Shame on you. Shame on you"; shortly later, young suitor Enoch Snow Jr. (Dee Pollock) reminded Louise about her father: "A cheap barker on a carousel. He even beat your mother"
| | | |
| --- | --- | --- |
| "Shame on you!" | Billy Visible to Louise, And Giving Her a Gift | Slapping Louise's Hand |
without identifying himself, Billy became visible to Louise and attempted to console her and make amends when she complaiined about continual mistreatment: "They've been throwing it up at me ever since I can remember. I wish I was dead"; he explained how he was friends with Billy, who was "the handsomest fella around here" and "used to tell funny jokes at the carousel. And he made people laugh"; he attempted to present her with the heavenly star, but when she refused his pretty and wonderful gift, he again acted abusively and slapped her hand; Billy's friend reminded him of his failure: "Failure. You struck out blind again. All you ever do to get out of a difficulty is hit someone you love. Failure"
Louise rushed inside her house to tell Julie - not that she was slapped, but that it hadn't hurt and she had felt a kiss (he had presumably acted out of love!): "There was a strange man here, and he hit me hard. I heard the sound of it, Mother. But it didn't hurt. It didn't hurt at all. It was just as if he kissed my hand"; a brief glimpse of Billy convinced Julie that he had momentarily come back; without showing himself to her, Billy briefly reprised the song: "If I Loved You" ("You never Will know How I loved you")
the last scene took place at Louise's graduation ceremony, attended by an invisible Billy and his Heavenly Friend; the town's beloved doctor Dr. Selden (Gene Lockhart, in a dual role) delivered an inspiring and hopeful speech about not being held back by one's parents' failures: ("...I-I can't tell you any sure way to happiness. I only know that you've gotta go out and find it for yourselves. You can't lean on the success of your parents. That's their success. And don't be held back by their failures"); Billy whispered directly to Louise: "Listen to him. Believe him"
Dr. Selden continued: ("It makes no difference what they did or didn't do. You just stand on your own two feet. The world belongs to you as much as to the next fella. So don't give it up. And try not to be scared of people not likin' ya. You just try likin' them. And just keep your faith and your courage and you'll turn out all right. It's like what we used to sing every mornin' when I was a boy at school. Maybe you still sing it. 'When you walk through a storm, hold your head up high.' You know that one?" (singing, continuing) Singers: "And don't be afraid of the dark...."; Billy again directed encouraging thoughts to Louise: "Believe him, darling. Believe!"
the graduates and parents began to sing a reprise of the memorably inspirational song: "You'll Never Walk Alone"
Louise's Graduation Ceremony and "You'll Never Walk Alone"


Invisible Billy with Heavenly Friend


To Louise: "Listen to him. Believe him"


To Julie: "I loved you, Julie. Know that I loved you"


Billy's Departure
the film ended with Billy's vow of his true love to Julie: ("I loved you, Julie. Know that I loved you") and a view of the setting sun behind the redeemed Billy as he departed to enter into Heaven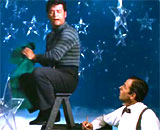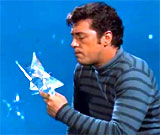 Pre-Credits Sequence: Billy at the Entrance to Heaven With His Heavenly Friend and the Starkeeper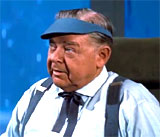 The Starkeeper (Gene Lockhart)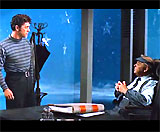 Billy's Description of His Life Told to the Starkeeper - a Flashback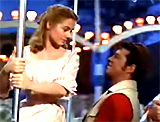 Carousel Waltz - Julie Riding on the Carousel with Billy


Julie and Carrie with Billy After the Ride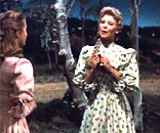 Carrie to Julie: "(When I Marry) Mr. Snow"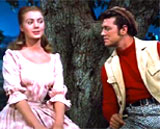 Julie with Billy Out Late at Night Together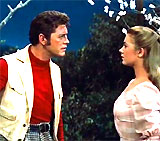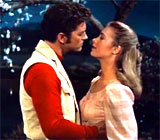 Duet Between Julie and Billy: "If I Loved You" - Ending with Two Kisses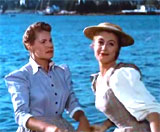 Julie Informing Her Cousin Nettie (Claramae Turner) of Her Surprise Marriage to Billy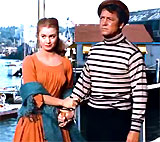 Julie with Husband Billy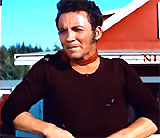 Jailbird Jigger Craigin (Cameron Mitchell)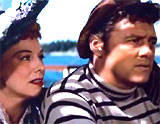 Mrs. Mullin Attempting to Lure Billy Back to the Carousel Away From Julie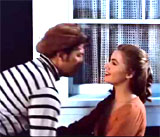 Billy's Reaction to News of Julie's Pregnancy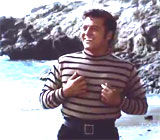 Billy's "Soliloquy" By the Ocean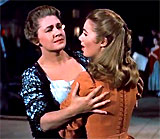 After Billy's Death, Julie Was Comforted by Cousin Nettie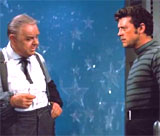 End of Flashback: Fifteen Years Later, Billy Negotiated with Starkeeper to Return to Earth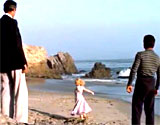 Billy Watching Daughter Louise Cavorting on a Beach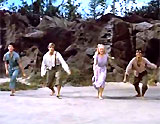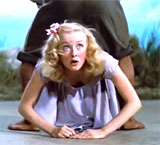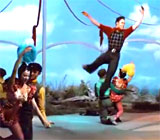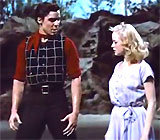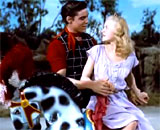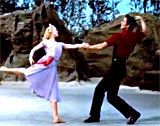 "Louise's Ballet"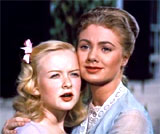 Louise with Her Mother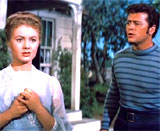 Billy's Brief Reprise to Julie of "If I Loved You"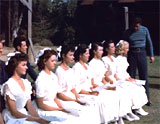 The Graduates at the Ceremony