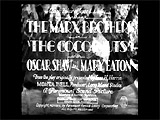 The Cocoanuts (1929)
In the Marx Brothers' first film:
the numerous puns (Groucho and the famous ice-water routine: "Oh, you want some [ice water]. Get some onions, that'll make your eyes (ice) water" and "On this site we're going to build an Eye and Ear Hospital. This is going to be a sight for sore eyes") and one-liners ("Believe me, you gotta get up early if you want to get out of bed")
the many insults and attempts by corrupt real estate salesman and leering Hotel de Cocoanut manager Mr. Hammer (Groucho Marx) at courting wealthy widow Mrs. Potter (Margaret Dumont): ("Are you sure your husband's dead?...Tonight, when the moon is sneaking around the clouds, I'll be sneaking around you. I'll meet you tonight under the moon. Oh, I can see you now—you and the moon. You wear a neck-tie so I'll know you" and "Your eyes, your eyes, they shine like the pants of a blue serge suit. That's not a reflection on you—it's on the pants")
the crazy 'swapping bedrooms' scene between two adjoining or connecting hotel rooms
the non-sequitur reenactment of Willard's famous "Spirit Of 76" painting in the hotel lobby
the famous tongue-twisting, precisely-timed "viaduct"/"Why a Duck?" routine between con man guest Chico (Chico Marx) and Hammer with a wet blueprint: (Hammer: "Now here is a little peninsula and here is a viaduct leading over to the mainland." Chico: "Why a duck?")
the rigged Florida land auction scene led by Hammer: ("I'll wrestle any man here for five dollars!" and "You can have any kind of a home you want to. You can even get stucco. Oh, how you can get stucco"; and "A new boom sweeps clean" - and his personal guarantee: "If these lots don't double in value in a year, I don't know what you can do about it") during which Chico did most of the bidding
the "I Want My Shirt" scene after the brothers had played tic-tac-toe on Detective Hennessey's (Basil Ruysdael) undershirt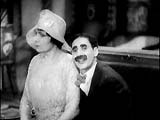 Groucho (Mr. Hammer) with Wealthy Widow (Margaret Dumont)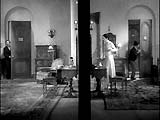 Swapped Bedrooms Sequence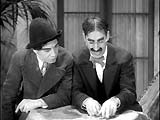 "Why a Duck?" Routine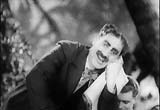 Rigged Land Auction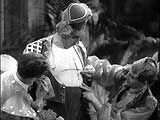 "I Want My Shirt"