Coming to America (1988)
In director John Landis' romantic comedy, it told about an African prince who refused an arranged marriage, and traveled to America to find a wife; the film became notorious when humorist and Washington Post columnist Art Buchwald sued Paramount Pictures for $5 million, alleging plagiarism of his story idea titled King for a Day; after a seven year battle, Buchwald won his lawsuit:
in the film's opening, on his 21st birthday, wealthy, pampered, sweet-natured African Prince Akeem Joffer (Eddie Murphy) lived in a luxurious royal palace in Zamunda, Africa; he was unexcited about meeting his wife-to-be and preferred to select his own wife rather than accepting a bride he had never seen: "But how can a man get excited about a woman he's never seen?"
Akeem was attended in a large pool by a Nubian bather (Felicia Taylor), while a second bather (Victoria Dillard) declared after emerging from under the water: "The royal penis is clean, your Highness"
| | |
| --- | --- |
| Prince Akeem (Eddie Murphy) with Nubian Bather (Felicia Taylor) | |
| | 2nd Bather (Victoria Dillard): "The royal penis is clean..." |
afterwards at breakfast sitting at a long table, Akeem argued with his traditionalist father King Jaffe Joffer (James Earl Jones), married to Queen Aoleon (Madge Sinclair): "Just for once, I would like to cook for myself and take care of myself, dress myself, wipe my own backside. Why can't I find my own wife?"; Akeem also complained about African traditions, and stated that he preferred a free-thinking individual who would be his intellectual equal in a loving relationship: ("when I marry, I want the woman to love me for who I am, not because of what I am...I want a woman that's going to arouse my intellect as well as my loins!")
during a workout together, Akeem's best friend and retainer Semmi (Arsenio Hall) disagreed with Akeem's non-traditional perspective about having an opinionated wife: "Hippopotamus s--t! You're the heir to the throne of Zamunda. Your wife need only have a pretty face, a firm backside, and big breasts like casaba melons"
an arranged marriage had been set up with Colonel Izzi's (Calvin Lockhart) beautiful daughter Imani (Vanessa Bell) who had been raised to be subservient and obedient as his Queen-to-be; Akeem became concerned about her answers when he met her for the first time in private and she admitted: ("Ever since I was born, I've been trained to serve you"); Akeem was aggravated by her persistence in deferring to him, and he reprimanded her: "This is impossible. Listen, from this moment on, I command you not to obey me!"
during a stroll in the garden, his father allowed his princely son a period of 40 days to travel to America, to "experience the outside world," and to sow his royal oats: ("You're right! Get out, see the world, enjoy yourself, fulfill every erotic desire"); Akeem was allowed a 40-day trip after which he was expected to return to marry Imani; Akeem would be accompanied on the regal trip with his best friend Semmi, who was excited about the upcoming trip: "40 days of fornication" and of course, they would travel to Queens: ("Where in New York can one find a woman with grace, elegance, taste and culture? A woman suitable for a king. Queens"), believing it would be filled with potential brides
flying on a British Airways Concorde, they arrived in NYC where they immediately took a taxi to the borough of Queens ("Take us to the most common part" they ordered the incredulous driver (Jake Steinfeld))
in the nearby MY-T-SHARP barber shop in Queens, four characters (two played by Eddie Murphy (including an elderly white Jewish man named Saul) and one played by Arsenio Hall) argued, in an on-going discussion, about the best boxer in history; when Morris mentioned Cassius Clay, they disagreed about whether or not he should have changed his name from Muhammed Ali
Multiple Barbershop Characters


Clarence (Eddie Murphy)


Saul (Eddie Murphy)


Morris (Arsenio Hall)


Sweets (Clint Smith)
when Akeem and Semmi entered a cheap tenement building to rent an apartment from a landlord (Frankie Faison) in the borough of Queens (in a slummy area known as Jamaica Estates), their luggage deposited on the street was stolen; they were shown a rat-infested, second floor apartment (the scene of a recent murder of the previous tenant, a blind man with his dog) had a shared bathroom and the elevator was out of order
outside their room on a New York fire-escape, Prince Akeem called out to his ghetto neighbors: "Good morning, my neighbors!"; an unidentified voice responded: "Hey, f--k you!"; Akeem happily returned the compliment: "Yes, yes! F--k you too!"; shortly later, they were approached by a street hustler (Ruben Santiago-Hudson) trying to sell them their own stolen, gold-plated toothbrushes
the two attempted to wear normal street clothes as New Yorkers to disguise their identity; they emerged from a store looking like typical tourists with I LUV New York buttons and other paraphernalia; they returned to their apartment and visited the next door barbershop, where the argument continued; when Saul asked about Rocky Marciano, Clarence was aggravated: ("There they go, every time I start talkin 'bout boxin', a white man got to pull Rocky Marciano out of their ass. That's their one, that's their one. Rocky Marciano. Rocky Marciano. Let me tell you something once and for all. Rocky Marciano was good, but compared to Joe Louis, Rocky Marciano ain't s--t"); Saul retorted: "He beat Joe Louis' ass"
when Akeem sat down in Clarence's barber chair and showed off his ponytail, he claimed: "It's my natural hair. I'm been growing it since birth"; Clarence asked: "What kind of chemicals you got in there?" Akeem answered: "I don't put no chemicals, only juices and berries"; the barber disagreed: "That ain't nothin' but Ultra-Perm. Tell me how you want me to cut this?" Akeem specified: "Just make it nice and neat"; after one quick snip of the ponytail, the eight-dollar haircut consisted on only one scissors cut
they attended a local night-club/bar to meet suitable female candidates for Akeem's Queen; Akeem and Semmi interviewed NYC candidates for Akeem's bride-to-be:
- the first woman claimed she was a Devil Woman (Patricia Matthews): "I've got a secret. I worship the devil"
- one large black woman, credited as Big Stank Woman (Mary Bond Davis), complained: "I can't find a man that can satisfy me. Now, some guys go an hour, hour and a half. That's it. A man's got to put in overtime for me to get off"
- another pretty one, credited as Stuck-Up Girl (Kara Young) claimed: "I'm not interested in a man unless he drives a BMW"
- a third Tough Girl (Carla Earle) said: "I'm almost single. My husband's on death-row"
- two ex-Siamese twin sisters (Karen and Sharon Owens) asserted, in unison: "This is the first date Teresa and I have been on since the doctor separated us"
- a Kinky black woman (Lisa Gumora) with big breasts boasted: "I'm into the group thing"
- a masochistic Strange female (June Boykins) who burned her hand with a lighter said: "I was Joan of Arc in my former life"
- two identical twin black rappers Fresh Peaches (Janette Colon) and Sugar Cube (Vanessa Colon) sang together: "My name is Peaches, and I'm the best. All the DJs want to feel my breasts"
- a long-winded starlet, credited as Boring Girl (Monique Mannen) asserted: "I want to work in video, but really I want to be my own star in the videos, because I wanna become a pop singer, and a rock singer, and write my own songs, produce my own songs. And then I'm gonna try an actress, because people tell me how talented I am, I'm a natural and stuff like that. So, then I'm gonna write my own stories and direct my own stories, you know, produce the movies I'm doing..."
- and finally, the last candidate (Arsenio Hall in drag, credited as an Extremely Ugly Girl) with a husky male voice apologized: "I hope you don't mind me coming over and sitting down. But I'm been watching you all evening. And I want to tear you apart, and your friend, too"; Semmi did a spit-take at the thought!; no one was found to be suitable
back outside the barbershop, Akeem asked Clarence where he could find women after visiting "every bar in Queens"; Clarence told them they were looking in the wrong places: "You gotta go to a nice place, a quiet place like a library, there's good women there and 'uhm, church, they're good girls"
they were led to a local Miss Black Awareness beauty pageant and rally led by perverted evangelist Reverend Brown (Arsenio Hall) during Black Awareness Week; Akeem yelled out: ("I am very happy to be here!"); Rev. Brown introduced local lounge soul singer Randy Jackson (Eddie Murphy in disguise) with his band Sexual Chocolate, who sang "The Greatest Love of All" to an unappreciative audience
the event was sponsored by a fast-food restaurant known as McDowell's, managed by the local restaurateur Cleo McDowell (John Amos) who provided the food and beverages; it was love at first sight when the infatuated Akeem saw Cleo's pretty daughter Lisa McDowell (Shari Headley) introduced on-stage; after she asked for donations to build Lincoln Park for the local children, Akeem stuffed the donation basket with a large wad of cash
the next day, the two visited the fast-food restaurant on Queens Blvd., where they portrayed themselves as college exchange-students to obtain a local "Joe job" as minimum-wage workers at McDowell's
McDowell explained the difference between his restaurant and McDonalds: "Look, me and the McDonald's people, we've got this little misunderstanding, hmm? See, they're McDonald's. I'm McDowell's. Huh? They've got the Golden Arches, mine is the Golden Arcs. They say they got the Big Mac. I got the Big Mick. We both got two all-beef patties, special sauce, lettuce, cheese, pickles and onions, but they use a sesame seed bun. My buns have no seeds"
while collecting garbage and mopping, Akeem interrupted Lisa in the restaurant office and formally told her: "Do you have any that requires disposal?...When it fills up, don't be afraid to call me. I will come to take it out most urgently....When you think of garbage, think of Akeem!"
complications arose when Lisa's jealous rich boyfriend, Darryl Jenks (Eriq La Salle), heir to the inventor of Soul Glo Jheri curl cream, took false credit for Akeem's large anonymous donation at the Black Awareness pageant
in love with Lisa, Akeem tried to impress her with an anonymous gift of ruby earrings worth $500,000 dollars - the box's note stated: "FROM AN ADMIRER NOT DARRYL"; Lisa's younger sister Patrice McDowell (Allison Dean) was suspicous about Lisa: "I don't care how much a man admires you, he's not going to give you earrings like that unless you givin' him a little booty"; Akeem was invited to St. John's basketball game with Patrice, while Lisa double-dated with an obnoxious Darryl; Akeem found his clothed lap being fondled under his jacket by the flirtatious Patrice; while standing in line at the restroom, Akeem was recognized by two Zamundans, whose bowing down, idol-worshipping, picture-taking and supplications confused Lisa
one night in the restaurant, Akeem also impressed Lisa by quoting Nietzche: "'He who would learn to fly one day must first learn to stand and walk.' One cannot fly into flying. That is not mine. That is Nietzsche's"; Akeem politely warned a Hold-Up Man (Samuel L. Jackson): ("I've warned you. I'll be forced to thrash you") before disarming his shotgun and knife and preventing him from robbing the restaurant
as a reward, Cleo invited Akeem and Semmi to work at a Sunday night "get-together" hosted at his house - parking cars and serving champagne; during the evening, Cleo made the surprise announcement of Lisa's engagement to Darryl - even though the groom hadn't even asked her yet: ("I'm just not going to be pressured into marriage, not by Darryl or my father or anybody"); Akeem sympathized with Lisa's predicament of being pressured into marriage, but still did not divulge his royal roots; she admitted she liked talking to him: "I feel like I could tell you anything"
Akeem impressed Lisa by asking her to dinner at his "humble abode" (to cook for her), but was forced to instantly change plans when he discovered Semmi had modernized their apartment (with a hot tub, new furniture, etc.); as they walked to dinner at a restaurant and strolled along the river, Akeem put a package filled with a huge wad of cash next to two panhandlers: Randolph (Ralph Bellamy) and Mortimer Duke (Don Ameche); Randolph exclaimed: "We're back!"; during dinner, Lisa complimented Akeem: "You have a kind of inner glow, like, you're above anything petty. It's almost regal"; the couple danced and kissed, and began to fall in love - to the tune of Jackie Wilson singing "To Be Loved"
Semmi realized that they were in financial "dire straits," and without Akeem's knowledge, he prepared a telegram requesting $300,000 dollars from Akeem's parents to replenish their funds; in a hilarious short scene, a Telegraph Lady (Elaine Kagan) kept encouraging Semmi to raise the amount of money he was requesting: ("As long as you're asking, why don't we go for a cool million?"); meanwhile, Patrice discovered their charade when she saw their renovated apartment and asked Semmi: "What are you two involved in? You can't afford all this stuff on your salaries"; he lied to her and told her that he was an African prince, and Akeem was his servant
Akeem's charade about his royal tutelage began to unravel when his royal parents arrived unannounced with an entourage in New York; they first searched for him in the tenement building (by this time, Akeem and Semmi had switched apartments with the landlord), and then at his place of work at McDowell's, where Cleo was astounded to learn that his lowly employee was the "sole heir" to the throne of Zamunda: ("I always knew there was something special about that boy"); King Jaffe became enraged when he learned that Akeem had been working there, and was out on a date with Lisa
after Akeem learned that they were in town by a trail of rose petals at his apartment building, he continued to dodge his royal status and duties, and tried to prevent Lisa from knowing about his background; however, her ecstatic father revealed to her that Akeem was a Prince with "his own money": ("He's a prince! Oh Lisa, you did it this time! You hit the jackpot! Your little goat herder makes Darryl look like a welfare case")
Akeem's father King Jaffe arrived at the McDowell residence and revealed to Lisa that Akeem had been promised in an arranged marriage to a Zamundan princess: ("So you see, he could not be at all serious about you. Akeem came to America to, uhm, sow his royal oats"); Lisa was distressed by the news and rushed from the house
Jaffe attempted to buy off Lisa's father by writing him a check for $2 million dollars for his "inconvenience," but Cleo felt insulted by having his family treated as lower-class: "You haven't got enough money to buy my daughter off.. I don't give a damn who you are! This is America, Jack. Now, you say one more word about Lisa here and I'ma break my foot off in your royal ass!"; Semmi's deception that he was the Prince was also divulged - upsetting Patrice who learned that Lisa was in love with Akeem: "How come she always gets the good ones?"; however, she quickly pivoted and became attentive to Lisa's "dumped" boyfriend Darryl
Akeem was encouraged by his mother to pursue after Lisa when she realized that her son was truly in love; after a chase into the subway system, Akeem told Lisa of his love for her, and how he would give up his throne and his royal birthright in order to marry her, but she refused his offer because he had been untruthful and deceptive about his identity as a Prince from the very start: ("I can't let you do that"), and she exited the subway
the film concluded with Akeem's forced return to Africa without Lisa - broken-hearted and dejected; Semmi tried to raise his spirits as they sat in a car motorcade about to leave the Waldorf-Astoria: ("Look at it this way, at least we learned how to make French Fries")
in the final scene, at his planned marriage ceremony during the service, Lisa was revealed as the bride when she lifted her veil; afterwards, they rode off in a royal carriage, as Lisa asked: ("Would you really have given up all of this just for me?"); Akeem replied: "Of course. If you like, we can give it all up now," but she refused to give up his luxurious lifestyle: "NAH!"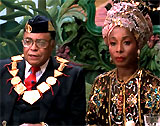 Akeem's Parents King Jaffe and Queen Aoleon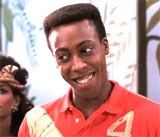 Akeem's Best Friend Semmi (Arsenio Hall)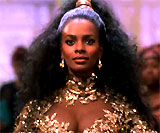 Akeem's Bride-to-Be Imani (Vanessa Bell)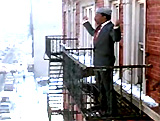 Prince Akeem on NYC Tenement Fire-Escape: "Good morning, my neighbors!"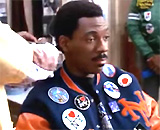 Akeem With Ordinary Street Clothes in Barbershop

At a NYC Nightclub Interviewing Candidates: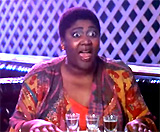 Big Stank Woman (Mary Bond Davis)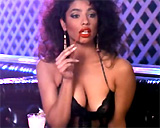 Kinky Girl (Lisa Gumora)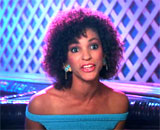 Boring Girl (Monique Mannen)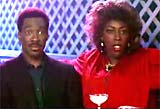 Extremely Ugly Girl (Arsenio Hall in Drag)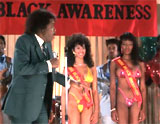 Black Awareness Week and Reverend Brown (Arsenio Hall)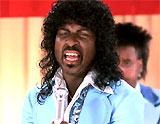 Randy Watson (Eddie Murphy) with Sexual Chocolate Singing "The Greatest Love of All"


Fast Food Manager Cleo McDowell (John Amos) with Youngest Daughter Patrice (Allison Dean)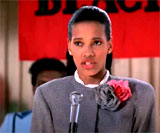 Cleo's Older Daughter Shari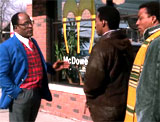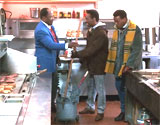 Cleo McDowell Hiring Akeem and Semmi as Cleaning-Workers at McDowell's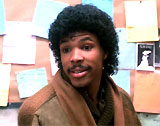 Lisa's Boyfriend Darryl Jenks (Eriq La Salle)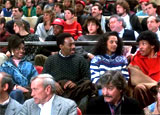 Akeem at BB game with Patrice, and Lisa with Darryl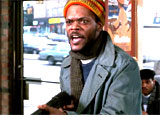 Hold-Up Man (Samuel L. Jackson) in Fast-Food Restaurant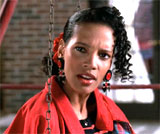 Lisa - Resistant to Being Pressured to Marry Darryl by Her Father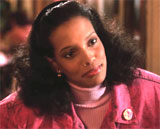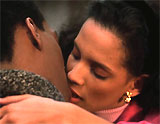 Lisa and Akeem Beginning to Fall in Love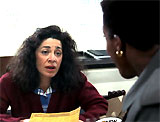 Telegraph Lady to Semmi: "Why don't we go for a cool million?"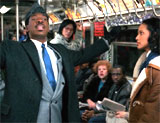 Akeem to Lisa on the Subway - He Vowed to Give Up His Throne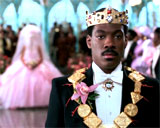 The Wedding Ceremony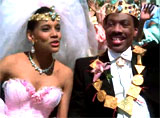 After the Ceremony: "Would you really have given up all of this just for me?"