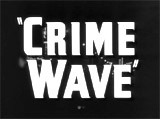 Crime Wave (1954)
In director Andre De Toth's low-budget, hard-boiled gangster-crime drama, shot on location in 1950s Los Angeles - the tale of an ex-convict and reformed San Quentin parolee Steve Lacey (Gene Nelson) trying to go straight as an airplane mechanic, with loving wife Ellen (Phyllis Kirk):
the opening scene (shot from the POV of the thieves in their car) - the robbery of a gas station by 'Doc' Penny's (Ted de Corsia) gang of three, resulting in the killing of a motorcycle cop, and the wounding of gang member Gat Morgan (Ned Young)
the victimization of Steve, who became trapped and haunted by his former life when his former cellmate Gat, the wounded fugitive gang member (all gang members were escapees from San Quentin), demanded to be harbored in Steve's apartment; when his wife Ellen was threatened, Steve was pressured into joining the gang in a complex, daylight bank heist in Glendale (functioning as the getaway car driver and airplane pilot to fly them to Mexico afterwards)
the failed Saturday robbery when Steve's written tip alerted police, and the bank was staffed by policemen disguised as bank personnel and customers
throughout the film, Steve was pursued as a suspect by a relentless, toothpick-chewing, sadistic homicide Detective Lieutenant Sims (Sterling Hayden) (who believed: "Once a crook, always a crook") - and Steve's own fear of being marked as a criminal: ("Once you do a stretch, you're never clean again! You're never free! They've always got a string on you, and they tug, tug, tug! Before you know it, you're back again!")
in the end, although Steve was handcuffed and arrested by Sims, in the final moments, it was all a pretense - Steve was let go and allowed to resume his life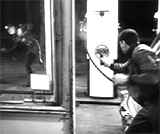 Opening Gas Station Robbery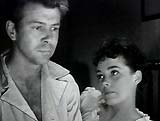 Steve (Gene Nelson) with Wife Ellen (Phyllis Kirk)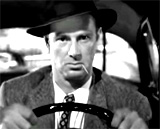 Relentless Det. Lieut Sims (Sterling Hayden)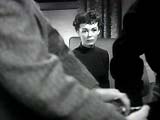 Steve's "Arrest"