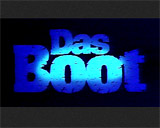 Das Boot (1981, W. Ger.) (aka The Boat)
In Wolfgang Petersen's harrowing and nerve-wracking, claustrophobic thriller, conveyed by a Steadicam moving camera through the narrow passageways and by tightly-composed shots:
the tense scene when the alarm on the World War II German U-boat U-96, commanded by conscience-stricken, embittered, stoic Captain Henrich Lehmann-Willenbrock (Jurgen Prochnow) was sounded; orders were shouted ("Get into diving positions!"), and the sub was forced to dive to a depth of almost 200 meters - although it was only a practice dive
Sinking, Burning Oil Tanker - With Survivors
the memorable sequence when U-96 torpedoed a British convoy oil tanker; shortly later after surfacing, the German sub crew watched the enemy tanker still afloat, as helpless survivors scrambled over the fiery wreckage, burned, screamed for help, and drowned - and some of the sailors swam toward them, while the Captain ordered: "We can't take prisoners. You know that"
| | | |
| --- | --- | --- |
| | | |
| Worried Faces | Pressure Gauge | Ecstatic Jubilation When U-Boat Began to Rise |
the realistic scene of a deep emergency free-fall dive when the malfunctioning, aging sub was surrounded by British ships and the crew raced through the narrow tube to their stations as the sub dove deep - and there were the first indications that the submerged aging structure was no longer functioning properly - it was feared that it would start leaking due to the powerful underwater pressure, signaled by excruciating groans and moans and rivets popping and blasting like gunshots
the crew was able to get the sub's engines running in order to rise from a dangerous depth of 280 metres just before their oxygen ran out - and the crew's jubilation that they would live - they surfaced onto the top of the water and opened the hatch: ("They're going. I've never heard such sweet music in all my life...They're running! They won't catch us this time. Not this time!...They haven't spotted us. They're snoring in their bunks. They're drinking in the bar. Celebrating our sinking! Not yet, my friends!")
in the concluding scene back at the German-commanded port at La Rochelle (on the Atlantic coast of France), the Allied air raid that killed or wounded most of the U-boat's crew members; Werner crouched over the dead Captain on the dock, who lived just long enough to watch as his U-boat sink in the waters near him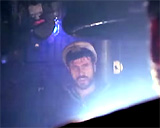 Captain
(Jurgen Prochnow)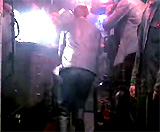 Deep-Diving U-Boat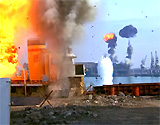 Concluding Allied Air Assault at La Rochelle (France) dock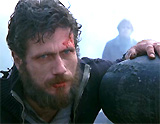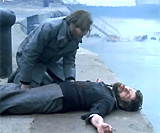 The Death of the U-Boat's Captain After Seeing U-Boat's Sinking, With Lt. Werner (Herbert Grönemeyer) Leaning Over Him