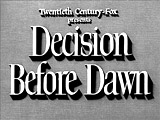 Decision Before Dawn (1951)
In director Anatole Litvak's mostly-forgotten, Best Picture-nominated, suspenseful war film and spy-drama shot on location - themes included patriotic loyalty and treason; the action was set at the end of WWII in late 1944 at a time when the US' dubious military strategy to facilitate the end of the war with the Third Reich was to recruit recently-captured, volunteer German POWs to provide information about German military troop movements:
in the film's opening, the Narrator (voice-over) asked: "Why does a spy risk his life - for what possible reasons? If the spy wins, he's ignored. If he loses, he's shot. But a man stays alive as long as he's remembered and is killed only by forgetfulness. Let the names of men like this remain unknown, but let the memories of some of them serve as keys to the meanings of treason"
US Colonel Devlin (Gary Merrill) was given permission by Army Command to recruit volunteer German POWs, to serve as traitorous espionage, double-agent spies, as Devlin explained: "These men, I believe, if properly trained and used, can help save American lives"
ultimately, two possibly undependable German soldiers - cynical ex-con, former circus tiger trainer, past Panzer factory employee, and petty thief Sgt. Rudolf Barth (Hans Christian Blech) - code-named "Tiger," and idealistic, peace-loving medic Corporal Karl Maurer (Oskar Werner) - code-named "Happy," volunteered to work for the US military even though they knew the personal risks (Maurer: "I believe fighting against them now (his own people) is fighting for them") and Maurer believed his efforts could shorten the war; they were deployed to work with untrusting, sneering, German-hating radio-operator Lieut. Dick Rennick (Richard Basehart) after being rigorously trained in fighting techniques (shooting, parachuting, etc.) by coordinator Monique (Dominique Blanchar); she warned Maurer - "Under no circumstances will you reveal your true name or identity to anyone"
| | | |
| --- | --- | --- |
| German Corporal Karl Maurer (Oskar Werner) - code-named "Happy" | German Sgt. Rudolf Barth (Hans Christian Blech) - code-named "Tiger" | Maurer and Barth - German POWs Held by the US |
the two German POWs, in a no-win situation, would be risking their own lives by becoming traitorous German deserters sent behind enemy lines
they were to convene at a safehouse in Mannheim, Germany following a five-day "tourist mission" to determine whether German General Jaeger, commanding the Fourth Corps along the east bank of the Rhine, was actually considering surrender and wholesale defection; Rennick was paired with "Tiger" (who was born and raised in Mannheim) while "Happy" (taking the assumed name of Corp. Karl Steiner) was assigned the related task of locating the 11th Panzer Corps near Munich, which could possibly move in to reinforce General Jaeger's troops if he actually surrendered
the threesome parachuted out of the same plane into Germany but split up on their way to the safehouse; "Happy" proceeded by bus to Munich and train to Nuremberg to learn the location of the powerful German armored unit known as the Panzers
slightly nervous about being detected and targeted, "Happy" was quickly befriended on the Nuremberg train by chubby German soldier Heinz Scholtz (Wilfried Seyfert), who despicably offered to exchange confiscated gold jewelry from Jewish Holocaust victims for "Happy's" paper banknotes; he then identified himself as a Waffen-SS motorcycle messenger-courier
| | | |
| --- | --- | --- |
| "Happy" Befriended on Train by German Soldier Heinz Scholtz (Wilfried Seyfert) | "Happy" Befriended a Second Time by Scholtz at a German Checkpoint | Inn 'Hostess' Hilde (Hildegarde Neff) |
on a streetcar, "Happy" was embarrassed when recognized by Paula Schneider (Helene Thimig) who had worked in the past for his surgeon father in Berlin as the clinic's head nurse; she told him that his father Dr. Friedrich Maurer was now working at the Wurzburg base hospital nearby; he was also dismayed to hear that the Panzer Corps had moved on two days earlier to Crailsheim; at a checkpoint during questioning about his unstamped papers, "Happy" was saved and reacquainted with Scholtz, who whisked him away to a forbidden black-market inn near Crailsheim; at the inn, Scholtz bragged about the Hitler regime: "We've given the world 12 years it will never forget. And no matter what they do, they'll never get us out of their system"
"Happy" met and danced with a "hostess" (hooker) and saddened, self-hating war widow named Hilde (Hildegarde Neff); later in the evening in his room after she admitted that she was "dirty, miserable and alone," he romantically rejected her; however, she warned him that Scholtz was suspicious of him: ("All I know is they're after you")
as time was diminishing in his mission (and he was being targeted as an enemy parachutist still at large), "Happy" was pulled aside due to his medic background, to provide medical attention to Oberst (Colonel) von Ecker (O.E. Hasse) in his castle headquarters, who was ailing from a heart condition; he saved the ruthless commander's life when he suffered an attack, and was able to accidentally learn the location of the Panzer Corps (he spotted a detailed map on the Colonel's desk); "Happy" was rewarded by being taken to the front at Heidelberg on an open transport, but everyone was ordered to leave the truck and cross on foot due to a destroyed bridge
during the chaos of an Allied air strike, Gestapo SS officer Corp. Ernst Brandenbacher (Arno Assmann) (who had been tipped off by Scholtz) made an attempt on "Happy's" life by shooting at him: ("You won't get away, Steiner. By now, they know all about you everywhere. We could have taken you a long time ago, but I hoped that you would lead me to the others. I hoped to get all of you"); "Happy" shot back, killed Brandenbacher, and narrowly escaped, although he realized he was on a security blacklist of deserters/spies
he proceeded back to the heavily-bombed city of Mannheim, and after a tense flight from suspicious authorities, he met up with "Tiger" and Lieut. Rennick to share his findings, but his report about the Panzers was unable to be communicated further due to a damaged radio
the group heard a presumably 'faked' report that gravely-wounded General Jaeger had been put under SS guard in a Heidelberg hospital - and therefore could not surrender, and German troop movements suggested that the US could fall into a trap; Rennick, "Happy" and "Tiger" were faced with a treacherous return to Armentières, France (by swimming across the icy cold Rhine River to the American-held side)
once they arrived at the apartment of "Tiger's" sister-in-law, "Tiger" announced he would not attempt to return to France: "When it's all over, our own people will spit in our faces. And you? You will say thank you and fly home"; Rennick refused to listen: "You're in this now, and neither of you is backing out"; at the river-bank, Rennick was forced to shoot "Tiger" to death, to silence him when he attempted to get away
during their panicky efforts to save themselves, Rennick and "Happy" made it across the river to an island, where "Happy" (whose legs had cramped up) decided to bravely sacrifice himself and allow himself to be captured in order to allow Rennick to safely escape
| | | |
| --- | --- | --- |
| On the Bank of the Rhine River | Death of "Tiger" | Swimming to the Island |
| On the Island | Watching as "Happy" Surrendered | "Happy" Taken Prisoner by the Germans |
Rennick returned with "Happy's" crucial troop information, while regretfully realizing that his compatriot would probably be tortured and shot as a traitor/spy; Devlin shrugged off the loss of "Happy" as a necessary consequence of war - "In a war, to save lives, you use whoever you can. Trouble is, you always lose the best ones, 'cause it's always the best ones who are willing to take a chance"
Rennick was more regretful about the sacrifice - as described by the Narrator (similar to the film's opening narration): "A man stays alive as long as he's remembered, and is killed only by forgetfulness. So long, Happy. Let your real name remain unknown, but let the memory of your sacrifice serve as a key to the meanings of treason. It was to me"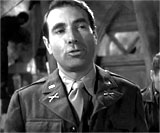 US Colonel Devlin (Gary Merrill)


US Lieut. Dick Rennick (Richard Basehart)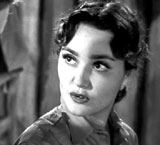 Training Coordinator Monique (Dominique Blanchar)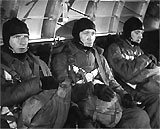 The Threesome: Rennick, "Tiger" and "Happy" About to Parachute into Germany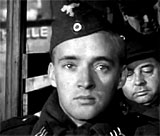 "Happy" on a Bus to Munich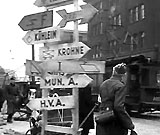 "Happy" on His Mission at Nuremberg



Hilde Dancing with "Happy"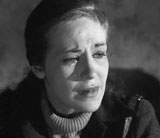 Hilde Telling Her Sad Life's Story to "Happy"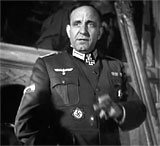 Oberst (Colonel) von Ecker (O.E. Hasse)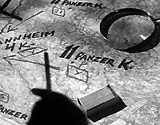 "Happy" Accidentally Learning the Location of the 11th Panzer Corps on a Desk Map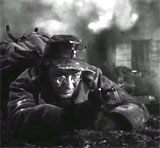 "Happy" Being Shot at by Gestapo SS Officer Brandenbacher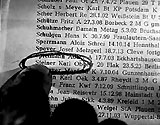 "Happy" (Karl Steiner) Identified On a Security Black;ist of Targeted Deserters, Spies and Espionage Agents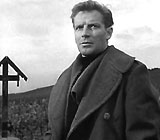 Rennick's Thoughts About "Happy's" Loss