Deuce Bigalow: Male Gigolo (1999)
In this vulgar, bad-taste, non-PC sex comedy directed by Mike Mitchell (and produced by Adam Sandler's production company, plus co-scripted by star Rob Schneider), it was mostly slightly disgusting with some humor; the sequel was Deuce Bigalow: European Gigolo (2005):
in the opening title credits, hapless, insecure fish tank cleaner Deuce Bigalow (former SNL cast member Rob Schneider in his first starring role) was fired from his Los Angeles Aquarium job cleaning algae from fish tanks in the nude; desperate for sex, he approached blonde tropical fish supply store clerk Allison (Bree Turner) at the Go Fish store who declined a date invitation; he asked her to retrieve sea snails from the far bottom of a tank, requiring her to dip into the water with her T-shirt and reveal her nipples; he departed with: "Have a good nipple!"
In a Fish Supply Store, Clerk Allison (Bree Turner) Dipping Her T-Shirt into Wet Aquarium Tank
during a Malibu Beach house call as a contracted fish-tank cleaner, he met handsome, bearded Argentinian male gigolo Antoine Laconte (Oded Fehr) with a blonde (Gabrielle Tuite) in his Porsche; inside his luxurious pad, Antoine showed off his custom, hand-made $6,000 dollar fish tank and his prized $1,000 dollar Chinese Tailbar Lionfish; the intimidating Antoine briefly excused himself: "Must make pee-pee," and a torrent of tinkling water was heard from the nearby bathroom; the buffed gravity-boot aficionado bragged to the wimpy Deuce: "Women pay me to give them pleasure"; Deuce was astonished and wondered why he hadn't been advised to take that kind of job in HS: "I'm gonna kill my guidance counselor."
while his client was absent on a three-week business trip to Switzerland, Deuce agreed to baby-sit Antoine's house and his precious fish: ("I would be honored to care for your fish!") after seeing one of his glamorous female clients; however, he was ominously warned: "You mess up anything in my apartment, I'll shove it up your ass." Almost immediately, Deuce set the kitchen on fire with the toaster while warming a huge grilled cheese sandwich, and while incapacitated on Antoine's gravity boot apparatus, he received an extra warning on the answering machine: "You just make sure you keep my apartment clean or you will die. Bye bye"; the aquarium tank was completely destroyed (although Deuce cleverly saved the fish with various water receptacles), with $6,000 dollars of damage that needed to be repaid in three weeks
a late night phone call from one of Antoine's "naked" clients sent Deuce to the home of Margaret (Marlo Thomas in a cameo) wearing a black negligee where she requested that he pretend to be a half-naked, lost German tourist named Heinz in NYC; her vicious German shepherd Wolfy growled and broke through an adjoining door as she urged: "Now you just focus on your little wiener schnitzel," but he was forced to flee as she stuffed a $10 dollar bill in his scanty red briefs; it dawned on Deuce that he could make money selling himself ("possible career change")
| | | |
| --- | --- | --- |
| Client Margaret (Marlo Thomas) | "$10 dollars, yeah!" - Deuce Realized to Himself: "Possible career change" | Hooker Claire (Gail O'Grady) Who Charged Deuce $500 Dollars For Her Services |
at a bar, the clueless Deuce picked up a blonde prostitute named Claire (Gail O'Grady) who did a "role-reversal" on him back at Antoine's Malibu beach house when he asked for a $10 dollar payment - and she insisted to the disbelieving Deuce that he pay her $500 dollars: (Deuce: "Okay, 300, 400, 500, you're my hooker. No, seriously, where's my ten dollars?"); with impressive karate kicks to his face and crotch, she ordered: "Five hundred dollars or the fish gets it" - while threatening to chew up Antoine's expensive fish in a food blender, but then ran off knowing that Antoine might retaliate against her
the next day, Claire's pimp Tiberius Jefferson "T.J." Hicks (Eddie Griffin) paid a visit, and declared that he'd rather be called a "male-madam" than a pimp; he claimed to represent "man-whores" such as Deuce who needed his services; illustrating a lecture about the gigolo food chain, he used three varieties of tropical fish in fishbowls; according to him, Antoine was at the top and didn't need a pimp; the "mid-level fish" who worked in hotels, conventions, and senior centers were those who often required the services of a pimp, while Deuce was like the lowest bottom-feeder in the cycle: ("If you work hard and listen to me, this could be you")
TJ warned about Antoine's bad temper: "One time, I dropped a cigar ash on his carpet, and he made me pick it up with my anus"; Deuce acquired TJ as his "male-madam" and took over Antoine's profession as a "man-whore" for a "couple of jobs," in order to pay back his debt to Antoine; after a frizzy-haired makeover and a bare-buns wax job at a salon to the tune of Hot Chocolate's "Sexy Thing," TJ provided one other piece of advice: "You a man-whore now. I'm so proud....Now remember, it's a business. Never, ever fall in love"
throughout the remainder of the film, Deuce went on many dates (in a series of comical vignettes) comprised of grotesque liaisons with various people who had emotional and physical handicaps or abnormalities, such as obesity, gigantism, and narcolepsy
his first official client was "full-figured" 750 pound transvestite Fluisa/Jabba Lady (Los Angeles radio personality Big Boy), who was lounging on an upstairs bed: "You're thinkin' those are the biggest boobies you've ever seen...I'm not your average woman"; while conducting "idle chit-chat" with him, she asked with overwhelming sexual innuendo: "You ever parked your bicycle in an airplane hangar?...You ever thrown a toothpick into a volcano?"; obsessed with food and eating, they engaged in a fun game of "fast food trivia" - that Jabba happily and easily won four times
afterwards, TJ congratulated Deuce for satisfying Jabba's special needs: "Nobody has ever pleasured Jabba the Slut. Deucey, you have a way of satisfying a woman that would sicken a normal man"; he realized: "You must have a magical 'man-gina''...It's a professional term we man-whores use to describe our he-pussy"; at first, Deuce threatened to quit prostituting himself - reluctant to continue as an "ungrateful he-bitch"
while considering his future as a "man-whore" during a bathroom break at an exclusive restaurant, Deuce had a father-son heart-to-heart talk about "romance" with his father Bob Bigelow (Richard Riehle) who worked there as the men's room attendant; in between farts heard from a toilet stall in the background, he described how he met Deuce's mother - he implied that she was a good-time "Bangkok Betty" hooker that he had paid 200 baht for sex in a strip club, and two days later he married her; Deuce asked: "So, do you think I should be more of a risk-taker?" and his father replied: "Worked for me"
Deuce's next 'man-whore' date was with Tina (Torsten Voges) - a gigantic, 7 1/2 foot tall woman (whose face was always off-screen) who was afflicted with a pituitary gland disorder; she claimed she was from Norway; as he walked along on a sidewalk next to her, she dwarfed him and had huge feet, and off-screen, un-called-for insults were heard from cruel observers: "Freak!...Holy S--t, it's Bigfoot!...Hey, keep it in the circus!...That's a huge bitch!"; Tina claimed: "I had a pituitary gland procedure at UCLA Medical Center and I just fell in love with the people here"; back in her place, she carried him to the bedroom, threw him on a bed, and ripped off his clothes; he satisfied her non-sexually by making her orgasmic when he touched and massaged her large feet
on his way from Tina's place, Deuce was confronted by angry LAPD Detective Charles "Chuck" Fowler (William Forsythe), who was hot on the trail of known gigolo Antoine: ("You tell Antoine, I'm gonna nail him"); he also divulged, as he unzipped his trousers and exposed himself, that he was a "loser" obsessed about his own small penis size
Deuce's next client was cute, anti-social Tourette's Syndrome sufferer Ruth (Amy Poehler), who yelled at him through the door intercom: "Goddamn it!"; as they drove off together in a convertible, she uncontrollably screamed: "Shove it up your ass!"; she added: "Ball sweat! Anus! Anus licker...Nipple biter! Naah-naah-naah-naah...Scrotum! Sperm! Sperm face!...Vulva!...Jizz! Jizz trap!...Ehh-- Fart! Dildo! Big -- Big, big titties! S--t! S--t whore!"; Deuce took her to a big-league baseball game, where she worried she would disrupt people around them in the stadium - but her outbursts seemed to fit in: "Crap muncher!...Assholes!...Ball hair!...Scrotum licker!" and she was able to encourage people around them to join her and chant: "Piss face! Piss face! Piss face!"
| | |
| --- | --- |
| Ruth Screaming: "Shove it up your ass!" | At a Ballgame: "Piss Face!" |
Deuce's next client-date was a recent college graduate whose girlfriends pitched in for her first blind date; he met her in a sushi restaurant where he was astonished that she was a normal-looking, pretty young blonde named Kate (Arija Bareikis); after dinner during a stroll through an amusement park, it appeared that they were talking about sex when she demurred: "I don't see how it could possibly be pleasurable for a woman. I just don't think it's natural. You're not supposed to go up there"; however, she was referring to space exploration, and she asserted: "I just wouldn't do it. Frankly, I'd rather take it up the butt"; after a wonderful evening and goodbye, Deuce found himself ignoring TJ's advice to not fall in love with one of his clients ("she-johns")
the detective had been stalking them, confronted Deuce as he returned to his car, and threatened to bust him for being a man-whore: ("Why don't I just go a have a little chat with your spicy tuna roll?"), but then blackmailed Deuce to produce Antoine's "black book" of clients within three days; he again exposed himself to complain about a mysterious "red spot" on his genitals
Carol (Deborah Lemen), Deuce's next client, was suffering from a sleeping disorder known as narcolepsy - she had an attack when answering the door and fell at his feet; she explained at a bowling alley: "I'm just not allowed to fly in a plane or drive a car or work in a gun range"; while throwing a bowling ball down the alley and getting a strike, she had an attack and was stretched out on the bowling lane; later, she worried at a restaurant: "I've always wanted to try soup, but there's the fear of drowning"; there were sounds of her tumbling down her front stairs behind the front door after saying goodbye to Deuce
to the tune of Smash Mouth's "Can't Get Enough of You Baby," Deuce went on more dates with the same clients, earning enough money to fix up Antoine's damaged Malibu home and tank; he became particularly enamoured with Kate, and reluctantly introduced her to his father on his birthday at the restaurant; Kate bought him a Raspberry bibingka cake at a Filipino bakery; he shared an embarrassing remark about Deuce's mother Bangkok Betty: "She had the most amazing mouth. It paid for our honeymoon"; Deuce was further embarrassed when his father's boss Vic (Allen Covert) called upon him to clean up "s--t everywhere" in the ladies' restroom: "I am up to my ankles in human crap. It's a real stinkfest back there"; to Deuce's surprise, Kate was very accepting of his father's lowly profession
| | |
| --- | --- |
| Another Date with Kate | At the Restaurant, Deuce's Father Met Kate and Embarrassed Deuce With His Lowly Profession |
| Deuce With Kate in Her Bedroom | Deuce with Kate's Disconnected Prosthetic Leg |
to the tune of Walter Egan's "Magnet and Steel," after returning back to Kate's home, they clumsily tried to be quiet to avoid waking up Kate's blind roommate Bergita (Dina Platias) as they raced to the upstairs bedroom while undressing each other to have sex; with the lights out, she shyly admitted that there might be "things about me that you don't like" and that her physical body was "maybe a little different than what you were used to" - it was revealed that she had a prosthetic leg when it "fell off" or became "disconnected" in Deuce's hands; completely embarrassed, she asked him to leave, but he fully accepted her and called himself: "the luckiest guy in the world"; they woke up in each other's arms
Deuce met with Kate's four bachelorette best friends at her sorority Alpha Beta Lamda who were upset that Deuce - a "prostitute" (or "man-whore") - was dating Kate; he vowed he was in love with Kate and was returning the money they had paid for her first blind date with a stranger, but they chastised him: "You stay away from her, man-whore!"
meanwhile, Detective Fowler was again demanding Antoine's black book (and threatening jail time), although to Deuce, he appeared more worried about toilet splash when he didn't use a "paper ass gasket" in the precinct's dirty toilet; Deuce met with TJ and vowed to quit and earn the money some other way to fix Antoine's apartment: "I'm gonna get the rest of the money the old-fashioned way"; when he went to speak to Kate, she accused him of lying to her: "You were paid to go out with me!" - and she broke up with him; he was saddened during a montage to the tune of Sean Beal's "Can't Smile Without You," but was still determined to get the balance of money needed to complete the renovations
Deuce was summoned by phone to a ritzy LA hotel room to provide sexual services for another of Antoine's clients - revealed later to be Elaine Fowler (Jacqueline Obradors) - the Detective's unsatisfied wife living in Santa Clarita, CA, who began to strip off Deuce's clothes in anticipation of having sex; to fulfill her payment for services without consummation (due to his love for Kate), he offered to perform an erotic dance for her to the tune of KC and the Sunshine Band's "Get Down Tonight"; when they exited after the evening's entertainment from an elevator into the lobby, Kate saw them together - confirming for her that Deuce was an inveterate liar - she slapped him across the face: "I just had to see for myself"
Deuce surmised that Detective Fowler's pursuit of Antoine had nothing to do with retrieving his black book, but was about seeking revenge for Elaine's promiscuity with Antoine; the penis-obsessed Fowler admitted his small genital size and thin width as the reason for Elaine's pursuit of extra-marital sex - "My dick is too thin...I've got the thinnest penis in the world! Here. It's like a Twizzler. Look!...I'm telling you now, if you painted it silver and twisted it on the end, it'd look like a kickstand...We're talkin' spaghetti stick"; Deuce talked sense into Fowler about why his wife was dissatisfied: "If man-whoring has taught me anything, it's that most women are as unhappy with their entire body as you are with your small penis" - he suggested that Fowler "say something nice to make your woman feel sexy" to solve his own personal issues and fix his marriage; shortly later, Deuce taught Fowler how to strip-dance in Elaine's presence
after speaking to his boss, Fowler apologized and made amends with Deuce: "I really appreciate you helping me. I guess I misjudged you," but Fowler continued to insist that Deuce betray his friend-pimp TJ, or he would face charges of prostitution himself
a court hearing was called, when the District Attorney (Robb Skyler) declared: "Mr. Bigalow has compounded this crime by refusing to name his he-pimp"; he was charged with five counts of prostitution; suddenly, Jabba Lady made a grand entrance into the courtroom, burped, and then testified on Deuce's behalf: ("We never had sex. We talked about it. Well, I talked about it. But Deuce never took advantage of me. He should have. But he's my friend. He made me realize that I wasn't just some hot babe with huge tits. Even though I am. Oh, and he also got me walkin' again")
in further testimony, Tina also admitted how much Deuce had helped her without resorting to sex: ("Deuce and I never had sex. It was physically impossible....It's true I paid him money to be with him, and I'd do it again because he made me feel good about myself....And no one ever touched my feet before"); Ruth also claimed: "Deuce taught me to be comfortable with who I am. Thank you, Deuce", and then uncontrollably yelled out: "Y-- Asshole!"
Deuce admitted to the Judge that he had sex with just one woman - Kate - and then vowed: "And I'm in love with her"; the case was dismissed by Judge Addison (Ron Soble) because Kate hadn't paid him for sex (he had returned the money anyway)
Deuce snuck into Kate's hair transplant office as a patient to be able to converse with her during her work day as Dr. Rosenblatt's (Barry Cutler) assistant; he apologized: ("This whole gigolo thing was just a mistake. But I'm glad it happened 'cause I never would have met you. I never would have known what love was...You're perfect in every way"), and then he read to her about his love: "Kate, you have a smile that could melt an iceberg. Your lips are as sweet as honey. You may only have one leg, but it's the most beautiful leg in the world"
the finishing touches were being put on Antoine's home with help provided by some of Deuce's clients and friends, with time constraints as he was to arrive back soon; at the airport, Antoine was detained and strip-searched by Tina dressed in a security uniform; the fish tank had been rebuilt, but to everyone's horror, the blind Bergita served up margaritas (actually, Antoine's prized fish ground-up in a blender); with donations of $800 from friends, Deuce purchased replacement fish at the Go Fish store from Allison and raced home just in time; when the suspicious Antoine arrived, he asked to drink the "chocoloate margarita" concoction with a spicy taste in the blender; then, Antoine tapped on the glass of his aquarium as he noted the fish looked smaller, and the entire side of the tank cracked and flooded the floor
with Antoine fuming, Deuce admitted he had done some 'man-whoring' during his absence but not with his clients; the enraged Antoine fought Deuce with a battle-axe, who defended himself with Kate's prosthetic leg; Deuce also assumed a slo-mo "bullet-time" Matrix position to dodge other hurled objects; Antoine then fired his crossbow weapon at Deuce, but Fluisa/Jabba Lady stepped in-between them and was hit in the chest - fortunately, she had a roasted chicken stuffed into her bodice
as the film concluded, Detective Fowler busted Antoine, Bergita regained her eyesight (after time hidden in a closet with TJ), and Deuce and Kate became a couple; during the end credits, revelations were unveiled: (1) Deuce's father became a full-time man-whore and increased his salary, (2) Ruth founded an all-girls Tourette's school - The Dicklick Shitballs Academy, (3) Carol took a dream trip to France and tumbled off the Eiffel Tower, (4) after liposuction, Big Daddy became a Victoria's Secret top model, (5) orange-suited Antoine was with Tina and the two were destined to have tall and hairy kids, and (6) TJ starred in a hit sitcom titled: "Hanging with Mr. Man-pimp"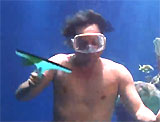 Opening Credits: Deuce Bigalow - Fired For Cleaning an Aquarium Tank in the Nude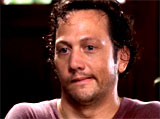 Hapless Deuce Bigalow (Rob Schneider)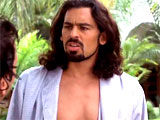 Male Gigolo Antoine Laconte (Oded Fehr)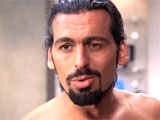 "Women Pay Me to Give Them Pleasure"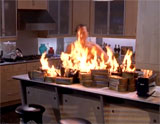 Fire in Antoine's Kitchen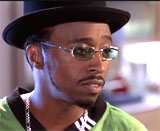 Tiberius Jefferson "T.J." Hicks (Eddie Griffin)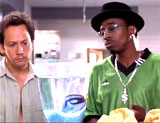 T.J.'s Lecture to Deuce About Three Levels on the Gigolo Food Chain

Man-Whore Deuce's First Official Client: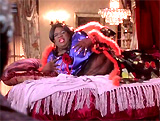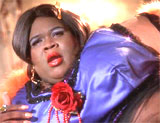 Fluisa/Jabba Lady (Big Boy)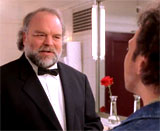 Deuce's Father During Heart-to-Heart Talk in Bathroom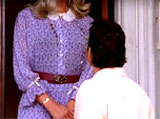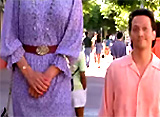 Deuce with Gigantic Tina (Torsten Voges)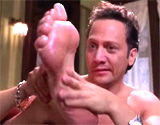 Deuce Touching Tina's Orgasmic Large Feet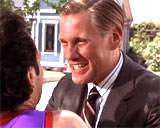 Detective "Chuck" Fowler (William Forsythe)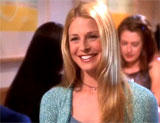 Kate (Arija Bareikis)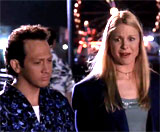 Kate Talking Not About Sex But Space Exploration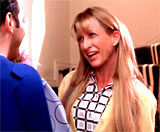 Carol at Her Door - Seconds Away From Collapsing Due to Narcolepsy



Kate's Best Friends in Sorority House Who Paid for Kate to Have Sex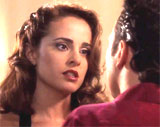 Deuce's Next Client - Gorgeous Elaine (Jacqueline Obradors)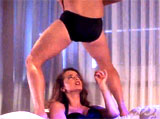 Deuce's Erotic Dance for Elaine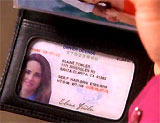 Elaine - Revealed to Be Detective Fowler's Wife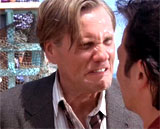 Fowler to Deuce: "My dick is too thin!"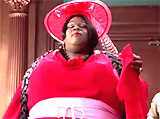 Jabba Lady's Grand Entrance into Courtroom to Testify on Deuce's Behalf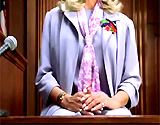 Tina: "Deuce and I Never Had Sex..."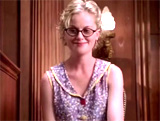 Ruth: "Y-- Asshole!"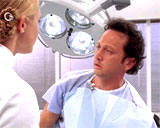 Deuce Telling Kate of His Love in Her Hair-Transplant Office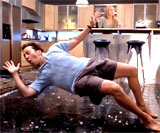 Deuce Protecting Himself in Matrix pose