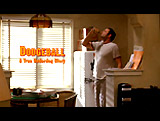 Dodgeball: A True Underdog Story (2004)
In the opening of this successful sports comedy from writer/director Rawson Marshall Thurber, a slick TV commercial was aired by a corporate, nationwide fitness chain known as Globo Gym (with the motto: "We're better than you and we know it"):
the Globo Gym corporation was owned, founded and managed by mustache-wearing, arrogant egomaniac White Goodman (Ben Stiller); he pitched the benefits of working out and transforming oneself with "personal alteration": "Tired of the same old you? Tired of being out of shape and out of luck with the opposite sex? Tired of being overweight and under-attractive? Yeah. Oh, hello. I'm White Goodman, owner, operator and founder of Globo Gym America Corp. And I'm here to tell ya that you don't have to be stuck with what ya got....Here at Globo Gym, we understand that 'ugliness' and 'fatness' are genetic disorders, much like baldness or necrophilia, and it's only your fault if you don't hate yourself enough to do something about it. And that's where we come in..."; he reviewed his own personal history of obesity (6 years earlier and at 600 lbs.) and how he had changed his own life:
by contrast, the apathetic owner-manager Peter "Pete" LaFleur (Vince Vaughn) of the across-the-street, local run-down area gym, Average Joe's Gymnasium, was struggling to pay his overdue bills, and was facing foreclosure; he lived in a run-down neighborhood and drove an outdated car
Two Competing Gymnasiums
Average Joe's Gym employees included ex-airport worker Dwight Baumgarten (Chris Williams) and nerdy loser-square Owen Dittman (Joel David Moore); some of its misfit members included Obscure Sports Quarterly fan Gordon Pibb (Stephen Root), teenaged HS-cheerleader squad wannabe Justin Redman (Justin Long), and crazed indebted Steve "The Pirate" Cowan (Alan Tudyk)
Average Joe's Gymnasium Employees


Owen Dittman (Joel David Moore)


Dwight Baumgarten (Chris Williams)
Odd-ball and Misfit Members of Average Joe's Gymnasium


Gordon Pibb (Stephen Root)


Justin Redman (Justin Long)


Steve "The Pirate" Cowan (Alan Tudyk)
pretty lawyer and real-estate-tax auditor Katherine "Kate" Veatch (Christine Taylor) appeared in Pete's office, representing the bank and helping with his failing finances, tax liabilities, mortgage debt and upcoming foreclosure in 30 days - owing $50,000 dollars; during a visit to Globo Gym, Pete learned that Goodman had bought out his second mortgage and that he was being threatened with a hostile take-over: "You've got 30 days to make $50,000, or your gym becomes my gym...My gym's worth over $4 million. Your gym isn't worth four...Your 'gym' is a skid mark on the underpants of society"
the detestable Goodman announced his plan to Peter to raze his heavily-mortgaged shabby gym in 30 days to build a parking structure for his own club: "I choose to level Average Joe's to build a parking structure for my members, so be it. There's nothing you can do about it. In 30 days, I'll be bulldozing that s--t-heap you call a gym into permanent nothingness. I can only hope that you, and the mongrel race that comprise your membership, are inside it when I do"
after a failed car-wash to raise the $50,000 required by Owen to save the gym, due to a competing car wash featured scantily-clad, colorful-bikinied females across the street, Gordon suggested that they enter Average Joe's team into the obscure, annual Las Vegas International Dodgeball Open Tournament to win the prize money
Justin was able to acquire a 1950s Leave-It-To-Beaver era, 16 mm black and white Uber-American Instructional Dodgeball training film for viewing by the group, about the game's history and rules; supposedly, the game was invented in the 15th century in a Chinese opium den "by opium-addicted Chinamen"; severed heads were used as balls centuries ago; in the video, youngster Timmy (Cayden Boyd) was enticed to visit an opium den where he was seen coughing after inhaling from an opium pipe; the rules of the game were briefly reviewed, and Irish-American dodgeball legend Patches O'Houlihan (Hank Azaria) offered tips to Timmy on gameplay; he called dodgeball "a sport of violence, exclusion and degradation," and summarized the five D's of Dodgeball: Dodge, Duck, Dip, Dive, and Dodge!
Historical Black and White Dodgeball Training Video


Timmy in Opium Den Where Dodgeball was Invented


Timmy Inhaling from an Opium Pipe and Coughing


Irish-American Dodgeball Legend Patches O'Houlihan (Hank Azaria) Offered Tips to Timmy on Gameplay


Five D's of Dodgeball
in a preliminary, sub-regional qualifying match at the Waldorf Rec Center between the Average Joe's team against Girl Scout Troop # 417, they suffered a humiliating loss until it was discovered during random urine screening that the girls team had illegally used steroids and "low-grade beaver tranquilizer", and were disqualified
after their win and Goodman's spying on Average Joe's Gym with a hidden camera in a giant cut-out of himself, he brought his own team (the Purple Cobras) to The Dirty Sanchez bar to introduce his team-mates, including Blade (Rusty Joiner), Lazer (Kevin Porter), Blazer (Brandon Molale), Goodman's personal "Fitness Consigliere" Meshell Jones and lethal professional Romanovia player Fran Stalinovskovichdaviddivichski (Missi Pyle)
in the parking lot following Goodman's challenge to Pete's team, Pete met legendary, vulgar-mouthed ADAA champ Patches O'Houlihan (Rip Torn), who was restricted to a wheelchair, but volunteered to be the Average Joe's "seasoned" coach in the game of dodgeball; for three weeks in preparation for the competition, he first explained the 5 Ds of Dodgeball: dodge, duck, dip, dive and dodge! - "If you master the 5 Ds, no amounts of balls on earth can hit you!"
and then, after opening and then emptying a bag of heavy tools, he mentioned: "If you can dodge a wrench, you can dodge a ball", he threw a wrench at Justin and struck him in the face; it was certainly an unusual training technique that Peter questioned: "Are you sure that this is completely necessary?" - Patches replied: "Necessary? Is it necessary for me to drink my own urine?...No, but I do it anyway because it's sterile and I like the taste"; he also urged the group after taking them to a busy street: "If you can dodge traffic, you can dodge a ball"; he also criticized the clumsy and uncoordinated Justin: "You're about as useful as a cock-flavored lollipop," and then insulted Gordon: "You couldn't hit water if you fell out of a boat"
Patches O'Houlihan (Rip Torn as adult) Throwing Wrenches During Training and Hurling Insults at the Average Joe's Team Players
all along, Goodman had been hitting on Kate and trying to woo her to his side, and Peter also encouraged her to join his team, but she claimed conflict of interest and declined to play on either side; the last straw was after Goodman falsely accused her of stealing and drinking on the job, and she was fired from her law-firm - and was now freed to date Goodman; however, she rejected him ("You fired me so I'd date you?"), and decided to join Peter's underdog dodgeball team, utilizing her skills from eight years playing softball
there were some setbacks leading to the final round of dodgeball tournament play at the University Learning Annex in Las Vegas; due to a shipping mix-up, the team members were forced to wear S&M chains and leather 'uniforms' during the many rounds of play, they barely squeaked through to win their matches; miraculously, they made it to the final round and would be facing Goodman's Globo Gym Purple Cobras; however, Patches was tragically killed by a giant, falling neon sign inside the casino (ironically labeled THE LUCK OF THE IRISH)
the night before the final round, Goodman offered to buy the deed to the competing gym from a stressed-out and demoralized Peter for $100,000 if they forfeited: ("You're heading for a fall, Pete. Sooner or later, Average Joe's is gonna close"); Peter accepted the bribe and signed the contract and hinted to his players that they would lose against Globo Gym
the next day, just before the "David vs. Goliath" mid-day match, with the Average Joe's a 50-to-1 underdog, a forfeiture was charged against Average Joe's team (for not having enough players - Justin had been persuaded by his HS crush Amber (Julie Gonzalo) to participate in her cheerleading routine but returned on time, while Steve "The Pirate" had disappeared and Peter had quit); although Peter showed up at the last minute to play, it was too late; for the team's sake, the forfeiture was overturned by a 2/3 vote (with the winning vote cast by committee judge Chuck Norris (as Himself)), keeping them in the competition for a final round game
the game ended up with a 'sudden-death' elimination for the prize money with a one-on-one match-up between Peter and Goodman; Peter blindfolded himself, and with Patches' spirit on his side: ("Remember your training and trust your instincts. You can do it. I believe in you"), he defeated Goodman and won the championship; broadcast ESPN8-TV correspondent Cotton McKnight (Gary Cole) exclaimed: "Ladies and gentlemen, I have been to the Great Wall of China, I have seen the Pyramids of Egypt, I've even witnessed a grown man satisfy a camel. But never in all my years as a sportscaster have I witnessed something as improbable, as impossible, as what we've witnessed here today!"
in the twisting ending, after the presentation of a check for $50,000 to the Average Joe's team, Goodman claimed he had purchased Peter's gym the night before their win for $100,000; Peter agreed, but claimed that he had bet the bribe-money, at 50 to 1 odds, on the gym's win; a treasure chest was wheeled onto the court with his winnings, amounting to $5 million dollars in cash
| | |
| --- | --- |
| $5 Million Dollars' Winnings | Steve 'The Pirate's' Transformation |
Peter revealed that he had also purchased a 'controlling share of stock' in Goodman's publically-traded company, thereby becoming the controlling owner of the company and anything else it owned, which included Average Joe's Gym; Peter then fired Goodman: ("I'm your new boss, White...You're fired, pal!"); "Pirate" Steve walked into the scene and agreed with Peter that he wasn't really a 'pirate' - he had turned conservative and cut off his dread-locks, and Peter enticingly joked that there was "buried treasure" nearby
Kate Proving That She Was Bi-Sexual, Not a Lesbian
in another surprise, Kate kissed her girlfriend Joyce (Scarlett Chorvat) who had just arrived from Guam for the victory celebration, but then kissed Peter to assure him that she was bi-sexual, not lesbian; Average Joe's Gym was featured in a cover story in Gordon's favorite magazine: Obscure Sports Quarterly
the film concluded, during the closing credits, with Kate choosing Peter as her boyfriend, Justin marrying his high-school cheerleader crush Amber with a baby on the way, and Owen dating Romanov player Fran; the Average Joe's gym was renovated and offering dodgeball classes, while the depressed Goodman had turned to eating junk food and had become morbidly obese - he asked himself in the film's last line after playing with his own man-boobs: "You happy? Fatty make a funny?"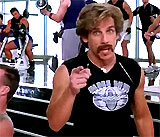 White Goodman (Ben Stiller) in Globo Gym Advertisement


Goodman as Obese in 1987



Goodman's Personal "Fitness Consigliere" Meshell Jones (Jamal Duff)



Owner-Manager of Average Joe's Gym: Pete LaFleur (Vince Vaughn)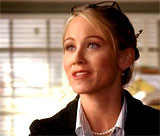 Lawyer-Tax Auditor Katherine "Kate" Veatch (Christine Taylor)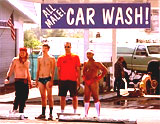 Car Wash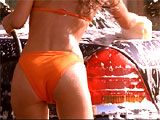 Across-the-Street Car Wash Competition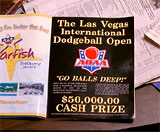 International Dodgeball Open with $50,000 Cash Prize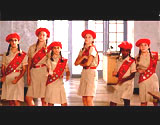 Qualifying Match Team's Opponent - Girl Scout Troop #417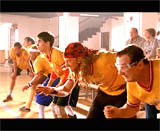 Average Joe's Gym Dodgeball Team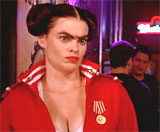 Romanovia Player Fran (Missi Pyle) on the Purple Cobras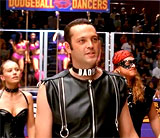 Average Joe's in S&M Uniforms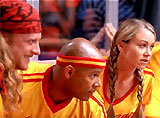 Some Average Joe's Players During a Game: (l to r): The Pirate, Dwight, and Kate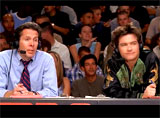 Two ESPN8 TV Commentators: Cotton McKnight (Gary Cole) and Pepper Brooks (Jason Bateman)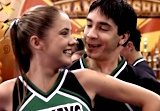 Justin Participating in Amber's (Julie Gonzalo) Cheerleading Team Competition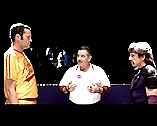 One-On-One Between Peter and Goodman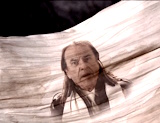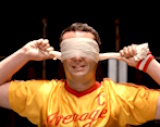 Patches' Blindfold and Spirit Speaking to Peter


The Presentation of the Winning Check ($50,000) to Average Joe's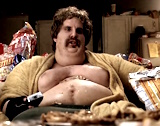 Sore Loser Goodman - Again Morbidly Obese