Dumb & Dumber (1994)
In this gross-out comedy film from Peter Farrelly about two 'dumb' cross-country adventuring friends - Lloyd Christmas (Jim Carrey) and Harry Dunne (Jeff Daniels):
the scene of Lloyd Christmas' run out of an airport's jetway and flip onto the tarmac
the scene of a motorcycle cop pulling over their customized sheep-dog Poochmobile van for speeding, and testing a beer bottle for alcohol, not knowing it was filled with Lloyd's urine, and their offer after he had a swig: "Tic Tac, sir?"
the next scene of the two picking up hitchhiker Joe Mentalino (Mike Starr), who was quickly driven crazy by the pair playing tag on either side of him - with inane antics: (Harry: "You're it....Anti-quitsies, you're it, quitsies, no anti-quitsies, no startsies!...Can too, double stamp it, no erasies!...No, you can't do that... you can't triple stamp a double stamp, you can't triple stamp a double stamp! Lloyd!"); and then they began a duet before picking up a family of hitchhikers
the Dante's Inferno restaurant scene of Harry Dunne (Jeff Daniels) and Lloyd trying out atomic hot peppers on a dare: ("I'll do it if you will, Lloyd") - their argument: "You go first!" "No, you go first!" - and then their reactions, including cooling their mouths with mustard and ketchup bottles
the diner scene of Lloyd's apology to Sea Bass (Cam Neely) - and his agreement to buy a round of Boilermakers for his table, but then telling the waitress: "Sea Bass and the fellas offered to pick up our check. They said just put it on their tab. They're very nice"; afterwards, when Harry asked where Lloyd had learned the scam, he was told he had seen it in a movie; Harry asked what happened next, and was told: "In the movie, they catch up to him a half-mile down the road and slit his throat. It was a good one!"
the sight of Harry Dunne and Lloyd in bright orange and powder blue tuxedos
idiotic Lloyd's wild chopsocky fantasy in a restaurant, defending the honor of his dream date and culminating in ripping the heart out of the chef's chest and putting it in a doggy bag
the imbecilic Lloyd's sentimentally-happy response after pursuing married dream girl Mary Swanson (Lauren Holly) from Providence to Aspen in the Poochmobile after she told him that their chances were "one in a million" - "So you're saying there's a chance?! Yeah!"
Harry's compliment to Mary about her owls: "Nice set of hooters you got there!...The owls. They're beautiful!"
the scene of Lloyd (and his group all wearing ugly Christmas sweaters) in front of a fireplace performing his schtick, and deciding (for laughs) to light his fart on fire
Harry's Diarrhea Toilet Sequence
the excruciatingly-funny yet gross scene of Harry's extreme agony on the toilet while suffering a reaction to a large dose of a laxative put in his coffee by Lloyd - and Mary's disturbing comment to him: "I hope you're not using the toilet, it's broken...the toilet doesn't flush" - and his responses: "I was just shaving" and later, "I'm just, I'm cleaning my teeth"; and when he was attempting to pour the entire contents of the heavy toilet bowl out the window, he lied again: "I'm gargling!"
the famous scene in which brain-dead Harry exclaimed: "Ooh, look, frost" to Mary as they rode on a ski-lift chair - and his tongue became fused to the frozen metal frame pole - and the hilarious scene as they pried him free while his tongue stretched elastically
the scene of the two down-and out guys walking along a deserted Colorado road and wondering: "When are we ever gonna catch a break?" - when a bus group of bikinied females on tour representing Hawaiian Tropic pulled up next to them (with a few "Hallelujahs" from The Messiah), and three gorgeous females emerged, greeted them (Swedish model (Anna Anka/Aberg) spoke in her native tongue: "Hej allihopa" (translated: Hi everyone)), and presented an offer for them to be their oil boys: "Hi, guys. We're going on a national bikini tour, and we're looking for two oil boys who can grease us up before each competition"; Harry answered for the two of them: "You are in luck! There is a town about three miles that way. I'm sure you'll find a couple guys there"; but then Lloyd realized that they had made a mistake ("Do you realize what you've done?") - they ran to catch up to the bus - and breathlessly, Lloyd told the driver that Harry had pointed in the wrong direction!: "You'll have to excuse my friend. He's a little slow. The town is back that way!"; as they waved goodbye to the bus, Lloyd imagined: "Wow, two lucky guys are gonna be driving around with those girls for the next couple months"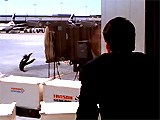 The Airport Flip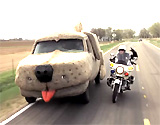 The Poochmobile Pulled Over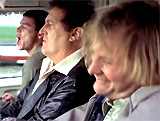 Driving a Hitchhiker Insane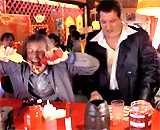 In Dante's Inferno Restaurant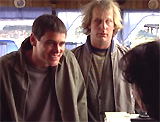 The Diner Scam Scene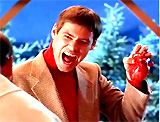 The Chopsocky Fantasy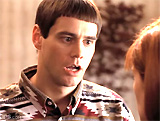 "So you're saying there's a chance?!"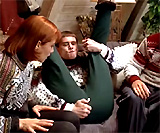 Lighting Farts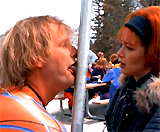 Tongue Fusing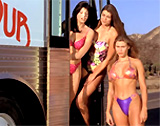 Hawaiian Tropic Bus