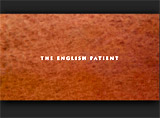 The English Patient (1996)
In Anthony Minghella's Best Picture-winning epic - a great romantic war melodrama about star-crossed lovers in a turbulent, illicit extra-marital love affair in the North African desert (pre-WWII):
the opening scene after the credits - in fact the ending of the film - a plane crash in Libya due to German anti-aircraft fire, that horribly burned the pilot (with a hardly-discernable female figure slumped lifelessly in the front seat) - followed by the caring ministrations of nurse Hana (Juliette Binoche) to the disfigured, wrongly-identified 'English Patient' after the plane crash - a critically-burned German-Hungarian pre-war cartographer Count Laszlo Almasy (Ralph Fiennes), who was now lying in a bombed-out Tuscan (Italian) monastery in a liberated section of Italy
the third character of Canadian Intelligence Corps member David Caravaggio (Willem Dafoe), a professional thief and military spy suffering without thumbs after torture during a Nazi German interrogation, and vengefully suspecting that Almasy was the German spy who betrayed him
the romantic scenes between French Canadian nurse Hana and Sikh British Army officer/bomb expert Kirpal "Kip" Singh (Naveen Andrews)
the tense, terrifying and nerve-jangling sequence of Kip defusing an unexploded bomb in a muddy pit under a bridge - while a heavy armored tank approached and vibrated the road, and threatened to detonate the explosive
the amnesiac Count's many fragmented flashbacks about his life and adulterous secret romance with recently-married and luminous Katharine "Kay" Clifton (Kristin Scott Thomas), the wife of fellow British cartographer Geoffrey Clifton (Colin Firth); included were his first romantic feelings for Katharine when he asked her to dance, in the company of her husband; and then during a Christmas celebration when she fainted in the heat, his kissing of her sweat-glistening neck and touching her bare shoulder, stroking of her leg, and secretive kisses
the Count's loving bath scene (in which she shampooed his hair and then joined him) and love-making sequence
the spectacular plane crash sequence, when Katharine's husband Geoffrey deliberately and suicidally (in revenge) flew his plane toward Almasy; the crash killed Geoffrey and seriously wounded Katharine, but missed Almasy; seriously injured, she revealed that her husband had known of their affair: ("Poor Geoffrey. He knew. He must've known all the time. He was shouting, 'l love you, Katharine. l love you so much'")
as Almasy carried her to a shelter, a site with cave paintings known as the Cave of Swimmers, she revealed she was wearing his gift to her - a silver thimble on a necklace, and admitted: "Of course, you idiot. I always wear it. I've always worn it. I've always loved you" - even though they had publically ended their affair
the scene of Almasy caring for his severely-wounded love (with a broken ankle, wrist, and maybe some ribs) in the shelter after the devastating plane crash; he made a promise to her that he would walk to El Taj (a 3-day journey) and then return for her: (Katharine: "Do you promise? I wouldn't want to die here. I don't want to die in the desert. I've always had an elaborate funeral in mind. Particular hymns. And I know exactly where I want to be buried. In our garden where I grew up with a view of the sea. So promise me you'll come back for me" Almasy: "I promise - I'll come back for you. I promise - I'll never leave you")
later, his delayed return to the cave after she had tragically died - when he carried her body out of the cave
| | | |
| --- | --- | --- |
| | | |
| Finding Katharine Dead in The Cave | The "Mercy Killing" - Morphine Overdose | Katharine's Final Letter |
in the final scene, Hana fulfilled Count Almasy's desire to die - via a massive overdose of morphine; as he died in the tearjerking ending, Katharine's final letter to him written in the cave was read to him by Hana (some in voice-over): ("...We die, we die rich with lovers and tribes, tastes we have swallowed, bodies we have entered and swum up like rivers. Fears we've hidden in, like this wretched cave. I want all this marked on my body. We're the real countries. Not the boundaries drawn on maps, the names of powerful men. I know you'll come and carry me out into the palace of winds. That's all I've wanted - to walk in such a place with you, with friends. An Earth without maps. The lamp's gone out and I'm writing in the darkness.")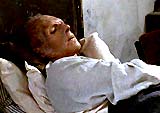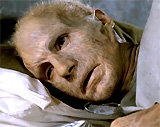 The Disfigured "English Patient" Count Laszlo Almasy (Ralph Fiennes)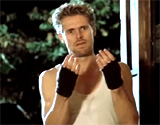 David Caravaggio
(Willem Dafoe)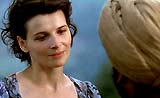 Romance Between Hana and Sikh British Army Officer Kip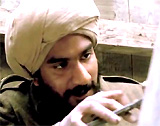 Bomb Defusing


Dancing: Katharine and Count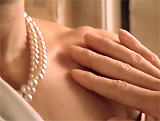 Courting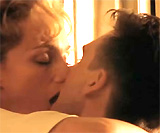 Kissing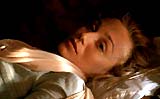 Katharine: "So promise you'll come back for me"