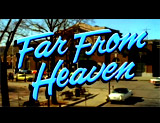 Far From Heaven (2002)
In Todd Haynes' emotional romantic melodrama with stunning cinematography - filmed in homage to Douglas Sirk's 50's melodramas (i.e., All That Heaven Allows (1955)):
the scene of late 50s 'perfect world' Connecticut suburban, unhappily married housewife Cathy Whitaker (Julianne Moore), and her socially-taboo consolation found with her handsome, well-educated black gardener Raymond Deagan (Dennis Haysbert) - especially their very awkward and uncomfortable drink-lunch/dance date at a 'colored' diner/restaurant when he toasted: "Here's to being the only one"
inevitably, the scene of Cathy's awkward admission and farewell to Raymond that their relationship and clandestine love affair - even as friends - wasn't workable or 'plausible': "It isn't plausible for me to be friends with you." Her last touching words were: "You're so beautiful"
the scene of TV ad executive and disturbed, alcoholic husband Frank Whitaker (Dennis Quaid) breaking down, crying and confessing to his wife Cathy that he was having an affair and was in love with another man: ("Cathy, something's happened...I've fallen in love with someone who wants to be with me. Oh, Cathy, I-I-I just, I-I never knew what that felt. But I know that sounds so cruel, but, oh, God. Cathy, I tried. I tried so hard to make it go away. It, it, I thought that I could do it for you and for the kids. But I can't. I just, I can't. I can't"); Cathy responded simply that she assumed a divorce was the next inevitable step: ("I, um, assume then, you'll be wanting a divorce")
now-single Cathy's meeting again with Raymond, after learning that he was moving from Hartford to Baltimore due to violence against himself and his family: ("Things are pretty well finished for me here") - and her suggestion that maybe they could start a life together in the future in a new place: ("Perhaps sometime in the future after you're settled, I could, perhaps I could come for a visit, see Baltimore. You see, I, well, it seems as if I'm to be single again."); and the sad scene of Raymond's polite response and rejection of her invitation: ("I'm just not sure that would be a wise idea after well, everything that's....I've learned my lesson about mixing in other worlds. I've seen the sparks fly, all kinds. Have a proud life, a splendid life, will you do that? (He kissed her hand) Goodbye, Cathy")
the very poignant final scene, in which Cathy was able to give a heartfelt but silent goodbye wave to Raymond a few weeks later, departing from the platform of the train station on a southbound train
A Final Good-Bye

Awkward Lunch Date-Dance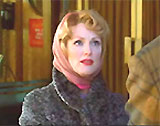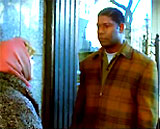 Cathy's Farewell to Raymond: "You're so beautiful"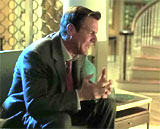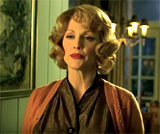 Husband Frank's Admission of Homosexuality to Cathy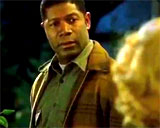 Raymond: "I've learned my lesson about mixing in other worlds"