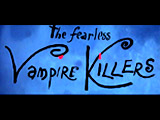 The Fearless Vampire Killers (1967) (aka Dance of the Vampires or Pardon Me...But Your Teeth Are in My Neck)
In director Roman Polanski's vampire horror comedy-spoof set during the mid-1800s in Transylvania:
the opening animated title sequence in which the MGM lion roared and then turned into a green vampire/ghoul face with fangs and blood dripping from its mouth
the wintry arrival of elderly bat-vampire hunter Professor Abronsius (Jack MacGowran) and his dim-witted apprentice Alfred (Roman Polanski) in the small distant village of Transylvania in Eastern Europe, with crucifix stakes and a mallet; most of the main characters were introduced in the inn, including local Jewish tavern-keeper Yoine Shagal (Alfie Bass), and his beautiful young daughter Sarah Shagal (Sharon Tate in her feature film debut)
the flirtatious sequence in the tavern when Sarah spoke to Alfred and told him about her boredom: "l just don't know what to do with myself. l get so bored. You can't imagine how bored l get"; she complained that she was "locked up" and her room was "full of garlic" - her father's protective defense to ward off vampires; when she asked Alfred: "You don't mind if I have a quick one?" - Alfred was taken aback and thought she was propositioning him, but she was only asking about taking a bath and having him provide her with hot water
the scene of Sarah bathing alone in a tub in the tavern, when she was attacked by the local undead vampire lord Count Von Krolock (Ferdy Mayne, also the Narrator) who descended through the ceiling and signaled his appearance by snowflakes dropping down upon her; he lasciviously approached her with his pointed fangs, bit into her neck, and covered her mouth to prevent screaming; Alfred looked through the keyhole and saw the mouth-bloodied Count assaulting Sarah - who soon after disappeared through the large hole in the ceiling with him
Sarah Bathing in the Tavern:
Attacked and Abducted by the Count Who Broke Through The Ceiling
the sequence of Shagal attempting to rescue his kidnapped daughter that evening; however, by morning, Sarah's father had been captured and transformed into a vampire himself (with numerous fang-bite marks on his legs and arms draining him of his blood)
shortly later, the lecherous, vampirish Shagal humorously attacked his pretty maidservant Magda (Fiona Lewis) who vainly tried to protect herself with a cross, when he quipped that the crucifix wouldn't work on a Jew: ("Oy vey, have you got the wrong vampire")
the second bath scene of the kidnapped Sarah oblivious to danger when Alfred kissed her gently, and then suggested saving and warning her to follow after him ("l'm going to save you. We'll go away together...You must follow me, I beseech you"), but all she wanted to do was attend the midnight ball and wear her beautiful red gown; suddenly she vanished
the great midnight ball-dance hosted by Count Von Krolock - a scene in which the vampirish guests danced a minuet and only the interloping humans Alfred and Abronsius (including Sarah, who was not yet fully transformed) were reflected in a mirror
The Count's Midnight Ball-Dance
the Narrator's final lines (in voice-over), as Professor Abronsius, his apprentice Alfred and Sarah (now fully vampirized) escaped the ball and castle, and fled in the snow in a horse-drawn sleigh, but were unaware that Sarah had been infected and transformed - she bit into Alfred's neck: ("That night, fleeing from Transylvania, Professor Abronsius never guessed he was carrying away with him the very evil he had wished to destroy. Thanks to him, this evil would at last be able to spread across the world")

Opening Logo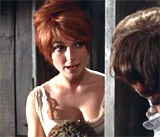 Sarah to Alfred: "I get so bored"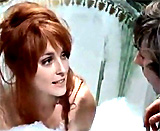 2nd Bath Scene: Sarah in the Count's Castle - Warned by Alfred


The Rescued Sarah (Now a Fully-Realized Vampire) Biting into Alfred's Neck