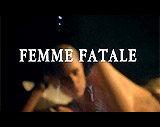 Femme Fatale (2002)
In writer/Brian DePalma's erotic, neo-noir mystery thriller - it provided a prime example of a plot-twister, deliberately hinted at many times by various clues. Except for the first half-hour (and the film's short concluding segment), the film with themes of voyeurism and double-identity was almost entirely a dream of the title character's nightmarish future.
The film, now well-regarded as a cult classic, was originally a financial box-office failure - on a budget of $35 million, it took in revenues of $6.63 million (domestic) and $16.8 million (worldwide).
the film opened with the blonde title character Laure Ash (Rebecca Romijn-Stamos) reflected in the TV glass as she watched (in the nude from her hotel bed) the French subtitled broadcast of the film noir Double Indemnity (1944) - with its classic 'femme fatale' (Barbara Stanwyck) poised to double-cross her male counterpart in the movie's conclusion
as a mercenary thief, she then participated in a spectacularly sexy heist during the screening of the film Est-Ouest at the 2001 Cannes Film Festival. Nearly-nude, sleek film model Veronica (Rie Rasmussen) wore a see-through gold-plated "amazing top in the shape of a serpent", encrusted with 500 diamonds worth over 10 million dollars
femme fatale Laure Ash posed as a French journalist-photographer at the event, scored to Ravel's "Bolero." The statuesque Laure whispered in Veronica's ear to meet her in the ladies room before the show began. During a hot lesbian/bisexual tryst of kissing and stripping in the ladies room with Veronica, the serpentine gold-plated bodice was supposedly swapped with a fake one
The Sexy Heist in the Ladies Room Between Laure (Rebecca Romijn-Stamos) and Veronica (Rie Rasmussen)
the theft wasn't everything that it appeared to be, although Laure (together with partner in crime Veronica) did execute a double-cross and absconded with the jewels utilizing a bait-and-switch tactic. After the heist, Laure double-crossed her two accomplice partners - "Black Tie" (Eriq Ebouaney) and Racine (Édouard Montoute); disguised as a security guard, "Black Tie" was shot and arrested
wearing a black wig and hiding out in Paris to evade pursuit by Racine, Laure met up with her camouflage-wearing brunette girlfriend in Belleville (a suburb outside of Paris) in front of a church [the girlfriend was her partner-in-crime Veronica!] to receive instructions about where she could obtain a passport to leave the country (Room 214 at the Sheraton Hotel). Outside the church, she was photographed by long-haired, in-debt Spanish paparazzo Nicolas Bardo (Antonio Banderas) from his overlooking balcony (in split-screen)
inside the church, she was mistaken for a missing, suicidal woman named Lily (also Rebecca Romijn-Stamos), her own look-alike doppelganger, who experienced a "terrible tragedy" (loss of husband Thierry and daughter Brigitte); Lily's parents (Irma and Louis) trailed Laure to the hotel
[Note: As she took the elevator up to the room, passersby later appeared in Laure's dream as major characters.]
Laure was thrown off the multi-story balcony of her room into the hotel's inner courtyard by vengeful, double-crossed partner Racine, but miraculously survived the fall. Lily's parents brought her to their apartment to recover, where Laure noticed her resemblance to Lily in photographs framed on the wall. While watching TV, a commentator provided a major key to the remainder of the film:
"And if you could see the future in a crystal ball, or in the palm of your hand, or in a dream, would you change it?"
Laure responded to herself: "Yep." She found Lily's passport and plane tickets and decided to take them to impersonate Lily. At 3:33 pm (all clocks remained fixed at 3:33 pm during the next segment of the film) while she took a soothing soak in an overflowing bathtub (in Lily's apartment) - she fell asleep (and a dream sequence commenced). A distraught Lily returned and committed suicide with a gun, near a flooding aquarium (hint!). Laure was awakened by the suicide
to "start a new life" and escape pursuit, Laure appropriated Lily's identity and flew to the US - conveniently meeting businessman Mr. Watts (Peter Coyote) on the plane and subsequently marrying him. By seven years later, the double-crossed partners had tracked down Laure and the stolen diamonds - they learned that she had taken the name of young suicidal, look-alike bereaving mother Lily Watts - the married wife of the American ambassador to France, Bruce Hewitt Watts, living in Paris. She had been forced to return to France when Watts became US Ambassador to France
Laure/Lily again became involved with long-haired, in-debt Spanish tabloid paparazzo Nicolas Bardo when he took her picture without her permission. Bardo snapped her picture as she exited her car at her new Parisian residence (the photo was printed and posted on billboards), and sold it to tabloids for distribution. Meanwhile, her two vengeful accomplices saw the photo and joined together again to hunt down Laure. They first caught up with brunette Veronica, who was "fencing diamonds," and killed her by throwing her under a passing truck (the same truck will resurface later)
fearing that her accomplices would recognize her from the photos, femme fatale Laure/Lily sought to vengefully frame Bardo for her own (staged) kidnapping so that she could claim a ransom (paid by her husband Bruce) and again flee from Paris and acquire a new identity
Laure/Lily and Bardo met up in Room 214 at the Sheraton Hotel; she manipulated and enticed him, first by non-chalantly stripping to her skimpy underwear in her Paris hotel room (he asked: "Are you flirting with me?" and she replied: "You're so damn lovable"); then she set Bardo up for charges of stealing her car, and for a kidnapping-for-ransom accusation by the police, aimed at demanding money from her husband (at the Passerelle Debilly Bridge)
however, she also suggested having some fun: ("Let's go do somethin' fun, want to?") and invited him into joining her in the basement of a sleazy bar/pool-room. She enticed him by asking: "Hey, how come you're the only man in this room that doesn't want to f--k me?" She then performed a strip-teasing dance to arouse his angry jealousy in the room, before making vigorous love to him (she told him as she bent over: "You don't have to lick my ass...just f--k me")
during their love-making, he recorded her admission of her treacherous guilt in the staging of the kidnapping-ransom plot: ("I made everybody think you kidnapped me, so I could screw my husband out of 10 million bucks")
at the Seine River bridge rendezvous at 2 am, the planned kidnapping ransom-exchange plot went sour when Bardo sabotaged the scheme. Laure/Lily was forced to execute her husband Bruce ("I was just being careful") and then wounded Bardo. She was attacked from behind by ex-accomplice Black Tie ("F--king over everyone again, hmm, not this time!"), who threw her from the bridge into the cold waters of the Seine River - where she was shocked into reality -- the dream ended. Revived by the icy-cold water, the completely-naked Laure 'awoke' from her dream in an overflowing bathtub
Laure's suicidal doppelganger Lily entered the apartment again, but this time, Laure warned Lily about killing herself and gave her a second chance to change her future - and her own.
"I'm your f--king fairy godmother, and I just dreamt your future. And mine too. And all I know is, if there's a snowball's chance in hell of any of that s--t happening, we're gonna change it right here."
she encouraged Lily to take the plane to America, and sit next to "good guy" Bruce Watts who would "fall in love" with her. Lily chose life, and hitched a ride to the airport with a truckdriver, to whom she gave a reflective glass-ball necklace to remember the man's 10 year-old daughter ("When you're on the road, your little girl will always be with you")
Seven years later, once again paparazzo Bardo was asked to get a picture of the new US Ambassador to France with his three children and wife
Bardo again photographed Laure at an outdoor cafe giving a $4 million share to Veronica (revealed as Laure's partner/lover) after slowly fencing off the diamonds they had stolen together; Laure's and Veronica's theft of $10 million was successful and skillful with a bait-and-switch tactic when replayed
| | |
| --- | --- |
| Photographer Bardo: 7 Years Later Taking Pictures at Outdoor Cafe | View of Laure Sharing Cash With Veronica |
Veronica was again pursued on the street by the two double-crossed criminals, but this time, the crooks lost their lives when a truckdriver (in the same truck that had killed Veronica in Laure's dream, that also had the glass-ball necklace swinging from its rear-view mirror, who was blinded momentarily with a flash of sunlight reflecting from Laure's shiny case into the piece of jewelry) veered into them and impaled them on a spiked, loading truck gate
after witnessing the accident, Bardo assisted a shaken-up Laure and asked: "Haven't we met before somewhere?" - she replied honestly: "Only in my dreams."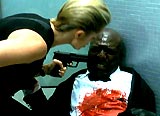 The Jewel Heist at Cannes Film Festival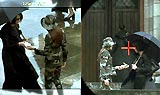 Photographs of Two Thieves (Laure and Veronica) Meeting Afterwards in Belleville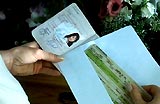 Laure Finding and Taking Her Doppelganger Lily's Passport and Plane Tickets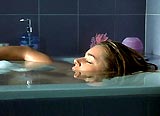 Laure in Bathtub: Start of Film's Lengthy Dream Sequence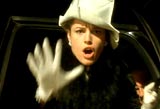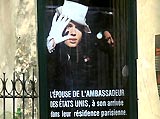 Bardo's Tabloid Photograph of Laure (as Lily Watts) Returning to France, Married to US Ambassador to France Bruce Watts (Peter Coyote)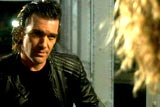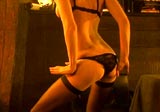 Laure/Lily's Attempt to Seduce Paparazzo Nicolas Bardo (Antonio Banderas)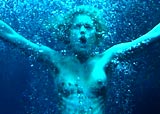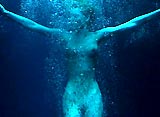 Laure/Lily Thrown into the Seine River by Her Ex-Accomplice Black Tie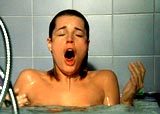 Laure Awakening in Bathtub From Dream - End of Dream Sequence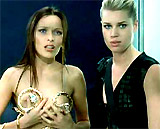 Flashback: The Bait-and-Switch Heist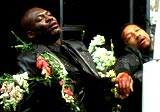 Laure's Two Double-Crossed Crooks Dead After Fatal Truck Accident