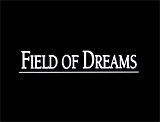 In Phil Alden Robinson's sentimental ode to baseball:
the whispered disembodied voice: "If you build it, he will come" to astonished Iowa corn farmer Ray Kinsella (Kevin Costner) in his corn field - who responded: ("Who are you, huh? What do you want from me?")
the scene of Ray plowing down some of his cornfield and building a baseball diamond
the scene of the memorable mystical appearance (or materialization) in Ray's baseball field built in his Iowa cornfield, of disgraced ballplayer Shoeless Joe Jackson (Ray Liotta) - who had been banned from 'America's pasttime' during the 1919 Chicago Black Sox World Series scandal. (No one but those who believed could see the ghostly ballplayers who began to appear from the adjacent cornfield.) Ray approached the shadowy figure, who knelt down in the grassy ball park and touched the grass, then was amazed as Ray switched on the park's lights to illuminate him. He turned to face Ray as he strode onto the field, and nodded in acknowledgement. Ray hit some practice balls to him in the outfield, and after they introduced themselves to each other, Ray pitched to Joe; the awestruck Joe remembered how wonderful it was to have played baseball, then asked: "Can I come back again?" He was planning to return with seven other banned players on his team who also missed the game. Just before his departure, before trotting off toward a surrounding cornfield and disappearing in the darkness of the tall corn rows, he asked: "Hey, is this heaven?" Ray smiled: "No, it's Iowa"
the sight of the ghosts of Shoeless Joe Jackson and his seven teammates - of the infamous 1919 Chicago Black Sox scandal - stepping out of the cornfield to play ball and find redemption with a second chance
the poignant scene of the powerful "they will come" speech by disillusioned and reclusive 60's author Terence Mann (James Earl Jones) about the enduring impact of baseball on America: ("Ray. People will come, Ray. They'll come to Iowa for reasons they can't even fathom. They'll turn up your driveway, not even sure why they're doing it. They'll arrive at your door, as innocent as children, longing for the past. 'Of course, we won't mind if you look around,' you'll say. 'It's only $20 per person.' They'll pass over the money without even thinking about it. For it is money they have and peace they like...Then they'll walk out to the bleachers and sit in their shirt sleeves on a perfect afternoon. They'll find they have reserved seats somewhere along one of the baselines where they sat when they were children, and cheered their heroes, and they'll watch the game, and it'll be as if they'd dipped themselves in magic waters. The memories will be so thick, they'll have to brush them away from their faces... People will come, Ray... The one constant through all the years, Ray, has been baseball. America has rolled by like an army of steamrollers. It's been erased like a blackboard, rebuilt, and erased again. But baseball has marked the time. This field, this game, is a part of our past, Ray. It reminds us of all that once was good, and it could be again. Ohhhh, people will come, Ray. People will most definitely come..")
"People Will Most Definitely Come"
the scene in which young teenaged rookie Giants ballplayer Archie Graham (Frank Whaley) sacrificed his youth as a ball player, crossed the ball-field line, and morphed into his older self Doc Archibald "Moonlight" Graham (Burt Lancaster) to save Ray's daughter Karin (Gaby Hoffman), who had stopped breathing after falling from bleachers, and was actually choking to death on a piece of hot dog; Ray realized that Doc couldn't return to his youth: "Oh, my God -- you can't go back!"; Doc made a request: "Win one for me one day, will you boys?" as he walked past the other younger ballplayers who congratulated him; before disappearing back into the cornfield with the other players, "Shoeless" Joe Jackson praised Doc: "Hey rookie! You were good!"
Archie "Moonlight" Graham Saving Karin
the famous tearjerking reconciliation-reunion ending in which Ray (at first with his wife Annie (Amy Madigan) at his side), was told by Joe Jackson: "If you build it, he will come," and then realizing that the New York Yankees catcher removing his equipment at home plate was his dead and estranged father John Kinsella (Dwier Brown); after introductions and a short discussion together, they had a final exchange in the twilight: "lt's so beautiful here. For me, well, for me, it's like a dream come true. Can I ask you something? Is, is this heaven?" -- "It's Iowa" -- "Iowa?...I could have sworn it was heaven" -- "Is, is there a heaven?" -- "Oh yeah, it's the place dreams come true" -- "Maybe this is heaven"; Ray then asked: "Hey, Dad? You wanna have a catch?" -- "I'd like that" -- with the long shot of the two playing catch together on the ball diamond with the lights turned on (after the sunset)
the final, overhead shot of a single line of cars with their headlights on streaming toward the magical baseball field carved out of an Iowa cornfield, signaling that Ray wouldn't lose his farm after all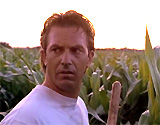 Ray Hearing: "If you build it, he will come"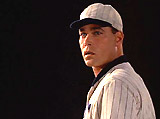 Shoeless Joe Jackson (Ray Liotta)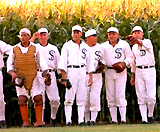 The Ghosts of the Chicago Black Sox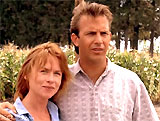 Ray with wife Annie
(Amy Madigan)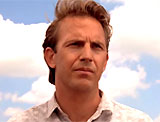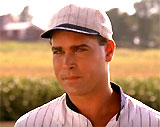 "If you build it, he will come"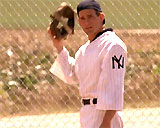 Ray's Father John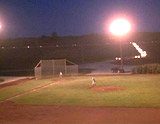 Catch at Sunset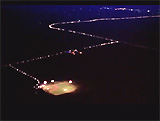 Car's Headlights Approaching Ballfield